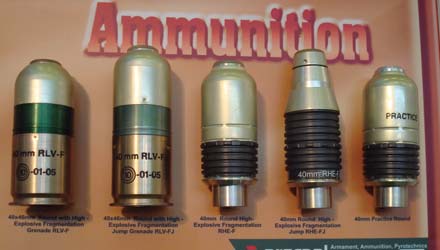 Eurosatory 2008 was held at the Parc du Exposition, located outside of Paris, France on June 16 – 20, 2008.  As one of the largest tradeshows in the world dedicated to the international arms trade, nearly 1.3 million square feet of exhibition space was filled by 1,180 exhibitors from 51 countries, including 127 exhibitors from the United States.  Approximately 50,000 individuals from over 145 countries attended the show.  Of note were several new product releases and market trends from well known and lesser known manufacturers.

Forjas Taurus S/A
Taurus S/A of Brazil (not to be confused with Taurus International, the U.S. based firearm company) introduced a new submachine gun manufactured under joint venture with FAMAE of Chile.  Based upon technology from Swiss Arms AG (formerly SIG Arms AG) of Switzerland, the external profile borrows heavily from the SIG 550 series of firearms.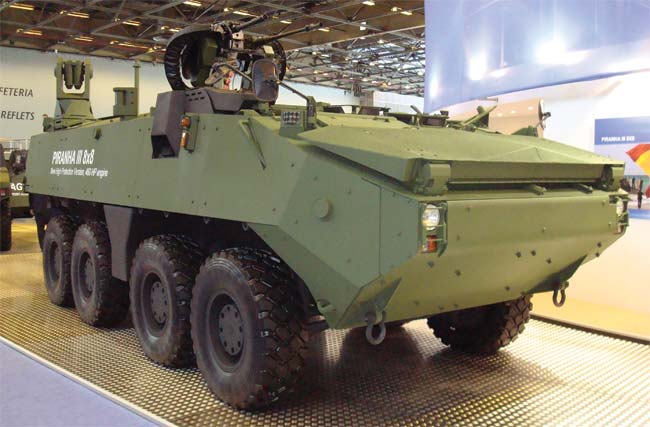 Piranha III 8x8 wheeled APC developed by Mowag Motorwagenfabriken of Switzerland, now part of General Dynamics European Land Combat Systems (ELCS). This variant sports a 460 HP engine.
The model MT9 (chambered in 9mm) and the model MT40 (chambered in .40 S&W) utilizes a blowback design, and is capable of semiautomatic, burst, and fully automatic fire.  The Taurus representatives indicated that the 9mm version has a cyclic rate of 1,300 rounds per minute, while the .40 S&W version fires at a claimed 1,200 rounds per minute.  Both models utilize a 200 mm barrel (7.8 inches), and a 30-round magazine.
The receiver and internal components are reportedly manufactured by FAMAE of Chile, and imported into Brazil for the manufacture of barrels, magazines, and buttstocks prior to final assembly.  Currently marketed to Brazilian law enforcement, the firearm appeared to be well designed and comfortable.  Sales are currently limited to the South American market, and there are currently no plans to import either model into the United States.  Additional information can be found at the Forjas Taurus S/A website, www.taurus.com.br.
Panhard VPS, intended for special operational forces.
ST Kinetics
ST Kinetics of Singapore introduced a new 9mm submachine gun called the Compact Personal Weapon.  With a 7-inch barrel, the firearm utilizes delayed blowback operation, allowing a claimed cyclic rate of 900 rounds per minute.  With a loaded 30-round magazine, the firearm weighs 2 kg (4.4 pounds).  While not an overt copy of a Heckler and Koch MP-7, the CPW does appear to borrow heavily from the Heckler and Koch predecessor.  Both utilize an outwardly similar design, with similar locations and layout of fire control mechanisms, and a similarly designed retracting stock.
Unlike the Heckler and Koch MP-7, the CPW claims caliber modularity, allowing users to change the caliber of the weapon by utilizing a different barrel and magazine.  No caliber conversions were available for examination nor were specific caliber conversions specified.
A Sherpa IIIA, by Renault Trucks.
ST Kinetics also introduced a single barreled, three-round 40mm grenade launcher allowing semi-automatic fire capability.  The system is based upon the Metal Storm theory of operation, allowing all three rounds to be loaded within the barrel, yet allow each round to be fired individually.  Adaptable to multiple applications, the launcher can be mounted under a combat rifle via M-1913 Picatinny rails, as a stand alone launcher, or grouped with multiple launchers and mounted on a heavy platform.
Reloading the 40mm grenade launcher is accomplished in two ways.  According to ST Kinetics, individual rounds are loaded in a similar manner as conventional 40mm grenade launchers.  Alternatively, a spent barrel can be removed and replaced with a pre-loaded barrel (loaded with three rounds per barrel) during the reloading process.  ST Kinetics claims the new grenade launcher will act as a force multiplier, allowing an increased number of rounds down range in a shorter period of time, without increasing the number of weapons an individual soldier must carry.  More information can be found at the Metal Storm website, located at http://www.metalstorm.com.
FN Herstal
FN Herstal of Belgium announced that the SCAR family of rifles will be available for sale on the international market.  Originally designed and developed for the U.S. Special Operations Command, the two highly adaptable modular rifles, the SCAR-L (chambered in 5.56x45mm), the SCAR-H (chambered in 7.62x51mm), and the FN40GL 40mm low velocity grenade launcher will presumably be available for international sale.  No information was available from FNH, USA regarding a semiautomatic-only version for domestic U.S. sales.  Additional information may be found on the FN Herstal website, located at http://www.fnherstal.com.
Mock up of Norwegian troops, sporting an M4 carbine.
Martin Electronics, Inc.
Martin Electronics, Inc. (MEI) announced the introduction of the Mercury, a family of medium velocity 40mm grenades.  Current low-velocity 40mm grenades have a maximum range of approximately 300 meters, while longer range high velocity 40mm grenades require a heavy firing platform, and are usually limited to vehicle or tripod mounted applications.  The Mercury family of 40mm grenades can be launched from current low-velocity 40mm grenade launchers with only minimal increase in recoil, while extending maximum range to 800 meters.
Pages: 1 2