U.S. ARMY ADOPTS B.E. MEYERS & CO. BOARS-M2 OPTICS MOUNT

B.E. Meyers & Co., Inc., announced that the BOARS®-M2 optics and accessory rail system has been issued National Stock Number (NSN)1240-01-682-8650 by TACOM, U.S. Army, following successful evaluation and testing through the U.S. Army Soldier Enhancement Program (SEP). A total of 4,752 complete BOARS®-M2 units have been procured for initial fielding by PM Soldier Weapons, PEO Soldier. Designed to support a variety of mounted machine gun optics for the M2 and M3 family of weapon systems, the BOARS-M2 provides a modular, low-profile optics and accessory rail mount with true return-to-zero capability. The BOARS-M2 is ideal for those wishing to easily transition from a day optic to a night optic while retaining boresight for both systems and without interfering with the operation of the spade grips or the feed tray cover. The low-profile M2 mount for optics and accessories translates into a lower end-user defilade and increases operator survivability during use.
bemeyers.com
ELBIT SYSTEMS' XACT WEAPON SIGHTS IN OPERATIONAL SERVICE WITH IDF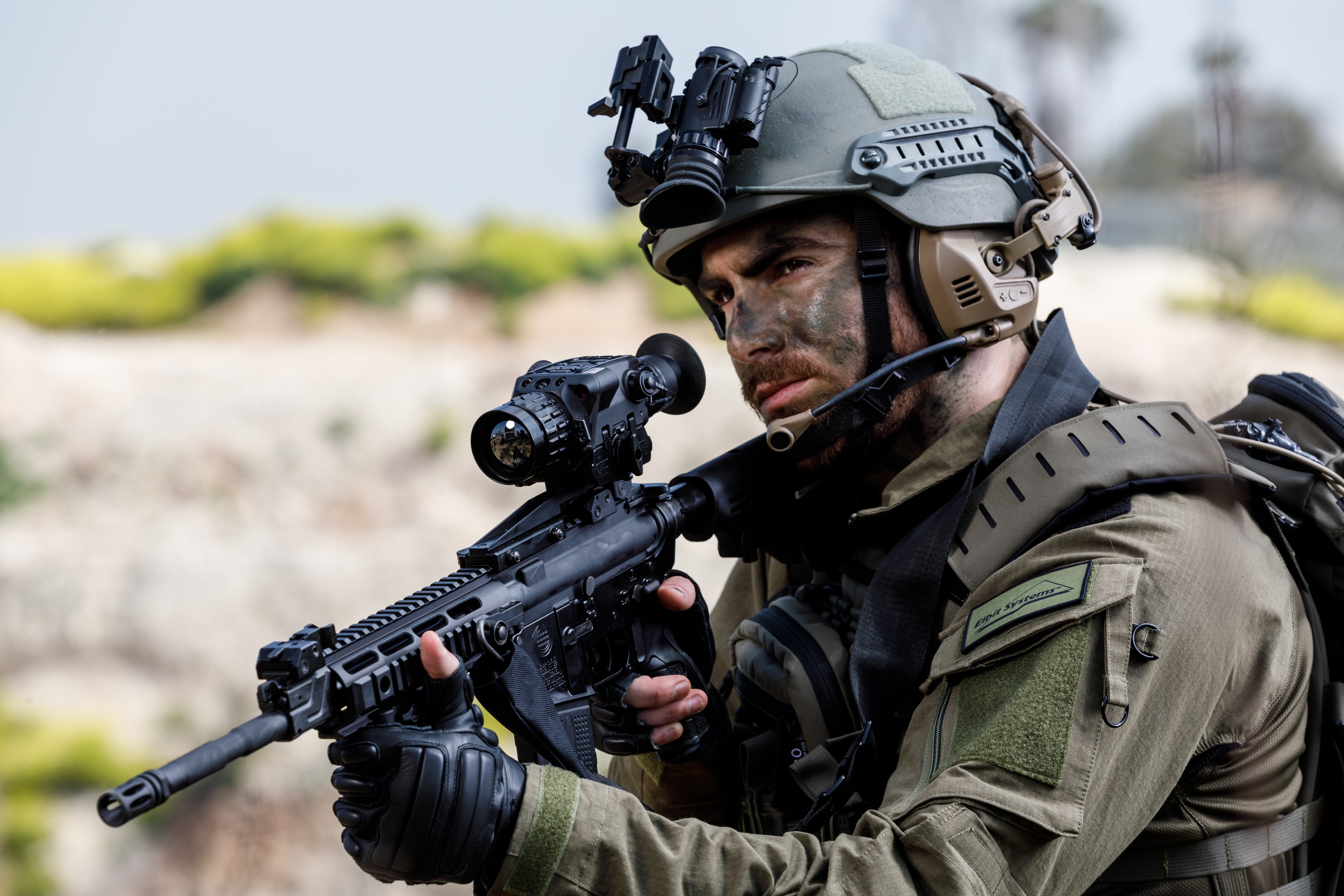 Elbit Systems announced that two configurations of the company's XACT family of weapon sights have entered operational use with the Israeli Defense Forces (IDF). The company was recently selected to provide thousands of its XACT th65 and XACT th64 uncooled thermal imaging weapon sights to marksmen of both Infantry and Special Operation Forces of the IDF. Last year Elbit Systems announced it concluded delivery of 4,800 XACT th65 weapon sights to the Australian Army.
In a clip-on or stand-alone configuration, the compact XACT weapon sights enable effective operation in day and night. Featuring a high resolution colored OLED display, image processing capabilities and a Region of Interest algorithm, XACT weapon sights enable effective target engagement even under degraded visibility conditions. Embedding a unique calibration algorithm, XACT weapon sights eliminate the need for Non-Uniformity Calibration (NUC) or shutter-based calibration thereby enabling continuous and consistent operation. The XACT th64 provides vehicle target recognition from a 1,100m range and human target recognition from a 600m range, while the XACT th65 enables vehicle target recognition from 1,250m and human target recognition from 750m. Both weapon sights are housed in a sealed fully submersible metal housing.
elbitsystems.com
ELBIT SYSTEMS INTRODUCES VEHICLE-LAUNCHED MULTI-ROTOR MICRO-DRONE
Elbit Systems is launching MAGNI, a fully autonomous and robust multi-rotor vertical Take-Off and Landing (VTOL) Unmanned Aerial System (UAS) that is designed to significantly enhance the situational awareness capabilities of mobile forces. Compact and lightweight, MAGNI enables rapid deployment and launch (in less than 1 minute) from any combat vehicle transforming it to an effective intelligence gathering platform.
The MAGNI system includes a thermal payload, a communications suite (dual S-Band or LTE), an automatic coordinate tracking capability, as well as a built-in interface with Battle Management Systems (BMS). Carrying up to 350gr of payloads it offers a range of up to 3km, a maximum operational altitude of 4,000ft and 30 minutes of endurance. Operated by a single user, MAGNI enables vehicle-mounted forces to generate beyond-the-hill visual intelligence during day and night and seamlessly feed target information to command and control systems. Its unique size, weight and power (SWaP) parameters make MAGNI well-suited for squad, platoon and company levels.
elbitsystems.com
ELBIT SYSTEMS AWARDED $35M TO EQUIP MONTENEGRO'S 4X4 VEHICLES WITH RCWS
Elbit Systems also announced that following a contract signed between the Israeli Ministry of Defense and the Ministry of Defense of Montenegro, it was awarded approximately $35 million to supply the Montenegrin Armed Forces with Remote Controlled Weapon Stations (RCWS) for the new Oshkosh Defense (Oshkosh) 4×4 Joint Light Tactical Vehicles (JLTV). In this contract Elbit Systems will perform full integration of the RCWS onboard, the JLTV over a 3-year period and will provide logistic support for a 7-year period.
Elbit Systems 12.7mm RCWS is lightweight, low silhouette, dual axis and is stabilized, mounted externally onboard armored vehicles. The RCWS offers accurate firing on-the-move and is operated via handles and Smart Displays by the gunner from within the vehicle, providing full protection for the vehicles' crew who are safely located inside.
elbitsystems.com