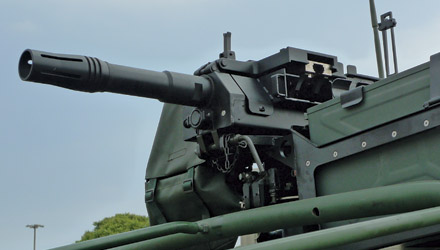 Anti-tank weapons at SITDEF.
U.S. Ordnance presented the 7.62mm NATO Mk43 General Purpose Machine Gun (GPMG), in my opinion, the perfect machine gun for armies still using the M60 series.  This applies not only to Peru and its neighbors, but also to all Central American countries.  The Mk43 features improvements to the M60, to include a machined aluminum feed cover with an integrated M1913 Picatinny rail.  There is also an aluminum M1913 rail hand guard and an injection-molded, composite hand guard.  The U.S. Ordnance M60E4/Mk43 Conversion Kit was particularly interesting since it could assists in upgrading those M60s into the much improved and more reliable M60E4/Mk43 configuration.  Upgrades can be performed at U.S. Ordnance or the customer facility after training by U.S. Ordnance staff.  Kits are available in both Mod 0 and Mod 1 configurations, and allows an M60 upgrade in some 30 minutes.  The new weapon has an improved trigger group, which prevents incorrect assembly.  We also came across the M40 Sniper weapon system from U.S. Ordnance.  This is based on a Remington 700 Short Action, modified by U.S. Ordnance gunsmiths.

DS Arms also came with a modified R.P.D. in 7.62x39mm cartridge called the RPD Carbine. The R.P.D. is widely used by Peruvian forces, and DSA has modernized the weapon with a newly designed 7075T6 alloy lower and proprietary rail hand guard, M16 style adjustable stock, and other items that allow the mounting of a variety of accessories, including optics, lasers, flashlights and fore grips, and a fluted barrel, which is also shortened and equipped with a flash hider.  The weapon's weight has been reduced some two pounds with the use of composite materials, and the new receiver is heat-treated for even better performance.
Bumar Group from Poland showed various products to include those of the Fabrika Broni "Łucznik" – Radom, in charge of soldier's personal armament development and production.  Random produces the PM-98 Glauberyt submachine gun in 9mm Para, as well as the Beryl and Mini-Beryl rifle variants in 5.56mm NATO, and also Radom-Sport carbine and P99 pistol.  The 5.56mm Mod-96 Beryl Assault Rifle refers to an individual selective fire automatic assault rifle, which comes with open sights, U-notch type, fitted with integrated tritium-lit night sights.  The rifle is enhanced with new ergonomic pistol grip and optional front grip.  According to the information available, the Beryl has a rifle grenade capability with bullet-trap grenades, enabling live rounds to be used for launching.  There is a rigid stock variant and a telescoping side-folding stock variant.  The upper and lower hand guard integrates Picatinny rails (Mil-Std 1913) enable mounting of the different optoelectronic sights.  We were also able to see the Mod. 96 Mini-Beryl Automatic Carbine, also in 5.56mm with combined U-notch sights, with peephole user-selected (L-flip) rear sight and post-type front.  Front and rear sights are fitted with integrated tritium-lit night sighting, a new ergonomic pistol grip and optional front grip.  Also available was the PM-98 Glauberyt, a compact and ideal SMG for AFV crews, reconnaissance, anti-terrorist and police hostage rescue units.  The top Mil-Std 1913 rail allows for optoelectronic sights and other items, and it comes with a telescoping stock with rubber-clad butt plate.  The PM-06 SMG has a 3-position telescoping two-strut stock and ambidextrous fire-selector lever.  There were also examples of the latest prototypes of the future polish service weapon, the MSBS-5.56 (Modulowy System Broni Strzeleckiej kalibru 5.56 mm) developed by Radom's Fabryka Broni Lucznik and the Military University of Technology (WAT).  The core component of the family is a common upper receiver, with a modular concept that allows components to be added or removed as required.  The rifle was presented in two variants at SITDEF.
A display of weapons used by Peruvian Special Forces.
Bumar also presented the System Broni i Amunicji Obezwladaniajacej 40 mm (SBAO-40), which is a modular 40mm grenade launcher built in two versions: the GP80-40 is a stand alone model, and the GPBO-40 used as under barrel configuration.  The weapon is being introduced along with a large family of 40mmx46SR ammunition (non-lethal, combat, smoke, tear gas, etc.).
Impressive Background
In a corner of the pavilion, the Peruvian military had a mockup of a large compound.  This happened to be the scale model of the former Japanese ambassador in Peru, and place of Chavín de Huántar Operation, the largest commando raid mounted by the Peruvian forces against terrorists, and one of the most successful military operations in history.  The first defense fair in Lima was realized ten years after Peruvian commandos stunned the world with their Chavín de Huántar Operation.  The name refers to an archaeological site in the central highlands of Peru containing ruins and artifacts constructed perhaps around 1200 BCE and occupied by later cultures until around 400-500 BCE by the Chavín, a major pre-Incan culture.  But on April 22, 1997, Chavín de Huántar became the code name for one of the most successful military rescues in the world, when one hundred and forty-two commandos of Peruvian Armed Forces stormed the official residence of Japan's ambassador to Peru, Morihisha Aoki, to rescue dozens of senior diplomats, government ministers and other VIPs.  All started on the evening of December 17, 1996, when hundreds of officials and invited guests attended a party to celebrate Emperor Akihito's 63rd birthday.  In the middle of the celebrations, 14 terrorists from the Túpac Amaru Revolutionary Movement (MRTA) infiltrated the compound and took everyone inside hostage.  The terrorists demanded the release of other terrorists and other concessions.  As the siege extended from days, to weeks and to months, military commandos prepared for the rescue operation by storming an exact replica of the compound built inside a military base.  On 22 December the rebels released 225 hostages, with a few more released a few days later.  However, by January there were still 72 hostages inside the compound.  We found at SITDEF a mockup of the compound, and step-by-step details of the operations.  The stand and information celebrated 13 years of what Peruvians describe as the most successful military operation in hostage rescue of the world.  In effect, by Ministerial Resolution 133-2010MD/SG, April 22 demands an annual celebration at the Japanese ambassador residence replica at Cerrillos.
A Peruvian commando takes part in a military demonstration outside the SITDEF exhibition.
It is said that the terrorists inside the compound were equipped with at least one Kalashnikov, several small caliber pistols, hand grenades, mines, one RPG-7, and other explosives.  The military commandos came from the Naval FOES (Special Operations Forces), the Army DIFE (Intelligence Directorate), and the Air Force GRUFE (Special Forces Group), and their selection of weapons included Browning BDA pistols, Heckler & Koch MP-5 and Uzi SMGs, AKM and Galil rifles.  In addition, they carried stun grenades.  The mission would require several tunnels to approach the building by surprise.  Chavín de Huántar became a natural code name since the site is known for its underground passageways.  When it was over, the assault had cost the lives of two commandos, one hostage, and all fourteen terrorists.  The display at SITDEF showed considerable firepower captured to the MRTA during the operation, and more firepower than that listed above and acknowledged by other sources.  The military assault lasted 30 minutes, and the ordeal 126 days.
Today, the Peruvian commandos are equipped with a large and diverse arsenal of small arms.  The Army has developed the V-2, a precision Mauser type rifle, and Naval Commandos sport some modified FALs (perhaps performed by DS Arms as SA58 standard).  Elements of the Commando Battalion No. 19 "Comandante Espinar" sports Galil Micro rifles with laser sights, M-16A2 and Barnett-Velocispeed Class bows, The Air Force Special Forces Group appears to prefer the Galil sniper or the SSG-69 rifles, the Police National Directorate of Special Operations (DINOES) carries Uzi and AKM while the Police National Anti-Drug Directorate (DIRANDRO) carry HK53 and HK33 as standard weapons.  Army Special Forces have access to FN Five-SeveN and Beretta 92F pistols, IWI Uzi SMGs, Colt M16A2 with M-203, FN F-2000S and IWI Galil SMGs, AK-47/AKM, FN FAL Mod.50-00, FN SPR and PGM 338, Barret M82A1 and PGM Hecate II, FN M249 Minimi, FN MAG and Minimi, Milkor (Rippel Effect) MGL-6/XRGL-40, and Denel M-4 60mm Commando mortars.
The Peruvian armed forces are looking into modernizing its small arms arsenal.  Local Marines have been training with F2000 rifles, while other elite forces carry the IWI Tavor, and even SCAR 5.56mm rifles.  In 2010, the Peruvian Army signed a Technology Cooperation Agreement with IWI for a license production and marketing of the Galil ACE rifle, and FAME, the local military arms workshop, presented at SITDEF a range of ACE models and ammunitions.  The ACE is basically an updated Galil rifle incorporating a number of new features to include new ergonomic items for precision shooting and reliability.