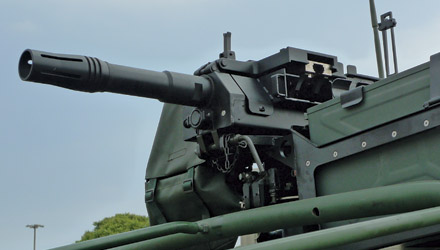 A MBS-5.56mm (Modulowy System Broni Strzeleckiej kalibru 5.56 mm) Polish rifle.
The Peruvian small arms arsenal is truly extensive, and also an evident headache.  It includes Five-seveN Tactical, PPK, Model 92FS, Browning GP-10-01, Glock 17, Jericho 941, Vektor SP1, and Model 30M pistols.  The Army reported to have some 17,119 submachine guns in 2009, with the Air Force listing over 3,000 and almost 6,000 in the hands of the Navy.  Peruvian Navy's SIMA-CEFAR developed and produced the MGP-79/MGP-79A/MGP-87 series of 9x19mm caliber submachine guns.  The MGP-84 was produced at the Callao Naval Base was based on the telescopic bolt surrounding the barrel, and with a "similar feel" to the Uzi.

Special Forces, or COMFOES (Fuerza de Operaciones Especiales), receives considerable attention when acquiring small arms.  The COMFOES comprises the Grupos de Operaciones Especiales, with GOE-Center (Lima), GOE-North (Caleta La Cruz-Tumbes), GOE-Northeast (Iquitos) and GOE-South (Arequipa).  In addition there is a UDE (Unidad de Desactivación de Explosivos – disposal unit), an Escuela de Operaciones Especiales (SpecOps School), Diving team (GRUSAL), and Special Operation Station.  They make good use of most of the same weapons already mentions and SIMA-CEFAR MGP-79A, MGP-87 and MGP-84 Mini and IWI Uzi SMGs, HK53 and FN P90.  Snipers use the IWI Galatz in 7.62x51mm and McMillan TAC-50 in 12.7mm; shotguns at hand include the SIMA-CEFAR MGP-43, Winchester 1300 Marine Defender and USAS 12GA.  Antitank work is trusted to RPG-7V and Armburst models.
New Army Rifle
Peru has a requirement and will be running trials to select a new rifle for the Army.  The new issued assault rifle will have to be in 7.62mm NATO caliber, with a 16-inch barrel, and with an effective range of 600 meters.  An initial order will be for 8,100 examples, for a contract worth some $30 million.  The Army expects to eventually field some 110,000 rifles, but a new biding and trail session will be held for the follow up order.  This is somewhat logistically problematic since there are no assurances that the same rifle will win the second round.  Indeed, these efforts seem to be sandbagged by the local acquisition requirements and process.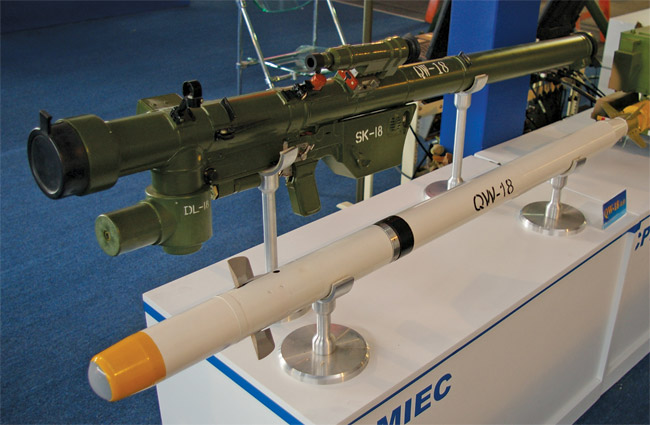 A Chinese QW-18 with a SK-18 MANPAD.
In any case, one of the most controversial and prominent candidate to equip the Army is the FN SCAR.  The FN rifle is the direct result of the U.S. Special Operations Command (USSOCOM) solicitation for the so-called SOF Combat Assault Rifles (SCAR), issued in October 2003.  It is understood, however, that in Peru initial trials left much to be desired from this weapon.  However, the rifle continues to be one of the favorites for the upcoming testing.  The key idea of SCAR is to provide Special Forces operators with a wide variety of options, from short-barreled versions ideal for urban or close quarters combat, and/or long range target shooting.  The Rifle Mark 17 (SCAR-H/ Heavy) refers to the 7.62mm variant, and the likely candidate for the Peruvian requirement.  It is gas operated, with a short stroke piston action with rotating bolt locking.  The upper receiver sports integral Picatinny rail and additional Picatinny rails are mounted on both sides and under the free-floating hand guards.  There is a side-folding polymer butt stock, which is adjustable for length.  The Mk.17 SCAR-H uses 20-round magazines in 7.62×51 NATO.
LWRCI came to SITDEF with its Rapid Engagement Precision Rifle (R.E.P.R.).  This is a 7.62mm rifle following the lines of the ArmaLite design.  According to the LWRCI representatives in SITDEF, the R.E.P.R. rifle allows a marksman to perform as an entry operator with the 12-inch barreled upper installed, and quickly switch to a sniper role simply by changing to the 20-inch barreled upper.  The rifle uses a patented self-regulating, short-stroke gas-piston operating system.  This is said to ensure reliability in all environments.  The standard R.E.P.R. comes with a 12- or 16.1-inch barrel, while the Designated Marksman Rifle comes with an 18-inch, and the Sniper Model with a 20-inch barrel.
Speaking of 7.62mm systems for the Peruvian Army, U.S. Ordnance came to SITDEF with its MRP (Monolithic Rail Platform), which sports one-piece pre-machined receivers and free-floating hand guard/rail system.  U.S. Ordnance actually offers the MRP and the carbine (CQB) models which can accommodate 14.5-, 16-, 18- and 20-inch barrels made from Mil-S-11595 Chromium-Molybdenum-Vanadium with threaded muzzle and flash suppressor.
Weapons used by Peru's Marines.
It was also indicated that Colt will compete with the latest Model CM901 rifle.  This is a mission-configured, lightweight modular, multi-caliber, weapon system that will come to Peru in a 7.62x51mm Extended Range Carbine (ERC) configuration.
DS Arms Inc was prominent at SITDEF with an array of FAL derivatives, and it was said to be competing to upgrade the 80,000 FALs in good shape found at the Peruvian warehouses.  DSA presented the SA58 FAL (SA58C16), equipped with a 16.25-inch premium bipod-cut barrel with threaded Belgian short flash hider, standard synthetic hand guard & pistol grip, standard synthetic or X-Series butt stock, and Type I or II receivers.  Perhaps the most interesting SA58 design derivative was the SA58CP16 with the same 16.25-inch barrel, standard synthetic hand guard and grip and folding Para stock.  The SPR variant was a highly modified precision version.  The Mini-SA58OSW and the Mini-SA58OSWNFA refer to the 11- or 13-inch barrel with threaded A2 flash hider, shortened gas system, short military grade hand guard, folding Para stock, standard synthetic pistol grip and Type I or Type II receiver.  The SA58PNTAC uses a 16-inch fluted barrel and A2 flash hider while the SA58TAC comes with 16.25-inch fluted medium contour barrel with threaded A2 flash hider, shortened gas system and other features.  The SA58 Elite, on the other hand, comes with a 13-inch barrel with permanently attached long Browning flash hider (which makes it a 16-inch barrel semiautomatic rifle) and similar features to the other mentioned weapons.  In Peru, DSA came with its SA58OSW, SA58CTC, SA58 Micro FAL, SA58 LSW and even with the RPD.  The base of the SA68 is actually the Austrian Sturmgewerh-58, which was originally modified with plastic components in the pistol grip and butt stock.  A converted FAL to SA58 would cost as much as half what it would cost to get a new system for the Peruvian Army.
IWI showed examples of its sniper rifle, which sports a muzzle brake/jump compensator – flash hider.  The features are said to reduce recoil by 30%.  The magazine capacity is for 25 rounds, and comes with an X10 Nimrod telescope, which maintains zeroing even after disassembly and reassembly of the telescope.  The folding stock enables the rifle to be used as an assault rifle during urban warfare, and it comes with an adjustable (up/down) cheek rest.  The rifle incorporates the same ergonomic pistol grip and an adjustable hand support found in the other ACE systems.  The rifle appears to be the departing point for the ACE 52 and ACE 53 assault rifles.  These are 7.62x51mm caliber assault rifles suitable for long-range shooting and open and urban areas.  The complete ACE family of assault rifles is based upon the reliable mechanism of the Galil and its lines are evident.  The new ACE series incorporate enhanced human engineering and ergonomics, making them versatile weapons.  They come with multiple Picatinny rails.  During the fair, representatives from IWI informed us that an important order has been placed by the Salvadorian National Civilian Police for 600 to 1,000 ACE rifles in 5.56mm.
Bushmaster weapons in Peruvian hands.
The other competitor for the future Peruvian Army rifle is said to be the HK417 in 7.62x51mm NATO caliber.  The HK417 Weapons System shares the operating control location and functions, disassembly and maintenance procedures and ergonomics of the HK416, using the unique operating rod gas system from HK, and derivate from the HK416 and G36.  HK indicates that the system uses a solid rod instead of a hollow gas system, which improves reliability and reduces operator cleaning and maintenance.  The HK417 is available with 12-, 16- and 20-inch barrels, and comes with a Mil-Std 1913 rail system and a 20-round translucent polymer box magazine.
MKE came to SITDEF with a couple of G3 look alike rifles.  The G3 is equipped with rear diopter sights, marked from 100 to 400 meters.  The G3A3 was a fixed butt version, with butt stock made from plastic, and the G3A4 was a telescope butt version, with retractable metallic butt stock.
But to think that SITDEF is just small arms would be a mistake.  The fair is small by comparison to FIDAE in Chile, and LAAD in Brazil, and perhaps equal in size to SINPRODE from Argentina, but it takes a firm third place in importance in Latin America, presenting an opportunity to exhibit and receive the latest information regarding an array of defense related products that would take volumes to fill, reminding us that suppliers such as Polaris Defense, and Panhard, consider South America as important markets.  In the case of Polaris, its Ultra Light Vehicles have found a market with military and police forces.  Panhard presented its WASP, an affordable remotely controlled weapons system for tactical transport and armored vehicles.
SITDEF PERÚ 2011 included products and services in natural disaster prevention, such as tents, mobile hospitals, detection and rescue equipment, logistic support, portable hospitals, water treatment and waste disposal equipment, etc.  The fair expected 50 representatives from different countries, and the pavilion held 97 stands.  Organizers of SITDEF tells us that the objective is to gather at one event the most important manufacturers and developers in the industry, which in turn would assists in the modernization and development of the Armed Forces, the National Police and Civil Defense.  The fair encourages participation of the local industry, and to strengthen regional relationships between countries.
Galil ACE presented at SITDEF.