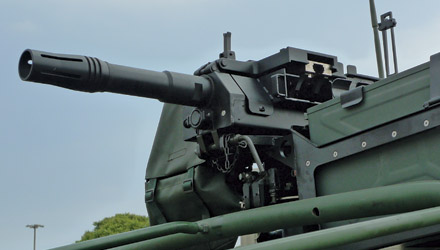 Peruvian Naval Commandos outside the SITDEF exhibition with Mini Uzis.
The International Defense Technology Exhibition and Prevention of Natural Disasters, SITDEF PERÚ had its beginnings in 2007.  It was conceived as a commercial and cultural gathering promoted and organized by the Ministry of Defense and the Peruvian Armed Forces.  The fair takes places every two years, and SADJ had the opportunity to attend the third edition at the General Army Headquarters in Lima.  The exhibition gathers national and international companies displaying state-of-the-art technology in the defense area, representing Belgium, Brazil, Bulgaria, China, Colombia, Ecuador, France, Germany, India, Israel, Italy, Korea, Mexico, Poland, Russia, Spain, Sweden, Turkey, Ukraine, United States, and of course the local industry.

The Peruvian Ministry of Defense (MINDEF) hosts SITDEF.  This entity (MINDEF) is charged with developing and implementing a Defense Policy to comply with national defense as established under the National Constitution.  Therefore, SITDEF provides the opportunity from different defense sectors to exhibit and present potential solutions and evolving technologies that could assists Peru and its neighbors in the defense and security aspects.
The products in exhibition ranged from land systems, such as armored and tactical vehicles, artillery systems, communications, control and command systems, all weather and day and night operations systems, UAV, surveillance, lasers and many more, extending to transport and logistics (medical equipment, displayed mainly in the adjacent courtyard, surveillance, security, construction and others), to equipment and tools (clothing, textiles, consumer goods and others); we also reviewed documentation on marine systems, to include small launches and other fire control, acquisition, and electronic support systems; aerial systems listed fixed and rotary wing platforms, air defense platforms, missiles, and all sort of gadgets up to some information on satellite and space systems.
Bumar Group GP80-40 and GPBO-40 grenade launchers.
Peru Defense Structure
MINDEF comprises a Joint Chief of Staff, reorganized in 2008 into today's 1-DIEMCFFAA (Personnel, Human Rights, Civil Affairs and Doctrine Division), 2-DIEMCFFAA (Intelligence), 3-DIEMCFFAA (Operations), 4-DIEMCFFA (Logistics), 5-DIEMCFFA (Join Chief of Staff), 6-DIEMCFFAA (Command and Control), 7-DIEMCFFAA (Training Force) and 8-DIEMCFFAA (Informatics Operations).  Since 2004 there has been 7 operational and 3 special commands:  The North Command or CON (Comando Operacional del Norte) has its HQ at Piura, and operates along the border with Ecuador, from Hito Grau (Tumbes) to Campanquiz; the South-COS operates from Arequipa, operating along the border with Chile and Bolivia; the Central Command (COC) operates from Lima, comprising the areas of in those areas considered an Emergency State where there is a presence of guerrillas, and sends patrols along zones disputed with Sendero Luminoso.  During SITDEF we received information that Peru will acquire three C4I centers along with associated missile systems to operate in the north, center and south.
The Amazonian Command (COFA) operates from Iquitos, and undertakes internal security duties and along the borders.   The Maritime Command (COMA) operates along the coast, to the north along Paita-Sechura, and to the south to Islay-Mollendo.  The Aerial (COA) and the Air Defense Commands (CODA) are charged with air combat and air defense.  The Special Ucayali Command (CE-U) has its HQ at Pucallpa (Ucayali) and supports local auto defense forces and other outfits, and patrols along the border with Brazil.  The Special Valley Rivers Apurimac & Ene Command (VRAE) was established in 2007, and spends time in COIN operations along Ayacucho, Huancavelica and Junín, comprising some 6,500 soldiers from the 2nd Infantry Brigade (Ayacucho) and 31st Infantry Brigade (Huancayo), and receives support from the Special Operations Command (COMFOES), the 1st Special Forces Brigade (BRIFE) and the Air Force Special Forces Group (GRUFE), plus an air detachment of 2 An-32B Cline and 4 Mi-17-1B Hip H.  Finally, there is a General Special Reserves Command.
Russian Helicopters were present at SITDEF with an array of information regarding its products.  The Peruvian Air Force has received already the first Mi-35 attack and a couple of Mi-17s to be used in their renewed efforts against guerrillas in the highlands.  These are workhorses and very reliable, rugged and sturdy aerial platforms, making them popular with the armies of South America.
U.S. Ordnance at SITDEF.
The Peruvian Land forces also count with the assistance of the Marine Force (COMFUINMAR), operating under the Navy, and with HQ at Ancon, some 48km north of Lima with the following formations:  Batallón de Infantería de Marina (BIM) Nº. 1 Guarnición de Marina, BIM Nº. 2 Guardia Chalaca, Agrupamiento de Apoyo de Combate (AAC), Batallón de Vehículos Tácticos, Batallón de Comandos, BIM de Selva Nº. 1 (Iquitos), BIM Nº. 3 (Tumbes), BIM Nº. 4 (Ucayali) and BIM Litoral Sur (Arequipa).  The Marines use a number of diverse small arms, to include Browning HP and Beretta 92F, IWI Uzi and SIMA-CEFAR MGP-87, FN P-90 PDW, IWI Galil SAR, Daewoo K-2, FN FNC and F-2000S, IWI Galil ARM and FN FAL 50-63, along with FN M-249 Minimi and Ultimax 100, FN MAG 360, HK-21E and M-60 with Browning M2HB and RPG-7V, M-203, Milkor (Rippel Effect) MGL-6/XRGL-40 and CIS AGL-40.  Antitank support comes from B-10 RCL and AT-5 Sprandel (9M113 Konkurs) missiles.
Regarding the small arms arsenal, there are over 140,000 rifles distributed with the Army, with another 14,000 to the Air Force and some 11,000 to the Navy, to include a number of interesting models such as the SAR 21, Daewoo K2, F2000S, FNC-92-00, HK53A3, Galil AR & MAR, Tavor CTAR-21, Vektor CR 21, STG942, and MSG90 to name a few.  The Army has some 77,500 soldiers, 8,500 officers, 22,000 technicians and NCOs, and 47,000 grunts.  With all in all, it is safe to say that the general issue rifle for the Peruvian forces is the FAL, with Special Forces and jungle warfare units being equipped with Galil rifles.
The interest from the defense industry at SITDEF is not just to supply the local military with small arms, but also the possibility of supplying their neighbors.  For instance, Brazil is looking to replace the IMBEL MD-2 service rifle, and it appears to be considering the FN SCAR, IWI Tavor and the IMBEL MD-97A2.  Present at the fair were small arms solutions that can be applied to many countries in the region.  In the precision shooting arena, Steyr is one of the favorites, and presented the H.S-50, SSG-04-01 and SSG-08 among others.  The first one can be provided with a 23.6-inch Heavy Barrel Compact (HBC), or a 20-inch.  It is chambered for the 7.62x51mm round, and comes with a 10-round magazine.  The SSG-08 presents a more contemporary look, keeping the same basic mechanical and ergonomics characteristics of the SSG-04.