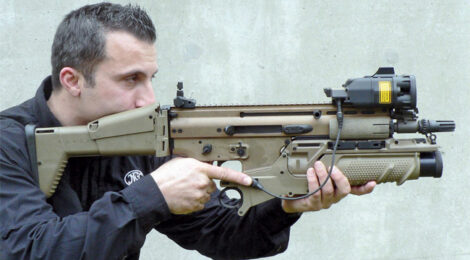 We recently tested the new FN Fire Control System (FCS) at the Zuntendaal proving ground in Belgium.  The FCS can be fitted on a Picatinny rail of any rifle receiving a 40mm grenade launcher or individual grenade launcher.

It is a light box (1.23 lbs) which contains:
Laser range finder,
Ballistic computer,
Sensors for angle of elevation,
Aiming display (MRD – Moving Red Dot),
I.R. laser designator,
Visible laser designator.
Power is insured by two CR batteries.
The FCS can:
measure range,
calculate and set the reticule for exact angle of launch: can hold up to 50 firing tables for different munitions, it measures and takes into account difference in elevation between target and shooter, measures and adjusts for temperature,
warns the shooter if the weapon is canted,
shooter can manually adjust range setting,
memorizes last range measurement allowing pre-registering or follow up shots,
can act as a visible laser aiming device,
can act as an IR laser device.  This also allows range finding/aiming of the launcher at night using night vision goggles.
It is easy to operate:
1 – Press the remote trigger to set the reticule to aim the laser.
2 – Aim and release the remote trigger to activate the range finder.
3 – The reticule immediately moves to the correct firing angle.
4 – Align the reticule on the target.
5 – Fire.
The results obtained during the tests gave a result of more than 99% of shots on the target, which will limit considerably the number of grenades used during an engagement and makes it possible to consider a reduction in the number of grenade launchers in the combat group.