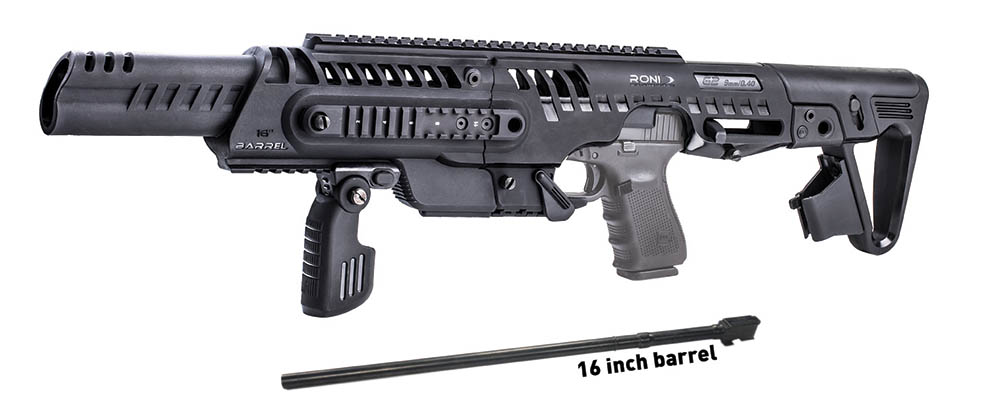 ABOVE: CAA INTRODUCES NON-NFA RONI PISTOL CARBINE CONVERSION


CAA, developers and manufacturers of advanced battle-tested firearms accessories, is proud to announce the RONI® Civilian pistol carbine conversion for the GLOCK® 17 is now shipping to distributors and dealers across the US. The RONI® Civilian in not NFA regulated, which means, you can own this RONI® without the extra NFA paperwork, long wait times and additional taxes. The RONI-C-G2 model is built on a conventional style stock with many of the features that RONI® fans have come to know and appreciate, such as quick lock for easy installation, and a multiple rail system that allows for easy attachment of lights, lasers and night vision devices (NVD). The Civilian also features an innovative muzzle shroud and a 16" barrel. The trigger guard provides additional safety, especially during tactical moves. The collapsible buttstock has an adjustable cheek piece and a magazine holder that allows the user to quickly access and change magazines effortlessly. Optional flip up front and rear sights are also available (FRS/FFS). This is a "MUST HAVE" accessory for every Glock 17 owner!! For more information you can find them at www.caagearup.com.

BUSHNELL INTRODUCES AK RED DOT & RIFLESCOPES FOR AK-47 PLATFORM

Bushnell, an industry leader in high-performance outdoor products for more than 65 years, introduces a pair of sighting solutions aimed at putting the legendary AK-47 platform on target in all conditions. The AK Optics 1-4X 24mm Riflescope highlights targets with an illuminated 7.62×39 BDC reticle. Eleven brightness levels let shooters instantly adapt to any setting, while the 30mm-diameter, 1-piece aircraft aluminum tube is as rugged as its AK-47 namesake. Fully multi-coated optics raise the bar in visual acuity; all air-to-glass surfaces boast multiple layers of anti-reflective coatings to deliver the brightest, highest contrast images with the least amount of eyestrain. With a quick-pointing red dot and 11 intensity settings, the shockproof AK Optics 1x 25mm Red Dot delivers lightning fast, surefire shot placement in any shooting scenario. The 3 MOA dot reticle covers 3 inches of your target at 100 yards, while the Amber-Bright high-contrast lens coating enhances detail and suppresses lens flare. For added versatility and convenience, the sight's integral mount works on any Picatinny rail or Weaver-style case.

To ensure total waterproof and fogproof performance no matter the weather or humidity, both the AK 1-4X 24mm Riflescope and AK 1x 25mm Red Dot are also O-ring sealed and nitrogen purged. Even complete submersion in water won't faze them. Built from high-quality components and engineered to ensure trademark Bushnell dependability even in extremely challenging conditions, these lightweight yet durable performers offer serious AK-47 shooters exciting new sighting systems to fit a wide range of shooting needs and situations. See their products online at www.bushnell.com.

SIG SAUER INTRODUCES .308 MATCH GRADE ELITE PERFORMANCE AMMO

SIG SAUER, Inc. expands its Match Grade Elite Performance Ammunition line for rifles with the addition of a 168gr 308 Win loading. Featuring a 168gr Sierra MatchKing® bullet, the SIG SAUER 308 Win Open Tip Match (OTM) round has a muzzle velocity of 2,700 fps with a muzzle energy of 2,719 ft-lbs. SIG SAUER engineers designed this round to excel in today's precision autoloading platforms as well as bolt action rifles. The temperature-stable propellant in this cartridge delivers consistent muzzle velocity in all weather conditions, and premium-quality primers ensure minimum velocity variations. All SIG SAUER rifle ammunition is precision loaded on state-of-the-art equipment that is 100% electromechanically monitored for geometric conformity and charge weight consistency. The shell case metallurgy is optimized in the SIG Match Grade OTM cartridge to yield consistent bullet retention round to round. All Elite Performance Ammunition is manufactured in the United States by SIG SAUER to the same exacting standards as the company's premium pistols and rifles. For more information, visit www.sigammo.com.

SIGHTMARK INTRODUCES NEW 3X TACTICAL MAGNIFIER PRO

Making on-the-fly adjustments to engage targets from close- to mid-range and back again with only seconds to obtain proper sight picture can be daunting. Fortunately, the Sightmark 3X Tactical Magnifier Pro, complete with a flip-to-side mount, makes such efforts nearly effortless.

Built as tough as the good men and women who depend on them for rugged professional performance and down-and-dirty high-stakes competitive shooting, the 3X Tactical Magnifier Pro boasts aircraft-grade 6061-T6 aluminum with a hard-anodized matte black finish and ultra-durable rubber armor. Not to be outdone by other great Sightmark products, the 3X Tactical Magnifier Pro features premium, fully multi-coated optics, precision machined and calibrated external adjustments and robust 3.5" eye relief. For lightning quick transitions from close-range to mid-range, the 3X Tactical Magnifier Pro's flip-to-side mount delivers rock solid stability while also allowing for lightweight flip positioning. For long stretches of close-range use, the flip mount can easily be removed and re-attached via a quick-detach lever. Visit www.sightmark.com to learn more about Sightmark® products.

THE AUTO MAG PISTOL IS BACK

Auto Mag LTD, Corp, is a new company created for the sole purpose of reviving the classic Auto Mag pistol. The history of this much-loved and lauded pistol began in 1958, when firearms visionary, Harry Sanford, developed a pistol around the .44 Auto Mag cartridge, specifically for handgun hunting. Ten years later, through the efforts of a dedicated team of firearms designers and engineers, the big bore handgun was finally brought to market in small numbers. The Auto Mag Pistol (AMP) was a full-sized semi-auto featuring a multi-lugged rotating bolt and was operated by the short recoil system. The AMP was machined from stainless steel with a 6.5-inch barrel and total overall length of 11.5 inches. The magazine capacity was seven plus one in the chamber. The Auto Mag was expensive to produce and was underpriced on the market. It is estimated that Auto Mag lost $1,000 on every pistol produced. Attempts to keep the production going by TDE, a holding company, proved unsuccessful even though the price was raised significantly to reflect the actual production costs and Auto Mag was remarketed as a "collectors" pistol. In 1982, after several attempts to revive the pistol, Auto Mag threw in the towel and officially retired from the market place. The Auto Mag was popularized by Clint Eastwood as "Dirty" Harry Callahan in "Sudden Impact" and Mack Bolan of "The Executioner" book series who named his Auto Mag "Big Thunder." In 2015, after 40 some odd years of cult status, a private investor purchased the rights, plans and spare parts from the Sanford family. The new company, Auto Mag LTD, Corp., based out of South Carolina, has spent the past year reengineering the iconic pistol using advanced materials in a state-of-the-art manufacturing facility. Auto Mag is also now an officially registered trademark as of this month. As the prototype process continues to progress, Auto Mag engineers are working to bring back the Auto Mag, better than ever, while taking advantages of the improvements in materials and manufacturing technology advances available today. Auto Mag LTD, Corp. will be offering current Auto Mag owners refurbishing services for existing models, plus new caliber conversions will soon be available. 'Go Behind the Scenes' at Auto Mag and stay up to date with the prototyping and production of the new rendition of this legendary pistol at www.automag.com.

WITT MACHINE & TOOL ANNOUNCES NEW INTEGRAL SUPPRESSED UPPERS

Witt Machine & Tool has just introduced their new line if integrally suppressed uppers for the AR-15/M-16 and AR-10 series of rifles. The new uppers come in .300 BLK, 5.56 NATO and .308 for the AR-10. These are true integrally suppressed systems using 16 inch barrels not short barrels with pinned-on suppressors. The barrels can actually be changes with a serial number change! With these systems you never have to worry about the risk of a baffle strike and you get the full benefits of a 16 inch long barrel (18 inch with the .308 upper). There is also no change to point of impact like there can be with thread-on suppressors. The suppressors are made entirely from Titanium for long like and lightweight. The uppers are complete with a choice of several different handguard options and they come with a complete bolt and charging handle. They are available in polished Titanium, black or FDE finishes and can even be ordered with custom laser engraved serial numbers. The uppers also include a fully adjustable gas block so you can tailor your upper to your ammunition. Check out their other suppressors as well as their full line of muzzle devices at www.wittmachine.net.

PROTECH TACTICAL DEBUTS NEW BARK-9 CARRIER FOR CANINE OFFICERS

Safariland has just announced the all-new Protech® Tactical Bark-9™ carrier, the next generation of protection in canine tactical carriers. As the industry's best-in-class canine armor, the Bark-9 carrier is the first to meet the needs of police dogs for coverage, flexibility and maneuverability. Its contoured design allows for high-speed application and assaults vital for outperforming an assailant in high-threat situations. The load-bearing carrier was redesigned to address the changing tactics of today's canine units to be compact and lighter weight. In recent years, some departments have transitioned from large dog breeds to smaller, athletic canines whose speed and physical techniques are critical for the challenges of the job. With the demand for canine officers increasing and threat levels at an all-time high, this top-of-the line carrier delivers the necessary protection with maneuverability. The interior of the Bark-9 tactical carrier features 420-denier Cordura® diamond ripstop nylon for breathability and a comfortable fit. Reinforced stitching on the exterior of the 1000-denier Cordura® nylon carrier resists mission wear and tear, prolonging the life of the carrier. Notable features include a high-profile hook, loop and buckle closure system, a restraint handle with D-rings for adjustable leash attachment and a modular webbing platform along the spine of the carrier for attaching video equipment. A detachable spine can be added to the back of the carrier to provide ballistic overlap with lengthened ballistic protection. The Bark-9 carrier is currently offered with four ballistic packages to accommodate various mission requirements and is available now with MSRPs ranging from $1,410.00 to $2,050.00, based on ballistics selection. The standard color offering is black, and other colors are available upon request. For more information, please visit www.safariland.com/protech-tactical.

CENTURY ARMS AK OPTIC MOUNTING SYSTEM

Century Arms, North America's premier AK manufacturer, is proud to announce the introduction of the new addition to their AK-47 accessory line, the AK Micro Dot Side Mount. This solid and easy-to-install mount contains features that set it apart considerably from other side mounts currently available on the market. This AK receiver rail and side mount represent a true evolution of optics mounting systems for the AK platform. The AK Micro Dot Side Mount is machined from 6061-T6 billet aluminum and is hardcoat anodized per MIL-A-8625F Type III, Class 2 specifications, giving it superior overall strength. The AK Micro Dot Side Mount is the first AK side scope rail mount that has true return-to-zero capability. The mount offers four times the clamping engagement over traditional side scope rail mounts, improves sight acquisition for follow-up shots and allows for complete field stripping of the rifle without removal of the mount. It is compatible with most standard T1/H1 style optics and provides a modular mounting system to adjust the optic from front to back. All of Century Arms' American Made AK47's in the C39v2 and RAS47 product lines now come equipped with a new receiver side rail that is compatible with the AK Micro Dot Side Mount. This combination allows the modern shooting enthusiast the ability to customize their rifle and make it a more capable, flexible platform. The AK Micro Dot Side Mount includes all necessary hardware and has a suggested retail price of $119.99. You can find them at www.centuryarms.com.