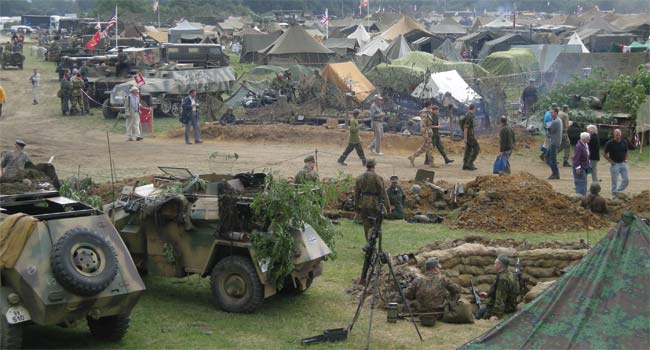 The War & Peace Show, also called "The Beltring Show" by many, is an incredible experience. SADJ decided to bring the readers a short report on this amazing civilian "Militaria" show, since it is coming again this summer and, without question, is the largest militaria show in the world. War & Peace also provides an opportunity for military historians, end users, and people in the industry to see up close the weapons and kit used in conflicts all over the planet. The displays cover the full 450 acres of the Hop Farm recreational facility which is southeast of London in Paddock Wood, Kent. You read that right, 450 acres of display areas.
The sunshine in Southern England in July is marvelous, and frequently the War & Peace show is blessed with outstanding weather. If it rains, well, be prepared for mud: this is England after all.
The show is divided into several parts: the Militaria sales section, reenactor encampments, display areas, as well as the military vehicle arena where every conceivable military vehicle from early French tanks to modern US M60A1 tanks, to SAM missile trucks are displayed and talked about as if they were models on a fashion runway. Car-crushing events are very popular with a variety of tanks blank-firing then running over hapless car bodies to the cheering of the crowd.
All of this is done in a carnival atmosphere, with perhaps 50,000 attendees over five days. There are 1940s period bands playing on Friday and Saturday night, as well as true fashion shows for the WWII era reenactors with both military and civilian clothing being shown. For a taste of the fashion, go to www.1940.co.uk and check it out.
On a more sobering note, three original members of the US Army unit "Easy Company" from the 506th PIR, 101st Airborne Division, immortalized in the HBO series Band of Brothers, were at this year's show. They interacted with the crowd, and were quite impressed with the War & Peace Show. We were honored to have Buck Compton, Don Malarkey, and Earl McClung attend. They kept the focus on their unit and the sacrifices of all, as one would expect from such heroes. Among all the fun and fancy of the show, they served as a true reminder of the hard reality and sacrifice represented by the living history around us.
If you have the opportunity, SADJ recommends a vacation at this show, combined with seeing other sites in the UK of course.