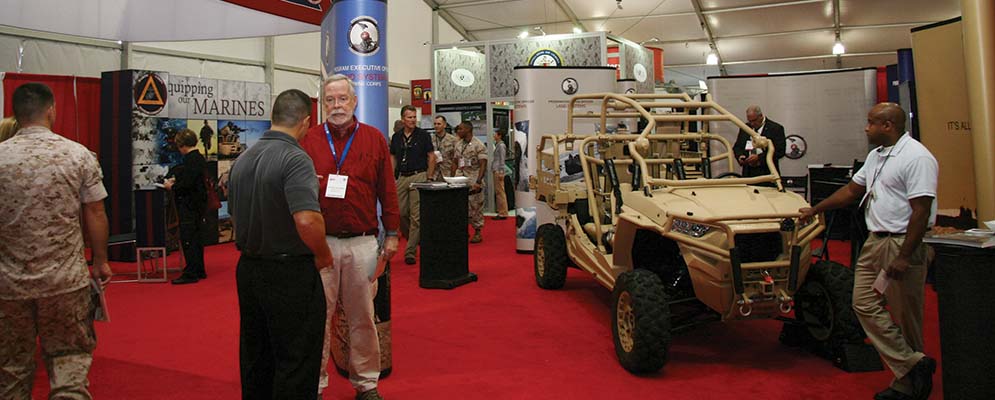 ABOVE: Marine Zone. Marine Corps Systems Command's impressive presence in Tent B anchors what is commonly called the "Marine Zone," a concentration of exhibits showcasing what's new and exciting for possible near-term use in the Corps. Marcorsyscom.marines.mil Photo by Robert Bruce

Beyond the "Three Block War"

"The environment we will face will be different,"

Neller said. "It won't be open desert where we will have clear sight lines; it will be complex terrain, urban sprawl along the coastline. We won't have guaranteed air supremacy or technological supremacy. The fight will not be linear or sequential." General Robert B. Neller, 37th Commandant of the Marine Corps

In his second year as Commandant, and second visit to MDM, four-star General Neller's keynote address on Wednesday to an overflow crowd in the cavernous Briefing Center tent at the 2016 Modern Day Marine Expo. The General introduced the new Marine Corps Operating Concept (MCO), comprehensive guidance to plan and prepare for how the Corps will operate and fight in 2025.


Neller's choice of this time and place to drive home his personal commitment to MCO for the coming decade is hard evidence of the importance of this annual event for all Marines, and other serious warfighters to see and learn about what Marines have to move, shoot, and communicate now and in anticipation of inevitable upcoming conflicts worldwide.

Tell & Show

The Corps wisely uses the annual Expo in a number of ways as an efficient venue for meaningful interaction with large and small sources in the defense industry. It's a two-way information superhighway that bypasses many of the bureaucratic bottlenecks encountered in other services making up the US Armed Forces.

Interestingly, on Monday, the day before the Expo's official kickoff, MARCOR Systems Command held the Infantry Equipment Challenge Industry Day at MCB Quantico. Some seventy vendors attended the event where USMC requirements, capabilities, operation and areas for possible improvement were discussed. Along with presentations on current and future operating environments, potential engineering assessment criteria, and current requirements.

Then it was time for vendors to have individual meetings with MCSC Program Managers and subject matter experts: "This is what we've got, are you interested?"
More information, including follow-on events, can be found at: marcorsyscom.marines.mil/InfantryEquippingChallenge/.

Up Close & Personal

Continuing Systems Command's very successful inauguration last year of the "Integration with Industry Workshop," grunt gear innovators were invited for all three days of the expo to showcase and demonstrate equipment intended to be worn or carried by dismounted Marines.

The emphasis this time, conducted by the Marine Expeditionary Rifle Squad Office, was on items that could be used by the infantry community.

Centrally located in Tent B's distinctive "Marine Zone," scheduled vendors got up to an hour each to make their pitch and if appropriate, to actually adorn a combat-ready Marine's standard outfit with whatever gadget or gear enhancement being offered. Then, an expert panel provided a "usability assessment" right on the spot.


For example, Mystery Ranch's Overload Packs, customized for selected heavy man-portable weapons and already in use in Special Operations Command, got a chance at this one as well as at Monday's Infantry Equipping Challenge.

Straight Scoop in Sessions & Panels

Over the Expo's three days, scheduled panels and sessions provided essential information to help defense firms and others understand current requirements and anticipate what will be needed for expeditionary warfare in the near future and beyond.

In the Report to Industry, Planning Brief to Industry, Combat Support System Industry Day, Special Operations Brief, and Small Business Programs Brief, there was something for everyone to learn and act on; from top executives of strategic level mega-contractors to small business vendors hoping to identify and supply Corps-specific gear.

MARCOR Systems Command's Planning Brief to Industry consisted of three back-to-back sessions. Years of the Republican leadership allowing the Obama administration's drastic cuts to the DoD budget continue to bedevil the Devil Dogs in particular as was starkly revealed by Program Managers in necessarily but dangerously austere acquisition plans.


"Expeditionary Convention Center"

Billed as "the world's largest military exposition focusing on enhanced capabilities for expeditionary forces," this year's Modern Day Marine Expo was held from September 27th to 29th aboard Marine Corps Base, Quantico, Virginia.

"It provides education for everyone," said Michael Regner, retired Marine major general and current national director of government affairs for the Marine Corps League, which puts on the expo. "Not just for junior and senior Marines, but for military family members, spouses and children, members of Congress, their staffs and civilian Marines.

Co-sponsored by the base, the Marine Corps League, and Marine Corps Systems Command, the 36th annual MDM showcased the products and services of nearly 200 entities that support military land, air, and sea operations.

Exhibits at this year's exposition filled three enormous, sparkling white, climate-controlled tents, as well as others showcasing small business and housing the briefings. These, and adjacent space in the outdoor display area, were packed with the latest operational equipment and technology, along with videos, models, and prototypes of items soon to enter service.


Defense contractors from throughout the U.S., and some allied nations, signed on to show their products and services, get feedback from the warfighters, and respond to questions.

Much of the equipment now used by Marines and other U.S. and allied forces confronting enemies in Iraq, Afghanistan, and elsewhere around the globe was first presented to military leaders, operations planners and acquisition managers at previous editions of the expo.

As well as experiencing the latest, greatest technological advances, MDMME attendees can go face-to-face with many of the nonprofit organizations and agencies that exist to assist service members and veterans.

As always, our focus was on infantry weapons and ammunition, so we paid close attention as Colonel Mike Manning, PM Infantry Weapons Systems, gave some particularly bad news in revealing his office's 2017 funding cut nearly in half.

But in true "Semper fi" tradition, Manning vowed to meet the needs of tip of the spear Marines, renewing the perennial call for industry to help with cost and weight reduction in body armor, weapons, ammo, and optics.
Meanwhile, modest enhancements are promised to Marine snipers, but other grunts will have to carry on with current issue weapons; most all designed and fielded decades ago. Many if not most of these are at the end of their long life cycle, "rode hard" repeatedly on ranges, in rigorous training exercises and countless brutal battlefields.

On the somewhat bright side, PM Ammunition's budget has "only" been cut by $1.2 million. Opportunities for ammo suppliers include battlefield effects simulators, 5.56mm SESAMS, 9mm blanks (for dog training), and match rounds for competition.

Actual briefing slides from Manning and other PMs can be found and downloaded from System Command's website marcorsyscom.marines.mil Click the COMMAND BRIEFINGS bar.

There's a special link on the top menu bar for the Small Business Program, and all potential vendors are invited to review the ACQUISITION FORECAST.
For specific solicitations and contract awards at FEDBIZOPS and Defense Innovation Marketplace is a comprehensive resource: defenseinnovationmarketplace.mil.

Small ARMS Showplace

While it's easy to get sidetracked by exhibits featuring enormous armored fighting vehicles, lethal drone aircraft, weaponized robots and such, guns are number one for us, and there were plenty to handle and discuss with knowledgeable reps.

2016's lineup included infantry weapons from prominent names like Beretta, Barrett, Colt, FN, General Dynamics OTS, Glock, HK, Knight's, LaRue, Sig Sauer, and Troy. Also, several rising contenders in the firearms arena include Combined Systems, FightLite, Magpul, Phoenix Defence, Seekins Precision, and others.

But first, let's deal briefly with Marine Corps' interest in the Army's XM17 Modular Handgun System program. Very briefly.
As of this writing in late October, a possible replacement for the long-suffering 9mm M9 Beretta is apparently stalled, and the eagerly anticipated "mid-September downselect" of finalists hasn't been announced. And it would be bad manners to ask industry exhibitors about it.

Maybe we'll all have found out together by the time you read this. Capsule Cartridges, COLT, CVRT, and Clones

Here's our customary update on AAI/TEXTRON's CT (Cased Telescoped) weapons and innovative ammo: still alive and kicking as evidenced by an official status report presentation at NDIA's Armaments Conference earlier this year and CT project engineer Ben Cole's cheerful demeanor at MDM 16.

Proudly showing the latest mockup of the new CT Carbine that joins the well-proven 5.56 and 7.62mm CT belt-feds, Cole said that firings of its test fixture mechanism are going well and the "architecture" of the actual weapon is being finalized. Caliber to be determined (possibly) by long-anticipated results of the Army's Caliber Configuration Study.
COLT Canada's Warren Downing brought us up to date on latest innovations in SWORD (Sniper Weapon & Observer Reconnaissance Devices). It's said that the USMC's intel group has ten systems for evaluation of this networked targeting system for infantry soldiers.

Kevin Weyraugh of Seekins Precision tells us that the stubby barreled SBR8 CVRT (covert), designed specifically for use with a suppressor, is custom-built only for LE and government customers.

Always on the lookout for friendly female faces and fine firearms, we made a point of stopping to see Troy Industries. There, Alyssa Fuentes and Molly Troy graciously modeled the two new 'Nam era civilian-legal commemorative clones "shorties," the USAF-fielded GAU.-5/A/A and Army XM177E2, a U.S. Special Operations icon specifically built for the covert combat needs of MACV-SOG in Vietnam.
Linked in

In addition to AAI's two CT platforms, some other belt fed guns caught our eye as we elbowed our way through crowded aisles.

First was FightLite's MCR (Mission Configurable Rifle) that not only ingests its 5.56 from SAW type linked belts, but also from conventional AR compatible mags. We're told that the MCR is slated for testing soon by the Army's PEO Soldier, and it was pitched to the Corps at MDM16's Integration with Industry Workshop.

Knight's continues to promote their superbly simple 5.56mm Stoner LMG and Barrett's remarkable 7.62mm 240LW offers considerable savings in cost and weight over the venerable M240 series.
"Crossroads of the Marine Corps"

Strategically located about 30 minutes' drive south of Washington DC, America's capitol city with powerful lawmakers, the Pentagon, numerous defense contractors, and foreign embassies, MCB Quantico is an ideal Expo location.

It is the home to the Marine Corps Combat Development Command, charged with developing Marine warfighting concepts and determines the Corps' capability requirements for doctrine, equipment, organization, training, education and support.

The Marine Corps Warfighting Laboratory at Quantico is part of the Development Command and responsible for improving current and future naval expeditionary warfare capabilities for the Marines and their amphibious roles and missions.

Also at Quantico is Marine Corps Systems Command, principal agency for acquisition and sustainment of systems and equipment for the Marines' warfighting mission. Many of the personnel who staff those organizations took advantage of continuously-running shuttle buses to visit the exhibit halls and discuss missions, capabilities, and requirements with defense industry professionals.
Reach Way Out

A Truvelo CMS precision rifle in .338 Lapua from Phoenix Defence and Gun Mountain (full disclosure – associated with this publication) grabbed attention with its long sleek lines and distinctive muzzle brake/flash suppressor.

The 7.62mm SIG716 Designated Marksman Rifle continues SIG Sauer's distinguished line of military and LE weaponry.

HK Defense was proud to note recently winning the CSASS (Compact SemiAutomatic Sniper System) competition, represented at the expo by a well-accessorized HK417.
Then there was the impressive, multi-caliber Barrett MRAD, triumphantly sitting atop a stack of big ammo crates filled with expended brass, testifying to a recent extreme torture test. And not to be overlooked was LaRue Tactical's 20-inch barreled PredatOBR in 7.62mm.

"We own the night" (and daytime too in rain, fog, snow and sandstorms, CQB or extreme range) due to technological leaps and bounds made by Aimpoint, B.E. Meyers, FLIR, Trijicon, L-3, Leupold, Night Vision Depot, and others at the expo.

Honors and Awards

With so many high-level Marine leaders and other VIPs converging on the Expo, important ceremonial events are conveniently scheduled to coincide. At Wednesday evening's Grand Banquet and Awards Dinner at Pentagon City's Ritz-Carlton Hotel, US Representative Robert Wittman (R-VA) received the Marine Corps League's Iron Mike Award and the Dickey Chapelle award went to Dr. Betty Mosley Brown. Information on these is available on the Marine Corps League's website www.mclnational.org.

When heavy rain washed out the traditional Wednesday morning Enlisted Awards Parade, ten outstanding Marines and one Navy Hospital Corpsman were personally honored by the Commandant Neller in the Expo's Briefing Center tent.

For us, the Gunnery Sergeant Carlos Hathcock Award for outstanding contribution to marksmanship training is most prominent among these. The 2016 honoree was Sergeant Joshua K. Sherman for exemplary performance while serving as a Combat Marksmanship Trainer, Marksmanship Training Company, Weapons Training Battalion, Quantico, Virginia from January 2014 to May 2016.