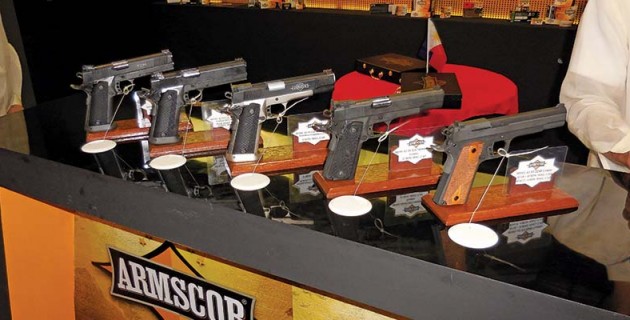 ABOVE: Armscor products from their 1911 line. Left to right: M1911A2 in Armscor's proprietary .22TCM caliber; M1911A2 in .45 ACP – the Tactical; M1911A2 Medallion Competition in .40 S&W; M1911A2 Combo in 22TCM and 9x19mm; M1911A1 XT 22/45 Combo in 22lr and .45 ACP. www.armscor.com.ph

The fourth biannual BRIDEX (pronounced Brih-dex) exhibition was another marked success for this small South East Asian nation on the northern tip of the island of Borneo. While a relatively small regional show, it drew a solid representation of buyers and vendors in the region, reaching all the way to Africa and the Mideast. The U.S. and UK were well represented as were other European nations. In some ways this event was a bit smaller in scale than the last, but the floors were packed with VIPs who engaged with the vendors, and that's what counts.
One note on the focus of the show: the last round of contract awards included a lot of small arms procurement, and this time it was a military vehicle focus for many vendors. ST Engineering from Singapore was after the Grenade Machine Gun AGL fulfillment, but had their best foot forward on vehicles in their display. Similar focus could be seen at other booths.
UKROBORONPROM, Ukraine's state agency, and the State Kyiv Design Bureau "LUCH" presented a number of gun-launched anti-tank guided missiles in many standard calibers. Shown: models in 90mm "Falarick-90;" 100mm "Stugna;" 105mm "Falarick-105;" 120mm "KONUS;" & 125mm "KOMBAT." www.luch.kiev.ua
RUAG's ammunition display showcased their entire military line including sniper ammunition up to 12.7x99. www.ruag.com
"Darussalam" means "Abode of Peace" and Brunei is in fact a peaceful and prosperous nation, but once again the underlying theme of BRIDEX was that while peace is a good thing, one must be prepared to defend it. His Majesty, Sultan Haji Hassanal Bolkiah Mu'izzaddin Waddaulah, the Sultan and Yang Di-Pertuan of Brunei Darussalam, is the 29th of his line, which dates back to the fourteenth century. Aside from his normal interest in having a highly trained military, His Majesty has taken a special interest in the success of this show, and many country leaders answered the call to add their support. After the opening ceremony of BRIDEX, which was in the new exhibition center, the show was filled with official delegations, ambassadors, buying groups, and other qualified personnel.
SAAB Bofors Dynamics Switzerland, Ltd. presented the "MAPAM" advanced mortar systems. They have achieved a 30% weight savings by using an aluminum skin and fragmentation embedded in an epoxy matrix, as shown in the cutaway examples. Increase in the "lethality area" is claimed as 2-2.5 times the area. www.saabgroup.com
A note for SADJ readers who attend a lot of shows to meet customers; something unusual happens at BRIDEX that is worth mentioning. The Sultan not only attends the show, but he and his entourage go row by row through the entire exhibit area, and His Majesty personally greets and looks at the products from every single booth. (At the SADJ booth we presented His Majesty with our magazines and a copy of the second edition of AK47: The Grim Reaper, which he accepted in a serious manner. We then presented him with some of our Machine Gun Coloring Books and that brought a smile and a bigger thanks).
Spanish company EXSPACE (Expal, MAXAM) presented an integrated system; a drone that appeared as a bird from a distance, combined with a mortar fire control system "Techfire" and the actual modernized mortar, to create a complete intelligence gathering and fire control system for artillery and small mortars such as their 81mm. www.expace.es
This author has seldom seen the amount of VIP time that happened at BRIDEX. The attendees from the Sultan on down were very hands-on and attentive to every booth. Whether that translates into business for the attendees depends on the presentation and products of the attendees, of course, but BRIDEX management pulled out the stops in getting that VIP time for exhibitors, and everyone we spoke with was appreciative of this. (Read the Manroy Engineering sidebar for another interesting view on this.) We were very impressed with the quality of the visitors and the interest exhibited by them, and for vendors who travel the world and go through the international bureaucratic maze and jet-lag haze to try to reach their end users, well, there's no higher praise for a show. We will definitely be back to Brunei Darussalam for the next BRIDEX event in 2015.
Manroy Engineering's "Manroy 5.56 LMG" belt fed light machine gun in 5.56x45mm. The parentage is the Israeli Negev, with Manroy's development.
Manroy Engineering: A Study in Success
Manroy Engineering has been around for a long time, producing .50 caliber machine guns and the British GPMG (MAG58 variant L7) as well as mounts and many other products. Manroy recently opened in the U.S. and has had some good success there. But about two years ago they decided to start going to some of the smaller, regional shows around the world, looking for non-traditional customers for their growth. It's been this author's lifelong experience that potential buyers appreciate that you've taken the time to come to their country and visit with them, and this has proven to be a wise course for many.
Manroy M2QCB .50 caliber machine gun, with spare quick change barrel, tripod, mount, and kit, as purchased by the Brunei military after winning the competition.
Mark McCaughran, Regional Sales Director, Far East Operations, Manroy Engineering, explained that his company had been considering investing in travel to regional military shows, and had read about the BRIDEX show in Small Arms Defense Journal. Mark said that they attended and exhibited at the 2011 BRIDEX, and connected with the Brunei military and were invited to compete in the Heavy Machine Gun tender due to showing their products at the show. As a result of winning the competition, Manroy sold 56 sets of their .50 caliber M2-QCB with spare barrel, soft mount, and lightweight tripod that fits into the heavy duty transport chest, and they were running a loop film of the heavy firing being done at the range in Brunei with these heavy weapons. They had high hopes of follow-on sales for other groups in Brunei's military, as well as expanding their pallet of weapons sold to the military here. This was a textbook case of "How it's supposed to work," and while there are never any guarantees that traveling to shows will yield sales, not being there can certainly shoot down your chances of even knowing about the opportunities. www.manroy.com.