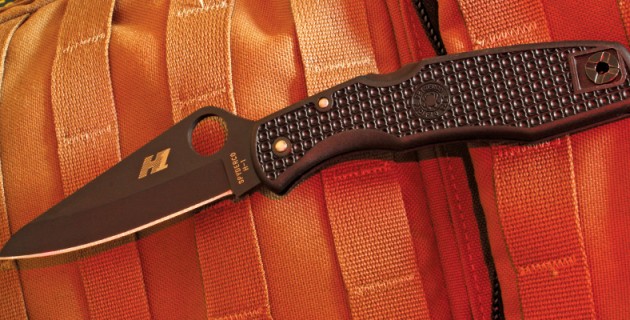 One's first impression of the Spyderco Pacific Salt (C91BBK) is, "Is that an Endura?"  This is a good thing, as the venerable Endura has been in use since 1990, and is still going strong.

The Pacific Salt shares size, basic blade design and handle ergonomics with the Endura, but this generation was purpose built to survive maritime environments.  Most notably, Spyderco forged their 3.8-inch PlainEdged blade out of H-1 Steel.  (Steel generally consists of iron alloyed with carbon, (1050 usually around 1% carbon by weight as opposed to H-1 with .15%).  The Carbon provides hardness and strength, but carbon steels corrode easily.  Stainless Steels also add manganese, nickel, chromium, molybdenum, boron, and vanadium to balance out corrosion resistance with strength.)  H-1 uses nitrogen instead of carbon as a primary alloying element, which provides very good corrosion resistance.  This steel also boasts hardness of Rc 57 and wear resistance on par with 440 Stainless.  The blade is coated in a flat black Carbonitride for additional corrosion resistance.
The handle is made of fiberglass filled nylon with a flat black finish.  This material is known for high impact and chemical resistance, along with good thermal resistance.  The grip pattern consists of an aggressive hatch pattern for additional traction in wet conditions.
Two additional features on this blade stand out for maritime use: The first one being a slightly larger thumbhole in the blade (14mm) for use with gloves or cold, wet, hands.  The lanyard hole is the second, reinforced and perfect for 550 cord.
Ergonomically, the grip was designed to fit a wide array of hands and does so in SADJ tests.  Upon opening, my thumb finds the cutout hole easily, and when open, the grip remains secure wet or dry.
Overall, the Spyderco Pacific Salt is most satisfactory and this author would recommend it for both wet and dry work.  Its solid construction and affordable price make it an easy choice.
Notable points
H-1 Steel blade:  Highly corrosion resistant, good hardness rating, easily sharpened
Black Carbonitride coating: Additional corrosion resistance, flat finish with little reflection
Handle material: Fiberglass reinforced nylon (aka-Zytel) with aggressive knob pattern, impervious to elements and large temp swings
Slightly larger hole for gloves or slightly numb cold hands
Beefy Titanium clip: no rust, strong and conforms to one's grip
Reinforced lanyard hole
Resembles Endura; one of Spyderco's more popular models
NSN 1095-01-608-4332