In the course of decades of research in various military and museum archives, Robert Bruce has acquired a treasure trove of photos of what might be considered "odd and unusual weapons." This is a follow-on to the first installment of "Ordnance Oddities: The Early Days" that appeared in SADJ, Vol. 11, No. 5.

Now, with apologies for some of these rough-looking images—presented as they were found—let's look at some very unusual weaponry from the 1940s through the 1950s.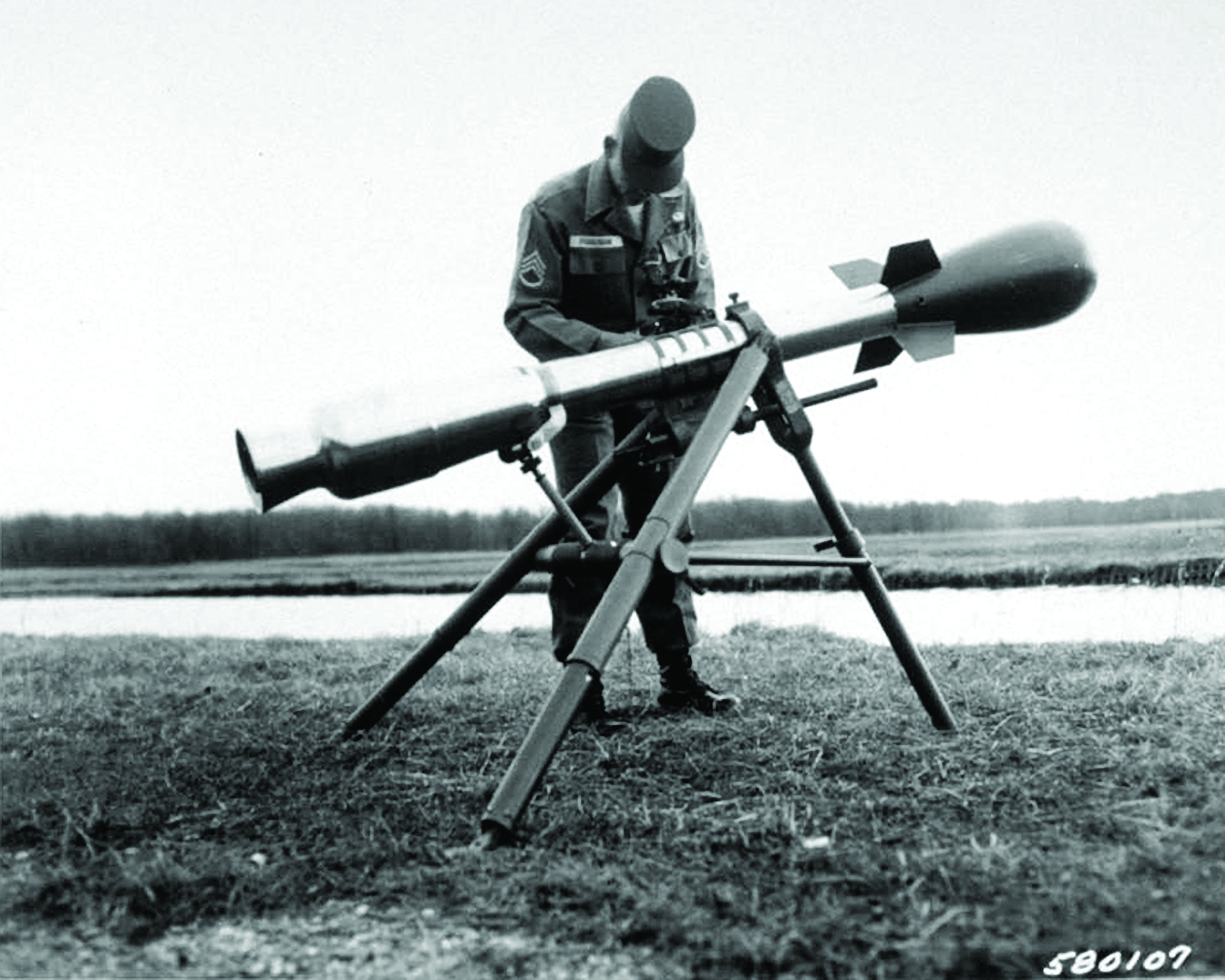 CREDIT: U.S. WAR DEPARTMENT/NATIONAL ARCHIVES/WIKIMEDIA COMMONS
Atomic Bazooka! Undoubtedly the most spectacular of these oddities is the M28 and M29 man-portable, tactical nuclear weapon system, officially named the "Davy Crockett" after a semi-mythological American patriot of the early frontier days. Developed in the late 1950s Cold War period, in this case, Davy's job was to quickly move into position to take out Communist enemy concentrations with the watermelon-sized M338 mini-nuke. The inability to kick its atomic warhead to a safe distance from the gun crew was an unfortunate limitation that added to other concerns, and the project was scrapped after very limited deployment. Photo taken at Aberdeen Proving Ground, Maryland.
CREDIT U.S. DEPARTMENT OF ENERGY, VIA WIKIMEDIA COMMONS
Effect on Target! While we're exaggerating the Davy Crockett's nuke blast effect (equivalent of 20 tons of TNT) in this photo of a 14-kiloton test, it is in color and has its characteristic mushroom cloud. The M29 weapon itself used a novel piston-spigot system to propel the 50-plus-pound Mk-54 sub-fission warhead to a maximum range of 2.5 miles. Photo taken October 30, 1951, at Yucca Flat, Nevada.
_________
Now that we've set the stage, let's go back in time to the early 1940s, just two decades after "The War to End All Wars."
___________
CREDIT: U.S. ARMY ORDNANCE MUSEUM
Frankengun .45! Despite being nearly perfect in its original M1911 form, John Moses Browning's superlative .45 ACP semiautomatic handgun was an apparently irresistible candidate for "improvement." And so, here's what happens in peacetime when idle hands at Army Ordnance Corps go to work to fit a detachable shoulder stock, extended magazine and slide with long barrel and an eye-catching perforated cooling jacket. Photo taken at Aberdeen Proving Ground, one month before the U.S. entered WWII.
CREDIT: U.S. ARMY ORDNANCE MUSEUM
Convertible Chopper! Urgent wartime production demands spurred experimentation in alternatives to America's heavy and expensive Thompson Submachine Guns. Here's the UD-1, a novel offering from United Defense that can be quickly converted to fire either standard U.S. .45 ACP ammo or the European-favored 9mm Parabellum. For various reasons, it lost out to the ultra-cheap and simple M3 "Grease Gun." Photo taken at Aberdeen Proving Ground in April 1943.
CREDIT: U.S. ARMY ORDNANCE MUSEUM
A Mortar Rifle? Desperate times for Marines in desperate fights with a fanatical Japanese enemy in early Pacific island-hopping combat inspired this trigger-fired 60mm mortar. Don't make fun of this clever field-expedient because it's a very practical solution to the urgent need for Marine mortarmen to move fast and hit hard in close-range jungle fighting. Its tube, carried by a single Marine, has an under-slung rifle stock serving as both a trigger mechanism and its baseplate (seen buried butt-deep into a sandbag); not intended for shoulder firing. While seen here with the heavy and ungainly standard bipod with quick release collar, this was most certainly dispensed, in most cases, with the gunner slamming the butt into the ground, grabbing that broomstick foregrip and using "Kentucky windage" to aim.
CREDIT: U.S. ARMY ORDNANCE MUSEUM
Improved One-Marine Mortar! Probably inspired by that rifle stock mortar, Master Gunnery Sergeant Garrett pushes this to the limit with his design for a bipod-mounted, trigger-operated, shoulder-fired 60mm mortar. Yes, Leathernecks are notoriously tough guys, but ouch! Noting the angle of the simple quadrant sight on its left side, that bipod will have to extend pretty far to lob the shell even a short distance. Photo taken at Aberdeen Proving Ground in September 1943.
CREDIT: U.S. ARMY SIGNAL CORPS, NATIONAL ARCHIVES
Gotta Have a Bayonet! Among the first M1 Carbines delivered to the Army's Infantry Board at Fort Benning, Georgia, February 1942, this one has been "improved" by taping a trench knife to the barrel. This came at the start of a crash program to put a "pig sticker" on the little rifle. Well, only about 2 years later, the M4 Bayonet was standardized, secured to carbine barrels modified with the T2 lug assembly.
CREDIT U.S. ARMY SIGNAL CORPS, NATIONAL ARCHIVES
First Full-Auto M1 Carbine? While industry and Army Ordnance Corps engineers and technicians back in the U.S. were scrambling to provide full-auto capability to semiauto-only M1 Carbines, some muddy-boots Ordnance GIs in Europe apparently didn't wait. Photographed in Belgium on November 10, 1944, "Sergeant Harold Schwarz, one of two inventors of an improvement of the Carbine, proves the worth of the piece by firing 15 rounds in less than 2 seconds." It was apparently not good enough, and Inland Manufacturing's trip lever mod won, standardized as the M2.
CREDIT U.S. ARMY SIGNAL CORPS, NATIONAL ARCHIVES
Backpack Machine Gun! U.S. Army Technical Sergeant O. P. Peterson demonstrates a clever, field expedient backpack mount for the Browning M1919A4 .30-caliber machine gun with pintle, T&E and a can with 250 rounds of belted ammo. This rig was made by enterprising, close-to-the-front-lines Army Ordnance Corps soldiers in response to the call from "line doggies" for greater portability and faster setup time for this workhorse infantry medium machine gun. Unstrapped and placed on its four, fold-down wire feet, the gun goes immediately into offensive or defensive action.
IMPERIAL WAR MUSEUM COLLECTION VIA WIKIMEDIA COMMONS
Sticky Grenade! It's just no good to throw an ordinary grenade at an enemy vehicle because, more often than not, it bounces right back at you. So, early in the second war against the "Hun," clever Brits fielded the "Sticky Bomb," a hand grenade coated with a particularly strong and thick adhesive that would cling to its target then explode with maximum effect. This 1943 photo shows how the grenade was packaged in a sheet metal clam shell to protect its inherent stickiness without also gluing it to everything it touches. But it wouldn't also stick to its shell due to numerous little spikes inside.
U.S. NAVY BUREAU OF ORDNANCE VIA WIKIMEDIA COMMONS
Inside the Sticky Grenade. When a suitable target presented itself at close range, the plucky British Tommy would reach into his haversack, firmly grasp the hand bomb by its protruding handle and quickly undo the protective shell. It was a bit complicated to use; pulling one pin armed the fuse striker mechanism so the grenadier could throw or stick it. When the safety spoon lever on the handle was released, the nitroglycerin filler detonated in five seconds. "Sticky wicket lads!"
CREDIT: PHOTOGRAPHED BY DER RIKKK AT WEHRTECHNISCHEN STUDIENSAMMLUNG, KOBLENZ. WIKIMEDIA COMMONS
Shoot Around the Corner! A WWII German Krummlauf (curved barrel) seen here on an MP 44 select-fire 7.62mm kurz rifle in a display cutaway of a typical armored vehicle mount. This model has a 90-degree bullet deflector barrel clamped on that allows a crewman safely inside to shoot attacking infantrymen as they approach or in the dire situation when they're climbing aboard. There was also a 30-degree model for dismounted combat in built-up areas, enhanced by a prism sight that allowed somewhat accurate target engagement out to nearly 200m. Oh, and a similar curved barrel was developed for the U.S. M3 "Grease Gun."
CREDIT: U.S. ARMY ORDNANCE MUSEUM
Copycat Recoilless Rifle WWII German paratroopers were equipped with the 75mm L.G. 40, a 325-pound highly maneuverable and hard-hitting wheeled recoilless artillery piece first noted in the airborne assault on Crete in 1941. Quickly responding on behalf of America's brand-new airborne forces, the Army Ordnance Corps developed the T26 Artillery Rocket Launcher, with a 4.5-inch (115mm) bore. Parallel development of what was to become the shoulder-fired 2.36-inch "Bazooka" rocket launcher apparently doomed the T26 and GI paratroopers were stuck with heavy 1400-pound M1A1 75mm pack Howitzers.
CREDIT: U.S. ARMY SIGNAL CORPS, NATIONAL ARCHIVES
Nazi Death Metal "Music?" In this 1945 photo, a U.S. Army officer examines a pair of gigantic parabolic reflectors that concentrate, and direct intense sound waves generated by pulsed detonation of a methane/oxygen mix. Theoretically, this sonic cannon—intended for defense of static positions—would incapacitate or even kill attacking troops. But don't laugh, this concept and other "directed energy" weapons are being deployed right now by friend and foe alike.
CREDIT: U.S. ARMY SIGNAL CORPS, NATIONAL ARCHIVES
German-Based Night Vision. Posed in front of a tank fitted with a large infrared spotlight, this is the U.S. M3 Sniperscope, an early night vision device consisting of an M2 Carbine topped with an infrared light and cathode ray detector sight. It's based on the WWII German Vampir (vampire) night vision system for vehicles and small arms that gave enhanced tactical capability at night. This set-in motion a crash program of reverse engineering and subsequent enhancements by Army Signal Corps and Ordnance Corps technicians.
CREDIT: U.S. ARMY ORDNANCE MUSEUM
Bazooka Revolver! October 14, 1947, Aberdeen Proving Ground, Maryland. This Army Ordnance Corps photo is one of several we found documenting progress on Project No. TS4-4007, the "Launcher, Rocket, Repeating, 2.36-inch, T112 (Drum Type)." When a loaded tube is rotated into alignment with the forward end of the M9A1 launcher, moving the black knobbed lever apparently twist-locks it into the coupling for firing. Two more rockets can then be quickly launched and—as empty tubes are rotated around—reloaded.
CREDIT: U.S. ARMY ORDNANCE MUSEUM
Magazine-fed Super Bazooka! February 23, 1950, Aberdeen Proving Ground, Maryland. Another Army Ordnance Corps photo of Bazooka experimentation, this one is from Project No. TS4-4019. It shows the "Launcher, Rocket, Repeating, 3.5-inch, T115." It looks like its gravity-fed magazine holds at least three of the "Super Bazooka" rockets that drop down into the firing tube in turn. Too bad this wasn't available at the outbreak of the Korean War when GIs only had puny single-shot 2.36-inch bazookas against the enemy's heavily armored, Soviet-supplied T-34 tanks.
________
Conclusion
While the end of the Cold War came in 1991 with the collapse of the Soviet Union, don't think that the "peace dividend" that followed would have put a crimp in experimental oddities by newly idle bureaucracies. Many of the developments in weaponry that followed are no less interesting.