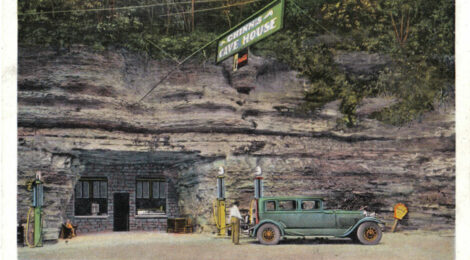 George Kontis and Buddy Howells visit Cave House in 2010. (George Kontis)
On April 11, 2010, I traveled to Harrodsburg, KY where I met with my good friend, Howard "Buddy" Howells.  Buddy is the only grandson of the famous Col. George M. Chinn, author of the five-volume series entitled The Machine Gun.  The last time I was in Harrodsburg was in 1985 when I met with Col. Chinn and Buddy at their office.  I was working for FN and went there to discuss the Mk19 and to get Chinn's opinion on the maturity of the design and the producibility of the weapon using the drawing package developed by the Navy.

George Chinn had accumulated a wealth of firearm information through the years and was inspiration to many of us in firearm design.  The Colonel made great contributions to firearm design and usage, and his historical reference book series is a classic of the last century.  Buddy worked with his grandfather on some firearm designs and has an amazing memory of historical facts.
Buddy suggests we begin our meeting in the office used by George M. Chinn.  Upon entering I can't believe what I'm seeing.  Chinn's favorite pictures, letters, commendations, and other memorabilia still adorn the walls.  Pencils, Rolodex, pads of paper and reference material are out on his desk.  It was if the old master would return at any moment.  Unable to resist the urge, I sit in the Colonel's chair.  Now was a good time to begin the interview.
George: Before we talk about George M. Chinn, could you give me a little insight into the Chinn family history.  
Buddy: The Chinn's are an old pioneer family with roots in Mercer county Kentucky.  I know you remember my grandfather joking about being Chinese, but our ancestry is French.  George's Grandfather Jack was into horse racing and even owned a Kentucky Derby winner.  Politics, farming, and Calcite mining were also family businesses.
George: So, as pioneers and frontiersmen, the Chinn family must have been around guns all the time. 
Buddy: Actually, they were familiar with both ends of a gun.  Back in 1900 Kentucky elected William Goebel as Governor.  Just one day before his inauguration, Goebel was standing on the capitol steps between his two bodyguards, one of them Chinn's Grandfather Jack, when a shot rang out.  A sniper shot Goebel, fatally wounding him.  Following his passing and true to the Kentucky sense of fairness, for the first time in U.S. history, a dead man was sworn into office.
Col. Chinn shows off his favorite Browning trophy to FN's Skip Kitchen.
George: What about George Chinn?  Did he have an interest in firearms when he was a youngster? 
Buddy: Chinn's father was the warden of the prison in Frankfort, Kentucky.  This gave George many opportunities to disassemble guns from prison assets.  Chinn had access to explosives too, from the family's calcite mine.  He led a charmed childhood and like most kids of that era, he enjoyed target shooting and plinking.
George: Tell me about George Chinn's early education and his career plans.
Buddy: George went to a Millersburg Military Institute, a boarding high school where he was a member of the "Saturday Afternoon Tea Club."  That's what they jokingly called the Reserve Officers Training Corps (ROTC) program.  He graduated in 1920 in a class of nine.   Since he was in ROTC at the close of WWI, he received a WWI victory medal even though he was never in theater.
George: I read where Chinn graduated from Centre College where he claimed to have majored in "football and penmanship."  What can you tell me about his football career? 
Buddy: As a freshman George played lineman on the Centre team that won what would today be recognized as the national championship in 1921 after beating Harvard 6-0.  It was a huge upset.  The Centre team was coached by two of the greats in football history, Charlie Moran and Robert Myers.  These men greatly influenced George.  Their coaching style and football experience itself made a huge impact on his life.  Also significant was the relationship he developed with Albert. B. "Happy" Chandler, a guy who was a kind of team "groupy."  Happy rode along on the football trips and in later life became Governor of Kentucky – twice.  He also served as a U.S. Senator, giving George an important political connection during much of his adult life.
George: What did Chinn do after college? 
Buddy: He coached football; assistant coach at Bucknell and head coach at Catawba.  His coaching experience was very valuable throughout his career.  He refined his coach's instinct and he knew how to prepare a team for an "operation" by making sure his players knew what to do, how to do it, and had the right equipment and training to get the job done right.  This mentality served him well in later years when he helped Naval aviators and Marines with the operation, repair, and maintenance of automatic weapons.
George: But he didn't stay in coaching – what happened? 
Buddy: While he was vacationing in North Carolina he had an opportunity to visit a tourist attraction there called the Bat Cave.   The sight of all those tourists buying food, drinks, and souvenirs got him thinking.  He owned a piece of property alongside the road near the Brooklyn Bridge that crossed the Kentucky River.  So near this scenic river, George knew it would be a good place for a tourist stop except that the property was a sheer cliff: almost all rock, and nearly 150 feet high.  Chinn had the perfect spot and all he needed was a cave.  That part wasn't any problem at all as he knew an explosives expert named "Tunnel" Smith and had him blast a hole at the base of the cliff.  The tunnel went straight in about 20 feet and then veered to the left about 100 feet.  At the front entrance he built a grill with a snack bar counter on the left and directly across from it was the bar.  Chinn designed the bar in a particular way that discouraged people from hanging around it.  George wanted customers to buy drinks, but he didn't want to make a hangout for potential troublemakers.  Out in front were tables for people to sit after they'd gotten their food and drink.  Through the years there were several modifications, including a pair of columns that were made from the same stone as Chinn's house.
George: This had to be during the depression.  There couldn't have been the same level of tourist traffic that Bat Cave had in those years, did he make any money?  
Buddy: He did very well.  My grandmother made delicious sandwiches for what could be called a "giveaway" price.  These were prohibition years; the real money was made from liquor and slot machines.
George: Slot machines? 
Buddy: He had penny and nickel slots in the back part of the cave.  Chinn was doing great until the law caught up with him.  He was charged with running "a game of chance" at Chinn's Cave House.  In typical self-assured Chinn fashion, he defended himself and was able to convince the court that "you didn't have a chance" when you gambled at Chinn's.
George: It sounds like George has led a charmed life.  Did this magic continue?
Buddy:  Well, no.  A life-changing event happened at The Cave House near the end of its operation.  George got into an argument with the owner of the business across the road.  Somehow it escalated to the point of violence when the neighbor entered the Cave House and shot George in the leg.  George was wearing his .38 revolver at the time but he didn't want this thing to escalate so he didn't go for his gun.  George's wife, Cotton, however, tried to get Chinn's gun away from him.  It was all George could do to keep his wife away from that revolver.  My grandmother was a crack shot and George was certain she would have killed the guy.  Accompanied by his wife and daughter, Ann, Chinn went immediately to the hospital to get his wound cared for.  My mother Ann, who was quite young at the time, recalled she had never seen so much blood in her life.  Chinn got patched up and carried that slug in his leg for the rest of his life.
Pages: 1 2