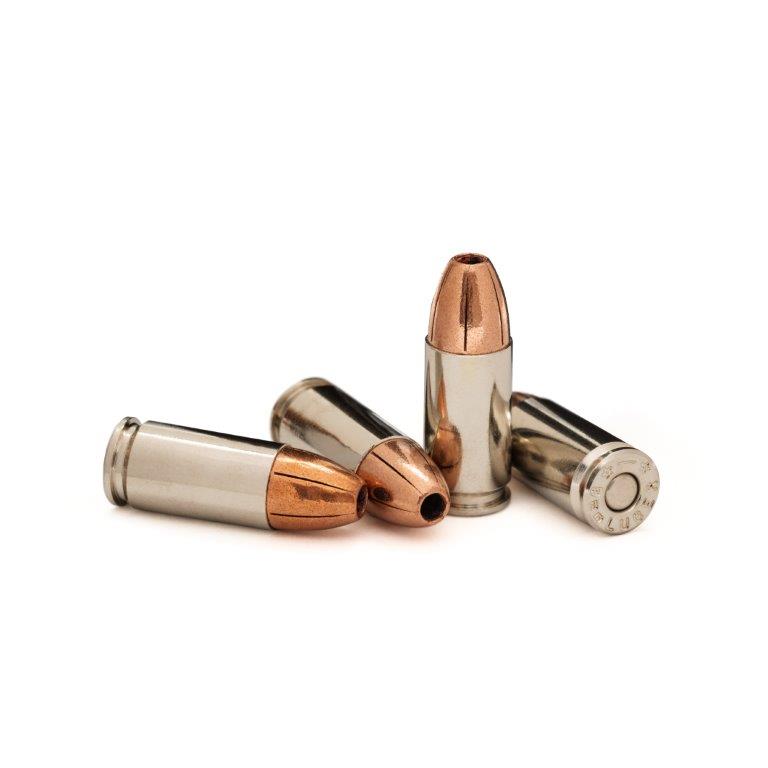 STEINEL AMMUNITION                           

9mm Subcompact Carry Ammo
The Steinel 9mm Subcompact Carry load is perfectly suitable for any 9mm, regardless of barrel length, but its performance is optimized for the shorter, subcompact and compact-sized pistols. Steinel Ammunition's 9mm Subcompact Carry bullets combine premium components such as Maker Solid Copper Hollow Point bullets, new Starline Brass nickel-plated casings, Hodgdon powder and CCI's primers. The bullets expand to a diameter of 0.706 inch when fired from a 3-inch barrel at 960 fps. Fired from a 4.7-inch barrel, the bullet expands to a diameter of .857 inch with 1,050 fps velocity.
SIG SAUER, Inc.
CROSS
Designed and built from the ground up at the SIG SAUER research and development facilities in New Hampshire with the input of hunters, military snipers and elite long-range shooters, the CROSS rifle was created to meet the demands of both precision long-range shooting and extreme backcountry hunting. The rifle features a folding precision-style stock and one-piece receiver for increased accuracy and is less than 6.5 pounds.
PGW DEFENCE TECHNOLOGIES, INC.
LRT-3 Sniper Rifle System
The LRT-3 long-range sniper rifle system is the perfect match for your true long-range engagements of both hard and soft targets. This rifle system has been supplied to various military organizations in quantities exceeding 2,000 units and has performed at a level that exceeded requirements for years, in the world's most unforgiving environments.
JP ENTERPRISES
Law Tactical Series Silent Captured Springs
JP Enterprises introduces the Law Tactical Series of Silent Captured Springs. Through collaboration with Law Tactical, JP has developed an alternative design for their extremely popular Silent Captured Spring system that is fully compatible with Law Tactical's Gen 3 folding stock adapter. Beyond simple function, the Law Tactical series of buffer springs reaches a previously unmet threshold for durability and safety.
The Law Tactical Series Silent Captured Springs are available for both small-frame (AR-15) and large-frame (AR-10) platforms. Standard configurations will function in most rifles with alternate heavy buffer models optimized for specialty use, such as suppressed or short-barreled rifles also available. A conversion kit to reconfigure existing Silent Captured Springs for use with the Law Tactical folder will be available soon.
jprifles.com / lawtactical.com
TANGODOWN
Vickers Tactical Floor Plates for GLOCK 43X and 48
TangoDown® Inc. is pleased to announce the latest addition to its lineup, the Vickers Tactical™ Floor Plates for GLOCK® 43X and 48 (VTMFP-008). The expansion of products for the latest editions of the Slim Line models wouldn't be complete without floor plates. The VTMFP-008 offers the same features as all of the floor plate series (i.e., VTMFP-001, VTMFP-002, etc.). The floor plates offer flared finger scallops which offer more purchase area allowing for easier manipulation while wearing gloves. Fits GLOCK factory magazines for models 43X and 48 ONLY.
STREAMLIGHT
Sidewinder Boot
Designed for military basic training, the Sidewinder Boot® handles the rigors of boot camp, while also providing a durable right angle flashlight for military and other tactical users at an affordable price point. Streamlight's Sidewinder Boot is a compact, hands-free, right-angle military light that features a red slide-in-place filter. The Sidewinder Boot includes a white LED that offers 55 lumens of bright, white light, 1,000 candelas and a 63m beam distance. On the low setting, the light offers 7 lumens, 140 candelas and a 24m beam distance. Run time ranges from 8 hours on high with an additional 20 hours at 7 lumens, to 90 hours on low.
The new light features a 185º tilting head for precise positioning of the light source depending on the work area and an easy-to-use, multi-function, push-button switch. It includes a spring steel clip that fits to MOLLE or helmet mounts and uses easily sourced AA alkaline or lithium batteries. The light features a high-impact, weather-resistant case. With O-ring and gasket-sealed openings, the light is IPX7-rated, waterproof to 1m for 30 minutes and multiple-orientation impact resistance-tested to 1m.