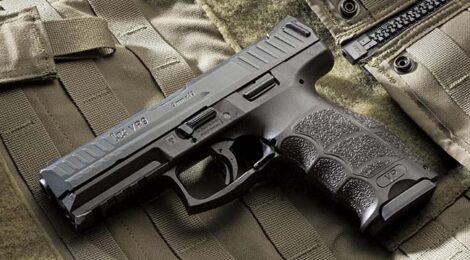 HK Launches New Striker-Fired V9 Pistol
Heckler & Koch has just introduced its new striker fired pistol, the 9mm VP9 to the commercial and law enforcement markets. The VP9 has been in development for more than four years and its debut marks the return of HK to striker-fired models. Heckler & Koch pioneered striker fired handgun designs with the HK VP70 and P7 pistols more than 35 years ago. Heckler & Koch's reputation for producing superior quality, innovative, and reliable products is well established in the U.S. and international markets. The new VP9 is just such a product. It's been through just about every test possible — NATO and U.S. NIJ drop tests, extreme environment testing, durability shooting, and the most comprehensive ammunition testing with the widest variety of 9mm. The VP9 has an excellent trigger with a short, light take-up and solid break followed by a short positive reset. This is almost like a single-action trigger in its precision. The VP9 grip can be customized to fit any shooter by using a mix of three interchangeable backstraps and six grip panels — allowing for 27 unique grip configurations. A new feature that all shooters will appreciate is small "charging support" inserts that make manipulating the slide much easier. The pistol also has a safer and easier disassembly process than their competitors. Covered by Heckler & Koch's limited lifetime warranty, the VP9 is designed and manufactured in Oberndorf, Germany with HK's famous long-term durability. The VP9 is slated to sell for a retail cost of $719. You can get more information at hk-usa.com or heckler-koch.com.

DEZ Tactical Arms USAR10-24 Rifle
DEZ Tactical Arms has introduced their new DZT-USAR10-24 .308 (7.62x51mm) caliber rifle. This rifle has been designed and perfected for long range precision shooting. The USAR10-24 features a 24-inch match-grade 4150CMV steel fluted bull barrel with a 1:10 twist. It is equipped with a Hiperfire Hipertouch 24E match single stage trigger assuring that this rifle will fire cleanly and consistently every time. Paired with a 19-inch free float KeyMod rail, the USAR10-24 is capable of shooting sub-MOA groups with ease. This rifle also comes standard with premium accessories such as the ERGO Deluxe Grip and Magpul PRS stock, and is compatible with all other standard accessories including the Magpul BAD lever. The USAR10-24 is perfect for operators serious about precision long range shooting, whether it is for recreation, competition or law enforcement duty use. The rifle's upper and lower receivers are built from billet 7075-T6 aluminum. Other features included a charging handle with extended tactical latch, 4150 Chrome-Moly Vanadium (CMV) steel barrel with buttoned rifling, M4 feed ramps, 5/8 X 24 threaded muzzle, 19-inch KeyMod handguard that includes a 5-slot Modular Rail Segment and comes shipped with one 20-round Pmag. The gun comes shipped in a Plano hard-plastic rifle case. To see their complete line visit deztacticalarms.com.
American Built Arms T*GRIP for TAVOR SAR
American Built Arms Company (A*B Arms), a Veteran-owned manufacturer of firearms and firearms parts and accessories, is proud to announce the release of the A*B Arms T*Grip for the IWI US Tavor SAR bullpup. Unlike any other vertical grip on the market, the T*Grip was designed and produced specifically for the highly popular Tavor SAR. The company saw that the Tavor SAR had limited accessories and the ones that were available through other parts manufacturers were actually designed for AR-15s and other rifle platforms yet coincidentally worked on the TAVOR as a second thought. They saw some subtle issues with these designs and decided to design and manufacture their own vertical grip specifically for the Tavor SAR. The A*B Arms T*Grip for the Tavor SAR is made from a proprietary blend of polymer composite material with two bolt attachments providing extra strength. Completely designed and manufactured in the United States by a Veteran-owned company, the T*Grip fits on a Mil-Std 1913 Picatinny rail and contains a battery compartment holding two AA batteries or one CR123 battery. The patent-pending ergonomic design of the T*Grip with its side-swells gives the user positive grip of the Tavor for greater control during rapid and repeated firing. The design also prevents unwanted rotation that can occur on circular vertical grips. In response to a common complaint about current grips on the market, A*B Arms designed the T*Grip to follow the contour of the front hand-stop lip and prevent the index or middle finger from getting pinched in that gap between the lip and the grip. The T*Grip's low-profile length and slight inward angle offers less chance for catching on clothing or gear during maneuvers. For more information please contact them at abarms.com.
Steyr L40-A1 now Available in the U.S.A.
Steyr Arms has announced the arrival of the .40 S&W version of its full-size L-A1 service pistol on American shores. Following last year's introduction of the L9-A1, the L40-A1 pistol features a full-length slide, 4.5-inch cold-hammer-forged barrel and 12-round magazine capacity for .40 S&W. The Steyr L40-A1 was designed to serve the dual role of a duty and sporting handgun. The new L40-A1 is nearly identical in form and function to the L9-A1 and other handguns in the Steyr line, which combine unparalleled ergonomics, a low bore axis, remarkable safety features, extreme reliability and amazing accuracy thanks to a consistently crisp trigger break and short, distinct reset. The L40-A1's full-size polymer frame offers a high grip that places the barrel axis lower in the hand to mitigate muzzle rise, while creating a perfect grip angle and a very natural point of aim. The drift-adjustable sights are in the Steyr's intuitive trapezoidal configuration, and a Picatinny rail on the frame's dust cover provides a mounting position for illumination and laser-aiming devices. The integrated trigger safety within the recently redesigned Reset Action System trigger requires positive finger pressure to operate Steyr's remarkable double-action-only mechanism. This striker-fired pistol also incorporates a keyed safety lock. The barrel is cold-hammer forged with conventional rifling, and the chamber is fully supported. The suggested retail price of the Steyr L40-A1 pistol is $560 US. See more at steyrarms.com.
Revision Military Expanded Batlskin System
Revision Military, a world leader in protective soldier solutions, has expanded its product portfolio with the world's first fully integrated night vision mount and accessory rail system, expertly designed to fit ACH-style helmets. The Revision Viper Front Mount doubles as an NVG mount as well as the platform to armor up in high-threat situations with the Batlskin Visor and Mandible Guard creating a fully integrated and modular head protection system. The new Interlocking Rails provide the capability to quickly attach headborne accessories. Pairing perfectly with the new Front Mount and Interlocking Long Rails, Revision also introduces a new Batlskin Viper High-Cut helmet designed to offer a lightweight, functional shell in both traditional Aramid materials (Viper A1) and high performance Polyethylene materials (Viper P2). The Revision Viper Front Mount and Interlocking Long Rails are currently available and in stock at revisionmilitary.com.
Meprolight Introduces 20,000M Laser Range Finder
Meprolight, a leading manufacturer of Laser Range Finder systems, electro-optical systems, thermal and night vision equipment for military, law enforcement and civil applications introduces a compact, very fast, Erbium Glass Technology-based laser range finder with a range of 20,000 meters and a repetition rate of 1 pps and 3 pps in burst mode. The company also has the new Mepro LRF 15-02 – a new LRF configuration with an APD receiver that enables a significant extension of the range up to 10,000 meters, while still remaining lightweight and compact and keeping the same size. These systems are designed for a wide range of land, sea, and airborne applications. In addition, the company will also present a new configuration of the Sting – single pulse, cable-independent, dual wavelength laser pointer. Meprolight provides a variety of eye-safe LRF solutions for various applications, including tactical devices, RCWS (Remote Control Weapon Stations), and observation systems. The new systems include the Mepro LRF 15-02 and the Mepro LRF 20-70. The Mepro LRF 15-02 is an open frame, sealed or self-tactical eye-safe system. Its compact, lightweight design makes it ideal for integration into handheld devices, multi-sensor platforms, and fire control systems, or mounted on RCWS, manually operated weapon stations and machine guns. The Mepro LRF 20-70 is designed for the measurement and tracking of fast-moving targets, and is available in two configurations – open or sealed, enabling integration on any electro- optical system. The open frame system is designed mainly for stabilized, electro-optical payloads. The sealed version is integrated into any multi-sensor platforms. In addition to the LRFs, Meprolight will also introduce the new configuration of the Mepro Sting – Dual Wavelength Laser Pointer. This is a considerably lighter weight laser pointer system weighing less than 220 gr. It emits both an infrared and red laser beam projecting a dot on the target – saving time and ammunition. It can work independently with or without a PTL cable connector, so that the cable does not restrict its operation. Operated by an internal electronic system, the Mepro Sting delivers shooting capabilities without the need to look through the rifle's sight. Another solution that they offer is the Mepro Meslas. This is a compact, lightweight, programmable, multi-function, fire-controlled sniper's riflescope 10×40 system that incorporates a single-pulse laser range finder operating in an eye-safe spectral range (invisible to night vision devices), a sniper's telescope, and a fire-control computer. When measuring distance, it automatically calculates the elevation angle according to the ranged target accurate adjustability. The robust system withstands all environmental conditions as well as shocks and vibrations, and offers optional measurements of temperature, humidity, and axis angle sensor for ballistic calculations. For more details on all of their new laser products contact them at meprolight.com.
IWI DAN .338 Lapua Mag Bolt Action Sniper Rifle
TAC Shield is introducing their new line of precision engineered heavy duty bipods for active shooters. Strong high grade aluminum components are matched with a tough and durable matte finish ensuring a lifetime of shooting performance and protection. TAC Shield bipods offer fully adjustable and extendable legs. The precision leg lock offers secure variable length adjustment for each leg, accommodating terrain or surface variations. Each leg offers an additional fast extension that locks solidly in place supported with ribbed grip caps providing a secure and steady rest for the largest calibers. Legs retract quickly and positively with their spring return release buttons. Standard and pivoting models in various adjustable leg lengths offer a great selection for shooters to choose the right match for their rifle and accurate shooting needs. All bipods quickly and securely attach to swivel studs or rail adapters. All offer a time-proven spring leg deployment system providing strong and steady shooting, while folding for secure and out of the way storage. All products are backed with a Lifetime Warranty by people you can trust. Military Products, Inc. is proud to offer the TAC Shield brand of precision and quality products. Many of their products and designs are battle proven by our warfighters around the world. Please visit www.tacshield.com for more information about this and their other combat proven gear.
SIG Sauer Elite Performance Ammunition
SIG Sauer, Inc., designer and manufacturer of the world's most reliable firearms, introduces its Elite Performance Ammunition line – the company's first-ever line of premium centerfire pistol ammunition. Designed specifically for personal defense, SIG Sauer Elite Performance Ammunition features a proprietary stacked hollow point bullet – the SIG V-Crown Jacketed Hollow Point – for reliable expansion, round after round. The five introductory calibers and bullet weights are: 90gr .380Auto, 124gr 9mm Luger, 125gr .357SIG, 165gr .40S&W, and 200gr .45 Auto. SIG is also promising rifle ammunition in the months ahead. The proprietary SIG V-Crown stacked hollow point bullet features an additional smaller hollow point cavity behind the main cavity. This design, along with the V-shaped jacket skives, guarantees controlled, uniform expansion at all effective distances and velocities. Another distinct advantage of the SIG Sauer Elite Performance V-Crown design is a toothed cannelure located halfway up the shank of the bullet. Its location more effectively locks the jacket and the lead/alloy core, providing maximum structural integrity in a jacketed bullet. This is key to achieving maximum weight retention and energy through impact by preventing fragmentation as the bullet mushrooms, ensuring optimal terminal performance. Brass cases are Techni-crom coated for enhanced lubricity, superior corrosion resistance, and reliable feeding and extraction. Elite Performance Ammunition is being manufactured in the United States by SIG Sauer to the same exacting standards as the company's premium pistols and rifles. The SIG Sauer custom designed loading equipment coupled with a proprietary loading process, and a complete hand and visual inspection of every round, continually produces ammunition of the highest quality. For more information please go to sigsauer.com/ammunition.
SureFire X400-GN Ultra
SureFire's expanding family of X-Series WeaponLights has a new addition with the release of the X400-GN Ultra (X400U-A-GN). This latest X400 Ultra model features a high-visibility green-laser sight instead of the red-laser sight found on the best-selling original X400 Ultra (X400U-A-RD). In most other aspects, however – including light output, dimensions, weight, switching, and attachment options – the X400 Ultra with green laser remains identical to its red-laser counterpart. The green-laser version of the X400 Ultra is being offered to accommodate users who prefer a green dot on target over a red one. The color green is also the most visible color to the human eye, making it extremely detectable in most situations. In addition to being highly visible, the five-milliwatt (505 nanometer) green laser of this new X400 Ultra is generated by a green-laser diode, making it more reliable over a wider temperature range than double YAG green lasers on the market. Just like the original X400 Ultra, the green-laser version has an adjustment mechanism that uses Nylok screws that won't back out from the effects of recoil, so its laser holds zero longer. Like all "Ultra" X-Series lights, it features a recoil-proof primary LED that delivers 500 lumens of white light focused through a TIR lens to create a versatile beam with significant reach and surround light. Power is supplied by two disposable 123A lithium batteries, which produce tactical-level output (enough to overwhelm an aggressor's vision) for up to 1.5 hours. Activating any X-Series WeaponLight is achieved via an ambidextrous push/toggle switch located on the end cap. For additional control, without the need to alter your grip on the weapon, X-Series lights can be outfitted with optional SureFire DG grip switches on many popular pistol models or with SureFire XT pressure-pad tape switch on long guns. You can contact them at surefire.com.
Faxon Firearms ARAK-21 XRS
Faxon Firearms, manufacturer of the ARAK-21 upper receiver, is proud to announce the new ARAK-21 XRS complete rifle. The ARAK-21 XRS was designed to greatly improve the operator's ability to accomplish multiple missions. The ARAK-21 XRS features a monolithic upper receiver with an integral full-length Picatinny rail, a dual forward recoil spring system, a folding ambidextrous forward charging handle with spring return and a long-stroke gas piston with variable settings. The ARAK-21 XRS also comes with interchangeable barrels that can be changed in less than 2 minutes from 5.56 to 300 blackout, making it the perfect rifle for any shooter.
This is a completely redesigned modular rifle system based on the best from both the AR-15 and the AK-47 weapon systems. With the ability to be configured with a variety of barrels, calibers and stocks the ARAK-21 XRS can fit most any mission profile. The ARAK-21 XRS Complete Rifle MSRP is $1,899 (one barrel) and $2,159 (with 5.56 and 300 blackout options). For more information on Faxon Firearms visit them at faxonfirearms.com.
Bushnell Elite Tactical 1 Mile ARC
Rangefinders can be hard to shop for. There are top brands that promise good value; there are value bands that promise good performance, and there are some premium brands that cross well into the 4 figure price column that almost promise world domination. Now, the decision has been made for you. The Bushnell Elite Tactical 1 Mile ARC laser rangefinder is as good as a rangefinder gets. The unit asks $599 at retail, half that of other brands offering similar performance. Its capabilities were well proved in our field tests. Bushnell claims this rangefinder will read up to 1 mile on a hard target. That's 1,760 yards. We were able to get a read at 1,759 yards. So we took 1 big step forward, and got a read of 1,758 yards. Amazing enough by any standard. We tried this rangefinder on trees, cars, brush, rocks and livestock at the maximum ranges claimed by Bushnell. It passed our tests, upheld the claims, and exceeded our expectations.
The Bushnell 1 Mile ARC rangefinder replaces the 1600ARC line and includes Bushnell's latest technology suite, called "ESP2" ranging technology. This system uses Bushnell's second generation laser and receiver tech to send and analyze multiple measurements from every "shot" and then employs a logic filter to display the best result. This ranging tech actually analyzes air conditions to detect and compensate for dust, rain, or snow that could diffuse the infra-red laser and skew readings. This new unit features a high contrast "Vivid Display" that shows the reticle and information display in bright red figures. The display is adjustable for brightness. The 1 Mile ARC offers 3 ranging modes; a target mode for ranging easy fixed objects, a brush mode that ignores vegetation, and a constant scan mode to follow moving targets. The ranged results can be displayed in yards or meters to the target along the line-of-sight or actual horizontal distance to the target, which compensates for incline. This unit goes a step further by including a bullet drop mode- so you don't ever have to know distance to the target; it just tells you where to hold to make a hit. This "rifle mode" includes 10 ballistic groups that cover the average downrange performance of over 2,000 caliber and load combinations. Bushnell suggests that these average trajectories are close enough to make a hit on a medium game animal. The display can show holdover in inches, centimeters or MOA values at the target's distance. So it's not just a rangefinder; it's a firing solution.
The 1 Mile ARC features rubber armored construction, a fast adjust eye cup, and an ocular focus to adjust for an individual's eyesight. There are only 2 buttons, one to "fire" and one to access the menu. Bushnell has kept the menu options well organized so it's easy to navigate. The battery cover unscrews without the need for a coin as they have in the past. There's a flip-open tab on the cover that makes battery install quick and easy. The only complaint we had is that the battery cover is not tethered to the unit; it could get lost. A tripod can be attached to the threaded boss on the bottom surface. The belt pouch has done away with plastic snaps and Velcro for a closure. Instead it uses magnets within the pouch's flap. It's fast, secure, and quiet. Bushnell continues to impress with an outstanding product at a winning price. bushnell.com