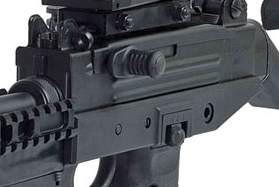 Israel Weapon Industries (IWI) a leader in the production of combat-proven small arms for governments, armies, and law enforcement agencies around the world has just introduced their newest Uzi submachine gun (SMG), the 9mm Uzi Pro. Developed in cooperation with the Israel Defense Forces (IDF), the 9mm Uzi Pro SMG is the newest member of the legendary Uzi family – one of the most popular weapon families in the world, with millions of units sold around the globe. Exceptionally lightweight and compact, the Uzi Pro is an ideal solution for either concealed or openly carried use – for law enforcement, VIP protection and Special Forces.

Ergonomically designed and easy to use by right or left-handed users, it offers closed bolt operation for maximum accuracy and safety. With many of its components made of advanced polymeric materials, the Uzi Pro's features include Picatinny rails, ergonomic butt, built-in foldable assault handle and pistol-type magazine release button. It also provides a quick fitting suppressor, full auto and single shot and adjustable shoulder stock with mounted cheek rest.
IWI's goal was to incorporate the latest technological advances without compromising the extremely reliable, globally recognized Uzi, in order to make it more ergonomic and user-friendly, and equipped to handle the full range of scenarios faced in modern warfare. This goal has now been fully achieved. Israel Weapon Industries (IWI), located in the center of Israel, is a world leader in small arms for the past 80 years. IWI is a member of the SK Group, which is composed of companies that develop and manufacture a wide array of military products for governmental entities, armies, and law enforcement agencies around the world. IWI's most-known products include the Tavor and Galil Ace families of assault rifles, the Negev light machine gun, the legendary Uzi SMG (Mini Micro and Uzi Pro) and the Jericho family of pistols. For more information you can contact them at Israel Weapon Industries, Ltd., P.O. Box 63, Ramat-Hasharon 47100 Israel. Phone: +972-3-7606000. Fax: +972-3-7606001. They are on the web at www.iwi.net.