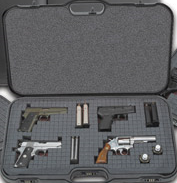 Negrini Tactica Concealed Carry
Negrini srl and International Case Company are introducing the Tactica Concealed Carry line of lightweight travel and security cases dedicated to shooters and collectors of tactical weapons and handguns. Designed specifically for today's handgun and tactical weapon shooters, Negrini Tactica CC cases hide their intended use with attractive Italian design instead of looking like typical gun cases. The Tactica CC cases also offer unique flexibility through the use of ultra light ABS double wall construction coupled with modular, transformable inner sections of dense die-cut PixelFoam, which allows the shooter to easily fit any weapon or accessory as well as add new internal sections for use with different weapons. Thus, one case can serve multiple functions with perfect fit. Negrini Tactica CC Series cases come in 8 sizes to fit from one to 6 handguns plus AR Take-Down, AR Carbine and double AR Rifle Case. All sizes have room for magazines, optics and accessories. The Negrini Tactica Concealed Carry line of cases is manufactured using a patented double wall technology making it the lightest weight case available with International Air Travel Certification. New ultra-tough high rubber content multi-layer ABS is thermoformed, seamed and welded using Negrini's patented ultrasonic welding and liquid ABS bonding methods. The resulting double wall system that is uniformly strong, absorbs maximum shock and has the highest strength to weight ratio of any case made. The multi-layer ABS is a technical polymer which, unlike wood based cases, has no water content and is guaranteed to be free of corrosives at extreme temperature ranges. The signature gray gasket band around the entire case is actually designed to enhance the seal of the case to further protect the firearms. Negrini's PixelFoam allows the user to configure the case as needed to any firearm that needs to be carried. By simply removing the pixels that are not needed, the case quickly custom fits the firearms for safe and secure transit. Additional PixelFoam inserts can be purchased for all models and used to fit other weapons as needed. For more information or to purchase contact them at www.negrinicases.com.

Qioptiq SAKER Fused Weapon Sight
SAKER is the new Fused Weapon Sight (FWS) from Qioptiq providing the Dismounted Close Combat User with an enhanced Detect, Recognize and Identify capability. SAKER combines image intensifier and uncooled thermal imaging sensors into a single sight unit. Designed with a low-power architecture and featuring a removable battery pack, SAKER can be used as a stand-alone sight or as an in line / clip-on sight, providing flexibility and forward compatibility.
SAKER Technology Advances & Delivers True Fused Capability
Through involvement in a number of programs addressing the requirements and potential for FWS for the Dismounted Close Combat User, Qioptiq have designed and developed a true fused weapon sight for the wider Soldier Modernization community.
SAKER, the first of the Qioptiq FWS family, was launched formally at Eurosatory 2012 at the Paris Nord Villepinte exhibition center. Following the initial launch, SAKER was on display at exhibitions throughout the year as part of the Qioptiq product family.
SAKER is a Clip-On In-Line (COIL) fused weapon sight utilizing and combining the latest Image Intensification and un-cooled thermal imaging capability in one compact, lightweight package and delivering a flexible architecture to allow the user to maximize the benefits of both technologies. This structure coupled with a number of other innovations taken from on-going technology development processes and the use of lightweight materials (exploited as alternatives to aluminum and plastics as an alternative to glass) assist with overall size and weight reduction. As with all of Qioptiq's products, ITAR free solutions are available without compromising performance.
SAKER is built around a forward facing architecture resulting in a flexible system that can take power from a range of standard batteries including AA and CR123, along with having the ability to integrate with powered rails and other centralized power supplies. The use of Man Machine Interface (MMI) developed on the DRAGON thermal weapon sight family combined with simplistic controls for managing the fusion elements of the system significantly reduces the training burden in both time and cost terms.
SAKER, the first of the Qioptiq FWS Family, is targeted at Special Forces users and urban environments in particular by providing a lightweight low light / zero light solution that will greatly assist in target detection and recognition at ranges well in excess of most modern assault rifles. SAKER is compatible with a range of optical sights and attaches via a quick release bracket, providing a true 24 hour capability with the ability to continue operating even during the harshest visibility conditions.
SAKER was recently nominated by serving and former military personnel in two categories at the Soldier Technology Conference in London winning the award for the "Best situational awareness device."
About Qioptiq
Qioptiq designs and manufactures photonic products and solutions that serve a wide range of markets and applications in the areas of medical and life sciences, industrial manufacturing, defense and aerospace, and research and development. The company is known for its high-quality standard components, products and instruments, its custom modules and assemblies, its leading-edge innovation, its precision manufacturing and its responsive global resourcing. Through a series of acquisitions, Qioptiq has an impressive history and pedigree, and benefits from having integrated the knowledge and experience of Avimo, Gsänger, LINOS, Optem, Pilkington, Point Source, Rodenstock, Spindler & Hoyer and others. Qioptiq has a worldwide presence with locations throughout Europe, Asia and the USA, employs over 2,300 people, and generated revenues of approximately US$380 million in 2010. For more information, visit www.qioptiq.com
Arsenal SLR-106UR
Arsenal, Inc. introduces the all-Bulgarian SLR-106UR Pistol in 5.56x45mm NATO. The SLR-106UR Pistol is manufactured entirely at Arsenal's factory in Kazanlak, Bulgaria using components specifically engineered for accuracy and reliability in a short-barrel configuration. The SLR-106UR Pistol includes many features not found on any similar 5.56mm pistol, and is as close to a semiautomatic AKS-74U (or 'Krinkov') as American shooters may possess without ATFE approval. Features include; a factory-installed scope rail allows mounting of optics and accessories, a short gas system designed for 100% reliability with a 10.5-inch cold hammer-forged barrel with hard-chrome plated bore and chamber. It also has a hinged dust cover with close-range and 500 meter rear sight settings as well as a replica muzzle device that is pressed and pinned to the front sight block for AK-74SU appearance. The gun also has high-quality polymer furniture which includes an ergonomic SAW pistol grip and a heat-shielded lower handguard for shooting comfort. The new pistol has a spring-loaded firing pin for increased safety with Boxer-primed ammunition; a 90 degree rear sling swivel prevents twisting or tangling of the sling and also has an AKS-74U-style rear block for conversion to SBR configuration (all NFA rules apply). Whether fired as a pistol or converted to a registered short-barreled rifle, Arsenal's SLR-106UR Pistol delivers unmatched quality and unique features in a firearm that will provide many years of accurate and reliable service. The gun comes with 1 five-round magazine and accepts all Mil-Spec 5.56mm AK magazines. For more information contact them at www.arsenalinc.com.
Pages: 1 2