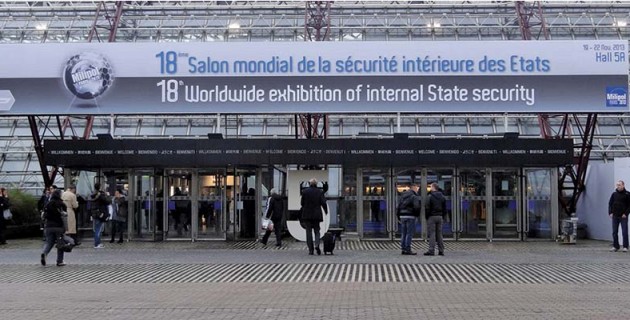 The 18th Worldwide Exhibition of Internal Security was held in Paris from November 19 to 22, 2013. There were 915 exhibitors from all over the world attending to 25,834 visitors with 161 official delegations from 97 countries. Many exhibitors showed small arms and ammunition, but few had new material.
Barrett
Manufacturer of accurate rifles, Barrett exhibited their new MRAD rifle. It is an evolution of the M98 Bravo model, now fitted with a folding stock. It is a bolt-action repeating rifle designed by Chris Barrett, the son of the company's founder Ronnie Barrett. It has a light alloy polygonal frame and an extension with four Picattiny rails. The bolt is cylindrical and the barrel receives a muzzle brake. It can receive a black or tan finish and a 20-, 24- or 26-inch, fluted or heavy barrel fitted with a "user changeable system."
MRAD
Ammunition: 338 Lapua Magnum
Overall length: 42.4 to 48.23 inches (1.077 – 1.255 m)
Length with stock folded: 35.39 to 42.40 inches (0.899 – 1.077 m)
Barrel length: 20-, 24- or 26-inches (0.510; 0.620 or 0.690 m)
Weight: 13.25 to 15.30 lbs (6.300 – 6.930 kg)
Magazine capacity: 10 rounds
Barrett also presented various accessories including sights, silencers & a new M240 Light Weight machine gun. In its presentation the manufacturer stated; "The MAG is made with 61 riveted parts, such as the Tour Eiffel or the Titanic." The MAG LW frame is made of two symmetrically milled parts welded together in the vertical plane, thus avoiding the use of rivets or overlapping steel plates. Barrel & other parts are therefore lightened, which allow the overall weight to be reduced by about 5.5 pounds.
M240 LW
Ammunition: 7.62 mm NATO
Overall length: 48.58 inches (1.234 m)
Barrel length: 24.69 inches (0.627 m)
Weight: 21.08 lbs (9.550 kg)
Brügger & Thomet
The Swiss Brügger & Thomet (B&T) Company was founded in May 1991, and is located in the city of Thun in the Bern canton. Initially building suppressors for the Swiss market, the company later sold various small arms and now is offering new models of their own design.
APC 9
Advanced Police Carbine. Designed by Karl Brügger, it is a modular weapon conceived like the HK UMP, Taurus MT9 G2 and CZ Skorpion EVO3A1. The stock is triangular or tubular and can be folded to the right side. The frame is flat side shaped and made of anodized light alloy. The ejection port is located on the right side. The barrel is inside a forearm with four Picattiny rails. The cocking handle is fully reversible on the upper side of the frame. The pistol grip, the magazine well and the trigger mechanism are built to be a single polymer unit. The gun can receive a black, tan or a khaki finish. The safety is operated by an ambidextrous rotating lever additionally serving as the firing selector located over the pistol grip. The front sight is protected by ears and the rear sight has an aperture to shoot up to 250 m. A Picatinny rail on the top permits the fitting of various optic sights. The magazine housing is located under the gun, and receives MP 9 (former TMP now made by B&T). The APC 9 is blowback operated and has a hydraulic buffer. Various accessories can be mounted on the rails and a suppressor can be fitted. Variations include a short range for Simunition (blue frame) and a dummy for practice (red frame).
Amunition: 9mm Luger
Overall length: 23.5 inches (0.597 m)
Length w/ stock folded: 14.92" (0,379m)
Barrel length: 6.89 inches (0.175 m)
Weight: 5.52 lbs. (2.5 kg)
Magazine capacity: 15, 20, 25, 30 rds
Cyclic rate: 1,080 rpm
APC 45
Police carbine or submachine gun firing the .45 ACP using 12-, 17- or 25-round magazines.
Amunition: .45 ACP
Overall length: 23.5 inches (0.597 m)
Length w/ stock folded: 14.92" (0.379m)
Barrel length: 6.89 inches (0.175 m)
Weight: 5.74 lbs. (2.6 kg)
Magazine capacity: 12, 17, 25 rds
Cyclic rate: 1,000 rpm
APC 223
Assault rifle (or semiautomatic carbine). Design and manufacture same as the APC 9. But it is gas operated with a conventional piston rod and a rotating bolt head with several locking lugs. Magazine is of the STANAG 4179 type.
APC 300
Full auto or semi-auto rifle, also designed from the APC 9. It receives an optical sight, and a silencer. It works like the APC 223 and shoots the .300 Whisper round.
FN-Herstal
FN-Herstal proposes new versions of the MINIMI machine guns designated as the MK 3. They are available both in 5.56mm and 7.62mm calibres and receive a new stock adjustable in length with five positions, a cheek rest, an articulated shoulder rest and an hydraulic buffer; a new forearm with three Picatinny rails and a three positions articulated bipod; a ventilated handguard; a new cocking lever; a feeding device with a belt retainer; and it is easy to convert a 7.62mm MINIMI in the 5.56mm configuration.
Three variations are available: 5.56mm MINIMI MK 3 Tactical with short barrel; 7.62mm MINIMI MK 3 Tactical with standard barrel; and 7.62mm MINIMI MK 3 Tactical with long barrel.
Heckler & Koch
The HK 416 and HK 417 receive new improvements as the HK 416 A5 and HK 417 A2 with a new stock; new ergonomic pistol grip; large trigger housing to shoot with gloves; magazine retainer and bolt catch that are fully ambidextrous, enlarged, and with a protective barrier to avoid any accidental handling operation; two position gas valve for allowing the slide to be operated with a mounted suppressor; and available in black or tan finish.
MG5 is the new machine gun adopted by the German Army. It is an evolution of the MG121 that appeared in 2012. It looks like an oversized MG4. The devices to install the gun on a tripod or other mounts are the same as the MG3. A folding stock with a shoulder rest is located at the rear of the frame. The frame contains the bolt and carrier, the folding cocking lever is located on the right side and the ejection port is under. Feeding device is at the top. The gas cylinder is under the barrel, which can be easily replaced and it is fitted with a handle grip. A short forearm is under the gas cylinder and the barrel is covered with a ventilated hand guard. The frame is made of steel mold parts and the trigger housing is of stamped metal. The barrel is cold hammer forged and the bolt and carrier bolt are milled steel. Stock, pistol grip and forearm are all made of polymer. The MG5 receives a tan or black finish. The safety is a lever mounted on each side above the pistol grip. There is no selector. Sights are tangential rear sight with aperture (200-1,000 m) and a folding front sight with ears protection and an optical sight can be mounted on a Picatinny rail. This gun is fed with a disintegrating link from the left. A 50 cartridge box is available as an accessory. It works by gas action with a regulator and the bolt is locked by a rotating head. A chamber loading indicator is also installed. Various accessories can be mounted on three Picatinny rails on both sides and under the gas cylinder. The MG5 can be mounted on a bipod and any tripod or mount used with the MG3. Variations include the MG5 for infantry; MG5A1 for tank (with no stock); MG5A2 with a shorter barrel; and MG5S for helicopter with the stock replaced by two rear grips.
RDS Industrie
Another French company coming from Britain specialized in the development of silencers for the Glock 17, FAMAS, AR-10, M16, machine guns and recently the Kalashnikov. These accessories are used or tested by several units of the French Special Forces, police and gendarmerie. RDS also builds a variation of the M4 carbine in .300 Whisper caliber, with a silencer.
PGM
PGM is a French manufacturer of sniper rifles, which produced this year the Mini-Hecate 2 that is a "reduced" version of the Hecate.
It is built around a solid steel frame and receives a bolt locked by three lugs at its head. The safety lever in high position allows shooting and handling of the bolt head while in the low position it blocks the firing pin and the unlocking of bolt head. The trigger is Match grade and is specially configured for precision shooting. The folding stock is fitted with adjustable shoulder rests, cheek rests and a rear folding monopod adjustable in height. A Picattiny rail is also provided in the upper part of the frame to receive an optical sight. The "two positions bipod" can also be removed. The handguard can also receive various accessories. The barrel ends with a special flow reverser muzzle brake.
Mini Hécate 2
Ammunition: .338 Lapua Magnum
Overall length: 45.8" to 45.82"
(1.150 – 1.240 m)
Barrel length: 23.62" or 27.17"
(0.600 or 0.690 m)
Weight: 14.79 – 15.23 lbs (6.7 – 6.9 kg)
Magazine capacity: 5 rounds
The Ludis carbine is single shot with a rigid stock and has an adjustable shoulder rest and a cheek rest. It receives a bipod. The barrel can be cylindrical, fluted or with fins. Length is between 39.37 and 48.43 inches and many calibres are available.
SIG Sauer
MPX
Modular submachine gun design. It has an M16 style frame, with a ventilated hand guard with four Picatinny rails. The stock is telescopic or folding. Bolt and barrel are made of steel and the frame is in light alloy. The selector has a lever on each side and is combined with the safety. Mechanical or optical sights are mounted on the upper rail. Feeding is made by a curved box magazine located under the frame. The gun works with short stroke pushrod gas system associated with a rotating bolt head. Variations include the MPX basic model; MPX-K compact model; MPX-SD fitted with an integrated suppressor; MPX-C with long barrel and muzzle brake; and MPX-P pistol with no stock.
Assault Rifles
SIG-Sauer presented several families of assault rifles: SIG 551, 553, 556 and 751.
The SIG 516 is built like an M16/AR-15. It has a telescopic stock and its bolt is actuated by a piston rod (also called a short stroke pushrod gas system). It receives an upper Picattiny rail with mechanical or optical sights. It is available in 5.56×45 or 7.62×39. Variations include a PDW 7.68" barrel; CQB 10.59" barrel; Carbine 14.57" barrel; and Patrol 16.06" barrel. Accessories include the 40mm SIG GL 5140 grenade launcher.
The SIG 716 is a clone of the AR-10, similar to the SG 516, but it chambered for the 7.62mm NATO. Variations include the CQB 12.48" barrel; Carbine 14.5" barrel; Patrol 16" barrel; and DMR, semi-auto. The SIG M400 is similar to the SIG 516, but instead works with gas action. Variations include the CQB SWAT 7.68" barrel; Carbine SWAT 14.5 barrel; and Patrol SWAT 16" barrel. Both are also available in 7.62x39mm.
Tara Aerospace
Tara Aerospace and Defense Products A.D. is a new manufacturer and it comes from Modjovak in Montenegro. It proposes products like pyrocartridges, blasting caps, rocket engines, fuzes and small arms production.
Tara TM 9
This pistol has a mechanism very close to the Glock and it can be disassembled like the P225. The grip has an interchangeable back plate and an accessory housing behind the magazine. The bolt and barrel are made of Inox steel. The barrel has six right conventional rifling. The frame is made of polymer and can receive a black, tan or khaki finish. The pistol does not have a safety lever, just a slide lever on the right side of the frame. Sights are a square front sight and a U rear sight with luminescent points. The pistol is fed with a box magazine in the grip. The TM 9 works with short recoil and a double action trigger.
Ammunition: 9mm Para
Overall length: 7.36" (187mm)
Barrel length: 4.45" (113 mm)
Weight: 1.66 lbs (750 g)
Magazine capacity: 17 shots
Tara TM 4
Assault rifle derived from the M16, but it has a polymer lower receiver with steel internal reinforcements and a short stroke gas action. Selector and magazine release are located on each side. Ventilated hand guard has four Picatinny rails. A short barrel version is designed TM 4 C Commando.
Verney-Carron
This company, which is the oldest small arms manufacturer in France, exhibited the Flash Ball, a less lethal gun used for many years by the French Police Nationale. It is a single shot or over-under smooth bore 44mm pistol; and single shot or over-under rifled 40mm grenade launcher. The company now proposes a single shot 57mm launcher for tear gas grenades or less lethal ammunition similar to Alsetex or others. A new loading for the 44mm Flash Ball was also presented. It shoots a miniature tennis ball bullet with an energy of 150 joules at ten meters.
Voere
The Austrian Voere company from Kufsen in Tyrol, exhibited two modular sniper rifles. The LBW M2, has a folding stock with a shoulder rest, a cheek rest and an adjustable rear monopod. The safety can be operated from both sides and the grip can be standard or ergonomic. The steel frame receives a manually operated bolt with reduced movement for opening. It has three lugs on the head and a manually operated firing pin. The barrel, fluted or not, is made of conventional steel, Inox steel or carbon fibre. It can receive a muzzle brake or a suppressor. The frame and ventilated forearms are of light alloy; they have several Picatinny rails to install scope, bipod or other accessories. Feeding is from a box magazine.
The LBW M2 is available in five different calibers and is easy to change from one to another by replacing the barrel and the bolt head. This rifle can have a black, tan or khaki finish. Similar to this rifle is the X3, a strengthened variation, which permits shooting cartridges from cal. 12mm to powerful calibres. It has a folding stock.