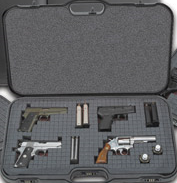 LaserLyte TLB-RT
LaserLyte, innovators in firearm laser technologies, have developed a new interactive target system with dual modes for reaction and training; the Reaction Tyme Target, TLB-RT. This new laser training system comes with two (2) targets for more realistic training scenarios. Each target works independently of each other providing the user a variety of scenarios from near-to-far or left-to-right shooting. The interactive system works in two modes; reaction and training. The reaction mode features random LED signals in intervals of three to seven seconds that can be shot with any of the LaserLyte Trainers. When a hit is made the target celebrates with two beeps and a LED flash. The training mode allows the user to practice trigger control and accuracy with an always-on and ready-to-be-shot mode. When a hit is made, the target sounds two beeps and the LED flash. The LaserLyte Reaction Tyme Target allow for new and experienced shooters to gain increased levels of confidence and skills in the comfort of their own home while saving money on ammunition. The twin targets provide an active training session that can be set-up in a variety of ways. Any of the LaserLyte Trainers work with the TLB-RT including the LT-PRO, LT-1 and the LaserLyte Trainer Cartridges in .223, .380, 9mm, .40 S&W and .45 ACP. For more information visit www.laserlyte.com.

FNH USA FNX-45
FNH USA, LLC is pleased to announce the release of the FNX-45, a double-action/single-action hammer-driven pistol with highly enhanced ergonomics. This handgun is the latest addition to the company's ever-popular FNX line of autoloading pistols and is made in Columbia, South Carolina by FN Manufacturing, Inc. This handgun was modeled after the FNP-45 service pistol originally introduced in 2007 under the U.S. Joint Combat Pistol Program. With the FNX-45, FN has combined all of the great features of their FNP product line with the reliability, performance and ergonomics that the FNX line is known for. The FNX-45 is fully ambidextrous and is available in matte black with a stainless steel barrel or flat dark earth with a matte black barrel. Both slides and barrels are stainless steel. It comes with a 15-round magazine and multiple interchangeable backstraps with lanyard eyelet and a Mil-Std 1913 mounting rail on the underside that accepts tactical lights and lasers. The manufacturer's suggested retail price (MSRP) will be $809. A pioneer in innovative firearm technology since the days of John M. Browning, FNH USA supplies a variety of products to customers in more than 100 countries worldwide. Based in McLean, VA with manufacturing operations in Columbia, SC, FNH USA is responsible for all U.S.-based sales, marketing and government relations efforts. For more information about the FNX-45 or other FN products, please visit www.fnhusa.com.
HC Mags HC3R
HC Mags has just introduced a new high capacity magazine for the Ruger 10/22 series of rifles and Charger 10/22 pistols. The new magazines hold a whopping total of 45 rounds of .22 Long Rifle ammunition on board with the added benefit of being able to reload the magazine via a stripper clip type device they call the "Rib-Clip." The magazine is called the HC3R (HC Rapid Rifle Reload) and comes with two of the rib-clips. The rib-clip actually becomes part of the fully loaded magazine. The HC3R is made from a high impact formulated composite resin body with stainless steel feed lips. The body is made from two halves that are held together with stainless steel fasteners so the magazine can be taken apart and cleaned unlike other magazines that have plastic, glued-together bodies. The mag also features a thumb assist that is attached to the follower to allow for easy, single round loading. The new magazine is the same size as other magazines that only hold 30 rounds. The HC3R accomplishes this by holding 25 rounds in a single stack in the center of the mag and another 20 rounds in an ammo pocket on the left side of the mag. These loose rounds are held in place by the installed rib-clip. To load the HC3R you simply drop 20 rounds into the ammo pocket on the side of the magazine, pull the thumb assist down to the bottom and turn it 1/4 turn to lock the follower in the down position. You then drop 20 more rounds into the rib-clip and lock it into place from the back of the mag body. The follower is released and is allowed to push the original 20 rounds up to the feed lips. Then 5 more rounds can be hand loaded into the magazine. After the first 25 rounds are fired, just unsnap the rib clip, which is now empty, and slide it over the loose rounds in the side ammopocket just like loading a stripper clip. The rib-clip is then locked into the mag body, the follower unlocked and you have another 20 rounds ready to be fired. Additional rib-clips can be purchased and stored pre-loaded in you pocket or pack. The description sounds a lot more complicated than it really is and this is a very high quality magazine. In testing, this editor also used the magazine in a full-auto, post sample 10/22 and it worked flawlessly at a cyclic rate of over 1,400 rounds per minute. www.hcmags.com.
ATI ARcane .300 Blackout
American Tactical Imports, a worldwide importer of firearms, is proud to introduce the latest addition in the ATI HD Rifle Series: the ARcane .300 Blackout. ATI's ARcane Blackout, chambered in .300 AAC, will be available as a 16-inch carbine and an NFA restricted 10.5-inch SBR (short barrel rifle). Both models will feature a nitrocarb barrel with 1/7 RH twist and Mil-Spec 7075-T6 forged upper and lower receivers. This rifle will also have a Mil-Spec Carpenter 158 bolt/8620 carrier, Head Down 9-inch Provectus free float rail and low profile carbine length gas system. The ARcane Blackout has a Head Down PVX muzzle brake with 5/8 x 24 threads, a commercial spec M4 collapsible stock and type III hard coat anodized finish. Benefits of the .300 AAC Blackout round include more muzzle energy than 5.56 NATO, availability of supersonic and subsonic ammunition, and no changes to the weapon required when switching from subsonic to supersonic ammo. In addition, the larger bullet provides more damage to the target, and it's easy to reload with commonly available 5.56mm brass. The ARcane .300 Blackout has an MSRP of $999 (USD) and comes with a 30-round polymer magazine and hard case. For more information contact them at www.americantactical.us.
JFT Assets Rapid Load Ammunition Mount
There is now a new mounting system for any weapon that mounts using a MK64 or MK93 type carriage/cradle. The new mount is called the Rapid Load Ammunition Mount and is available from JFT Assets. The Rapid Load Ammunition Mounts are made from 3/16 A-36 steel, with a self contained spring latch and with hardened 5/8 pin (same mounting face as the currently used 40mm universal ammunition mount). The JFT mount uses 4140 hardened tool steel mounting pegs, slightly larger diameter, which is tapped to thread into the threaded mounting plate, with backup nut, which makes the mounting pegs easily replaceable. The face plate mounting bolt is a grade 8 hardened 3/8 bolt threaded in from the back, which is also easily replaceable, with a hardened oversized nut for easy hand tightening. The V4 and V5 have a 45 degree top bevel for easy ammo box loading. The V5 has a separate mounting face plate that utilizes 5 contact points instead of the normal 3, which allows for better weight distribution but still allows the mount to be relocated for the M2 .50 cal., or the MK 19 grenade launcher. The newest model, the Rapid Load Short .50, has hardened hinges; with hardened 3/8 square pin slam latches, for fast and easy access. Both doors are also easily removable for cleaning and the doors have been tested by cycling them between 1,300 and 1,400 times each without a malfunction. All versions come with HDPE plastic wear plates that are easily replaceable, and if completely removed will still function properly. The Rapid Load Short 50 also is available with an adapter plate and longer latch release pin to accommodate two .30 caliber ammunition cans for use with the M240. The mounting pegs, bolts, and nuts, can also be threaded for metric sizes, to accommodate foreign applications. The face plate can be modified to fit other weapons' mounts at an additional cost, and time for redesigning. For more information please contact JFT Assets on the web at www.jftassets.com.
Blue Force Gear SPLITminus Chest Rig
Blue Force Gear is now offering their new SPLITminus Chest Rig. SPLITminus features Blue Force Gear's proprietary MOLLEminus technology: MOLLE minus the weight, MOLLE minus the bulk, MOLLE minus the complexity. The MOLLEminus design provides the thinnest, strongest, lightest modular load carriage of individual combat equipment: half the thickness of a dime, over 4 times as abrasion resistant as air textured nylon and formed from a single piece of Blue Force Gear's proprietary ULTRAcomp laminate. Users of their RACKminus chest rig loved the lightweight modularity but wanted to see a split version for better comfort when in the prone position. Also, front opening chest rigs are easier to use in the low profile operations that are becoming more prevalent as conflict evolves. SPLITminus delivers the solution. SPLITminus is the simplest modular chest rig on the market and can be easily donned or doffed in seconds. Simply un-buckle the two center buckles and drop. The included mesh-lined shoulder straps are free breathing, MOLLE compatible and provide routing for communications wires, hydration tubes or antennas. SPLITminus is compatible with all legacy issue MOLLE pouches and for the ultimate lightweight chest rig combine SPLITminus with pouches featuring Blue Force Gear's revolutionary Helium Whisper Attachment system. For more information on this as well as their full line of necessary gear contact them at www.blueforcegear.com.
Tactical Electronics UDC Pro
The Tactical Electronics Under Door Camera (UDC) Pro is a small surveillance camera that can fit under the bottom of a door and allows a tactical team or military unit to see what is beyond they door they are going to breech. The UDC Pro is a 2-camera system that provides dual camera views. The unit is equipped with forward and upward facing cameras. With the push of a button the forward and upward camera views can be wirelessly toggled, allowing operators to covertly inspect both the interior of a room and the interior side of the door. Both cameras are housed within the insertion panel along with four directional IR LEDs and one flood IR illuminator. The IR illuminator provides 180 degrees of illumination and is designed to fully flood a 15 x 15 foot room with IR light. Due to varying amounts of ambient light in tactical environments the IR illuminator features adjustable brightness control and remote toggling from the Pro Monitors.
A telescoping deployment pole enables operators to quickly deploy and maneuver the unit from a position of cover. The UDC Pro features video recording and wireless video monitoring to PRO monitors. The unit comes with the QD camera, a telescoping deployment pole, a handheld or wrist-mounted monitor, a 16GB SD card, one 6-foot hard-wired monitor cable and a Storm Case with precision cut foam for a stable storage environment. For more information, be sure to visit www.tacticalelectronics.com.
Pages: 1 2