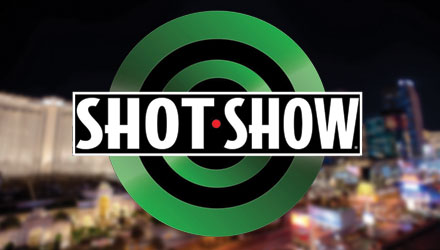 The SHOT (Shooting, Hunting and Outdoor Trade) show was once again held this year in Las Vegas, Nevada at the Sands Expo and Convention Center.  It is the largest and most comprehensive trade show for all professionals involved with the shooting sports and hunting industries.  It is the world's premier exposition of combined firearms, ammunition, archery, cutlery, outdoor apparel, optics, camping and related products and services.  The SHOT Show attracts buyers from all 50 states and more than 100 countries.  The show grows every year and this year was no exception with record setting numbers of exhibitors as well as media professionals and attendees.  The show was held January 19-22.

The SHOT Show is the premier venue where manufacturers roll out their exciting new products for the upcoming year.  As well as new products, industry professionals are offered informative seminars on topics of interest on everything from the latest retailer trends and issues to law enforcement topics and training and even seminars put on by the Bureau of Alcohol, Tobacco, Explosives and Firearms that covers rules and regulations pertaining to firearms.  SHOT Show is the place to be to keep up with everything new in firearms, outdoor items and accessories.  This year once again produced some exciting new products for the coming months.  Although space restrictions don't allow us to cover everything at the show, SADJ was there to provide you, our readers, a first look at just some of what's new.
One of the most talked about firearms this year had to be a new shotgun from Kel-Tec CNC Industries (www.keltecweapons.com).  The shotgun, designated the KSG, is a bull-pup design and is their first entry into the shotgun market.  The size, shape and design are similar to the currently available Kel-Tec RFB rifle, but the KSG ejects downward, instead of forward.  The KSG weighs 6.9 pounds and is as compact as legally possible with a 26.1 inch overall length and an 18.5 inch cylinder bore barrel.  Even with this compact size, the internal dual tube magazines hold an impressive 14 rounds of 12 gauge 2-3/4 inch rounds (7 per tube).  The simple and reliable pump action feeds from either the left or right tube.  The feed side is manually selected by a lever located behind the trigger guard.  The lever can be positioned in the center detent in order to easily clear the chamber without feeding another round from either magazine.  A cross bolt style safety blocks the sear, and the pump release lever is located in front of the trigger guard.  The pump has an under Picatinny rail for the mounting of a forward grip, or a light or laser.  The included top Picatinny sight rail will accept many types of optics or iron sights.  Forward and rear sling loops are built in, and a basic sling is included.  The soft rubber butt pad helps to tame recoil.   Watch for a full test and evaluation in an upcoming issue of SADJ.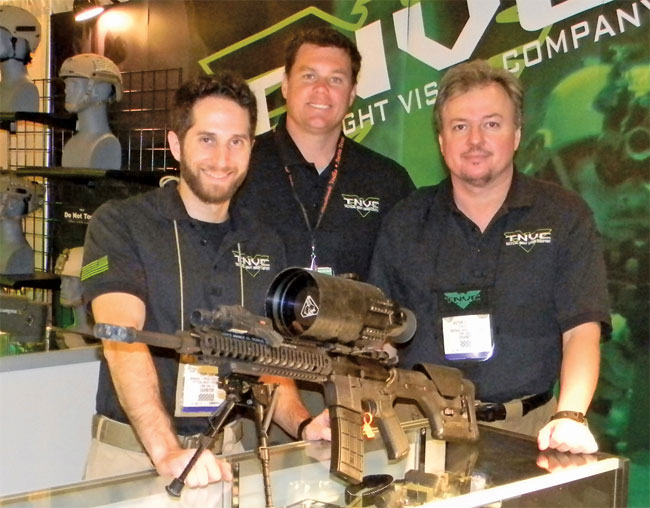 The TNVC booth drew quite a crowd with their new WASP night vision scope. This 8 power monster is said to allow users to see the veins in leaves at 50 yards.
Another interesting shotgun was debuted at SHOT Show.  One can hardly think of shotguns without thinking of Mossberg (www.mossberg.com).  This company has been building shotguns since the early 1960s.  This year they introduced a new shotgun called the "Chainsaw."  This gun is a variation of their time proven Model 500.  It is designed as a breeching shotgun and features a pistol grip, 18.5 inch barrel and a white dot front sight.  The Chainsaw also features a stand-off compensator on the barrel and a tri-rail forearm with an integral full-length bottom rail and two removable side rails for maximum flexibility when mounting tactical lights, lasers and accessories.  It also has a unique 'chainsaw' forend grip that provides the shooter with added muzzle control.  It is easily removable for rapid conversion to a standard forend.  This year Mossberg also has a line of "Blackwater" branded shotguns.  These guns are based on their Models 590A1, 500 Cruiser and their model 930 SPX.
Heckler & Koch (www.hk-usa.com) has this year brought to market a semiautomatic version of their select-fire Model 416.  This piston-driven AR-style 5.56mm rifle is called the model MR556A1.  The piston-driven method of operation eliminates malfunctions that are common to direct impingement gas systems since hot carbon fouling and waste gases do not enter the receiver area.  The rifle features a quad rail free-floating handguard that has four Mil-Std-1913 Picatinny rails that allow the user to fit optics, lights and lasers.  The gun uses a German made barrel that is cold hammer forged producing a barrel that provides superior accuracy as well as a long service life.  The MR556A1 will accept all AR-15 style magazines.  Said to be released later this year will be HK's MR762A1.  This hard hitting rifle is chambered in caliber 7.62x51mm and has many of the same features as the 5.56 mm rifle.  Like its 5.56mm counterpart, the MR762A1 is a direct descendent of the HK416/417 series, only in a semiautomatic rifle configuration developed for civilian users.  The MR762A1 uses many of the assemblies and accessories originally developed for the HK416/417 series including adjustable buttstocks, ergonomic pistol grips, mechanical sights, and the HK free-floating four-quadrant rail system/handguard.  The HK rail system can be removed without special tools by the user and ensures 100% return to zero when reinstalled.  Ambidextrous operating controls are standard on the MR762A1, including the charging handle and an ambidextrous selector lever.  The MR762A1 also uses the same 10- and 20-round translucent polymer box magazines made for the HK417.  Both the MR556A1 and the MR762A1 will be produced at Heckler & Koch's American manufacturing facilities from both American and German-made components.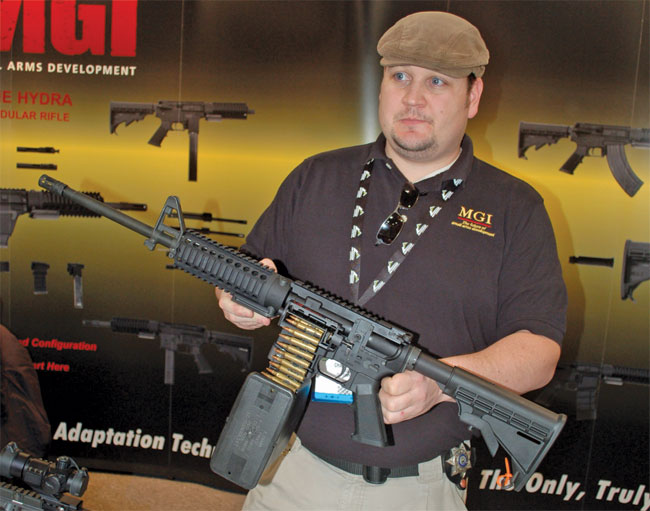 MG Industries will be marketing the new belt-fed conversion for the AR-15/M16 series of rifles that is being manufactured by Valkyrie Armament LLC.
Colt (www.coltdefense.com) has finally confirmed the existence of their civilian modular carbine, the new rifle called the SP901.  The SP901 has a patent-pending AR-10/AR-15 format universal multi-caliber lower receiver.  This receiver will accept both their 5.56 (.223) as well as their 7.62 (.308) caliber upper receivers making this a truly a multi-caliber battle rifle.  Because the lower is multi-caliber it will actually accept any caliber upper between 7.62 and 5.56 including 6.8 SPC and 6.5 Grendel.  The rifle also features a monolithic upper/rail system and is completely ambidextrous with all fire controls mirrored on both sides of the gun.  The basic rifle is piston driven and sports a 16 inch barrel although 13, 18 and 20 inch barrels will be available.  In 7.62 caliber it will be offered with the excellent MagPul 20LR magazine and in caliber 5.56 will accept any magazine that will fit the AR-15/M16 rifles.  With the rifle accepting any Mil-Spec upper, different uppers can be equipped with sights or optics and remain zeroed when changed.
Extreme caliber rifles still account for a large percentage of rifles that are sold every year (and also displayed at the SHOT Show).  One of the most, if not "the" most, extreme rifle is the Barrett .50 caliber rifle (www.barrett.net).  Available in several models and styles, this behemoth is the rifle brought to bear when the need to reach out and touch someone or something arises.  This year Barrett introduced a new model of their battle proven semi-auto gun called the M107A1.  Designed to be used with a suppressor, this one-of-a-kind rifle allows the user to combine signature reduction capabilities with the reliability of the original Barrett M107.  An all-new bolt carrier group has been designed to make the rifle suppressor ready.  Its titanium four-port muzzle brake is engineered to work seamlessly with the supplied quick-attach Barrett .50 BMG suppressor.  The rifle's lower receiver includes a new recoil buffer system that is optimized to also work with a suppressor.  Other features include a thermal cheek guard, back-up iron sights, a lightweight quick-detach bipod, monopod and a flat dark earth finish.

Sig Arms now has a version of their Sig556 in 7.62x39. They also now have a version of this rifle in 7.62x51 (.308).
There are always hordes of new handguns introduced at SHOT and this year was no exception.  With centerfire ammunition prices reaching an all time high there seemed to be an emphasis on new .22 Long Rifle handguns.  Of special interest to readers, there were several "tactical" type guns introduced this year.  Suppressed or "silenced" guns are now more accepted than ever before.  They are leaving behind their reputations as "assassination devices" as more shooters see them for what they really are; another way to save the users hearing.  There were new guns available from both new as well as established companies.  American Tactical Imports (www.americantactical.us) was at the show introducing their new line of .22 caliber pistols called the GSG 1911.  Made by German Sports Guns there are three models.  The standard GSG 1911 with walnut grips, the GSG 1911 with black plastic grips and the GSG 1911 AD-OPS which has black grips, a dust cover rail and comes with a fake suppressor.  All of the guns are copies of the Colt 1911 .45 that is known throughout the world but these guns are designed strictly for .22 Long Rifle ammunition.  All, fortunately, have barrels that are threaded but unfortunately it is a metric M9x.75 thread.  Most .22 caliber suppressors are threaded 1/2×28.  Now several U.S. companies are making adapter bushings that allow the guns to be fitted with a U.S. suppressor.  The guns have a 10-round magazine and have the same weight and specifications as a .45 1911.  They are even compatible with some 1911 parts which allows them to be further customized to the shooters specifications.  Other features include beaver-tail grip safety and skeletonized trigger and hammer.
Another interesting handgun made its debut at the show.  Taurus (www.taurususa.com) was showing their new 28 gauge revolver called the Raging Bull XXVIII.  This single action/double action five-shot revolver is advertised as the ultimate handgun for personal protection and home defense as it fires the powerful 28 gauge shotshell.  It features high visibility fiber optic sights and recoil absorbing grips.  It was scheduled to be released right after SHOT Show but word has it that The Bureau of Alcohol, Tobacco, Firearms and Explosives said that the gun could not be marketed as is because it was basically a short barreled shotgun.  The reason seems to be that there is not a compatible centerfire caliber that the gun can fire as is the case with the Taurus Judge.  More on this issue later.
Pages: 1 2