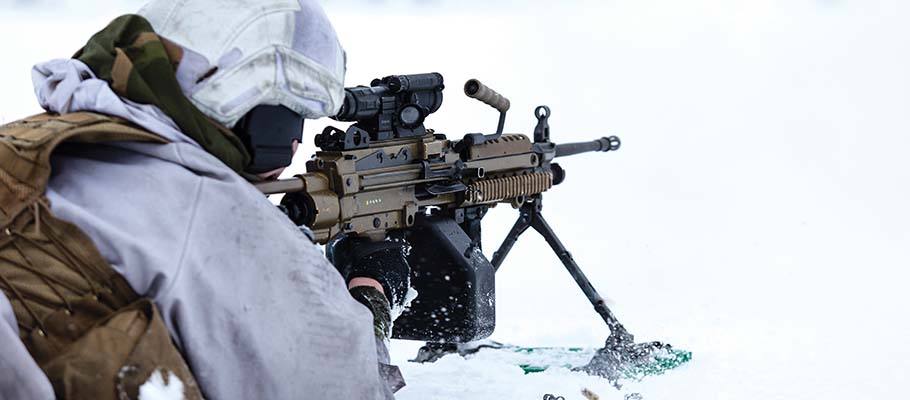 ABOVE: Norwegian infantry MG gunner fires the MINIMI 5.56mm. The MG is equipped with an Aimpoint optical sight. An under-mounted polymer ammunition container helps keep ammunition cleaner for reduced wear and added reliability. (Simen Rudi, Hæren/Forsvarets mediesenter)



The light machine gun 5.56×45 is designed to be employed by an individual gunner normally in an infantry squad. It is easier to handle by one person due to the weight and caliber of the ammunition and using the same ammunition as the others in the squad eases the logistics. The LMG is capable of delivering a large volume of effective fire which complements the effectiveness of all squad weapons across the spectrum of infantry operations. LMGs allow rifle squads to take light automatic weapons with them in the assault.


Modern 5.56mm Ammunition for Light Machine Guns and Rifles
The 5.56mm caliber is very useable for short range combat. Currently, there are many new 5.56mm ready ammunition types. Among these there are the so-called lead-free or low-emission characteristic (green ammo), and on the other hand new bullet constructions and higher projectile masses for ballistic performance improvement. Among the pioneers of producing lead-free ammunition, is Nammo. Since 2012, the Norwegian-Finnish company Nammo has supplied a revised lead-free 5.56mm cartridge with the label NM255 to the Norwegian Armed Forces. This has better performance compared to standard ball ammunition with minimized environmental impact. It has improved accuracy, terminal ballistics and barrel erosion, and better penetration compared to ordinary NATO ball. It contains no lead. This is a response to three years earlier lessons learned that the lead-free ammunition type NM229 could cause health problems when shooters were breathing copper and zinc vapor. The SS109 bullet of FN Herstal has a brass coat surrounding the steel and the underlying lead core. In 2010 the U.S. Army introduced the new M855A1 Enhanced Performance Round (EPR) with a 62-grain bullet. The double core construction with exposed bullet tip, mainly produced by ATK, also has a low emission and due to their component assembly it ensures higher efficiency. U.S. Special Forces also use the Mk262 cartridge with 77 grain bullet (5 gram). In 2010 the U.S. Marine Corps replaced the M855 initially with the MK 318 MOD 0 cartridge, caliber 5.56mm ball. Barrier penetrating, the 62 grain heavy "open-tip" -cartridge has a lead core and a thick copper base. The lead core is to make a breach into obstacles, which then the copper core penetrates behind. Meanwhile, the M855A1 is also used by the "Leathernecks." RUAG Ammotec presented their HC + earlier in 2010. This lead free hard core cartridge with increased penetrating power is particularly suitable for light MGs. In May 2013 it qualified the lead-free cartridge 5.56×45 LF HC SX for the small Luxembourg Armed Forces. RUAG Ammotec announced this cartridge, exceeded the "multi caliber manual of proof and inspection" (MC-MOPI standard for test processes), which calls for a standard deviation of up to maximum 200 mm at a distance of 550 m, a standard deviation of 110 mm corresponds to 300 m. The lead-free cartridge 5.56×45 LF HC SX at this distance with all rounds had standard deviations of less than 50 mm.


The FN MINIMI 5.56mm Mk3, cover and feed mechanism assembly in open position. (Walter Håland)
The FN MINIMI 5.56mm Light Machine Gun
The MINIMI (short for French: Mini Mitrailleuse; "mini machine gun") is a Belgian 5.56mm light machine gun developed by Fabrique Nationale (FN). The FN MINIMI is a gas actuated long-stroke piston system LMG firing from an open bolt. It is an air-cooled weapon capable of fully automatic fire only. It can be belt fed or fired from a magazine. The barrel is locked with a rotary bolt equipped with two massive locking lugs. It was first introduced in 1974. In the meantime it is in widespread use by the militaries of North America (designation M249), South America, Europe, South East Asia and Oceania. The weapon is currently manufactured at the FN facility in Herstal and at their U.S. subsidiary FN Manufacturing LLC. The weapon is primarily chambered for 5.56×45 NATO, though it is also available as a 7.62×51 NATO variant. The MINIMI is configured in several variants: the Standard model as a platoon or squad support weapon, the Para version for paratroopers and the Vehicle model as secondary armament for different vehicles. The welded receiver is made from stamped steel. Both the Standard and Para variants are equipped with a folding bipod mounted to the gas tube and stowed under the handguard. The bipod can be adjusted in height and each leg has three height settings. The bipod also offers a 15° range of rotation to either side. With the bipod fully extended, the bore axis is elevated to a height of 465 mm (18.3 in). The standard light machine gun version has a 465 mm (18.3 in) barrel Mk1 and a fixed composite stock with a folding shoulder strap. The shortened Para model has a 349 mm (13.7 in) barrel and a sliding metal stock. For 5.56 weapons, both these stocks are available with or without the hydraulic buffer that contributes to stabilizing the rate of fire and reducing recoil forces. The Mk3 configuration is only available with the hydraulic buffer. The weapon is fed from the left-hand side by disintegrating-link ammunition belts, from either an unsupported loose belt, enclosed in a polymer ammunition box with a 200-round capacity attached to the base of the receiver, or from reusable 100- or 200-round pouches, or from detachable 30-round STANAG magazines, used in other NATO 5.56 assault rifles such as the M16. Magazine feeding is used only as an auxiliary measure, when belted ammunition has been exhausted because this results in increased wear and tear on the rotary bolt's locking lugs. This feature allows the FN MINIMI to be instantly changed from belt feed to magazine feed without any modification. When a belt is placed in the feed tray it covers the magazine port. The magazine port, when not in use, is closed with an L-shaped hinged flap equipped with a tooth, which engages a corresponding opening in the magazine and serves as a magazine release. The barrels used in the FN MINIMI have an increased heat capacity for sustained fire, feature a chrome-lined rifled bore (six right-hand grooves) and are manufactured with a 178 mm (1:7 in) twist rate used to stabilize the NATO SS109 projectile (since 1980s). The barrels have a quick-change capability; a lever is provided on the left side of the weapon that releases the barrel from its trunnion. A carrying handle is also fixed to the barrel that makes the barrel change process easy. A trained soldier can perform a barrel change and ready the weapon for aimed fire in 6-7 seconds. FN MINIMI has a cone-shaped slotted flash suppressor. Both the standard and Para models come with a rear sight, adjustable for windage and elevation. The sight has a peep aperture for ranges from 300 to 1,000 m in 100 m increments. The hooded front sight is installed in a post on the gas block. The gas valve is manually adjustable with two positions: normal and adverse. The adverse setting increases the cyclic rate of fire from 700–850 rounds per minute to 950–1,150 rounds per minute and is used only in extreme environmental conditions or when heavy fouling is present in the weapon's gas tube.


The barrels have a quick-change capability; a lever is provided on the left side of the weapon that releases the barrel from its trunnion. The carrying handle fixed to the barrel is used in the barrel change process. A trained soldier can perform a barrel change and ready the weapon for aimed fire in 6-7 seconds. (Walter Håland)
The Trend in the 80s
As the other NATO nations, the Norwegian Defense also replaced at infantry squads the 11 kg heavy 7.62mm MG3, which is cumbersome to carry for an infantry soldier on foot patrols, compared to the 3 kg lighter FN Herstal MINIMI 5.56mm. The big MG3 is less suited to urban fighting. The 5.56mm ammunition is half as heavy as the 7.62mm. With the assault rifle HK416, in 5.56mm caliber, the infantry squad would only have one caliber, which makes it easier with supplying their ammunition to other members in the squad. The variant Norway has acquired is the MINIMI PARA TRIPLE RAIL with the sliding butt and rails for mounting of optical sight, light and laser pointer, or other selected accessories. The optical sight used on the MINIMI is the Aimpoint Comp 4x and 3x magnification. The delivered LMGs come with two different barrels. The 18.2 inch barrel is primary for use at maximum practical range. The additional 14.2 inch barrel is intended for shooting at shorter distances (Close Quarters Combat). The long barrel and the short barrel have different shaped flash suppressors.


The barrels have a quick-change capability; a lever is provided on the left side of the weapon that releases the barrel from its trunnion. The carrying handle fixed to the barrel is used in the barrel change process. A trained soldier can perform a barrel change and ready the weapon for aimed fire in 6-7 seconds. (Walter Håland)
FN MINIMI Mk3 (5.56mm and 7.62mm)
FN Herstal's newest light machine gun line, the MINIMI Mk 3, is an update of the FN MINIMI. The FN MINIMI Mk3 is probably the most important new firearm of 2013 given its widespread use by the militaries. The company stated the new Mk3 was designed around the feedback received from actual combat troops using the weapon in the field. Essentially, all updates are focused on improved ergonomics and improved mobility. The most prominent updates are:


The old fixed stock has been replaced with a 5-position length of pull adjustable buttstock (to fit different sized soldiers with and without body armor). The stock has an integrated hydraulic buffer that stabilizes the rate of fire and reduces felt recoil. Additionally, the stock has an adjustable cheek riser and a shoulder rest. The user can have his eye correctly aligned with the iron sights, or optical sights, while keeping his cheek properly positioned on the buttstock.


A new handguard/bipod assembly that provides a comfortable handguard and three forward Mil-Std 1913 Picatinny accessory rails. The adjustable-height (3 positions) bipod, when folded back, integrates into the shape of the hand guard even with an accessory on the lower rail.


The top cover and feed tray has been upgraded for easier one-handed reloading. The cocking handle is more ergonomic and easier to operate with either the strong or weak hand.


The feed tray is improved with belt retaining pawls that hold the belt correctly in position during the loading procedure, which is most useful when the user is in the standing position.


According to FN Herstal, existing MINIMI machine guns can be upgraded to Mk 3 specs. FN offers complete or partial upgrades kit depending on customer's needs. Upgrades can be performed in-house by the organizations. The MINIMI Mk3 will be available in two calibers (5.56 and 7.62). There will be four 5.56mm variants and three 7.62mm variants (down from the total of eight variants previously available). The 5.56mm variants are FN MINIMI 5.56 Mk3 Tactical LB (long barrel) and tactical SB (short barrel), – para and Tactical Standard.


The barrels have a quick-change capability; a lever is provided on the left side of the weapon that releases the barrel from its trunnion. The carrying handle fixed to the barrel is used in the barrel change process. A trained soldier can perform a barrel change and ready the weapon for aimed fire in 6-7 seconds. (Walter Håland)
M249 Light Machine Gun, Squad Automatic Weapon (SAW)
In the U.S. the light MG MINIMI in caliber 5.56×45 was adopted in 1982 and designated the M249 light machine gun (LMG), previously designated the M249 Squad Automatic Weapon (SAW), and formally written as Light Machine Gun, 5.56mm, M249 in use by U.S. Forces. Production for the U.S. military has been carried out entirely in the USA by a local subsidiary, FN Manufacturing LLC in South Carolina. U.S. Armed Forces, USSOCOM and the NSWC have been developing their own variants and upgrades of M249 for many years. The fruits of their labor are the Mk. 46 Mod 0/1 and Mk 48 Mod 0/1. As part of the U.S. military's M249 Product Improvement Program (PIP), the M249 was updated with: a new synthetic stock and modified buffer assembly, a single-position gas regulator, a so-called birdcage type flash hider/compensator from the M16A2, a polymer barrel heat guard, and a folding carry handle. As a result, the weapon's weight increased to 7.47 kg (16.5 lb.). Many of the PIP upgrades were later incorporated by FN for the MINIMI. The ergonomically-shaped polymer buttstock contains a hydraulic buffer that allows SAW gunners to maintain a high rate of fire with accuracy and effect.


Para
M249 Para
The M249 Para is optimized for airborne, armored infantry and close quarters combat (CQC) operations with a shorter barrel and sliding butt. It retains all of the features of the M249 SAW and can be field-converted back to the standard model configuration in just 30 seconds. Each M249 model includes one spare barrel.


Technical characteristics

Projectile weight: 3 g (77 grain)

Muzzle velocity: 1030 m/s (3377 fps)

Max. dispersion: S.D. < 200 mm at 550 m

Penetration: 12 mm RHA 300HB at 100 m

Service temperature: -54oC/+52oC

Safety temperature: -54oC/+71oC


Type classified by U.S. Army 1996 as M995. Nammo has been the sole supplier since then. In service in several countries. Combat proven and in production.


5.56×45 Armor Piercing 45 Incorporating Nammo's knowledge on tungsten carbide technology as well as that on lead free projectile design, 5.56mm AP 45 provides a cost effective armor piercing round for use in assault rifles and machine guns. Military specified (STANAG 4172). The heavy projectile provides increased performance at long ranges.


Technical characteristics

Projectile weight: 4.5 g (70 grain)

Muzzle velocity: 915 m/s (3,000 fps)

Max. dispersion: S.D. < 200 mm at 550 m

Penetration: 7 mm RHA at 200 m

Service temperature: -54oC/+52o

Safety temperature: -54oC/+71oC

Status: In production


PARA Technical Data

Caliber 5.56mm x 45 NATO

Operating principle: Gas piston driven, hydraulic buffer

Bolt mechanism: Rotating bolt, open bolt principle

Feed mechanism: Belt feed from left side or magazine2

Modes of fire: Safe/Sustained fire

Length min/max: Long barrel 898 mm/1,028 mm, Short barrel 780 mm/914 mm

Height: 24.1 mm (9.5 inch)

Barrel length: Long barrel 466 mm (18.3 inch), Short barrel 347 mm (13.7 inch)

Sight: M/O3

Weight weapon with bipod: Short barrel (without ammo) ca 8.0 kg, With 100 rounds ammo pouch ca 9.1 kg

Trigger pull: 3.5 to 7 kg

Rate of fire: Automatic 14-15 rds./sec (approx. 850 rds./m)

Chamber pressure: ca 3,600 bar

Muzzle velocity-v0: Long barrel ca 925 m/s

Short barrel: ca 875 m/s

Muzzle energy-E0: Depending on ammunition/barrel

Barrel profile/twist: 6 grooves/right-hand twist 180 mm

Effective range: Ca. 400 m – 600 m

Max. range: Ca. 2,700 m


The version for the Norwegian Defense. Matte black or FDE color. 2 M416 magazines or 30-round STANAG magazines. 3 Aimpoint Comp M4 red dot sight and 3x magnification, Triple Rail, different accessories available.


Tactical Long Barrel
Tactical Short Barrel
Tactical Standard
N MINIMI MK3 Upgraded Components are highlighted in black. (Walter Håland)
Buttstock and buffer assembly. (Walter Håland)
Firing standard Ball and standard Tracer (full trajectory control out to normally 800 m)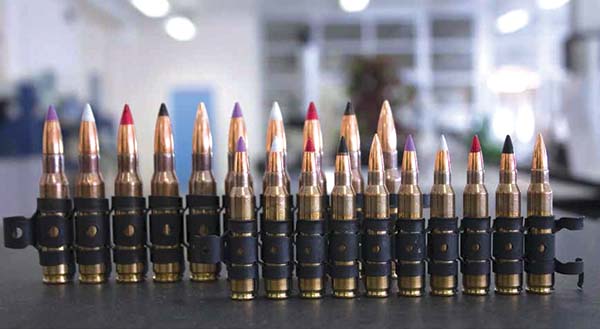 5.56x45 Armor Piercing 3 significantly increases the war fighters' lethality. Optimized projectile design with a tungsten carbide core for penetration of hard targets. Penetrates 12 mm RHA 300HB at 100 m and light body armor at normal combat distances.
On the cover rail of the MINIMI 5.56mm is the Aimpoint Comp M4 red dot sight with high battery compartment and 3x magnification, shown with plastic ammo box for a 200-round belt, handgrip, tactical light and Laser Designator (Forsvarets mediearkiv)