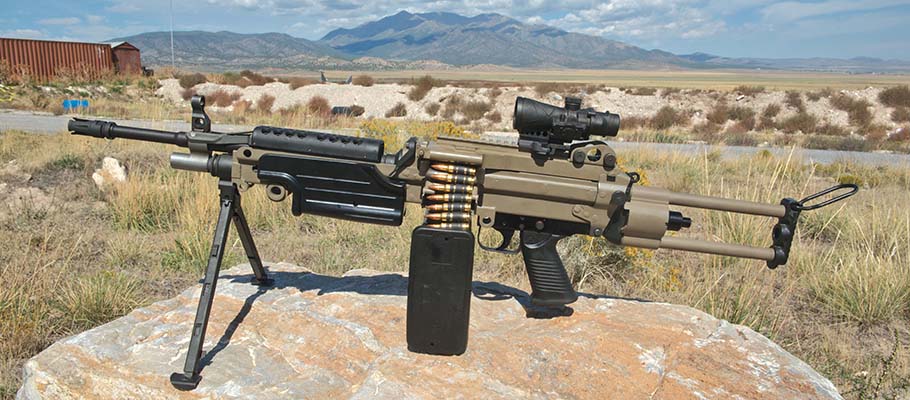 ABOVE: Compact, lighter than one might think, the MGA SAW in 6.8 SPC brings serious firepower to the engagement.


In almost all modern militaries, the belt-fed machinegun remains a mainstay. In small unit use it provides significant cover and suppressive fire. While numerous machine gun designs exist, the M249 remains the current SAW (Squad Automatic Weapon) for many of our military units. Polling those having used these in harm's way, it is either loved or hated. Considered similar in reliability to its frequent companion on the battlefield, the M240 chambered in 7.62 x 51mm, the M249 has in fact suffered from a few more problems. A friend of the author's tasked with running one of these in the U. S. Army stated he "Swore by the M240, and at the M249." Others have had the opposite opinion of the M249, many using them to great effect in battle. In the opinion of some, the "SAW" could do with some changes and U. S. Machinegun Armory offers a number of improvements.

Over the years, several upgrades and enhancements have made typical issue SAW's more reliable and they remain in use. U.S. Machine Gun Armory has their own versions, addressing many issues suffered in early versions. Along with certain operational improvements, the MGA SAW is available in a number of calibers other than 5.56x45mm using the same basic receiver. They can be ordered in 7.62x51mm, 7.62x39mm, .300 Blackout, 6.8 SPC, and .260 Remington. Patented design changes allow for that significant increase in versatility. Having had the opportunity to test the MGA SAW in all but the 260 Remington, it's the 6.8 SPC that caught my
attention the most.

My affinity for the 6.8 SPC started shortly after this cartridge hit the market. Working on a SWAT team at the time, several weapons in that caliber have gone through my hands over the years. Most had barrels in the 12-14 inch range, a few were select fire, all worked well for me. Early ammunition support was slim, making it more difficult and costly, but there have always been several in my inventory. An early Barrett Rec7 is still used on occasion, but it was the LWRC Six 8 platform that really garnered my interest. Designed to meet a large contract in the Middle East, the Six 8 platform is a ground up re-design of the rifle, around the caliber and magazine. Starting with a magazine built by Magpul, LWRC built the rifle from there. It works perfectly, and meets the needs of several Middle Eastern allies that are less than enamored with the 5.56 x 45mm (.223) cartridge. It begged the question, "So, how about a Squad Automatic Weapon? One that was built to work with this caliber and not just a conversion." With the 6.8 SPC's popularity with some of our Middle Eastern allies' rifles, a matching SAW seemed the perfect complement. U.S. Machine Gun Armory has answered the need with their MGA SAW.

Attachment of the bipod is solid, yet shaves off weight and keeps the weapon under complete control.
Test Rifles

Two machineguns were provided for testing. One MGA SAW was U.S. Machinegun Armory's latest chambered in 6.8 SPC . For comparison a 5.56 x 45mm model configured without magazine well was provided. While never having fielded a SAW in the military I have extensive experience during testing for proposed tactical team use post-9/11. The test weapons were very similar. The barrels are fluted and built to improve accuracy along with some proprietary improvements to the operating system. The SAW chambered in 6.8 SPC was similar to the one being sought by MGA's Middle East clients.

Designed for Airborne troops jumping out of aircraft, this MGA SAW in 6.8 SPC used a standard M249 Para buttstock. The rest is pretty standard fare, with a 200 round box magazine, iron sights, and rail for optics mounting. It included their latest Bi-pod, very strong, yet lighter than the original. Being more compact it tucked nicely into the handguard when not in use. For testing, the M16 box magazine attachment was left off, along with the carry handle. The 6.8 SPC Barrel was capped with a Primary Weapons Systems TRIAD flash hider.

The 5.56mm version was configured similarly to an issue weapon utilizing a number of the MGA improvements. The fluted barrel was capped with a standard A2 flash hider. Equipped with their improved bi-pod, it also had a modular handguard. It is lighter than the original and provides a straight line rail from the top of the receiver. Based off the original Knights Armament M249 rail project, it is available as an option on the MGA SAW. It used the Savic collapsing stock.

Browe's 4×32 Combat Optic was added for sighting at some longer ranges. Browe optics are housed in titanium keeping them light and strong. It also uses a unique Target Light Sensor that senses light at the target and adjusts the brightness. It means you can be in a dark environment, yet your reticle will use the proper brightness for the target. It has several settings, including an automatic where the lighted portion turns off until the optic is moved. Available with a number of reticle choices you can get one to suit your caliber and tactical needs. Elcan's Dual role 1.5x to 4x Optic was used on the 5.56mm SAW.

Elcan's dual optic is often used on issue SAW machine guns. It is clear, rugged, and provides increased versatility with the dual 1.5x and 4x capability.
Range Time

Initial testing started with the 5.56 x 45mm using M855 Green Tip ammunition. The weight and balance of this weapon surprised me. Much of my time is spent wielding a 14 or so pound sniper rifle in various positions so heavier guns are not new to me. That being said, it was surprisingly easy to move from prone, to kneeling, to standing. Holding it up in with the off-hand propped against a wall there was no issue staying on target. The 200 round drum, while not intended for this function, made for a nice rest on surfaces not suitable for the bi-pod. The stock made operation in full kit, including Level 4 plates, pretty comfortable for the operator. It is easy to see how someone using this system in the real world could become very attached to it. It brings some pretty significant firepower to bear that can be accurately applied in just about any urban operation. While accuracy testing is not something you generally see, with these the improved barrels they really shine. My experience lies with standard issue M249's and they are less than tack drivers. While getting singles off was not practical, it was possible to put doubles inside a 6 inch circle at 100 yards pretty much at will, from the bipod supported prone position. What ever MGA changed, worked. Since recoil is all but non-existent with this system, especially in this caliber, it was very easy to stay on target, especially at closer ranges. It was time to move to my favorite caliber, the 6.8 SPC, and see if it provided the same level of accuracy and make a few comparisons.

Using the MGA rail it is possible to co-witness sights as well as attach lasers and other devices.
MGA SAW in 6.8 SPC

Given the difference in the 6.8 SPC cartridge, increased recoil was expected, but it just did not appear that way. Shooting them side by side, there was little difference. Getting into a solid bipod supported prone position, it was possible to keep doubles and triples on the same 6" plate most of the time. The MGA SAW in 6.8 SPC was very accurate. Using the red dot sight at 100 yards or closer it stayed centered. It quickly became evident the Para M249 stock was less than desirable, a sentiment heard from many a soldier or Marine using them in the field.

Moving out to longer ranges, the MGA SAW remained accurate. Staying on steel at 400 meters was pretty easy even with triples, and an occasional five round burst. Keeping them all on a 24" x 16" steel plate at that range was pretty easy. Given a solid position and concerted effort they were surprisingly accurate at this range. This is purely anecdotal, but it was much easier for me to stay on steel with the MGA SAW chambered in 6.8 SPC than the 5.56mm MK46. Staying on a man sized target with controlled bursts with the 6.8 SPC MGA SAW was easy out to 300 meters.

While no lightweight, the MGA SAW can certainly be fired from standing and other positions. Not something you would want to do for long periods, but it is not much heavier than some of the older sniper rifles used. Empty weight is a bit under 15 pounds, loaded with 200 rounds adds a few pounds, so it's probably not for the gym averse. Getting a solid hold around the 200 round box takes some work, but it can be done. It is much easier with the 100 round pouches. Shooting from kneeling is much easier, although you would clearly want to try and get to prone, or at least get it rested on something if you can. Working around the range and some rocky outcroppings it was easy to steady it using natural terrain.

The MGA SAW is compatible with any standard M249 box magazine.
General Improvements

Since 1984 there have been no M249 Product Improvement Programs (PIP) from the US Department of Defense (DOD). Contrast that with the M16 and M4 and it has all but been neglected. Yet, the SAW remains a mainstay for much of our armed forces, and others around the world as a Squad Automatic Weapon. U.S Machinegun Armory has re-engineered and modernized this proven weapon.

One of the biggest complaints is a warping of the receiver rails and this was almost uniform amongst those early weapons seeing the hardest use. This is one of the improvements found in the MGA SAW, the receiver is stronger and better built allowing for a longer service life. It also contributes to a tighter mechanism providing for greater accuracy. Their improved trunnion design makes for a tighter fitting barrel and more accuracy. Further improvements have been made to feed trays, hand guards, stocks, and barrel assemblies. Chambered in 7.62 x 51mm it still comes in at 4 pounds lighter than a typically configured M60, ten pounds lighter than an M240. Versatility is unparalleled with interchangeable barrel kits available in 5.56mm, 300 BLK, 6.8 SPC, 7.62 x51mm, as well as 260. Same receiver, just choose the proper kit and swag as needed. Various barrel lengths allow you to fit the mission at hand, not just deal with what's in hand. Changes to the recoil system make it tunable and allow the use of an M4 buffer tube and any M16 style stock. U.S. Machinegun Armory has left no stone unturned or item unexamined when it comes to the build, function, and reliability of the MGA SAW, it is truly a re-design.

The enhanced charging handle is stronger, and the MGA SAW action is smooth and reliable with improvements throughout.
Final Thoughts

As the threat to the homeland increases from organized terrorist groups, the need for reliable belt fed machineguns is on the rise. Everyone from local law enforcement to anti-terrorist units needs the firepower to win against a highly motivated and often well armed threat. U.S Machinegun Armory's MGA SAW brings a versatility never seen before to that arena. Being able to use calibers suited to each task, often urban, with controlled space requiring significant attention to detail is a major plus. Whether headed to a battlefield or the mean streets, the MGA SAW can be equipped to get you exactly what you need. U.S. Machinegun Armory's MGA SAW truly brings a SAW for the next generation and beyond.

Specifications: MGA SAW
Caliber: 6.8 SPC (tested) ( 5.56mm, 300 BLK, 7.62 x51mm, .260 available)
Barrel: 14 – 20 Inches (depending on caliber)
OA Length: 33-39 Inches (depending on configuration)
Weight: 14.5 pounds
Sights: Standard Open (Optics Capable)
Stocks / Grip: M4 style extension (multiple stock options available
Action: Open Bolt- Fully Automatic / Multi Caliber Receiver
Finish: Teflon Coated Receiver, Melonited Barrel Upgrade available.
Capacity: 200 Round Box Magazine (Compatible with all M249 Magazines)
Price: Cost Available by Quote

U.S. Machine Gun Armory
545 West 9460 South
Sandy Utah
Machinegunarmory.com

When necessary the bi-pod tucks nicely unto the handguard allowing for solid shooting from barricades or other obstacles.