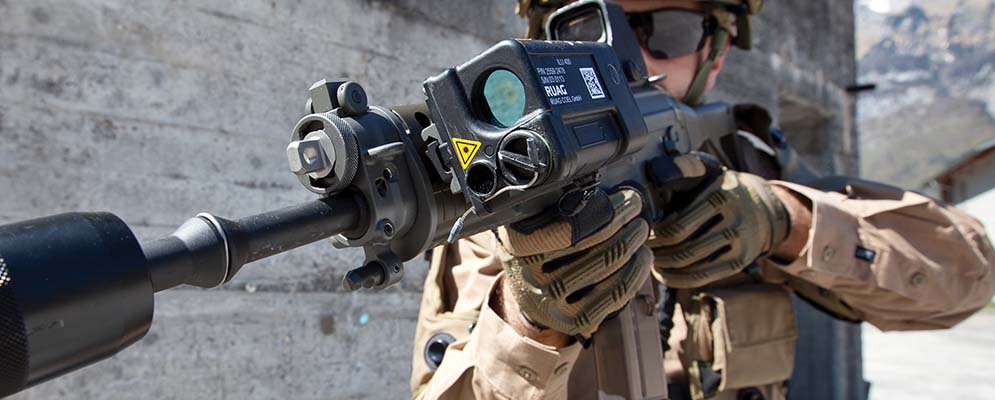 ABOVE: "Gladiator" is a modular high-tech harness training system developed for realistic training of special units, combat troops and police. It allows the practice of firing and movement within a large variety of scenarios without the use of live ammunition. Depending on the particular version, the range of functions realised include medical treatment system, differentiated vulnerability models, urban operation tracking and data operations and after-action review.
The biannual Defence and Security Equipment International (DSEI) show, billed as "the world-leading event that brings together the global defense and security sector to innovate and share knowledge" took place September 12-15, 2017, at the ExCel London center. And indeed, DSEI represents the entire supply chain on an unrivalled scale.
DSEI 2017 had five key sector-focused zones: air, land, naval, security and joint, as well as international pavilions, all showcasing the latest equipment and systems. The air zone featured its strongest aerospace offering to date, comprising fixed, rotary wing and unmanned platforms. The land zone for DSEI 2017 grew by 52 percent and surpassed the achievements of the 2015 event by introducing new features such as a dedicated showcase.
The naval zone was the most comprehensive dedicated naval zone in DSEI history. The dedicated security zone showcased security equipment and systems to counter priority threats, such as cyber attacks and terrorism, as well as an enlarged Special Forces and tactical-equipment area. DSEI 2017 saw an enhanced joint zone with an abundance of products from exhibitors within the following sectors: C4ISTAR, communications, DIO, electronic warfare, joint enablers, logistics, medical, and robotics and telemedicine. More than 40 national pavilions were featured at DSEI 2017, bringing more international exhibitors to the event than ever before. The U.S. pavilion presence this year was more than 12 percent bigger compared to the 2015 U.S. pavilion.
The following product information as well as additional information may be found on individual company websites.