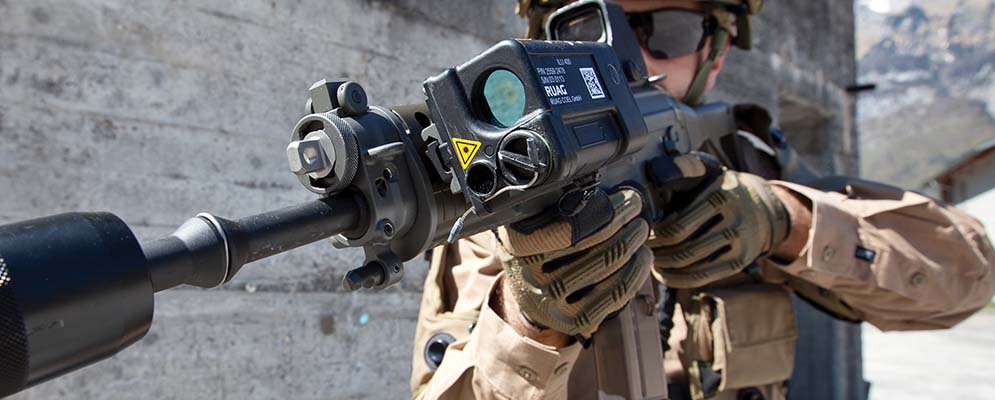 ABOVE: "Gladiator" is a modular high-tech harness training system developed for realistic training of special units, combat troops and police. It allows the practice of firing and movement within a large variety of scenarios without the use of live ammunition. Depending on the particular version, the range of functions realised include medical treatment system, differentiated vulnerability models, urban operation tracking and data operations and after-action review.

The biannual Defence and Security Equipment International (DSEI) show, billed as "the world-leading event that brings together the global defense and security sector to innovate and share knowledge" took place September 12-15, 2017, at the ExCel London center. And indeed, DSEI represents the entire supply chain on an unrivalled scale.
DSEI 2017 had five key sector-focused zones: air, land, naval, security and joint, as well as international pavilions, all showcasing the latest equipment and systems. The air zone featured its strongest aerospace offering to date, comprising fixed, rotary wing and unmanned platforms. The land zone for DSEI 2017 grew by 52 percent and surpassed the achievements of the 2015 event by introducing new features such as a dedicated showcase.
The naval zone was the most comprehensive dedicated naval zone in DSEI history. The dedicated security zone showcased security equipment and systems to counter priority threats, such as cyber attacks and terrorism, as well as an enlarged Special Forces and tactical-equipment area. DSEI 2017 saw an enhanced joint zone with an abundance of products from exhibitors within the following sectors: C4ISTAR, communications, DIO, electronic warfare, joint enablers, logistics, medical, and robotics and telemedicine. More than 40 national pavilions were featured at DSEI 2017, bringing more international exhibitors to the event than ever before. The U.S. pavilion presence this year was more than 12 percent bigger compared to the 2015 U.S. pavilion.
The following product information as well as additional information may be found on individual company websites.
DRAGON-C Thermal Weapon Sight is an ultra-lightweight, multipurpose thermal weapon sight. It utilizes the latest uncooled thermal cameras and optical technology to provide a compact sight capable of being used mounted in-line on a weapon or it can be used in a handheld role for observation/surveillance.
On bipod, the .338 caliber MRAD. The MRAD rifle's user-changeable barrel system is available in .338 Lapua Magnum, .338 Norma Magnum, .300 Norma Magnum, .300 Winchester Magnum, .308 Winchester, 7mm Remington Magnum, .260 Remington and 6.5 Creedmoor. Clockwise from left: the fluted .338 barrel, carbon wrapped .300 Win Mag barrel and .308 barrel. The precision grade barrel can be removed by simply loosening two bolts using a standard T-30 Torx wrench. Besides reducing maintenance and logistical burdens, this unique design allows for user-level caliber interchangeability and serviceability with the MRAD rifle's barrel kits.
Penn Arms product model number P540-1 is a 40mm pump multi-launcher, including a 5-inch cylinder with a fixed stock and combo rail (PGL-65 40). Penn Arms 40mm launchers are manufactured using 4140 hardened steel, 6061-T6 mil-spec anodized aluminum and DuPont super-tough glass-filled nylon. These launchers are lightweight, versatile and used worldwide.
SAKER Fused Weapon Sight is a high performance, in-line fused weapon sight combining image intensified and thermal-imaging technologies. It gives the operator a 24-hour capability to rapidly detect, recognize and identify targets in all weathers and battlefield conditions. This fully qualified, military-fused weapon sight is specifically designed for short- and medium-range surveillance and target engagement.
The iSeries 1209 custom single-pistol case is a custom waterproof case designed to fit a single pistol along with accessories.
RUAG is a global technology group for aerospace and defense. Headquartered in Berne, Switzerland, RUAG has production facilities in Switzerland, Germany, Sweden, Finland, France, Austria, Hungary, Australia and the U.S. with a workforce of 8,700 employees worldwide. RUAG is a strategic technology partner for land forces, law enforcement, rescue and security organizations and the defense and security industry. RUAG is the leading independent supplier for the European Space Agency (ESA), supporting some of the most challenging space missions with a comprehensive portfolio. RUAG Ammotec is a leading specialist in sophisticated ammunition technology, and is Europe's market leader in small-caliber ammunition, offering a broad and deep portfolio for standard and precision-performance, small-caliber ammunition. Their portfolio also includes the advanced 120mm COBRA Mortar System, RUAG cyber-training range, maintenance, repair and overhaul and a state-of-the-art add-on protection system for armored vehicles. RUAG is delivering a broad range of training solutions around the world, covering live, virtual and constructive simulation.
Trijicon, renowned for its innovative applications of tritium and advanced fiber optics, displayed (among others) its light-aiming systems. Trijicon manufactures advanced riflescopes and sights for tactical and sporting applications. Customers include the U.S. Marines, U.S. Army, U.S. special operations forces, U.S. government, and state and local law enforcement. Trijicon's scopes are fast becoming the preferred tool among hunters as well as shooting enthusiasts worldwide.
At DSEI 2017, Thales Australia launched the next generation F90 rifle, the F90 MBR (modular bullpup rifle), seen here with the 14-inch barrel unit as a CQB rifle and the Trijicon MRO Red Dot Optic. The new MRO Patrol adds lens covers to both the ocular and objective lens. Trijicon's MRO Patrol provides proven features with eight brightness settings, including two night-vision compatibilities, plus one extremely bright setting for use with lights or in very bright conditions. It gives five years of continuous use on a single 2032 battery. It features a light and strong newly designed quick release mount that's available in either full height or one-third iron sight co-witness. Constructed of 7075-T6 aluminum, the precision mount provides return to zero accuracy and is MIL-SPEC drop-test rated.