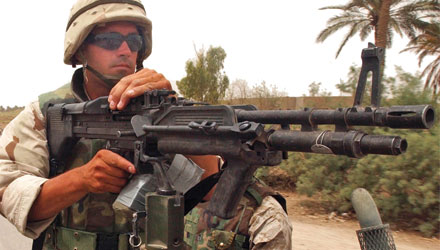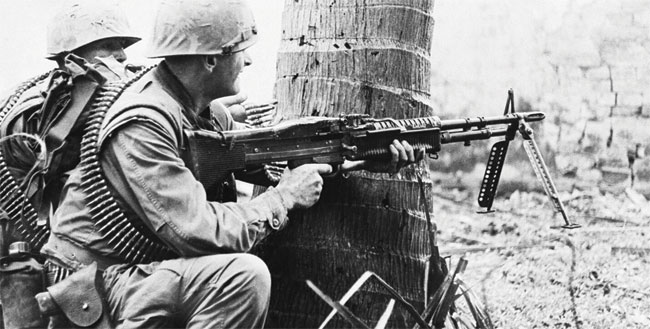 19 Feb 1968, South Vietnam. An M60 machine gun team from Charley Company, 1st Battalion, 5th Marine Regiment, 1st Marine Division takes cover behind a palm tree during Operation Hue City. Note the gunner's secondary armament, a .45 caliber M1911 pistol, and both he and his assistant gunner carry a spare belt of 7.62mm ammunition worn bandoleer style over their flak jackets. The gun's bipod is deployed for accurate shooting from a prone position. (USMC photo/National Archives)
SADJ:  When we interviewed Dale McClellan at STS he said there were some other improvements in the works.  

Helzer:  That's right.  Our improved short fluted barrel is currently available and is based on the ones that STS did the 850 round demos with.  Still in the RDT&E (research, development, test and engineering) stages are the improved cocking handle, bolt with new metallurgy, and a modification to the feed tray.  We're always working to improve our M60 family of guns and there are a couple of other things that maybe we can talk about in a few months.
SADJ:  What US military/government/law enforcement entities have purchased at least several guns and/or quantity orders for spares in the last couple of years?
Helzer:  We have sold to numerous Sheriff Departments to assist with their new role in Homeland Security.  Primarily for Maritime Security escort duty for tankers carrying oil or LNG (Liquefied Natural Gas) in states with ocean access ports.  We would prefer not to mention their names as this might be somewhat sensitive.  It is safe to say we have ongoing programs on both coasts and in with the gulf coast states to arm their various patrol boats with Mk43s.
The US Army Tank and Automotive Command in Rock Island, Illinois (TACOM-RI) is our largest customer.  TACOM-RI purchases are primarily for Foreign Military Sales.  We have also received US Government purchase orders for spare parts from TACOM-RI, Defense Supply Center Columbus (DSCC) and Defense Supply Center Philadelphia (DSCP) for use by our own soldiers.  These have primarily been spare barrels and sub assemblies for complete weapons.
And, we just delivered a small quantity of complete MK43 Mod 1s to the US Navy.
SADJ:  What foreign countries have gotten guns in quantity over the last two years?
Helzer:  Colombian Navy and Army, Czech Republic for their 601st Special Forces, Philippine Air Force, Spanish Air Force, Italian Navy, Chilean Air Force, Mexico, Denmark, Tunisia and Thai Navy.  The M60 family of weapons is still very popular around the free world.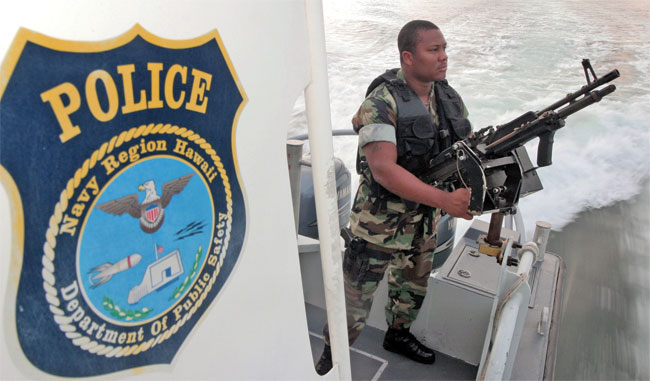 29 Mar 2004, Pearl Harbor, Hawaii. Master-at-Arms Seaman Ray Cowan, assigned to Naval Station Pearl Harbor Security, mans a MK43 Mod 0 machine gun aboard a 28 foot SeaArk patrol boat. (US Navy photo by PHM1C William Goodwin)
SADJ:  What's the price of the MK43 retro-fit parts kit?
Helzer:  Anyone with a serviceable M60 receiver can have what amounts to a brand-new MK43 for about 60 percent of the cost of a complete new gun.  Or, we'll be happy to sell them a complete MK43 Mod 1 for $11,200 (domestic suggested retail price).  That's less than commercial price for FN's M240 and significantly less than their MK48 guns.  Our MK43s are in stock and ready for delivery to US Government and law enforcement pending ATF transfer approval.
SADJ:  We know that US Ord used to sell semiauto M60s that were civilian legal with no special paperwork.  But now, the website says resumption of sales is delayed indefinitely.  Comment?  
Helzer:  The Global War on Terror has caused a dramatic impact on the small arms industry.  As our government orders ramped up we pulled our employees from the semi-auto production line and converted that area in our shop to military and law enforcement.  This was a difficult decision because of the large and loyal civilian M60 following but a necessary one to support the warfighter and our coalition partners.  Sales are still delayed indefinitely.
SADJ:  How many semiauto US Ord Sixties are out there now?
Helzer:  There are more than 150 of the M60, M60E3 and a small number (10-20) of factory M60E4/Mk43 Mod 0 and Mod 1 semi autos in civilian hands.  US Ordnance have resumed semi-auto sales and now offer a semi-auto M249 SAW in limited numbers. These are available from Desert Ordnance (www.desertord.com)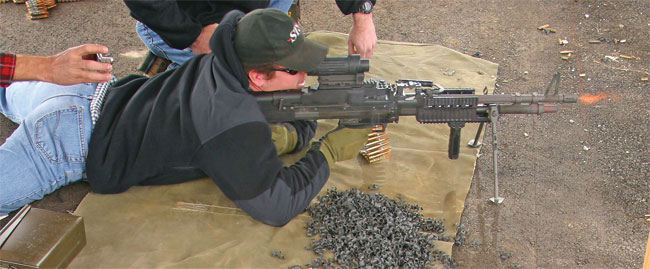 9 Sep 2005, Marine Corps Base Quantico, Virginia. Expended brass cartridge cases and steel links pile up as STS President Dale McClellan hammers away with a MK43 Mod 0, nearing the end of another highly convincing demonstration of the gun's ability to sustain a continuous 850 round burst when fitted with US Ordnance's high reliability retrofit kit. (Photo courtesy of Special Tactical Services)
Live Firing the MK43
The scope of this feature is not intended to include a hands-on evaluation of the new Sixties from US Ordnance.  This has been well done by others, most notably Kent Lomont, the highly respected tactical small arms guru.
In a recent telephone conversation, Lomont told us he has put more than 70,000 rounds of "every kind of ammo" through his US Ord MK43 with excellent results.  In no uncertain terms he declared, "It's a goddamn good gun!  For the first time there's a Sixty you can bet your life on."
Lomont's salty and straightforward endorsement tracks with what we have repeatedly heard from law enforcement and military users.  To the point, the MK43 has proven itself over recent years in hard training and combat operations by Navy SEALs and other elite formations such as the "Screaming Eagles" in Iraq.
We have personally observed the situation where one US Ordnance MK43 Mod 1 was run without incident for several thousand rounds in the industry demo and participant live fire opportunity at NDIA Small Arms 2006.  Then, in our day on the range with students of Navy Center for Security Forces' Crew Served Weapons Instructor Course, no problems occurred with either of two US Ord MK43 guns that were hard-used all afternoon by a dozen Sailors.
Those who are still skeptical are invited to see for themselves some real torture tests of the MK43.  A couple different 850 round continuous burst videos are linked on the Special Tactical Services' website at www.spectacserv.com.  Click VIDEOS on the navigation bar, then select MACHINE GUNS.  Plenty more folks have accessed and marveled the one at Blackwater that is posted on YouTube.
MK43 Mod 1 technical specifications
CALIBER
7.62x51mm NATO
OPERATION
Gas piston with 2-lug turning bolt
WEIGHT
20.5 pounds with short barrel
LENGTH
37 inches with short (16.5 in.) barrel
BARREL OPTIONS
Short (16.5 in.)
Assault (17.5 in.)
Long (21.5 in.)
CYCLIC RATE
500 to 600 rounds per minute
MAX EFFECTIVE RANGE
1,100 meters
Pages: 1 2