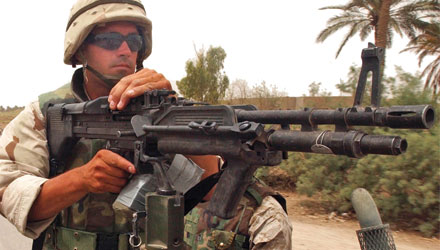 2005, Nevada. STS President Dale McClellan, a former M60 gunner with SEAL Team 8, prepares to test fire a MK43 Mod 1 machine gun fitted with the short (17.5 inch), fluted Assault barrel. It is topped with a Trijicon Advanced Combat Optical Gunsight on the distinctively angular machined feed cover's rock-steady integral rail and a PEQ-2A laser aiming module on the Mod 1's new Rail Interface System forearm. He has moved the Tango Down vertical grip to just the right place for his shooting preference. Note on his load harness the specialized rectangular carrying pouches for belted ammo, available now in desert tan from US Ordnance as a sturdy alternative to the flimsy GI bandoleers. (Photo courtesy of Vantage Pointe Studios)
"The M60E4 is a great weapon and definitely fills the gap between vehicle mounted M240B and dismounted M249 SAW.  Scout teams have been taking them out to overwatch and support the snipers, occupying OPs near them and carrying the M60E4 because it is small enough to hump a good distance and has great firepower.  Some comments directly from soldiers:  The M60E4 is small enough to maneuver in tight places, it allows for easy access entering and exiting vehicles and aircraft, can be shoulder fired in short bursts accurately, does not require a complete crew to operate effectively." – Email to US Ordnance from an officer of 101st Airborne Division in Operation Iraqi Freedom

What's not to like about a real machine gun that's significantly lighter than a chunky M240, about the same size as a puny SAW, pumps out powerful 7.62mm rounds with reliability and accuracy, and has long been a force multiplier in elite Navy SEAL Teams?  GIs who've tried 'em love 'em, they're comparable in price to buy and sustain as the FN guns, they've been in the logistics and combat doctrine chains for ever, and they're 100 percent American designed and built.  Slam dunk?  Sorry.
The "Screaming Eagles" in Iraq only had a few of the newest Sixties, provided free of charge by US Ordnance in response to their urgent request while forward deployed for the Global War on Terror.  US Ord sent a crate full of MK43s (M60E4), spare barrels and spare parts to Fort Campbell and the Army delivered it to Iraq.
Subsequent use in the unforgiving arena of intense urban combat resulted in a number of enthusiastic responses leaking out, but any formalized after action report has apparently been kept on close hold.  We are unaware of any plans by the Army for further evaluation and PM Soldier Weapons is moving out at double time to develop a lighter and shorter version of the M240.
The tough and rigid machined feed cover with integral MIL-STD 1913 rail, as well as additional rails on both sides and underneath the improved Rail Interface System (RIS) forearm, immediately identify this as the new MK43 Mod 1 machine gun from US Ordnance. That's an ELCAN M145 Machine Gun Optic clamped on top and the RIS is fitted with an Insight ANPEQ-2A laser aiming module on the side plus a Tango Down vertical foregrip underneath. The short, fluted Assault barrel (17.5 inches) seen here has the E4 version gas cylinder extension that is self-locking. The barrel's improved "birdcage" flash suppressor is closed on the bottom to minimize dust dispersion when firing from prone. (Photo courtesy of Vantage Pointe Studios)
Meanwhile, production of M240s and 249s at FN's South Carolina plant continues at breakneck pace but there remains a substantial backlog.  This necessitates keeping large numbers of existing M60s in service with all branches of the US Armed Forces.  But these guns are mostly old and tired veterans of decades of hard service and victims of poor maintenance with shoddy and cannibalized parts.  What's going on here?
Passing a Sputtering Torch
Prior to its last-ditch effort in the "Upgrade Kit" trials, M60 production had long been the exclusive domain of Saco Defense, where a skilled force of dedicated craftsmen had been turning out hundreds of thousands of these guns in various configurations.  But for some reason the level of quality seems to have dropped.
This is particularly puzzling given Navy Special Warfare's apparent satisfaction with their measurably improved M60E4/MK43s of about the same time frame.
It must be left to others to explain the reasons for the abysmal performance of the eighteen guns SACO brought to the Army's gunfight in 1994.  Our numerous phone calls – with detailed messages left for a certain individual who had been identified to us as a key player on the industry side of the trials – were not returned.
Market forces being what they are, SACO was acquired by defense industry giant General Dynamics in 2000.  No secret that the Sixty was by then a neglected stepchild as Big Army transitioned to the M240 and it would have slowly faded away if it weren't for a visionary named Curtis Debord.
27 May 2003, Al Hillah, Iraq. Engineering Aide 1st Class Scott Lyerla, of Navy Mobile Construction Battalion 15, mans a MK43 Mod 0 machine gun to provide security for his convoy conducting a road movement during Operation Iraqi Freedom. (US Navy photo by PHM1C Arlo Abrahamson)
We contacted Steve Helzer, General Manager of US Ordnance, Inc., located in Reno, Nevada, to get the straight story on how the M60 was saved from a lingering but certain death.  What follows is based on telephone conversations and email exchanges.
SADJ:  Who is primarily responsible for acquiring the M60 rights from SACO and what was his reason for pursuing this?
Helzer:  In 2000, Curtis Debord recognized that there was a business opportunity for a small arms manufacturer in acquiring the original tooling, technical data packages, processes, and procedures necessary to make a MIL-SPEC M60.  General Dynamics (GD) was just completing the purchase of SACO Defense and recognized that they had an obligation to ensure the availability of spare parts for the M60 for the next five to ten years.  But GD wanted out of the 7.62mm General Purpose Machine Gun business so a licensing agreement between US Ordnance and Saco Defense/GD was a logical conclusion.  It ensured the availability of spare parts and ensured that the M60 remained in production.  Spare parts and complete weapon systems would be available, and design improvement work could continue.
SADJ:  We have seen plenty of evidence to convince us that US Ordnance's M60E4 – initially fielded by Navy Special Warfare as the MK43 Mod 0 and now the Mod 1 – represent significant 'design improvements' over all previous versions.  Will you take our readers through its mechanical upgrades? 
Helzer:  US Ordnance's MK43s feature twenty-two key improvements.  I'll list them roughly from muzzle to buttstock, not necessarily in order of importance:
1. Redesigned flash suppressor.  It's shorter, more effective and not prone to breaking like the 'duck bill' variant used in early SEAL team guns.
2. Adjustable front sight allows for zeroing of spare and primary barrel prior to mission operation.  The old design required the gunner during combat to remember to adjust the rear sight for each barrel change.  A small relief cut in the new front sight base decreases the chance of losing the front sight in the field.
3. Bipod moved from barrel to receiver.  This has reduced the weight of the spare barrel and keeps the receiver stable, off the ground away from debris and pointed down range during barrel changes.
4. Bipod is strengthened and simplified, one hand operated and has ambidextrous legs to ease maintenance and spares.
5. Improved forward handguard with increased heat shielding that protects the operator from barrel heat, plus a forward pistol grip for better control.
6. Mod 1 variant has a Rail Interface Handguard with removable/repositionable pistol grip.  This accommodates different sized soldiers and allows mounting of the gun to most all existing platforms.  Three rails (both sides and underneath) allow mounting of multiple items like lasers and aiming devices.
7. Carry handle is mounted on the barrel to facilitate hot barrel change and offset so it won't get in the way of the sights.
8. Improved gas system is "soldier proof" reversible.  The old system was one direction only and if assembled wrong the gun would fire once and not cycle.
9. Gas tube on the barrel is simplified with three fewer parts than the old standard.
10. Both the Mod 0 and Mod 1 come with an aluminum rail top cover to facilitate the mounting of optics.
11. A new spring loaded feed cam allows loading of the weapon with the bolt forward (safe position) or rearward (charged) without damaging the feed cam assembly.
12.  A redesigned feed cam, feed pawl assembly, and cartridge retaining pawl for 30% improved belt pull to overcome misaligned ammo and debris.
13.  Two sear notches on the operating rod help prevent run away gun in extreme operating environments.
14.  The operating rod tube is now hard chrome plated for corrosion resistance and to facilitate cleaning.  Its fore end is induction hardened to resist mechanical wear from the forward sling mount.
15.  A new captured pin prevents accidental detachment and loss of the trigger group.
16.  Improved trigger grip housing that is stronger and redesigned to prevent trigger pin from being installed backwards in unsafe position.
17.  Ambidextrous safety.
18.  A trigger guard that hinges down to allow trigger finger access wearing thick winter mitts or NBC protective gloves.
19.  Nyloc safety nut on cocking handle retainer holds tight despite vibration and allows for multiple assembly and disassembly with no degradation.
20.  The ammunition hanger is now rigidly mounted to the side of the receiver – unlike the previous version, where the hanger was mounted to the feed try.  Now, when checking the chamber, the gunner doesn't have to lift a belt of heavy ammunition and also risk dumping it out of the bandoleer.
21.  Improved polymer buttstock that is lighter and stronger while retaining the hinged shoulder rest feature.
22. Overall weapon length (fitted with short barrel) is 5 inches shorter then the Standard M60 and almost 4 pounds lighter.
Pages: 1 2