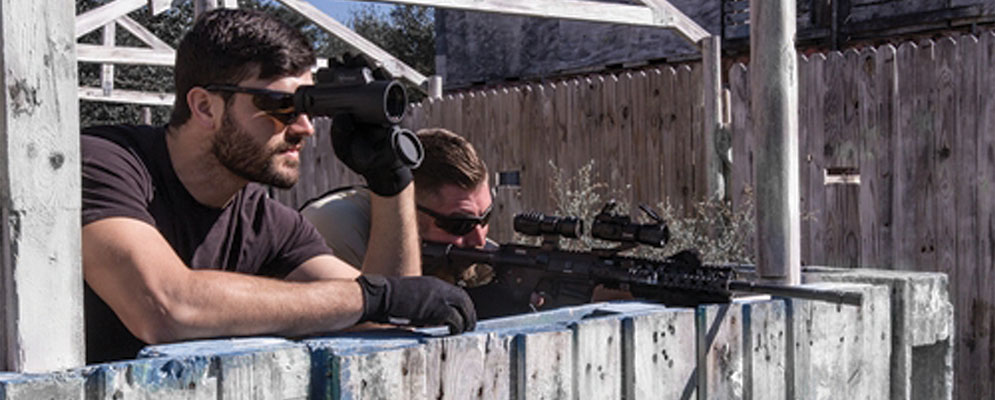 ABOVE: NEW FIREFIELD SIEGE MONOCULARS


NEW FIREFIELD SIEGE MONOCULARS
Whether scanning for game animals during serious hunting, spotting for target shooting or observing wildlife for leisure, Firefield Siege Monoculars are perfect for viewing any target at long range. The Firefield Siege 8×32 Monocular (FF12003) and Firefield Siege 10×50 Monocular (FF12004) offer crystal clear viewing and rugged reliability from their advanced, fully multi-coated glass, BAK4 roof prism and rubber-armored bodies. A twist-up eyecup design expands functionality, permitting ease of use for individuals with eyeglasses, while internal focusing allows quick and easy short distance focus. Compact and lightweight, Siege monoculars are easy to carry on outdoor excursions in your pack and by hand. The Firefield Siege 10x50R Tactical Monocular (FF12004T) offers the same ruggedness as other Siege models but with a range-finding reticle for quick distance identification when you don't have time for guessing. No matter your long-distance optical needs, Firefield has you covered with their innovative line of Siege monoculars.
See all of their full line of optics at www.fire-field.com.

SUREFIRE INTRODUCES NEW 2211 POLYMER WRIST LIGHT
SureFire, LLC, manufacturer of the world's finest—and most innovative—illumination tools and tactical products, is now shipping the new 2211® Polymer WristLight. The rechargeable SureFire 2211® WristLight is a lightweight, cutting-edge tool that provides hands-free illumination for a broad range of lowlight scenarios. The 2211® is a phenomenal alternative to a headlamp or handheld and can be used for walking your dog, EDC and even in conjunction with a firearm.
When strapped to your support-side wrist, the 2211 naturally aligns with a handgun when the weapon is held with a standard two-handed grip, projecting plenty of light for threat identification at close-to-medium ranges. The WristLight utilizes our MaxVision Beam™ which creates a seamless wall of white light at three output levels: 300, 60 and 15 lumens. The first two output levels provide a tactical advantage by overwhelming an aggressor's dark-adapted vision. The lowest output level is perfect for tasks that don't require so much light, such as loading gear. The output series is programmable to go from high to low or from low to high.
Learn more at www.surefire.com.

PROTECH TACTICAL RELEASES FAST ATTACK VEST WITH FIRSTSPEAR TUBES CLOSURE SYSTEM
Safariland, a recognized leader in the armor industry, today announced the release of the PROTECH® Tactical Fast Attack Vest outfitted with the FirstSpear® Tubes™ Closure System for the first responder, law enforcement and tactical markets. FirstSpear Tubes enhance the ease of donning and doffing the Fast Attack Vest with a quick up or down single-hand function. The easy motion for attaching or detaching the system leverages the user's muscle memory, ideal for stressful or high-speed scenarios. FirstSpear Tubes ensure the cummerbund of the garment is always positioned in the same location, which is vital for proper ballistic overlap to mitigate the risk of misalignment and incorrect attachment. Following the release of the Shift 360™ with Tubes closure, the Fast Attack Vest with FirstSpear Tubes is the second of three tactical platforms to be introduced with the closure system configuration this fall. Capitalizing on the innovative integration of the most sought-after tactical platforms and closure system technologies currently available, the Fast Attack Vest with FirstSpear Tubes closure was developed under the continuing partnership between Safariland and FirstSpear, LLC. This Fast Attack Vest typifies the purpose of high-speed platforms with design features chosen specifically for user comfort, maneuverability and custom configurations, including a full ballistic panel array consisting of front, back, side and shoulder with a multitude of ballistic packages from the Safariland Armor product line. There are optional accessories such as ballistic collar, ballistic throat, structured upper arms, lower abdomen/spine protector and groin protector for additional ballistic coverage.
For more on their full line go to www.protactical.com.

BERNE®APPAREL ANNOUNCES "ECHO ONE ONE" CCW JACKET
BERNE® Apparel, makers of quality workwear since 1915, has introduced an innovative workwear solution for concealed carry in the Echo One One Concealed Carry Jacket. The Echo One One Jacket features the U.S. Patented Adder System™ for quick and effective draw capability. Ambidextrous concealed carry pockets allow the wearer to completely conceal full-frame pistols and access them with lightning speed. The MOLLE & Velcro grid system in the Adder System Pockets ensure a secure foundation for holsters and accessories. The Echo One One Jacket also features dual inside chest pockets with hidden elastic MOLLE strapping to provide additional storage and retainment for magazines, flashlights and more. Its dual-zippered front chest pockets offer convenient and secure storage for wallets, cell phones or other personal items. Snap side vents are designed to provide easy access to on-belt items. Pleated elbows and a pleated action back provide additional mobility when bending and reaching.
The Echo One One's heavy-duty rugged antique nickel front-zipper design is built for tough use while the insulated quilted-to-flannel lining provides warmth and comfort in harsh conditions. The durable and rugged canvas shell fabric is heavy duty 100% cotton and built for long-lasting use. The three-piece hood with drawcord is designed to offer protection from the elements. Concealed carry becomes comfortable and convenient with the Echo One One Jacket. The durable construction of the jacket is based on BERNE®'s most popular workwear jacket design. Offered in Black or Bark, Regular or Tall length and size Small up to size 8X-Large, there is an option for everyone. Retail price for the Echo One One Jacket is $129.99.
You can find them at www.bernedirect.com.

.308 CONTROLLED FRACTURING 176GR SUBSONIC BULLET FROM LEHIGH DEFENSE
Lehigh Defense now offers the .308 Controlled Fracturing 176gr Subsonic Bullet for those looking for a subsonic .308 Winchester bullet that delivers maximum terminal performance. Why would you choose a .308 Subsonic Bullet from Lehigh Defense? This is an excellent bullet for a .308 Winchester with a 1:10 or faster twist. It is made for single-shot and bolt-action applications only. The new bullet is constructed using a copper body and a brass insert making the bullet an environmentally friendly design. It utilizes Controlled Fracturing Technology—the hydrostatic fracturing of the bullet in a controlled, repeatable and predictable action that creates multiple wound channels. The base will penetrate a minimum of 18 inches, and the petals will penetrate a minimum of 10 inches with radial expansion out to 12 inches in diameter. The velocity range of the new bullets is 750 to 1,200 feet-per-second, and they are suppressor safe.
For additional information on LeHigh Defense's .308 Controlled Fracturing Bullets contact them at www.lehighdefense.com.
A new color frame model of Heckler & Koch's VP striker fired pistol has been added to the company line-up this fall. The grey frame VP9—available in 9 mm—joins flat dark earth and standard black color versions of the well-known HK pistol. The new VP9 grey model is manufactured using special colorants added to the frame during the molding process. HK color frame models cannot fade or chip and are unaffected by chemicals, sun and exposure to the elements. VP Grey models have all of the highly regarded VP features plus a unique, contrasting color scheme. The VP Series is one of HK's most successful handguns and continues to grow in popularity with its "precise pull" trigger, recognized as industry-leading. VP9 grey frame models are made completely in HK's Oberndorf factory in southwest Germany using all of the company's advanced barrel manufacturing technologies and high level production of their machined steel slides, polymer frames and all internal components. HK VP pistols are competitively priced and covered by Heckler & Koch's lifetime warranty.
For more information please go to www.hk-usa.com.

THYRM INTRODUCES THE CELLVAULT CLEAR
First introduced in January 2016, the CellVault™ by Thyrm protects batteries and other important gear while keeping them accessible and organized. The product received critical acclaim and instant popularity with consumers. Yet Thyrm wanted to offer the option for users to identify the CellVault's contents without opening it. With that, Thyrm introduces the CellVault Clear. The CellVault is still available in black, urban gray, olive drab, flat dark earth and rescue orange to match the user's gear or intended environment. The IPX8 waterproof CellVault easily attaches to M.O.L.L.E. webbing and straps and features lanyard loops at both ends for more attachment options. The slim vertical profile utilizes less than one M.O.L.L.E. webbing column, giving you more room for other gear including first-aid kits, ammo and tools.
Storage possibilities include: three CR123 batteries, four AAA batteries, two AA batteries and small survival gear such as matches, hooks and line, a light stick, iodine tablets, a compass and lip balm. It can also hold items such as first-aid gear including hemostatic clotting agents, tweezers and bandages or consumables such as medication, instant coffee packets, electrolyte powder or candy. The CellVault is currently available at Thyrm dealers and at www.thyrm.com.

LUCID OPTICS L7 OFFERS QUALITY AND VALUE
LUCID Optics, manufacturer of the best value line of optics on the market, is proud to offer the new L7 Rifle Scope. The L7 1-6x 24 rifle scope offers users a crystal clear true 1x to 6x performance-driven optic. The glass-etched P7 reticle makes this optic an ideal match for use with the AR platform in short- to medium-range applications with most any caliber. The L7 features a durable 30 mm aircraft grade one-piece tube construction. The windage and elevation turrets offer 60MOA on either side of the optical, center set with an easy to use "lift, adjust, press down to lock" design that is both accurate and durable with re-zeroable turrets. An operator selectable magnification lever allows the user to change the zoom function quickly. The L7 is 10.75 inches in length, weighs 20.4 ounces and is waterproof, fogproof and shockproof. Retail price of L7 is just $449.
For more information go to www.mylucidgear.com.

SPEER LE RAISES THE BAR FOR DUTY HANDGUN AMMUNITION–GOLD DOT G2
For years, Speer® Gold Dot® has been the pinnacle of duty handgun ammunition performance. New Gold Dot G2 builds on this reputation with a next-generation duty bullet design. Shipments of this new product are now being delivered to law enforcement dealers. Instead of a large cavity in the nose, Gold Dot G2 has only a shallow dish filled with a high-performance elastomer. On impact, the material is forced into specially designed fissures to start the expansion process, as opposed to conventional bullet designs, which need target media to enter the hollow point and create expansion forces. The results are extremely uniform expansion and more consistent penetration across barrier types, gun platforms and barrel lengths. The exclusive Gold Dot construction virtually eliminates core/jacket separation, and the new ammunition offers excellent reliability and feeding in duty firearms. It is available in 9-mm 147 grain, .40 S&W 180-grain and .45 Auto 230-grain. All rounds come in 50 round boxes. This product is sold to LE agencies and individual officers only.
More information at www.speer-ammo.com.

NEW VICKERS ONE™ SLING FROM BLUE FORCE GEAR
Lighter and slimmer, the Vickers ONE™ Sling offers all the features of the Vickers Combat Application Sling™ in a compact, minimalist design. The Vickers ONE™ combines 1-inch webbing and custom hardware to create a sling that functions the same as the Vickers Sling but at 23% less weight. Designed with smaller submachine guns and pistol caliber carbines in mind, the Vickers ONE Sling is made with 1-inch webbing to fit 1-inch sling loops, like the CZ Scorpion EVO, which eliminates the need to "bunch up" traditional 1.25-inch webbing. Available in a base version that works with 1-inch hardware and in a dual-push button version, the Vickers ONE will fit your needs. With less bulk and less weight, the Vickers ONE is perfect for wearing under a coat or over garments in a concealable role.
To get yours go to www.blueforcegear.com.