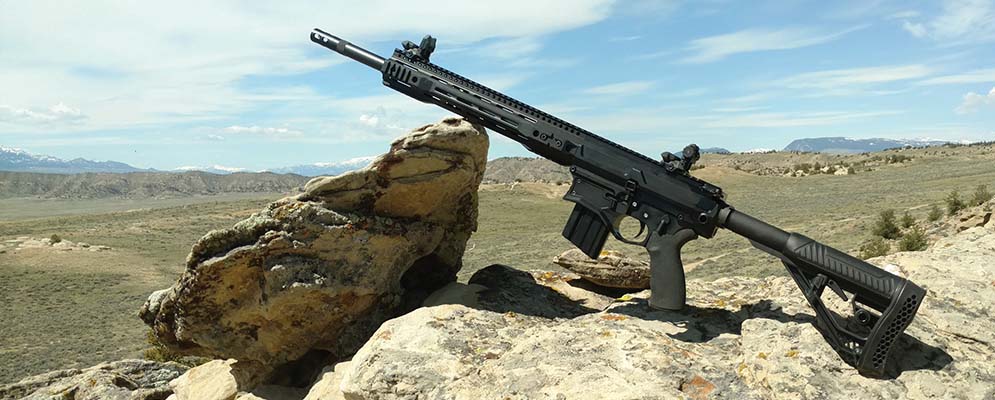 ABOVE: Big Horn Armory's AR500

BIG HORN ARMORY
AR500
The AR500 in 500 Auto Max is designed for hunters and law enforcement. Based on a DPMS style AR308, the AR500 features a lightweight aluminum receiver with grooves cut into the front of the mag well and the trigger. The precision-machined stainless steel barrels are surface-hardened to Rc82 with BHA's nitride process for consistent downrange performance and in-the-field dependability. The 18-inch barrel is threaded at a ¾-inch x 28 TPI, standard for most 50-caliber muzzle devices and ships with a standard flash suppressor.
Big Horn Armory's 500 Auto Max is a rimless version of the 500 S&W with the same ballistics. It is capable of feeding and firing any .500 diameter bullet between 200 and 700 grains. The AR500 has an adjustable gas block to allow the user to run subsonic loads using a suppressor.
The Big Horn Armory AR500 rifle is capable of taking any big game animal. For law enforcement or military use, the AR500 is the ultimate checkpoint duty rifle replacing the .50 Beowulf or CQC rifle in a short-barrel configuration or as a powerful breaching weapon capable of clearing any obstruction, including bullet proof glass. bighornarmory.com
NEWCON OPTIK LRB 12KNIGHT
NEWCON OPTIK
LRB 12KNIGHT
The LRB 12KNIGHT is built to outperform any handheld day/night laser rangefinder binocular available today. A 12,000-meter (NATO target) measuring range, built-in digital magnetic compass, built-in GPS receiver, MIL-SPEC design, crystal clear LED display and a Gen 3 night vision channel are combined into an invaluable force multiplier. newconoptik.com
NEWCON OPTIK SENTINEL LRF
NEWCON OPTIK
SENTINEL LRF
The SENTINEL LRF is the most effective thermal laser rangefinder binocular available. The SENTINEL LRF binoculars use a high-resolution uncooled thermal sensor and 5,000+ meter eye-safe laser rangefinder and digital magnetic compass. Data is displayed inside the field of view and can be exported to a variety of peripheral devices. newconoptik.com
FLIR Breach PTQ136
FLIR
Breach PTQ136
Built for the rigors of law enforcement, the FLIR Breach® PTQ136 Multifunctional Thermal Monocular spots the heat of suspects and objects in total darkness. Featuring the new FLIR Boson core and a compact design, the FLIR Breach offers unmatched tactical awareness. Weighing only 7.4 ounces (210 grams), the FLIR Breach can be concealed in a pocket or mounted to a helmet with its mini-rail feature, while adding minimal weight to officers' heavy gear. Additional features include onboard recording and seven palettes for fast detection of suspects or evidence, day or night. flir.com
QIOPTIQ DRAGON-S12
QIOPTIQ
DRAGON-S12
DRAGON-S12 Uncooled Thermal Imager In-Line Thermal Weapon Sight is the latest development in thermal imaging technology, providing snipers with 24-hour surveillance and target engagement capability. DRAGON-S12 utilizes a state-of-the-art 640×480 format 12µm, 60Hz uncooled thermal sensor coupled with a near silent shutter, delivering class leading sensitivity and uniformity.
DRAGON-S12 thermal sight is designed specifically to meet target and surveillance requirements for military customers and law enforcement agencies providing high performance within a lightweight compact and rugged military qualified design.
DRAGON-S12 delivers a capability to detect, recognize and identify man and vehicle targets 24 hours a day, in poor visibility, in total darkness and through battlefield obscurants. qioptiq.com
FLIR Pro Series® PTS536
FLIR
Pro Series® PTS536
Powered by the breakthrough FLIR Boson core, the FLIR ThermoSight® PRO PTS536 Thermal Imaging Weapon Sight sets the standard for thermal detection and classification. Featuring a 12 µm pixel pitch sensor and 50mm lens, the PTS536 delivers brilliant, clean thermal imaging with a focused 4.5° × 3.5° field of view. The entire ThermoSight Pro Series offers an uncompressed video signal, a high-definition display and shot-activated video recording. flir.com
GLOCK, Inc. G26 Gen5
GLOCK, Inc.
G26 Gen5
GLOCK announced the addition of the GLOCK 26 to the Generation 5 pistol family. The G26 Gen5 continues the evolution of perfection with over 20 design changes to distinguish it from the Gen4 predecessors, including the GLOCK Marksman Barrel, nDLC finish, ambidextrous slide stop lever, the removal of finger grooves and a flared mag-well. These changes deliver improved accuracy, durability, performance, control and flexibility whether you are on the range or in a situation where fractions of a second matter. us.glock.com
A*B Arms MOD*X GEN III—LITE
A*B ARMS CO.
A*B Arms MOD*X GEN III—LITE
American Built Arms Company (A*B Arms brand) is proud to introduce the latest version of their best-selling chassis for the Remington Model 700 SA; the A*B Arms MOD*X GEN III Modular Rifle System™—LITE.
The MOD*X GEN III Modular Rifle System™—LITE is designed and engineered for military, law enforcement and hunting enthusiasts. The system is a lightweight (1lb, 10oz), ergonomic, drop-in chassis for the Remington® 700 Short Action. It serves as a modular foundation on which tactical accessories can be added according to the operator's needs.
The MOD*X GEN III—LITE remains one of the lightest aluminum rifle chassis on the market today and will be available immediately for shipping. If you're looking for a tactical chassis upgrade for your existing Remington Model 700 SA, the MOD*X GEN III, either in its original version or the LITE version, is your answer. abarms.com
To complete the MOD*X GEN III chassis on your Remington Model 700 SA rifle, you will want to purchase additional accessories:
The A*B Arms Urban Sniper Stock™ or any AR-15 style buttstock
A buffer tube for your buttstock (both MIL-SPEC and commercial buffer tubes work on the MOD*X GEN III chassis)
The A*B Arms P*Grip or any AR-style pistol grip
A*B Arms Side Folder Mechanism
KeyMod Bipod Mount
At least one MDT, AICs magazine in either .308 or .223.