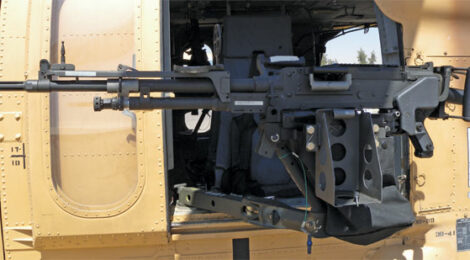 The RGS-50M is a launcher that uses a proprietary 50mm round for a variety of jobs, from anti-personnel to crowd control.
The Pecheneg machine gun in 7.62x54R caliber gives the appearance of the famous PKM machine gun, but has some major differences. The Pecheneg has a fixed barrel, and the weapon system has a life of 30,000 rounds, enough for combat and then disposal.
The Anti-Tank Rocket RPG-28 is a single use shoulder-fired launcher with a tandem warhead for anti-armor or anti-bunker use.
The V.A. Degtyarev Plant is well known for high quality weapon systems, and the KORD 12.7x108mm large-calibre machine gun is no exception. The KORD machine gun, which externally resembles the NSV, is intended as a throw away gun after 10,000 rounds. The barrel is fixed and designed to remove heat. While it ejects cartridges to the front through a tube similar to the NSV, it has a rotary locking bolt and not a side shuttle system like the NSV. The KORD is generally fitted with a buttstock and bipod, making for a powerful infantry weapon. www.roe.ru
US Ordnance was on scene at SOFEX 2010 as they always are, and they presented their M60E4 - the U.S. MK43 Mod 0 to a very receptive Middle Eastern clientele, as well as their M2HB .50 BMG (12.7x108mm) and M2QCB machine guns, as modeled here with Curtis Debord of US Ordnance. Mr. Debord explained that their new Quick Change Barrel modifications have passed all weather testing including the cold weather that has caused so many problems in QCB systems. Over 200 of their US Ord M2QCBs were in delivery at presstime. (www.usord.com)
MKD is a Jordanian company that makes 'plastic' training products that are of good quality and are durable that include plastic training rifles, handguns, and safe for manipulation knives. (mkdad.com)
Dr. Philip H. Dater (of Antares Technology and Gemtech) examines the cutaway of the Lockheed Martin/Raytheon 'Javelin' missile. (www.lockheedmartin.com)
Oritest presented the ORI-5.K test kit, which contained an impressive list of abilities for Chemical Warfare Agent testing. The kit is designed to detect CWA in air, water, terrain, and on equipment surfaces. (oritest-group.com)
LWRC International has agreed to produce the Personal Security Detail (PSD) rifle under license in Jordan. This 6.8mm caliber weapon is submachine gun sized with accurate fire out past 300 meters. LWRC has gone fully international in focus. They have a Jordanian SF contract now and were discussing this at SOFEX. Top to bottom: M6-G M620D/KMS with Aimpoint Micro-T1; REPR 7.762x51mm, 16 inch barrel, collapsible stock with Aimpoint Comp M4; M6-G with Aimpoint Comp M4; M6-G with 20 inch barrel and Aimpoint Comp M4. (www.lwrci.com)
Surefire had their suppressors and other products featured and have made significant sales to the Jordanians among other Middle Eastern countries. Shown top to bottom; M3 Mini Scout, M600-C Scout Light, M620-V w/KM3 white/IR. (www.surefire.com)
MKEK showed their products - in particular their rifle and subgun lines based on the HK system. Their products have evolved over time to be more than just HK clones, and their accurized rifles and polymer magazines were quite popular at SOFEX. (mkek.gov.tr)