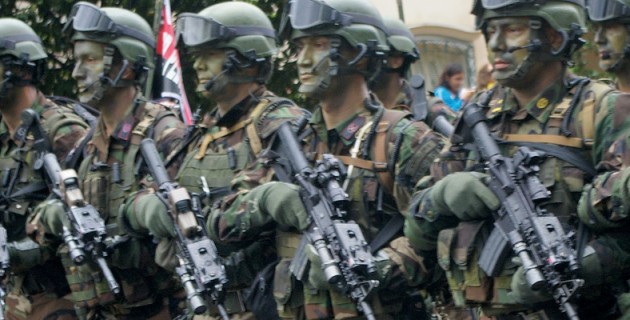 Early last June 2012, news from Paraguay indicated that 321 police agents had been dispatched to Curuguaty.  The police officers, supported by a couple of helicopters, were there to disband several peasants who had occupied a Ranch owned by a local politician.  However, the aftermath of the police raid left 11 peasants and 6 police officers dead.  Local reports later claimed that the police reinforcements had been ambushed by elements of a local peasant community organization (Liga Nacional de Carperos), and among those killed were the two leaders of the Ciudad del Este's police Special Operations Group (GEO).  Initial reports also spoke of an attack by elements of the Paraguayan People's Army (EPP – Ejército Paraguayo del Pueblo).  Although this was soon discarded, Walter Gómez, head of the Investigation Section from Salto del Guairá asserted that the officers had been ambushed by peasants who appeared to have received special training.

The police officers were attempting to serve an eviction notice against 100 peasants who were occupying Morumbí Ranch.  The property is located at Canindeyú Province, and is the property of Blas Riquelme.  The Paraguayan government had in fact provided military reinforcements to the northern part of the country since late 2011, and as part of a state of siege decreed by the Administration of Fernando Lugo against the EPP along the San Pedro and Concepción provinces.  This had started political talks to depose the then President, as two hundred troops arrived to Concepción, located some 500 km north from Asunción, supported by 10 tactical vehicles and six armored cars.  With all and all, by June 16, 2012, press reports spoke of 18 dead as result of the Morumbí Ranch debacle, and would eventually result in the removal of Lugo as head of State in July 2012.  As this political crisis evolved, the Paraguayan armed forces and police were in the process of a complete overhaul and rearmament program.
Paraguayan naval infantrymen stand in ranks after participating in a multinational beach assault during Southern Partnership Station (SPS) at Ancon Marine Base, Peru, July 19, 2010. Amphibious Squadron 5, amphibious transport dock ship USS New Orleans (LPD 18) and embarked Navy and Marine Corps units participated in SPS, a combined amphibious exercise to enhance cooperative partnerships with maritime forces from Argentina, Mexico, Peru, Brazil, Uruguay and Colombia. (U.S. Navy photo by Mass Communication Specialist 1st Class Brien Aho)
The Paraguayan Army appears to have continued to receive considerable equipment purchased under the 2011-12 budget.  The shipment included Barrett M107 in 12.7x99mm (.50BMG), along with Remington M24 and MRS338 rifles, and quantities of Colt M4ARC and M203 grenade launchers.  The reports speak of shipments of Taurus pistols from Brazil and Negev 5.56mm machine guns as well.  The Army, Air Force (FAP) and Navy spent some US $60 million in 2011 on spares, maintenance and recovery of weapons and motorized equipment, with another US $90 million planned for purchases between 2011 and 2013.  By mid-2012, there were reports of protest to the government intentions to invest US $600 million in war material, to include up to 10 combat aircraft, radar units, and other equipment.
Support Forces
The military distributes some 17,500 troops between a small Army, tiny Air Force and similarly small Navy, but there are efforts to increase the strength to 25,000 by 2013.  In addition, there are 14,800 agents from the National Police, and another 164,000 reservists.  On paper, the Army sums three Corps and 9 divisions.
Paraguayan soldier moves out during a UN Peacekeeping training exercise. (USAF JoAnn S. Makinano)
It had been announced that the government expected the purchase up to 10 river patrol boats (PBR LPR-40) from the Colombian Coctemar, for $1,300,000 each; then the reports indicated that the U.S. had indicated willingness to supply Boston Whalers instead.  Finally, three Croq-15 interceptors are in the process of arriving from Armacraft of Australia, for a cost of 1.4 billion Guarani (1 PYG = 0.000252370 USD).  The Spec Croq 15 sports an overall length of 15 m, 3.85 m beam, and a 0.8 m draft.  The boat has a displacement between 10 and 12 tons, and it sports an aluminum hull with some areas provided with ballistic protection up to NIJ3.  The boats are similar in design to the Swedish CBT-90 interceptors, equipped with two waterjets or surface drives using Marinediesel VGT of 450 hp, and/or MAN R6-730 720 hp or R6-800 800hp engines.  These provide for speeds between 38 and 50 knots and provide for a range of about 1,000 km, making them able to travel between Asuncion and Black Bay without need of refueling.  The Navy has invested some 23 billion Guarani in hardware, to include the modernization of three naval posts, and upgrade of several helicopters, weapons and accessories.
During the multinational exercise ARPA 1, Paraguayan forces trained with an ELTA 3D radar and showed interest in the system and is looking now for funds to acquire it.  Under this context, the Air Force is looking again in acquiring a few jets for air superiority, and the Russian Yak-130 has been mentioned.  As is the Navy, the Paraguayan National Police is also equipped with an air component to include a recently renovated C212-100 Aviocar, acquired for 10 billion Guaraní (some US $2.3 million).  This is a small tactical transport, equipped with a rear ramp for easy loading and unloading, and a range of 1,400 km, and capacity for some 12 to 18 paratroopers or 3,000 kg. of cargo.  There are also up to four Huey-II flying the colors of the PNP.
Paraguayan Special Forces element fires an M4A1 during Fuerzas Comando. (USSOUTHCOM)
Some 11.2 billion Guarani alone were invested in small arms to include the above mentioned rifles, their sights to include electronic and thermal, P-90 PDWs, and tactical vehicles.  The Army has depended on the M40A1 as its main anti-armor weapon.  The 106mm recoilless rifle continues to provide awesome firepower and it has been observed mounted on the bed of Chevrolet pickups.  The M40A1 could easily be upgraded with new sights, and one idea would have been to provide LAHAT missiles, designated by Israel to be fired from the 105mm tubes of the M40A1.  These would provide for a capacity to engage targets up to 13 km away, and the sights used to fire M40A1 rounds up to 7 km away.  The Paraguayans were looking to purchase some 150 Javelin antitank weapons to replace the M40A1, but these did not materialized, and instead, in March 2012, the Paraguayan government contracted for some 136 M72A7 LAWs.  These are lightweight, shoulder-launched, disposable munitions designed to defeat lightly armored vehicles and other hard targets at close combat ranges.  The M72A7 encloses a pre-packed 66mm high-explosive anti-tank rocket.  It is a handy weapon, weighting some 8 pounds, all in a compact package of 30 inches in length.  The weapon is able to engage stationary and moving targets to a maximum range of 350 meters.  The improved M72A7 LAW came into service in January 2008, incorporating new and improved safety features, making the warhead less vulnerable to unplanned stimulus, such as fire, fragments and bullets.  There is also an improvement in reliability and other ergonomic factors and a Picatinny rail to accommodate such items as night-vision sights or laser pointers.
Pages: 1 2