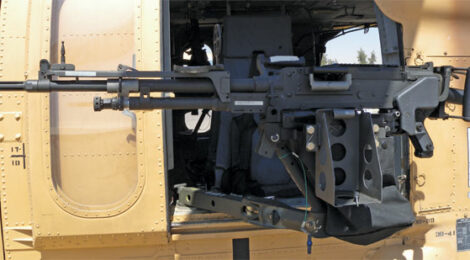 Norinco offered its new LG3 40x53mm automatic grenade launcher and tripod. Effective range is comparable to the U.S. MK19 and HK GMG, approximately 2,200 meters. Rate of fire is 340-400 RPM, and the feed is right or left depending on how the operator sets it up. Feeding is from links in a 30-round ammo can. The unique firing mechanism resembles a trigger with trigger guard. (www.polyinc.com)
The new bullpup SMG in 9x19mm, usually called the 'JS' or 'Jian She.' In Chinese military use, this bullpup is called the Type 05 in 5.8x21mm and uses 4 column 50 rd magazines.
In China, the bullpup configuration rifles are in 5.8x42mm, a cartridge that is not currently being offered for export, and are the Type 95 series (QBZ). For export, the Type 97 series rifles in 5.56x45mm NATO caliber are offered. From top to bottom are the Type 97 rifle, Type 97 "Short" rifle and the Type 97 Sniper rifle.
Colt's ever-popular M16/M4 series had numerous upgraded models shown at SOFEX. From top to bottom: Colt 9mm SMG, Standard M4 with M203 40x46mm grenade launcher, Colt's "SCW" (Sub-Compact Weapon) gas operation, one-piece upper receiver, free-floating barrel, new stock system, M4 "Commando" with 11.5 inch barrel, removable carry handle and LaserMax module (RO933), M4 with one-piece upper, folding front sight, Grip-pod front grip, (RO923-001) and Colt IAR with 16 inch barrel, ACOG sight, Grip-pod front grip, folding front sight, and one piece upper receiver. (www.colt.com)
'CZ for Professionals' - Law Enforcement Weapon Systems presented the CZ805 "Bren A1" in 5.56x45mm or 7.62x39mm as well as their CZ750 sniper rifle and the new CZ Scorpion EVO 3A1 (shown). This is a new submachine gun in 9x19mm that has virtually nothing in common with the Czech made Skorpion 32 ACP machine pistol that is its namesake. The CZ Scorpion EVO 3 A1 was comfortable to handle, has 4 position - 3 shot burst controls, and is available now for the market. (www.czub.cz)
General Dynamics featured their 40x53mm MK47 Stryker grenade machine gun, and the famous three-barreled GAU-19/A in .50 BMG (12.7x99mm). www.gdatp.com
The HK booth was constantly busy as HK Oberndorf presented their assault rifles and submachine guns, as well as their pistol line and the 40x53mm HK GMG machine gun. (www.heckler-koch.de)
Greg Felton from Law Enforcement International Ltd (left) and Karl Lewis from Lewis Machine Tool (right) proudly stand behind the newly adopted L129A1 7.62mm 'Sharpshooter' Rifle. The design idea was born in Jordan with Colonel Ghazi Dhagastani, and as implemented was immediately snatched up by British MOD. The system includes the basic rifle with 16 inch barrel, Trijicon TA648-RMR-UKS optic, Harris bipod, and is in service in the UK today. LEI had a number of their M16/M4 options on display, as well as their well-known line of military firearm suppressors. (lewismachine.net)
Jordan Armament and Weapon Systems is working with Wildey Manufacturing from the U.S. The KADDB group is making the Viper handgun in four calibers, with six more Wildey Magnum calibers planned.
KADDB is working with the Russians on building the RPG-32 reloadable shoulder fired launcher in Jordan. They are reportedly in production now.
KADDB is working with Hanwha in South Korea to develop indigenous production in Jordan of this mobile 70mm MLRS rocket launcher. This system is reloadable, has 50 rockets available for volley launch, and an 8km range.