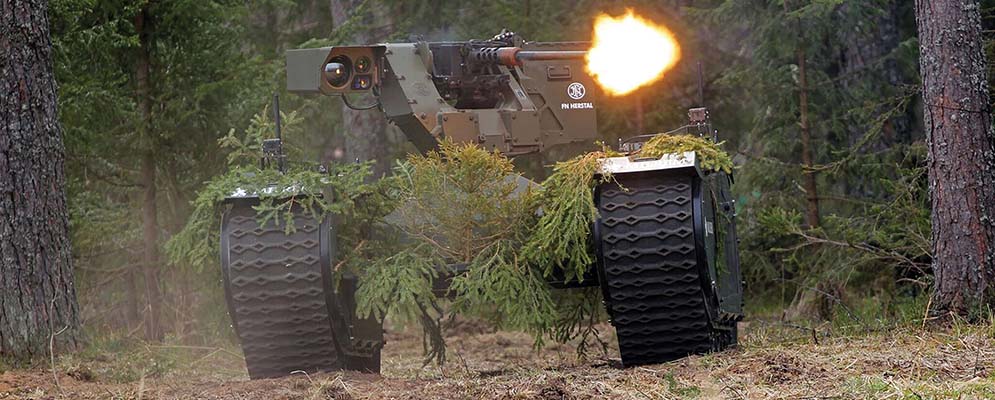 ABOVE: THeMIS live firing with .50 cal. HMG on FN Herstal FN M3R RWS.

UGVs Being Developed for Dangerous Missions
Unmanned platforms, from unmanned aerial vehicles [drones] to robotic vehicles on the ground [UGV], represent a capability extension in many areas, including use of weapons.
The Rise of the Robots
UGVs were mainly used to eliminate explosive objects. Thousands of UGVs were, for example, used in Iraq and Afghanistan in 2011. Many hundreds of others are used in law enforcement and rescue operations. The UGVs were used to eliminate improvised explosive devices (IEDs).
QinetiQ, with North America's TALON family of robots, was introduced in 1995 and has earned a reputation for durability, flexibility, modularity and performance in keeping personnel, assets and civilians out of harm's way. In the military, The TALONs are widely deployed by law enforcement and military for IED, explosive ordnance disposal (EOD) and HAZMAT (hazardous materials). TALON robots have been in continuous, active military service since 1995. They were successfully used in Bosnia for the safe movement and disposal of live grenades. Out of the two robot types used at Ground Zero, TALON robots were the only ones to last the tough mission without requiring a major repair. TALON robots were used extensively at Ground Zero in search and recovery efforts after the September 11 attack on the World Trade Center. They were the first robots taken into Afghanistan during action against the Taliban and Osama bin Laden. In four years, they performed over 20,000 separate assignments.
UGV use, which was once mainly focused on explosive ordnance disposal, appears to be shifting somewhat towards addressing chemical, biological, radiological, nuclear, explosive (CBRNE) threats and being weaponized. This article describes some Weaponized Multi-Utility UGV systems.
Weaponized Military UGVs
Weaponized robots handle almost all types of missions being developed for combat, where they can be deadly and perform dangerous missions. They are designed expressly for reconnaissance, surveillance and target acquisition missions. UGVs can bring superior over-match firepower to the enemy with heavy machine guns, grenade launchers and even anti-tank weapons, remote-operated by one or two soldiers. Military robots use sensors and can respond automatically.
"Transport of casualties"—THeMIS (Tracked Hybrid Modular Infantry System) is a fully modular hybrid UGV. This vehicle can be used for a very wide variety of applications starting from simple transportation to advanced weapon systems. (MILREM ROBOTICS)
MILREM ROBOTICS
MILREM ROBOTICS' primary focus is in the manufacture of UGVs, development of robotic warfare solutions and performance concept of operations and doctrine level warfare analysis. The Estonian company, established in 2013, has roots from a group of Estonian companies dating back to the 1990s. Estonia is a NATO member country.
MILREM ROBOTICS claim that the company's THeMIS (Tracked Hybrid Modular Infantry System) is the first fully modular hybrid UGV in the world. The electric drive with a diesel engine generator enables driving in silent mode while approaching intended areas. This vehicle can be used for a very wide variety of applications starting from simple transportation to advanced weapon systems. THeMIS is intended to reduce the number of human troops on the battlefield and assist or replace people that have to work in other high risk and dangerous work environments. THeMIS is remotely operated, and later, it'll be equipped with an autonomy kit that allows the vehicle to drive with minimal operator assistance, i.e., between waypoints.
A similar combined system was already deployed successfully at the largest Estonian military exercise, Spring Storm 2017, and during a live firing demonstration in front of international military delegations in December 2017. THeMIS can provide support for dismounted troops by serving as a transport platform, remote weapon station, IED detection and disposal unit and much more.
MILREM THeMIS Weaponized with RWS
Generally the Remote [Controlled] Weapon Stations (RWS) are designed for tactical vehicles in order to provide optimized remote firing capability while keeping the operator completely under armor protection. THeMIS can be weaponized with various RWS, including:
FN Herstal deFNder Medium;
Nexter OPTIO-X20;
KONGSBERG PROTECTOR; and
ST KINETICS ADDER.
deFNder Medium
The deFNder Medium is the medium weight RWS of the FN RWS family. It can integrate all FN Herstal machine guns up to .50 cal., including the .50 Cal FN M2HB QCB or the 1,100 rounds/min. firing-capable FN M3R by FN Herstal.
Nexter OPTIO–X20
The OPTIO-X20 is the weaponized implementation of Nexter's "New range of Multimissions Tactical Robotic System."
At Eurosatory 2018 it was displayed on the MILREM ROBOTICS THeMIS. Runtime on the hybrid is 8h to10h. Silent run electric is 0.5h to 1.5h. OPTIO-X20 is armed with the ARX 20 RWS, its 20mm automatic cannon and 7.62mm, both gyro-stabilized.
ARX 20 RWS is able to handle up to Level 4 protected targets (a target that its armor protects to withstand 14.5x114mm AP/B32 at 200m with velocity 911 m/s).
The Turkish UKAP UGV. (Aud Håland)
MILREM ROBOTICS THeMIS with KONGSBERG PROTECTOR DUAL RWS
The THeMIS had been mounted with a PROTECTOR Dual RWS armed with a .50 cal. M2 and a Javelin anti-tank missile. This RWS on the THeMIS had not been live-fire tested at time of writing (June 2018), but it should be. KONGSBERG is the world's leading provider of RWS. The PROTECTOR Family of RWS are systems suitable for any mission whether on land or at sea, on mobile or static platforms for remote operation payloads ranging from small caliber weapons to medium caliber automatic cannons. The system is modular, and all of the different variants of the PROTECTOR RWS share the same baseline technology. Three quarters of all the weapons stations KONGSBERG have produced are on American vehicles and have been used in the U.S. Army in one form or another since 2001. The fully three-axis stabilized PROTECTOR Dual RWS has the coaxial weapon mounted on the same axis as the main weapon. The system automatically compensates for the parallel axis between the sights and the axis. Switching between weapons is simply done by pushing a button. The ballistic calculations for both weapons are automatic. With an AGL, programmable ammunition can be used. The day and night sensors have high performance quality.
ST Kinetics ADDER
At Eurosatory, held June 13-17, 2016, ST Kinetics (Singapore) and MILREM ROBOTICS (Estonia) showed for the first time a live demonstration of the weaponized UGV THeMIS with the ADDER RWS. The ST Kinetics' highly-capable ADDER RWS with the CIS50 MG. The CIS50 has dual gas pistons and a dual-feed system to quickly switch between types of ammunition. The ADDER incorporates auto-stabilization, tracking, thermal imaging and advanced sensors. The ADDER can also accommodate an M240 7.62mm MG or the CIS-40 AGL with air-bursting munition. The THeMIS has a maximum payload of 750kg–1,000kg and can handle the dual-weapon version of the ADDER.
Weaponized UGV from Turkish Katmerciler
The UKAP (Uzaktan Kumandali Atis Platform) UGV was developed primarily to provide close fire support in battle-intense environments. The chassis can move without difficulty in rough terrain and can climb up to 45 percent of the slopes. Despite having a weight of 1,100kg, it can carry loads as much as 1,000kg. All functions can be controlled by a remote control with a 10-inch LCD touch panel. UKAP can speed up to 25 km/h and run continuously for 5 hours. With the help of generators, this time can be upgraded to 8 hours. The main drive system of the vehicle, which has electric and hybrid models, consists of hydraulic motors powered by electric motors.
The version displayed at Eurosatory 2018 had a Stabilized RWS with a .50 cal. M2 machine gun. The RWS can also be equipped with a 40mm AGL or a 7.62mm MG. Remote Control Kit contains: LCD 10-inch Touchscreen, 5 hours continuous operating ability, Proportional joystick control, working temperature -25–+50o C, and all functions of UKAP can be operated remotely. Fire-on-the-move capability, day and night imaging–automatic target tracing, laser range finder for accurate ballistics, last round warning, manual back-up. At least 20 UKAPs (Remote Controlled Shooting Platform) will be delivered to the Turkish Armed Forces.
Rheinmetall's new Mission Master UGV. (Aud Håland)
Rheinmetall's Multimission UGV (MMUGV)
The MMUGV solution allows various mission profiles, from MULE to force protection and surveillance, using a variety of modular payloads. At the DSEI 2017 exhibition, Rheinmetall displayed its Force Protection Solution with double armament RWS. The Canadian-made Argo 8×8 was the basic chassis for Rheinmetall's MMUGV.
Rheinmetall Mission Master UGV
Unveiled at Eurosatory 2018, this entirely new UGV was ready for the market. It had been developed for almost 18 months, and it is a modular concept. The Mission Master features long-range endurance with a silent electric drive. The configuration is cargo, surveillance, protection, rescue CBRN detection, fire suppression and communication relay. The Mission Master UGV has a high level of autonomy which allows the vehicle to be given a task. Its cargo weight's capability is 600kg. The Mission Master base platform is designed to support dismounted soldiers. On a single charge, it can run continuously at 30km/hour with a 600kg payload for 8 hours.
When equipped with the optional generator, it can support a typical dismounted operation for more than a week. The Control Unit is very advanced, and the UGV can also be operated using the German IdZ-ES or ARGUS Soldier System for the Canadian Armed Forces as part of the network. The UGV is equipped with four LDAR radars for precision navigating in terrain, avoiding obstacles and entering in very narrow places. It can be air transported as slung load (CH53, V22 and Chinook as internal load), and it has amphibious capability with a maximum speed of 5km/hour (payload 300kg). Mission Master can be weaponized, for example, with the Rheinmetall Fieldranger RWS family. The weapon can be used with a machine gun up to a 20mm cannon or up to four anti-tank missiles. The displayed RWS was the Fieldranger Multi.
The Uran-9 UCGV is equipped with a wide range of remote-controlled sensor modules such as laser warning system and electro-optic and thermal imaging cameras. The onboard fire control system consists of automatic target detection, identification and tracking devices and a ballistic computer. (VITALY KUZMIN)
RS2-H1 SMET Robot
After 2 years of rigorous testing and a final 60-mile jungle march through the toughest Georgia swamps and jungle type terrain, the RS2-H1 SMET was able to lead with an average speed of 2mph all while carrying 1,000 pounds. RS2-H1 SMET robot has officially been selected by the U.S. Army. It has been noted by the U.S. Army that the RS2-H1 is the only Tracked Robot tested that is robust and durable enough for immediate service as the U.S. Army's first platoon load-carrying robot. RS2- H1 SMET is a mid-sized, high torque, electric drive diesel hybrid "pack-bot" designed to operate in the toughest of terrains while offering unprecedented range, reliability and mobility. By incorporating state-of-the-art electronics and hybrid technology, the RS2-H1 exemplifies the most energy-efficient tracked "pack-bot" on the U.S. market.
YUGOIMPORT UGV
The remote controlled vehicle is designed to destroy and incapacitate single or group targets at a distance of up to 800m. The vehicle itself and the weapons are fully controlled from a remote and safe place.
The System Control is wireless. The Observation/Sighting equipment consists of FOV camera, narrow FOV day camera, thermal imager and laser range finder.
The Uran-9 Unmanned Combat Vehicle (UCGV)
The Uran-9 combat UCGV was unveiled by Russian manufacturer JSC 766 UPTK in September 2016 in Russia. The combat vehicle is based on a tracked chassis. The vehicle is designed to provide remote reconnaissance and fire support to a variety of tasks like counter-terrorism, reconnaissance and support for military units in urban environments. Fitted with a variety of weapons and sensors, the robot will improve the combat effectiveness of the infantry squads.
The Uran-9 system consists of four unmanned ground vehicles, one mobile command station and a truck for transportation of robots. The Uran-9's remotely operated turret mounts different light- and medium-caliber weapon and missiles, based on mission needs.
The Uran-9 can be operated in either autonomous or manual mode. In autonomous mode, the vehicle can automatically identify, detect, track and defend enemy targets based on the pre-programmed path set by the operator. The vehicle uses detour path finding for obstacle avoidance in the autonomous mode. The Uran-9 UCGV is manually controlled by a single operator from a mobile command and control station mounted on a 6×6 tactical truck from a safe distance of 3km. It can also be controlled by means of a portable control panel in the manual mode. In addition, the vehicles are capable of moving autonomously in a column.
YUGOIMPORT UGV. (Aud Håland)
Conclusion
Unmanned platforms (from robotic vehicles on the ground to drones in the air and sea) represent a capability extension in many areas. The range of use extends to the use of weapons. Success on the battlefield now and in the future relies on the skilled leaders and soldiers as well as the use of advanced technology. In the coming years, there will be continued research in autonomy, machine learning, AI, power management and common control to achieve more capable UGVs and UAS. The primary focus will probably be improvements in situational awareness, soldier load reduction, sustainment and maneuver. In the long term, antiquated autonomous systems will be displaced and new robotic and autonomous systems fielded.
Technical Specifications A
Technical Specifications B
Technical Specifications C
Technical Specifications D
Technical Specifications E