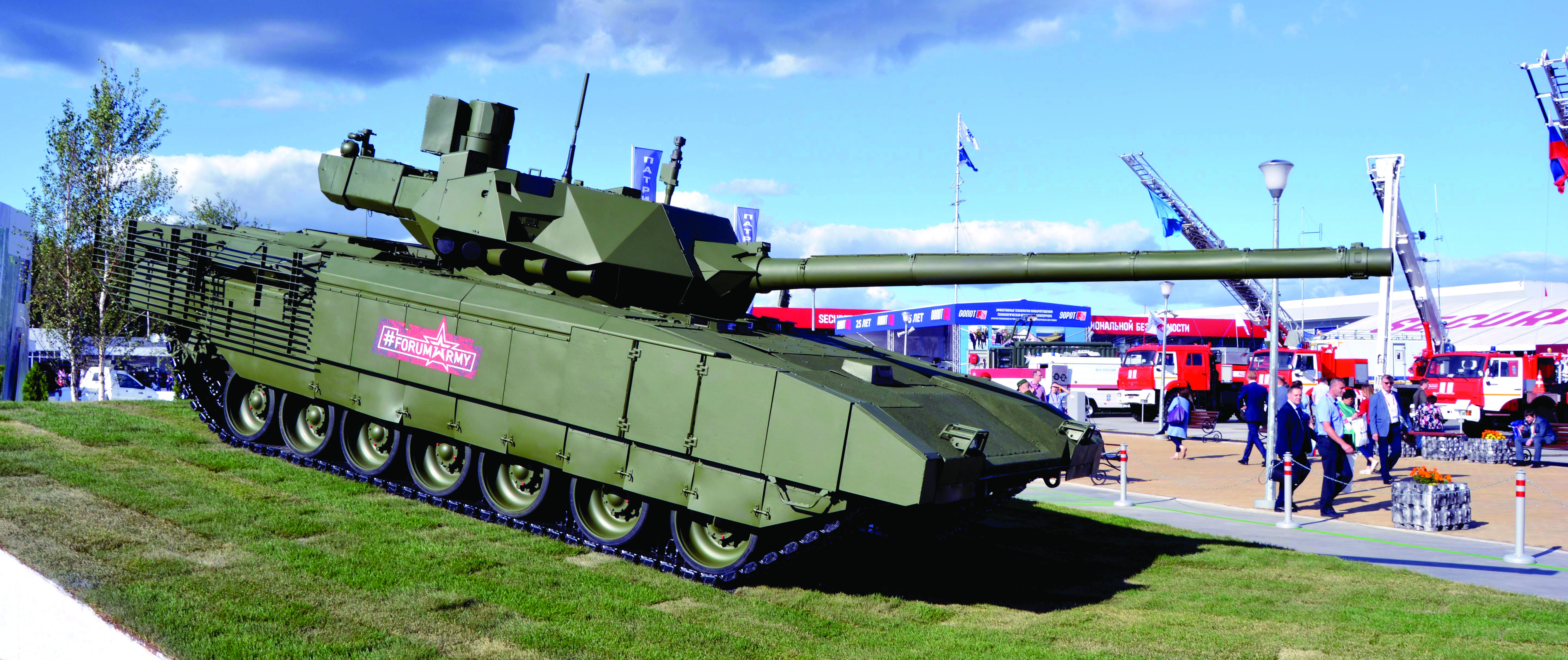 International Military-Technical Forum ARMY-2018
By Richard D. Jones

 The fourth International Military-Technical Forum was held at the Patriot Expo Congress and Exhibition Center (Patriot Expo) over August 21-26, 2018. The exhibition center is located about 60km from Moscow in the Odintsovsky District, Moscow Region on the site of the former military base and armoured vehicle training area, the testing facility known historically as Kubinka.
Patriot Expo, which opened in 2015, features an extensive collection of display areas, manufacturers' exhibition buildings and visitor activity areas. The Army-2018 forum itself is centered in the imposing exposition Pavilion building, with the overall layout of the site comprising centrally located permanent display areas of armoured vehicles and artillery. Elsewhere on the site are the Congress Center building and two additional smaller exhibition buildings used for themed displays. Access to the enclosed Patriot Expo area is via three entry points—Entrance A-C are for all visitors, with Entrance B being indicated for VIP visitors and Entrance C for Media.
In addition to the static display areas there are large areas given over to outdoor display areas, with virtually all of the major Russian defence industry manufacturers participating. Manufacturers' outdoor pavilions are also sited in the display areas in front of the main Pavilion. The main Pavilion building has four designated halls (A-D) with access to the pavilion being gained by three external access points, which is convenient to the visitor given the large size of the facility. Halls A through C are predominantly those of the smaller manufacturers or those exhibitors providing supporting services in the security, Information Technology, specialist product manufacturers, clothing and uniform insignia areas to name just a few. Hall D is also a focal point for the Russian Ministry of Defence (MoD) with many organizations within the MoD represented, including personnel support and historical groups.
Excellent weather allowed the keen attendee to view all of the outdoor displays without hindrance and, which apart from those already mentioned, included a special display of the next generation armoured and artillery equipment now under advanced development for the Russian armed forces. Technical specifications displayed for each may be of interest to the readers.
Specification Chart—Basic Technical Details of Next Generation Armoured Vehicles and Artillery
Armata T-14Main Battle Tank (MBT)
Boomerang Mechanized Infantry Combat Vehicle (MICV)
Kurganets-25 Mechanized Infantry Combat Vehicle (MICV)
Armata T-15 Mechanized Infantry Combat Vehicle (MICV)
PBMTTank Support Combat Vehicle
2S35 Koalitsiya-SV Self-Propelled Gun (SPG)
2S38 Derivatsiya-PVO Self-Propelled Anti-Aircraft Gun System
Armament
125mm gun7.62mm PKTM
30mm cannon7.62mm PK

Kornet-D ATGM

30mm cannonCo-Ax MG

Kornet-D ATGM

30mm cannonKornet ATGM
2x30mm cannon2x30mm AG-17D AGL

4xAtaka-T ATGM

Co-Ax PKTM

152mm with 60 rds rate of fire 15-15 rds/min
57mm with 148 rds rate of fire 120 rds/minEngagement range horizontal/vertical 6km/4.5mkm
Combat Weight
40 tons
25 tons
25 tons
50 tons
48 tons
45 tons
– (*)
Speed (km/hr)
75-80 (road)
100/12 (road/water)
70-80 (road)
75-80 (road)
±65 (road)
±70 (road)
–
Range (km)
500
800
500
500
500
–
–
Crew/Pax
3
3+8
3+8 (9)
2+9
5
3
3
(*) – Vehicle platform is based on BMP-3.
 Additional Activities Within the Patriot Expo Area
Although called "Army-Forum" there is large tri-service participation with field/live-fire demonstration "clusters" all within the greater Patriot Expo area. The Air Force cluster is based on the airfield at Kubinka, and the Naval Force demonstration cluster is at Alabino, as is the Land Force demonstration cluster. A free shuttle bus service is provided from the rail station Kubinka-1 for the Air Force demonstration area and from the rail station at Alabino for the Naval and Land demonstration areas. There is also a shuttle bus service to/from the demonstration areas all of which are a considerable distance from the main exposition site. Visitors to the demonstration areas are strongly advised to "plan in advance" if they wish to attend one or all of the foregoing.
A comprehensive "Congress Program" of round table discussions and outdoor presentations occur throughout the period of the exposition. The foregoing are held in varying locations within the greater Patriot Expo park area. In the past, a comprehensive program of events and locations has been provided in electronic and hardcopy formats. Those visitors wishing to attend any of the listed events should check eligibility to do so in advance and check language requirements, as it is thought most conferences are held in Russian (not unreasonable given the event and host nation).
For Army-2018 there was a concurrent "International Forum—Security Week Russia." This was based in Exhibition Hall E with related conferences being held in the adjacent Hall F. Both halls are located within the Patriot Expo perimeter and just a short walk from the main entrances of the Expo Pavilion. It was stated that "Security Week Russia" was focused on enhancement of efficiency of federal executive authorities' activity in order to stimulate the development of national security industry. With participation by Fire, Environmental, Food, Transportation and Emergency Medicine organizations among others, the Security Week Russia conference program is listed in the foregoing Congress Program.
Outside of the exposition area are additional manufacturers' display pavilions which form part of the overall Army-Forum event and are open to visitors, such as the AO Tactical Missile Armament Corporation (АО «Корпорация Тактическое Ракетное Вооружение), the missile and weapon manufacturer having a large indoor display, with an additional outdoor display of the larger missile systems, giving visitors the opportunity see close-up what is normally only seen at a distance. The Rostex, the building of the State Corporation for Assistance to Development, Production and Export of Advanced Technology Industrial Products (Государственная корпорация по содействию разработке, производству и экспорту высокотехнологичной промышленной продукции «Ростех») provided additional display areas for manufacturers and included JSC "Bazalt" (АО «НПО «Базальт») which has developed an extended range of special purpose missile launchers and associated munitions.
Another major manufacturer's pavilion which is outside the exposition site (although separated only by a perimeter security fence) is the Concern Kalashnikov (CK) building with administration and meeting rooms above; the ground floor is given over to an indoor display area for the group's military small arms as manufactured by the former Izhmash (AKs) and Izhmek, more commonly known as Baikal, continuing to offer a wide range of sporting and hunting firearms. Concern Kalashnikov has also broadened its manufacturing base with subsidiary companies now producing specialist law-enforcement vehicles and riverine patrol craft. Small arms displayed at the 2018 Expo included the newly adopted AK-12 5.45x39mm assault rifle which is a substantial upgrade of the current service issue AK-74M. Its companion AK-15 is offered in the traditional 7.62 M43 caliber. Also replacing the long-serving RPK-74 light machine gun is the RPK-16, again in 5.45mm caliber but featuring a mission exchangeable barrel length option.
The magazine-fed "bullpup" bolt-action anti-materiel rifle currently under advanced development was shown together with two new sporting caliber self-loading rifles: the TG2, based on the AK-74 in caliber .366-inch TKM with Paradox rifling and in a similar vein the TG3, based on the SVD Dragunov, although it's chambered for the 9.6mm/53 Lancaster cartridge, the rifle having oval-bore Lancaster rifling. Both of the latter currently are being classed as "shotguns" in accordance with Russian firearms legislation.
Visitor advisory: The CK indoor display area attracts large numbers, and visitors should be aware that access may be restricted at certain times.
Within the greater Patriot Expo area Concern Kalashnikov has a purpose-built, multi-lane shooting range. Access to the range, which is by invitation-only, is by shuttle bus from the Concern Kalashnikov Pavilion. This year at the range the company demonstrated several of its new and prototype weapons. Visitors wishing to visit the shooting range should inquire in the first instance at the CK Reception desk in the main Pavilion.
____________________________________________________________________________
International Military-Technical Forum ARMY-2018 Show Master Info
Location
Moscow Region, Russian Federation
Venue
Patriot Expo Congress and Exhibition Center
Website:
rusarmyexpo.ru
Contact
Stepan Kolnoochenko
Tel./ fax.: +7 (495) 640-55-00, ext. 419
Email: kolnoochenko@icecompany.org
Nikita Lurchikov
Tel./ fax.: +7 (495) 640-55-00, ext. 423
Email: iurchikov@icecompany.org
Next Show
June 25-30, 2019 (This is a change from previous events which were all held in August.)
Focus
Army-2018 is based on and themed around the Army and Air Force displays and exhibitions, in conjunction with defence manufacturers of the Russian Federation and other invited countries. Public and family attendance are encouraged.
Show Opening Times
August 21, Tuesday (Opening Day): Attendance restricted to VIP/Media
August 22–26, Wednesday–Sunday: General admittance
Show Requirements
Proof of identity (National identity document/Passport for foreigners)
Ticket purchase: Entry tickets are obtained onsite; cost (2018) is circa USD $25/day.
Visa Requirements
With some exceptions, all visitors to the Russian Federation will require an entry visa obtained before travel. Visa requirements are dependent on visitors' nationality. Visits to the Russian Federation usually require a letter of "Invitation" to support the visa application. It should be noted that visa processing times can be protracted, and intending visitors should begin the process as early as possible or risk the considerable expense of last minute visa costs. (Intending visitors are in fact advised not to make any travel arrangements until a travel visa has been issued.)
Media
A comprehensive Media facility is onsite and available for use by all registered Media. It should be noted that in 2018 an unannounced change that required all foreign-based journalists to be accredited by the Russian Ministry of Foreign Affairs resulted in denial of press accreditation by those Media arriving without the aforementioned accreditation, which cannot be obtained at short notice. Media wishing to attend in 2019 should immediately check current accreditation requirements.
Getting Around
Public Transportation
The exhibition center which is located approximately 60km to the west of Moscow, is most easily accessed by rail using the main suburban rail station at Belorussky Vauxhall (Белорусский вокзал); trains to Golitsyna or Kubinka-1 and Alabino depart every 30 to 40 minutes. Journey times vary with approximately 50 minutes for all stations' service to about 35 minutes for the express service (which has limited stops) to Golitsyna, the recommended arrival station for the Patriot Expo center.
Internal Onsite Transportation
All rail arrival points are serviced by a free shuttle bus service with departures every few minutes. There is also an internal shuttle bus service between the exposition center and outlying demonstration areas. Details of bus services/route numbers are provided online or onsite in hardcopy form.
By Car
Those intending to travel by car should be aware of heavy traffic congestion at peak hours, not only leaving and entering Moscow but at the arrival/departure points at Patriot Expo. Car parking (paid) is available onsite, but it should be noted that the 2019 travel advisory suggests travel by other means due to high levels of parking space usage.
Travel by suburban rail services and Metro services is inexpensive, and officially licenced taxis all charge by the meter. Credit/Debit card payments for the latter are limited.
 Accommodation
Foreign visitors may wish to stay within the greater Moscow area which is serviced by a very comprehensive public transportation system. For convenience, the Moscow Metro connects directly with the Belorussky Vauxhall station, the main departure point for the exhibition center. The Tverskaya area in which the Belorussky station is situated is well-provided with reasonably priced hotels with adjacent shopping areas, restaurants and bars.
Language
The Army-2019 website offers English and Chinese in addition to Russian. First-time visitors should be aware that while the English language may be understood in the Moscow area, elsewhere Russian is the sole language and communication. However, increasing use is being made of dual Russian/English signage on the road and rail transportation networks. Should you need to inquire in English, it is best to approach the younger generation who now routinely learn the language. At the Forum, helpful multilingual speakers can help find who will provide the necessary linguistic support.
Museums
Incorporated within the greater Kubinka area and under the umbrella of the Patriot Expo center are the large tank and smaller Air Force museums. Visitors wishing to visit either should view the respective museum websites well in advance of any visit. The Kubinka Tank Museum recommends, for a number of reasons, a guided tour with translator for non-Russian speaking visitors. The Kubinka Tank Museum website: tankmuseum.ru/kubinka
Security
Moscow, like any major city, has areas that should be avoided. The Tverskaya-Belorussky Station area as already mentioned is convenient for both travel to and from the exposition and for sight-seeing within the central Moscow area. First-time visitors would be advised to use a reputable travel agency/airline to book suitable accommodations. Credit/debit cards are widely accepted in the metropolitan areas and at railway stations reducing the need to carry large sums of cash. ATMs in Moscow are generally available in tourist hotels and commercial areas.