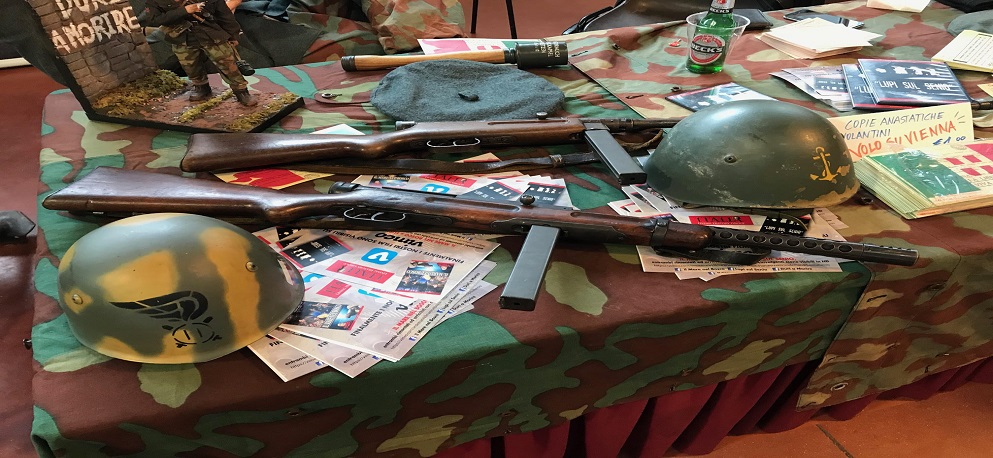 Italy's Show of Shows
Located in Milan, Italy, and held twice a year in May and November is the  terrific Militalia show. The event is held at the Novegro Exhibition Park near the Milan International Airport.

Militalia first opened in 1986, as part of the Exhibition Hobby Model Expo. Since that time, Militalia has evolved into a fabulous 2-day show with events, demonstrations, association meetings and a very large array of military collectibles for all enthusiasts of military collecting.
Of special interest to me personally at the show was the Association of the Decima Flottiglia MAS ( 10th Assault Vehicle Flotilla). This WWII Italian Commando Frogman Unit was formed in 1939 and were the world's first Frogmen. Their tactics and methods were later copied by the British Royal Navy and the United States Navy. Their WWII exploits and daring missions are legendary. The show has a large meeting area with lots of reading material and association members and historians who speak English, happy to answer questions and provide historical information.
In addition, there are many historical groups dressed in period costumes and uniforms with static displays of vintage military vehicles and representatives from historical and military museums in Italy and Europe.
One can find a diverse selection of military medals, swords, bayonets, ceremonial daggers, postcards, badges, books, headgear, uniforms and weapons accoutrements. There was a large selection of German, American and British field gear. I found interesting WWII photographs and especially WWII Italian uniforms, helmets and field gear that are rarely seen or found at shows here in the United States.
The U.S. collecting market as you well know is now flooded with reproductions, as many field gear items and uniforms have simply dried up and disappeared into collections; however, the Militalia show had an abundance of original WWII field gear, helmets and uniforms.
There were many deactivated weapons for sale including WWII rifles and pistols as well as German MP40s, Italian Beretta PM38s, PM42s, Russian PPsh-41s, British STEN Guns, German MG34s and MG42s and many others. Several dealers had a huge selection of deactivated ordnance, grenades, rockets and mines. I am not sure how you could bring these back to the United States with TSA rifling through your luggage at the airport. (EDITOR'S NOTE: Get an approved Form 6 to import!)
As a WWII collector I found an abundance of interesting rare items not often found at shows in the U.S. as well as hard-to-find firearms magazines, bayonets, slings and accoutrements at very reasonable prices. I even found some rare 1921 Colt Thompson magazines and a scarce original rigger-modified WWII paratrooper 1910 entrenching tool in nice condition.
I often wondered why the WWII D-Day paratrooper 1910 entrenching tool was so difficult to find in the United States; if you find one, it is more often than not a "fake," having been modified in recent years and passed on to unknowing collectors as an original.
The reason I found one was simple after speaking with several experienced advanced collectors at the show. They were rigger-modified in England prior to the Invasion of Normandy, and almost all of them were used by paratroopers of the 101st and 82nd Divisions on D-Day. So if you want an original, your best bet is to continue your search in Europe, not in the United States.
In the outdoor area there are opportunities for the public to see and experience historical representations of military scenarios of various eras. What continues to make Militalia a unique opportunity is a tradition for those who like to identify themselves in a direct and emotionally engaging way with some of the most important events in history.
The show is increasingly taking on the character of a testimony of Italian national history. Speaking with some Italian attendees at the show, they told me that the political position of those who attended the show in the past was to some degree with embarrassment and concern over the risk of being accused of being "militarists" or worse yet "rehabilitators" of the fascist period of government.
However, the attitude has changed in Italy, and as the WWII generation is about to pass, many want to honor the surviving fighters and the memories of their often dramatic experiences. This does not exclude but rather extends the involvement of historical artifacts and memories of an entire generation in a way that the "militarism" of today constitutes a set of values, ​​regardless of their identification in the becoming of peoples and nations.
I attended the show with Italian friends from years ago while teaching courses in Italy. The food and wine were outstanding; however, the reunion of old friends was the best!
This was my first attendance at Militalia, and although not quite the size of the well-known "Show of Shows" in Louisville, Kentucky, it is certainly a contender. The next show is tentatively scheduled for May 9-10, 2020.
MILITALIA 2020: Show Master Info
Location
Parco Esposizoni Novegro
20090 Segrate MI
Milan, Italy
Website
Contact
+39 02 7020 0022
Tentative Next Shows
May 9-10, 2020
November 2-3, 2020
Focus
Exhibitors come from sectors related to Armed Forces and state bodies, museums and historical military, weapon and veterans' associations, industry associations and archaeological, historical groups in costume, static models and war games, armories and survival, specialized publications and shows and concerts with a focus on security and defense.
Dress
For civilian attendees, formal business dress is recommended. Military personnel should be in duty uniform.
Hotels
Visit hotel websites for recommendations.
Country Warnings
Due to the Coronavirus, COVID-19, travel restrictions are currently in place. Check the show website to keep up-to-date.
Cultural Hints
Appearance is very important in Italian social etiquette and you should be aware that you will most likely be judged first and foremost on this. When meeting and leaving, Italians (whether friends or strangers) wish each other "good day" or "good evening." Where there is an existing relationship, Italians greet each other with a kiss on both cheeks (left cheek first). Punctuality is expected in Italy, and it's customary to shake hands when meeting someone for the first time. It's advisable that smart business suits are worn by both men and women.
Tipping
Tipping is not required in Italy unless you feel you received exceptional service. A VAT is already included in prices.
Currency Type
The Euro is the currency. The currency code for dollars is EUR, and the currency symbol is €. For current exchange rates, please visit: xe.com.
Getting Around
The bus lines are very efficient. The metro train system offers four color-coded main lines for 2 euros, and tram and bus connections fill in where they leave off. You may also bike or walk through the city. Many streets have restricted access, and parking is difficult to find, so it is best to avoid renting a car.
Things to See
There are many places and things to see in Milan. Visit the Duomo, vineyards, museums, hop-on hop-off bus tours, Sforza Castle, the Scala Theater, Piazza dei Mercanti and even view "The Last Supper," Leonardo da Vinci's masterpiece.
Tourism
Visit italia.it/en/home.html.
NOTE: All information subject to change. Go to militalianovegro.com for up-to-date information.