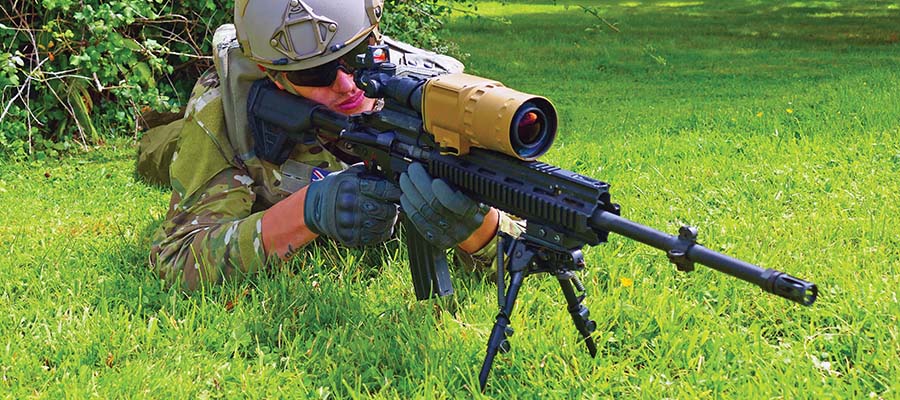 Enhanced Weapon Sights for Dismounted Close Combat Warfighters

Intro
The roadmap for enhanced Surveillance, Target Acquisition and Engagement is becoming increasingly interesting as many nations are now looking at refreshing system architectures and evaluating technology developments that can be used to refresh soldier system capability.
The scene is firmly set for the 2016 – 2020 period which will see significant enhancements in sighting system capability through technology evolution and deeper integration with weapon and soldier systems.
Qioptiq, an Excelitas technologies company, recognises that new product development is vital in order to ensure that we continue to offer our warfighting customers the highest levels of capability in order to ensure successful mission outcomes.
Qioptiq continues to push the boundaries of Weapon Sights & Surveillance Equipment for Dismounted warfighters with some significant product and technology development activity planned for the 2016 – 2020 period.
Fused Weapon Sight Development – The Best Of Both Worlds
For a number of years the Dismounted Close Combat (DCC) community has been proposing, discussing and developing concepts to enhance sighting system capability through the provision of multiple wavebands in a single system. Commonly referred to by a number of means, including integrated, blended or fused, the aim is to provide the User with multiple sensors so that the target scene can be viewed in different parts of the Electro Magnetic (EM) spectrum simultaneously in order to extract additional information to enable enhanced target Recognition and Identification in a reduced time.
Qioptiq are at the forefront of fused weapon sight development, which has recently culminated in the launch of the SAKER fused weapon sight for Assault Rifles and Sharpshooter weapon platforms.
SAKER combines a conventional Image Intensifier with uncooled thermal imaging in order to provide the User with a blended image that can be adjusted to suit the target scene conditions.
Qioptiq have spent a significant amount of time and effort developing and refining the control architecture and Human Machine Interface (HMI) in order to ensure that SAKER is simple to operate. Providing an intuitive control architecture that avoids increasing the cognitive burden of the User is paramount for this type of sighting system, as the User will not be able to optimise the benefits if the sight is complex to operate.
A weapon mounted remote control has also been developed which replicates all of the SAKER functionality available on the main unit. The user can attach the remote control to the weapon Picatinny or NATO rail in a location that is convenient depending on the weapon system being used.
SAKER delivers a fused capability in an ITAR free package, using a standard 18mm Image Intensifier Tube such as the PHOTONIS INTENS, which means high performance imagery is combined with the sensitive thermal imaging sensor.
SAKER has been qualified on a number of weapon platforms, and is currently undergoing assessment and evaluation by a number of NATO countries who are looking to equip their Users with fused sight capability in a lightweight, compact and robust package that is easy to operate.
SAKER is a Clip On sight unit, that has been designed to be compatible with a wide range of day scopes including fixed power combat optics and variable power sniper scopes, with software configuration available to tailor the sight unit to a particular brand or model.
As with all Qioptiq products, a low power architecture is essential as SAKER is powered from 3 AA Lithium batteries.
SAKER represents the first in a line of "next generation" sighting products to be released from Qioptiq, with a number of exiting product developments scheduled for release during the 2016 – 2020 ensuring that Qioptiq has leading edge products to offer our customers around the world.
Digital Optical Weapon Sights – The art of the possible is immense
The future is digital, and Qioptiq continues to move forward with development of Digital Optical Weapon Sights (DOWS), looking at specific aspects including the integration of fire control information and modular architectures to allow the User to tailor a DOWS sighting system to meet the specific mission need.
Qioptiq are digitising the sighting systems of the future, which is very relevant to the future of the DCC warfighters; and DOWS is the start of that journey. Through a number of development streams, DOWS work could maximise the performance of rifles, Sharpshooter rifles, heavy machine guns, general purpose machine guns and grenade launchers, especially at night and during poor visibility conditions.
One of the program aims is to enable the weapon systems to be used to their maximum effective range, 24 hours a day, no matter what the conditions. This presents some interesting challenges, particularly with SWaP-C, so we are looking at how technology and the appropriate use of high definition sensors and image processing algorithms can help.
Another area of significant interest is the use of image processing to assist with target detection and identification in order to support the User with early target location and tracking. We can now effectively use sensors to pick out targets and other objects of interest in a scene that the User may not normally see with the naked eye or standard optical sights.
Digital Weapon Sights can also offer enhancements due to advances in low power processors (predominantly driven by the smartphone market) and high resolution sensors, which have the ability to operate at a higher wavelength than the human eye, therefore offering potential low light enhancement. Coupled with high optical / digital magnification capability, enhancing Detect, Recognition, Identify (DRI) capability is a reality, therefore reducing the number of items the User needs to carry, which has positive reduction effects to both physical & cognitive burdens.
We are continuing to take commercial world capability and consider it for use in the military environment. Human integration factors are key and having the user and stakeholder involved is critical. The art of the possible is immense, but we need to ensure we keep a check on complexity and information overload, as with any other complex integration issue.
Augmented Reality (AR) has been demonstrated within military equipment during recent years. A number of systems have demonstrated the benefit of integrating and displaying target cueing information into support weapon sights to provide enhanced situational awareness and target designation across a networked battlefield. AR provides the potential to improve the capability of the Individual Soldier by providing targeting / navigation information within the weapon sight view, therefore reducing the need for other display devices to be carried & accessed.
Conclusion
Qioptiq continues to move forward with enhanced sighting systems for dismounted users and are always on the lookout for opportunities to collaborate and partner with industrial players around the world.
Qioptiq recognises that partnerships are the key to success in order to bring world class capabilities and state of the art products to national and international programs.
Qioptiq are committed to reducing the size, weight and power burden placed on to our dismounted warfighter customers and to developing battle winning equipment within the realistic constraints of technology whilst maintaining affordability.
Qioptiq continues to develop, evolve and challenge the boundaries to ensure we always stay one step ahead.