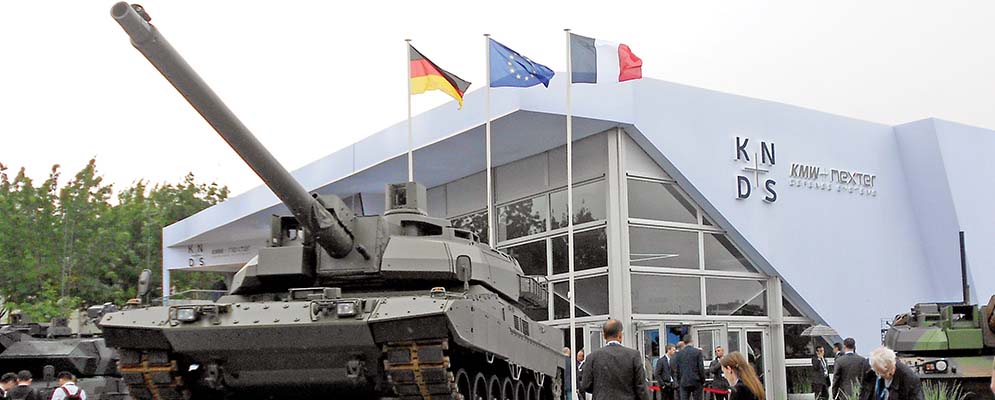 ABOVE: The KMS+Nexter Defense Systems outdoor pavilion. The gate guardian is the European Main Battle Tank (EMBT), a new concept launched at Eurosatory 2018. The EMBT comprises the chassis of the German Leopard 2 A7 main battle tank and the 120mm turret of the French Leclerc main battle tank.

The 26th edition of the French biennial Eurosatory Defence & Security International Exhibition was held over June 11–15, 2018. A Press Day of 'Live Demonstrations' was held on the preceding Sunday (June 10) for accredited media.
Eurosatory is foremost among the international exhibitions of its type and was first held in 1967, when the French General Directorate for Armaments (DGA) brought together a number of French industrialists at Satory, a military facility to the south of Versailles. By 1992, it had become the "European Exhibition of Land Defence Equipment" and moved to Le Bourget. By 1994, it had become international with the participation of exhibitors from the United States, Russia and the Western European Union (WEU) among others. In 2002, what had become the "International Exhibition of Land and Airland Defence" moved to its permanent location at the Parc des Expositions, Paris Nord Villepinte.
ST Engineering Land Systems of Singapore offered the Stinger Unmanned Aerial Multi-Rotor Gunship armed with their 5.56mm Ultimax 100 light machine gun modified for aerial use, underslung on a gimbal mounting and fitted with a 100-round magazine. Payload is increased with the use of lighter polymer-cased ammunition.
As its international status indicates, Eurosatory has continued to grow in size and this year comprised three large exhibition halls and an extensive outside display area with manufacturers' pavilions and external static displays of larger equipment. Although the main thrust of the exhibition continues to be military equipment, a large portion of the exhibiting area was given over to Homeland Security (one-third of the exhibiting area in 2016), covering Cyber Defense and Cyber Security sectors. Unmanned Aerial Vehicles (UAVs) were also prominently represented, reflecting their increased use in both the military and civil sectors. These ranged from large, conventional-aircraft-sized versions to micro 'drone' types for use in surveillance. Outdoor displays at manufacturers' pavilions included products from KMW+Nexter Defense Systems, Thales and Rheinmetall Defence, whose range of offerings spanned from specialist heavy-lift wheeled vehicles to armor, munitions and weaponry; the diversity of the manufacturing portfolios of these multinational defense industry corporations was evident. Other major exhibitors—to name a fraction—included BAE Systems, Leonardo, General Dynamics and FN Herstal.
Although many of the regular exhibitors were to be found in or near their traditional places within the main display areas of Hall 6 and Hall 5, the latter was this year newly designated Hall 5A and supplemented by a new building (Hall 5B), which was given over to Homeland security and first-time exhibitors. The overall size of the exhibition areas for Eurosatory 2018 was significantly greater than the 167,217 square meters recorded at Eurosatory 2016.
Overview of Hall 6 from above.
The Outdoor Live Demonstrations area has also been relocated to provide better facilities. (In 2016, the eight performances had attracted 4,000 attendees.) Access to the Live Demonstrations area was this year through Hall 5B.
The program of outdoor demonstrations featured the following:
Intervention Unit of the Paris Police/Recherche Assistance Intervention Dissuasion (RAID)
Special Ground Forces/Commandement des Forces Spéciales Terre (CFST)
Ground Forces/Armée de Terre
Interservice demonstration by the Police Prefecture of Paris/Préfecture de Police de Paris (BRI, BSPP, CSI)
Special Task Force of Gendarmerie/Groupement d'Intervention de la Gendarmerie National (GIGN)
Many of the exhibitors within the internal display areas were to be found in "National Pavilions," a boon for the footsore visitor in an ever-increasing floorspace. As was to be expected, the French national input included a display area of land equipment and helicopters provided by the Ministère des Armées in Hall 6 and police and law-enforcement equipment by the Ministère de l'Intérieur in the new Hall 5B.
Reflecting developing defense industries, the Azerbaijan Ministry of Defence Industry pavilion presented a product range of 270 items at Eurosatory 2018. These included the initial launch of the bolt-action NST 14.5mm sniper rifle. In the foreground is a remotely controlled weapon station fitted with the NSV 12.7mm heavy machine gun.
New for 2018
This year, Hall 5A was also the location of the Eurosatory LAB (Laboratory) for the first time. This was dedicated to small, bespoke booths, for international start-ups in the Defence and Security domain—most of whom were attending for the first time—and it offered direct contact with specialists in the subject matter concerned. LAB coverage included Engineering Manufacture, Infrastructure Protection/Monitoring, Robotics, Cyber, Logistics, Mobility and Protection, Training and Simulation and Special Forces support, with its own dedicated presentation/lecture area and a program to allow individual presentations from each start-up about their technologies and capabilities.
In addition to the traditional comprehensive Conferences program, this year saw the introduction of the Business à Eurosatory meetings program, to facilitate the organization of business meetings before the exhibition. Vimeet, a business coordinating platform, was created by Eurosatory's partner PROXIMUM Group to facilitate B2B meetings in addition to interactions between business entities and visitor groups in the exhibition environment.
Eurosatory 2018 also saw the introduction of the international "CBRN thematic event," dedicated to Chemical, Biological, Radiological and Nuclear (CBRN) defense issues and organized with the participation of French and foreign operational officers. Activities within the CBRN thematic event included Tabletop Exercises, conferences focusing on topical issues across the CBRN spectrum and an interservice demonstration in the outdoor Live Demonstration Zone by the French police.
The bolt-action NST 14.5mm sniper rifle adds to the Mubariz 12.7mm and Istiglal 14.5mm self-loading rifles already in production in Azerbaijan.
Yugoimport SDPR J.P. of Serbia offered a sizable product range.
Shown here, and probably reflecting the future, is the Rheinmetall Defence Mission Master Cargo Unmanned Ground Vehicle (UGV). Fully loaded and waiting for the controller's signal?
The Gilboa 'Snake'—an assault rifle in 5.56mm caliber produced by Silver Shadow—received considerable visitor attention at the Israel Pavilion.
Rheinmetall Defence unveiled their new Lynx KF41 next-generation combat vehicle at Eurosatory.
BAE Systems' highly successful 155mm M777 lightweight towed howitzer dominated their indoor display area, with over 1,200 reportedly now in service with four countries.
The French National Gendarmerie Intervention Group (GIGN) mannequin is fully outrigged in protective equipment and armed with the Ceská zbrojovka CZ 806 BREN 2 compact assault rifle in 7.62x39mm caliber.