27-30 April 2020, Columbus, GA

Advancing Combat Lethality
Recently the influential and well-known NDIA Small Arms Symposium combined with some sister NDIA groups to add GARM (Guns Ammunition Missiles and Rockets) and UEA (Unconventional Emerging Technologies) to create the NDIA Joint Armaments Conference. For 2020, they've added in the Robotics group.  This event is not going to be an outlying conference away from the action; it will be at Fort Benning, Georgia, the "Home of the Infantry."
The conference itself is in Columbus, Georgia, and is lining up to be a world-class group of presentations and panels including NATO Panels on small arms as well as various ballistic and innovation groups. On Monday afternoon, there will be capabilities briefing from the various schools at Ft. Benning. The keynote speakers on Tuesday consist of multiple Generals and will provide the direction that military procurement will be headed, from the shakers and movers who drive that whole process. There will also be four prestigious awards: Chinn, Hathcock, Ambrose and Triffiletti.
During the conference, there is an exhibit hall with innovative companies who are vying for new contracts and are presenting new designs and weapons. Papers will include new advanced technologies from Cased Telescope Ammunition to One Way Luminescence Tracer technology. Exhibiting in the hall guarantees the ability for the vendor to live-fire at the all-day Thursday live-fire demonstrations.
The live-fire demonstrations will be held at two separate ranges on Thursday—medium and large caliber at one range in the morning and small caliber in the afternoon. You must be a conference attendee to attend the live-fires, and you will be able to get hands-on with many of the latest innovations in small arms. For most, this is the highlight of the event!
The word straight from NDIA:
Armaments and Robotics
Description
Hosted in the middle of a defense industry hub, this newly joint event offers attendees a unique conference and exhibition experience. With an overall theme of Advancing Combat Lethality, keynotes, networking events and exhibits will be shared. However, different breakout sessions will occur simultaneously and be either armaments- or robotics-specific. With this structure, attendees have the freedom to personalize their agenda by choosing to attend any and all sessions that are of the most importance and interest to them. At the same time, attendees have the opportunity to branch out and explore sessions and topics that may be new to them.
*Please note: some concurrent sessions of this conference are restricted to DoD, U.S. DoD contractors and DOE Only who are citizens of the U.S. Provisions of applicable DoD policies do no permit waiving the DoD and U.S. Citizenship requirements for attending these sessions.
This event is open to the press, except for the closed sessions noted above. 
Why Attend?
Participate in a first-time event that brings together the Armaments and Robotics communities under a common theme and purpose.
Network with a diverse crowd of innovators from industry, government and academia.
Curate a personalized agenda based on your interests and expertise with keynotes speeches, technical presentations, dynamic demonstrations, networking opportunities and more.
Uncover the growing role of arms, guns and ammunition, rockets and missiles and unconventional and emerging armaments systems.
Identify the importance of robotic training systems, combat vehicle autonomy and armament, situational awareness, joint lethality in contested environments, manufacturing and readiness, logistics and maintenance and international participation by allies and partners.
Attend a live-fire demonstration of armaments technology and a demonstration of robotic capabilities.
Who Attends?
Find your place at the defense industrial base's intersection of armaments and robotics, where advancing combat lethality is a top priority when it comes to supporting the warfighter.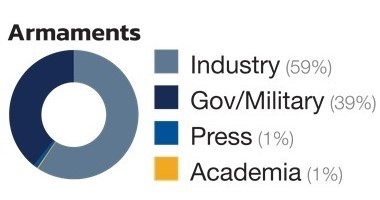 *Numbers are based on 2019 conference attendance.
Contact
Trish Wildt – Conference Logistics
(703) 247-2586
twildt@ndia.org
Ms. Tatiana Jackson
(703) 247-9479
tjackson@ndia.org