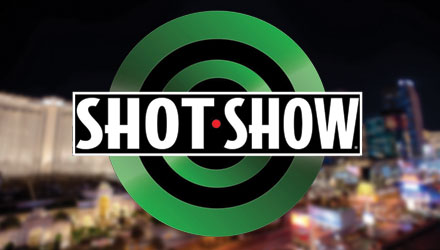 Kel-Tec CNC Industries introduced what was probably the most talked about gun at the show: Their new KSG 15-shot 12 gauge bullpup shotgun.
Sturm Ruger (www.ruger.com) has been producing their autoloading .22 caliber pistols since the late 1940s.  These pistols have progressed through several model changes and are the best selling .22 pistols in the world.  This year Ruger introduced their newest model: the 22/45 Mark III Threaded Barrel Rimfire Pistol.  The gun features a 1/2×28 threaded barrel and either iron sights or Picatinny rail mounted on top for optics and a bottom barrel mounted rail for lights and lasers.  This style of pistol has been converted to an integral suppressed style pistol for years by enterprising U.S. Class II manufacturers but can now be equipped with a muzzle suppressor as ordered direct from the factory.

Weapon accessories probably account for more new products than anything else at the show.  Every year there are more new firearm related accessories than you can count and this year was no different.  Night vision, whether thermal or regular "green" night vision is one of the hottest items in the commercial, law enforcement or military markets.  This year the folks at TNVC, (Tactical Night Vision Company) (www.tnvc.com) introduced their newest night vision weapon sight.  Called the WASP (Weapon-Mounted Advanced Sighting Platform), this new sight is an 8x night vision scope featuring a Catadioptic Lens System.  It provides unparalleled performance and resolution at distances previously unheard of.  The advanced lens system pushes the boundaries of image intensifier performance by gathering more light than any other available device.  Foliage is no longer seen as "clumps" and people are no longer seen as "figures" at distance.  Rather, individual leaves can be seen and faces identified at long range.  The sight features 8x power and a Mil-Dot red/green selectable reticle.  The sights run on just one CR123 lithium battery.
SureFire, long known for their high quality lights, has now ventured into the extended magazine market. Their new 60- and 100-round magazines features the same quality that the company is known for.
EOTech (www.l-3com.com) has long been known for their battle tested sights.  Their holographic weapons sights have revolutionized the way users engage their targets.  These sights continue to work even if the glass in them is cracked or broken.  This year EOTech brought several new sights to market.  Of interest to the LE or military market is the new M40GL grenade launching sight.  This sight is designed for accurately sighting targets with a 40mm, low velocity grenade launcher such as the M203.  It provides fast target acquisition and engagement with aiming capabilities from 100 to 360 meters.  The M40GL allows the operator to maintain eye focus on the target while superimposing the holographic reticle on the target.  The reticle and the target appear to the operator to be at the same target plane.  This sight mounts to any Mil-Std 1913 rail and is night vision compatible.  It is available in either black or tan color.  EOTech now has a night vision of their own.  The Model M2124 is a rugged, clip-on night vision device based upon the military AN/PVS-24 used by U.S. Special Operations Forces.  The advanced design of the M2124 eliminates the typical requirement of removing a primary day sighting system since it mounts in line with a standard day optical sight.  Combining both sights eliminates the need to re-zero since the primary sight remained in place, undisturbed.  The unit attaches to Mil-Std rails with a single throw lever mounting system.  It may also be used as a handheld observation device.
Lights for both handheld and weapon mounted applications are a large segment of the accessories at SHOT.  A fairly new company that has emerged in the lighting arena is Dark Ops Holdings.  Their Hell Fighter lights offer rugged durability and light intensity that is first rate.  These lights feature aluminum construction for light weight and glass lenses that can take abuse and won't deform light plastic lenses.  O-rings keep the light waterproof and lights can be controlled by momentary/lock-on switch or by a remote pressure pad.  Lights are available in intensities from 150 lumens (X-4) up to a blinding 500 lumens (X-21).
Optics are always evolving and this year Kruger Optical brought out a new type of sight that will raise the bar. Their new Dual Tactical Sight offers a close quarter 1X reflex sight and a 2-8X Mil-Dot scope in the scope accessed by merely flipping a lever.
SureFire (www.surefire.com) is a lighting company that is known the world over for their quality, durability and fire rate warranty.  Their lights have been lighting Afghan caves and remote village hideaways for years.  Now this famous light company has expanded their line of products to include high capacity magazines for the AR-15/M16 style of rifles.  These new magazines will be available in 60- and 100-round capacities.  They are made from Mil-Spec hard anodized aluminum.  The magazines feed smoothly and reliably due to optimum geometry, non-binding coil springs and nesting polymer followers.  These magazines can be left loaded for extended periods without the springs taking a set.  The 60-round magazine will fit most existing 30-round dual magazine pouches.  They are compatible with all M4/M16/AR-15 variants as well as other firearms that accept the STANAG 4179 magazines.  Another great feature of these magazines is that they can be loaded by hand without the need for a loading tool.  Even with the 100-round magazines the last 5 rounds can be loaded as easily as the first 5.
Magazines for AR rifles are big business these days.  Lancer Systems (www.lancer-systems.com) has been producing magazines for several years now.  Their latest magazine, called the L5 Advanced Warfighter Magazine, is a hybrid magazine that combines the best features of polymer and steel magazine designs.  Unique to the L5AWM is the one piece wrap-around steel feed lip assembly that is permanently attached to an impact resistant polymer body.  The steel feed lip assembly is made from a single piece of precision formed steel that is hardened and PTFE coated for corrosion resistance.  The hardened steel feed lip assembly won't bend, break or deform due to rough handling or long term loaded storage.  The magazine body is available in either a tinted translucent or an opaque polymer in black, flat dark earth, olive drab or foliage green.  All polymers used are impact resistant through a wide range of temperatures as well as chemical and corrosion resistant.  An aggressive surface texture has been applied to the outside of the magazine body to improve gripping and retrieval from magazine pouches.  The new magazines will be available in either 20- or 30-round capacity.
Shown here is SIG Sauer's new SIG50 chambered in .50 BMG. This magazine fed rifle features a detachable buttstock for ease of transportation.
Several companies at the show were showing off weapons components, such as stocks with miniature GPS units built right into them.  Troy Industries (www.troyind.com) was one such company.  They have long been known for their rails systems for battle rifles and now are expanding their line with their new Troy Nav Stock.  This is the first stock of its kind to come equipped with a Garmin Foretrex 401 GPS device directly embedded into the stock for easy viewing while patrolling.  The embedded Foretrex 401 combines a high-sensitivity waterproof GPS receiver, electronic compass and barometric altimeter into a lightweight device.  To share data easily the Foretrex can be connected to a computer with a USB cable or just send the data wirelessly to another device.  The Foretrex keeps track of the user's path and displays it as a dotted trail on the screen.  Then you just turn on the TracBack feature and you can retrace your path back to where you started.  Plus the unit keeps track of your bearing and altitude.
This article covers just a few of the literally hundreds, if not thousands of new firearms and related accessories previewed at this year's SHOT Show.  None were purposely left out but space just does not allow SADJ to cover everything in one article.  Watch upcoming issues for tests on the latest and greatest that was introduced this year and make plans now to attend next year's SHOT Show in Las Vegas, NV January 17-20, 2012.  (www.shotshow.org)
Pages: 1 2