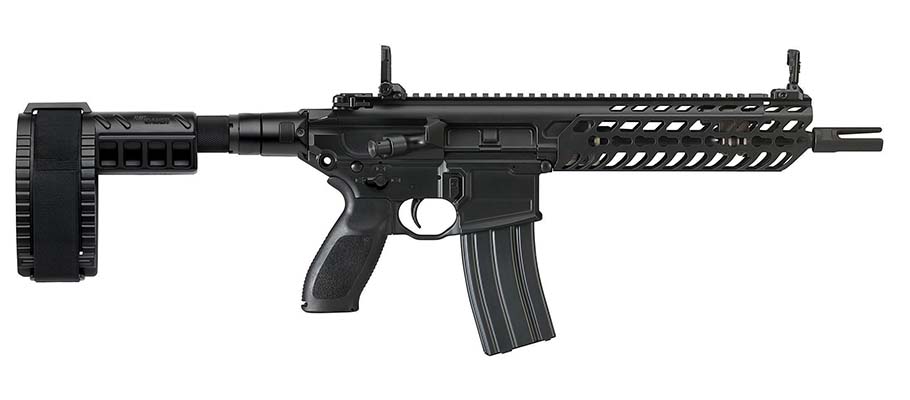 ABOVE: Sig's MCX mission-adaptable weapon system contains several significant engineering modifications that increase reliability and extend weapon life.

The 2015 AUSA Expo premiered a number of exciting new firearm technology advances. We have chosen some we consider exemplary from various offerings in assault rifles, pistols, sights and ammunition.
SIG Sauer displayed their short-stroke gas piston SIG MCX mission-adaptable weapon system. The engineering modifications SIG has made to the existing AR design are truly noteworthy because they accomplish two premier goals demanded by everyone – increased weapon reliability and extending weapon life. First, it is important to understand the AR's operating system design beginning with the AR upper receiver.
The steel bolt carrier rides on a cam path (two aluminum rails) located internally on either side of upper. When the weapon is fired, gas pushes the bolt-operating rod backward, driving the bolt rearward along the cam path where several mechanical events occur almost simultaneously. The bolt runs rearward out of battery, extracting (dragging) the swollen spent brass from the chamber. The force required to release the swollen spent brass from the chamber walls involves a degree of torque being applied to the bolt during the first inch or so of the backstroke. The cam path on which the bolt rides maintains the bolt's travel alignment throughout the spent brass extraction, ejection and full backstroke, and again during the forward stroke as a new cartridge is skimmed from the magazine, pushed forward into the chamber, and the bolt locked back in battery for firing. This process is repeated every time the gun fires.
The bolt carrier group's left side guide rail on an average AR aluminum upper receiver begins to show significant wear around the 30-40 thousand round mark (sooner if the gun isn't maintained) from the back stroke's extraction torque. No matter how well the gun is lubricated and maintained the AR will wear at that point and the result is the BCG gets "sloppy." In turn, this causes ejection and/or feed malfunctions. The government's answer is to replace the AR's upper receiver. SIG's solution (and it is brilliant engineering) on the MCX is to mill a precision slot through the upper receiver's left side and replace about the first inch of the receiver's cam path (guide rail area that experiences the most wear during the backstroke) with a fitted flush steel piece that is held in place by two countersunk machine screws. This replaces the aluminum rail's wear point with steel. This one improvement will double, if not triple, the upper receiver's life expectancy while also immeasurably increasing operational reliability.
A second improvement seen on SIG's MCX upper involves the charging handle latching point. ARs have historically experienced malfunctions when the charging handle latch (made of steel) wears down the aluminum indents cast into the upper that the latch locks onto. When this occurs the charging handle will first become sloppy and then finally come loose during firing and bolt stroking operation, causing operating malfunctions (usually on the forward stroke). SIG's solution was to simply replace the aluminum upper latch points (indents) with two small replaceable steel dowels about the diameter of a No. 2 pencil lead. The charging handle latch closes around the steel dowels and the wear (steel on steel) is insignificant. More engineering brilliance!

Offering sub-MOA perfection, FN nailed it with their new CSR-20 Compact Semi-automatic Sniper Rifle chambered in 7.62x51mm NATO.
Based upon the combat-proven attributes of the SCAR 17, FN's new CSR-20 Compact, Semi-automatic Sniper Rife has been a long awaited addition to FN's product offering. Attached to a monolithic aluminum alloy receiver, its 16 inch chrome-lined cold hammer-forged barrel chambered in 7.62x51mm NATO claims sub-MOA accuracy. With a fully adjustable stock providing SCAR-like ergonomics and a full length Mil-STD 1913 rail that will accommodate both scope and in-line night vision optics, this highly reliable advanced combat sniper rifle is lightweight, man-portable and user-maintenance friendly. Its superb accuracy and handling ease will make it a favorite for military, law enforcement and sporting applications.

LWRC International manufactures the Compact Semi Automatic Sniper System (CSASS 20) chambered in 7.62x51mm NATO and it's a tack driver.
Headquartered in Cambridge, MD, LWRC International, LLC, manufactures a complete military-grade line of AR-style short-stroke gas piston assault rifles. Their latest is their C.S.A.S.S. 20 chambered in 7.62x51mm NATO with a unique 20-position adjustable gas block. Weighing in at 10 ¾ pounds this precision sniper rifle has a spiral fluted hammer forged barrel mounted on a monoforge upper receiver that utilizes an AR-style charging handle. Its fully ambidextrous lower receiver reflects AR ergonomics and employs a Geissele SSA trigger with a Magpul PRS fully adjustable stock on its recoil end. This striking sub-MOA precision rifle portrays exactness and scrupulous purpose-driven engineering. Better still, it will reliably reach out and touch somebody.
ST9 by Sarsilmaz Firearms is a quality pistol available in 9mm, 40,S&W and .45 ACP
From Istanbul, Sarsilmaz Firearms, Inc. has brought us a work of art in the form of a superbly well-engineered pistol they call the ST9. This pistol has numerous beautifully engineered features that reflect Turkish design and manufacturing elegance. The ST9 is offered in 9mm, .40 S&W and .45 ACP. Its overall ergonomics are thoughtful with three changeable back straps to fit any hand geometry. Its snag proof dovetail-mounted front and rear combat sights can be easily replaced if user upgrades are desired. The forged steel slide and barrel ride above a composite polymer lower that has aggressive non-slip checkering and it's offered in seven colors options. The operating buttons and levers are ambidextrous with a well-placed thumb operated mag release button located at the rear of the trigger guard. The ST9's double stack high capacity dishwasher-safe magazines are made of clear high-strength polymer with a firm installed fit and solid lock-up. This is a gunfighter's pistol you can bet your life on.

The shoulder-fired PGL6-40LR built by Penn Arms is a potent 40mm low velocity grenade launcher that will get the attention of the receiving end.
Penn Arms of Jamestown, PA showed its 10½ pound PGL6-40IR pump action 40x46mm HE/HEDP compatible low velocity shoulder-fired grenade launcher. The six barrel revolving cylinder advances with each pump, achieving positive barrel alignment with a locking pin. Uniquely, the cylinder chambers and barrel both have right hand 6 grove rifling with a 1:47 twist, making this launcher as accurate as the sight placed upon its top receiver 1913 Picatinny rail – and most rail-mounted sights are compatible. It further sports a length-adjustable composite polymer stock. This is an all American solidly built gun that will reliably perform under all field conditions imaginable.
Aim point has greatly improved their Micro T-2 now in use by the FBI's HRT and SOF.
Aimpoint, with headquarters in Chantilly, VA, has greatly improved their Micro T-2 with a redesigned extruded high strength aluminum housing, improved lens and crisper dot. Even under magnification, the dot is now perfectly round. T-2's operating range goes from -50° to +160° F and it's submersible to 25 m (82 ft). It's powered by one CR2032 3v lithium battery that provides 50,000 hours of run time between battery changes – and no radioactive signature. With integrated rail mount and flip-covers it weighs a mere 4.9 ounces. It has undergone rigorous operational testing with the FBI and is now in use by their famed Hostage Recuse Team.  The Micro T-2 is likewise in use with U.S. Special Operations Forces.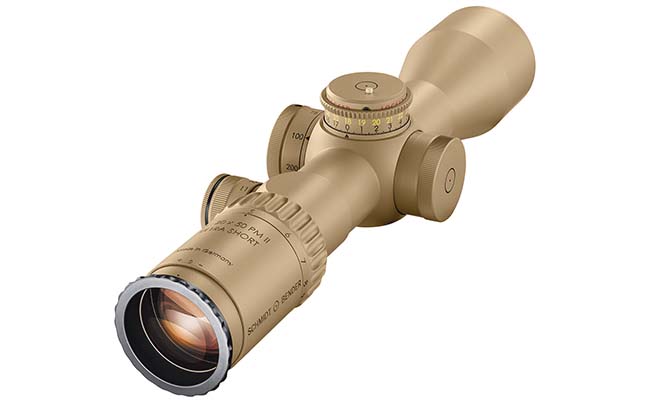 Schmidt &Bender's new PM II ultra short sniper scope is a prefect fit for in-line night vision on rifles with limited top rail length.
When it comes to high-end optics, Germany's Schmidt and Bender has proven that bigger isn't necessarily better. They recently debuted their PM ll – an ultra short sniper scope not short in capability. Less than a foot long, with a robust 34mm diameter tube, this 5-20×50 full metal rugged military design shorty even has a 4x zoom. It also has an ultra low profile double turn locking elevation turret and a capped windage turret. Better, it's completely waterproof to a depth of 25m (82ft). Schmidt and Bender designed this potent little scope for use on small caliber and/or short barrel sniper rifles where full size scopes and limited rail space prevents the use of in-line night vision devices. The PM ll is the solution. The PM ll is available in a number of colors, illuminated and non-illuminated versions, turret configurations and several types of reticles.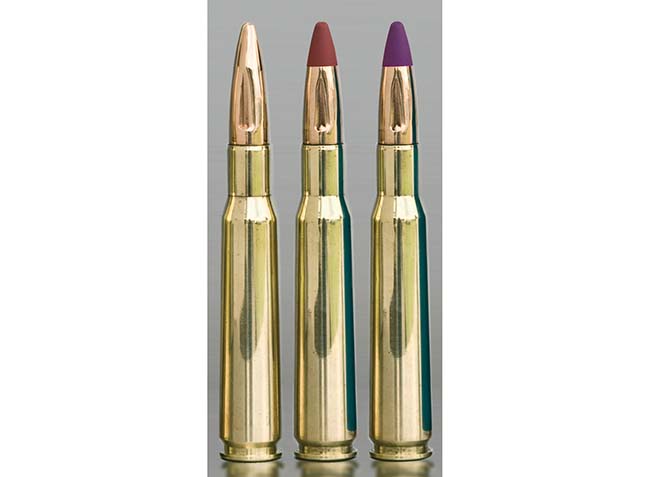 Nammo's new .50 cal Reduced Range cartridge exhibits exceptional accuracy typical .50 cal energy out to 800 Yards but beyond that it drops off significantly allowing it to be used for practice on ranges approved for 7.62 weapons and operationally where using a standard .50 cal is out of the question for risk of down range collateral damage.
With headquarters in Raufoss, Norway, Nammo has developed and qualified a new .50 cal Reduced Range cartridge for training on smaller ranges and to reduce the danger area downrange of the shooter. While not designed as a training round, it absolutely provides affordable training options never before available. The safety template of the cartridge is the same as standard 7.62mm NATO rounds, so warfighters and law enforcement snipers can train with .50 caliber weapons at ranges previously approved for 7.62mm and below, or by carving up an existing .50 caliber range into several smaller sites. Some users are also interested in the RR Cartridge for combat in urban operations where line of sight is limited and there is high concern about collateral damage. The Nammo round has the same ballistics as NATO standard .50 cal ammo to about 800m (875 yards) and accuracy has been shown to be better than standard .50cal Ball/AP ammo within this range. The Nammo .50 Cal Reduced Range ammunition is qualified in accordance with NATO specifications and already fielded by several countries for use in both machine guns and rifles.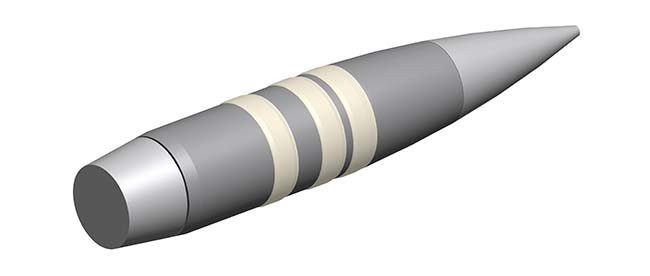 DARPA's EXACTO program seeks to provide guided .50 cal rounds that can be fired from any standard .50 cal MG or sniper rifle. 
What is the EXACTO Program you might ask? Teledyne and Orbital ATK's Armament Systems Division have the answer but remain very tight lipped about any details – and for good reason, EXACTO is ITAR protected. EXACTO is the research and development (R&D) program headed by DARPA for round guidance technology involving a combination of "fire and forget" technologies currently applied to guided .50 cal rounds. That's right – guided .50 cal rounds that can make course corrections in mid flight.
DARPA's official description goes like this: EXACTO's specially designed ammunition and real-time optical guidance system help track and direct projectiles to their targets by compensating for weather, wind, target movement and other factors that can impede successful hits. "True to DARPA's mission, EXACTO has demonstrated what was once thought impossible: the continuous guidance of a small-caliber bullet to target," said Jerome Dunn, DARPA program manager. "This live-fire demonstration from a standard rifle showed that EXACTO is able to hit moving and evading targets with extreme accuracy at sniper ranges unachievable with traditional rounds. Fitting EXACTO's guidance capabilities into a small .50-caliber size is a major breakthrough and opens the door to what could be possible in future guided projectiles across all calibers."
The EXACTO program developed new approaches and advanced capabilities to improve the range and accuracy of sniper systems beyond the current state of the art. The program seeks to improve sniper effectiveness and enhance troop safety by allowing greater shooter standoff range and reduction in target engagement timelines.
The above statement translated: DARPA is developing the technology to create command-guided ammunition for military applications in a variety of direct fire systems – primarily medium-caliber at this time. EXACTO models on existing .50 BMG ammunition and rifles instead of needing new hardware. How they're achieving this quantum advancement using a fin-stabilized projectile, or spin-stabilized projectile, internal and/or external aero-actuation control methods, projectile guidance technologies, tamper proofing, macro-power supplies, advanced sighting, optical resolution and clarity technologies is up to the imagination. An educated guess could be hazarded but we might be right and compromise things that should not be revealed. More to follow when known – maybe at the 2016 AUSA Expo.