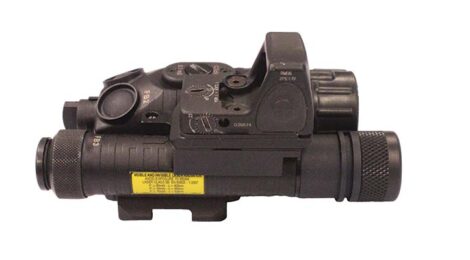 ABOVE: Rheinmetall Vario-Ray SWIR

Rheinmetall adds a new offering to its line of electro-optical equipment: the Vario-Ray (LLM-VR). It's designed to be used on small arms as a primary gun sight, laser sight, and area illuminator. It attaches to any small arm that is equipped with a standard mounting fixture (Picatinny, STANAG, KeyMod, etc.). The mounting fixture can be attached to the Vario-Ray via two torx head screws. Our model came furnished with a quick-detach clamp designed to interface with M1913 Mil-Spec rail. The primary gunsight mounted atop our unit is the Trijicon RMR. All of the Vario-Ray's functions can be selected to operate in the visual or IR spectrum for covert operation.
The Vario-Ray is more than another laser aiming module or flashlight. It offers a solution to growing problem. Current "night vision" operates using the "near infra-red" (NIR) light spectrum. NIR is a band width of light energy just below our visible range. The lasers, illuminators, and optical devices (NVGs, PVS-14, for examples) emit and detect that NIR radiation. This technology offers an advantage to those who possess it and puts those without it at a distinct disadvantage. More and more, our enemies have come into possession of NIR night-vision technology. Our soldiers have lost that in-field advantage. The Vario-Ray is one of the first weapon-mounted units to offer laser and illumination in the SWIR (Short Wave Infra-Red) spectrum. SWIR devices emit and detect a different band or light energy than older NIR devices. Light energy in the SWIR spectrum cannot be detected by older NIR devices and SWIR lasers and SWIR lights are only visible to SWIR optics. Now, equipped with these devices, soldiers will have a restored tactical advantage during covert operation. Another advantage of using SWIR light band is due to enhanced clarity. SWIR is not absorbed by material like NIR radiation; it is instead reflected by normal objects. So objects illuminated by and viewed through SWIR optics are seen in extreme detail and clarity. NIR devices require digital enhancement and clarification to achieve any utility. SWIR equipment can also operate with lower power requirements than NIR. So the illuminators and lasers maintain greater distance and effect with the same or less power requirement. In some cases, SWIR equipment can actually see through some materials. It is currently being used in limited capacity for visual inspection of objects and materials where X-ray is not available or recommended.
The British Ministry of Defense has recently contracted Rheinmetall for many thousand Vario-Ray modules. The broad adoption of such a device among the MOD's ranks is part of a trend there to drive her Majesty's soldiers to the forefront of battlefield superiority through the incorporation of advanced technology. The Vario-Ray enables soldiers to effect operations around the clock, and to do so covertly.
The Vario-Ray is compact and solid. It weighs 8 ounces and measures 4.25 inches long, 2.5 inches wide, and 1.7 inches tall (without the RMR attached). The illuminator and laser devices are contained within a single molded polymer housing. The gun sight and the mounting fixture remain modular and interchangeable for versatility. The controls of the Vario-Ray are located on the housing, and consist of a rotary switch and 3 constant on button switches. The unit can interface with 2 remote pressure switches for momentary control on the grip of forearm of the weapon. The Vario-Ray's laser aiming module can be adjusted to create unique point-pattern for distinction among multiple operators with the same unit. The illuminators are all adjustable for brightness and focus. The visible and IR lasers are constructed to remain in fixed co-axial relation, so adjusting the visible laser simultaneously adjusts
the IR laser.
Contact:
Rheinmetall Soldier Electronics GmbH · Bodenseeallee 3 · 78333 Stockach · Germany. Phone +49 77 71 81-251 · Fax +49 77 71 81-396 · info-rse@Rheinmetalll.com · www.Rheinmetalll-defence.com