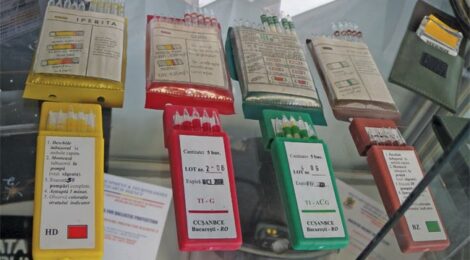 The sixth edition of Expomil Romania was held in the Romexpo Exhibition Center at the Bucharest International Fair in Romania.  This Expo was a one-building show with several levels around the promenade with larger exhibitors in the center.  It was a bit of a time getting close to the main building due to construction in the area, but that should be resolved by the 2011 Expomil show.
The majority of the exhibits were Romanian companies, but there were a number of other displays from the region.  SADJ interviewed several companies from the UK for their input on showing in Bucharest.
Phillip Mouser, sales manager from Manroy Engineering Limited out of East Suffolk, England, was manning the booth at Expomil.  Manroy does a lot of the work on refurbishment and supply of new M2 heavy barrel and GPMG machine guns in 7.62x51mm to NATO groups and the British military.  They've been working in Estonia and Lithuania, and they were in Romania because they want to start moving their focus a little further south into the former Soviet bloc areas, partly because Romania several years ago joined NATO, and they're going to have to be changing off of their DShKs to have NATO caliber compliance.
CAE in the United Kingdom has approximately 40 countries that they have brought in various aspects of their military simulation and training groups.  Their United Kingdom website is at www.cae.com.  They specialize in larger group trainers, but have done some small arms training simulators as well, and see the market in the Balkans as a good showcase for their wares.
There was a strong international attendance as well, with many uniformed officers from China and other Asian countries in attendance for the event.  Management of the show certainly brought in the visitors for this show, and any company planning on working in the region, or making contact with the Romanian manufacturing base, should consider attending this show.
Pages: 1 2