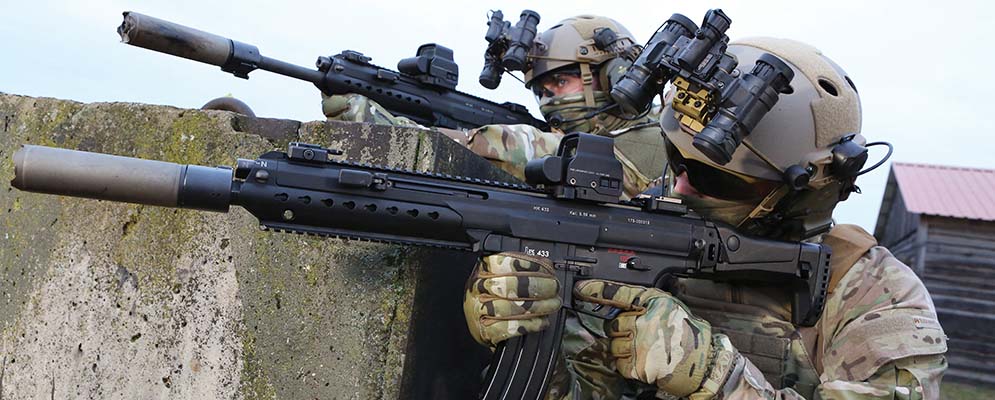 ABOVE: The HK433 has fully ambidextrous operation for both right- and left-handed shooters. Its non-reciprocating charging handle can be switched from one side to the other without tools. The lower receiver employs the double-sided operating concept for G36 or HK416/AR-15 users.
Photo: Heckler & Koch

At the time of its introduction, it was planned that the 5.56x45mm G36 standard assault rifle used by the German Armed Forces (Bundeswehr) would be in service for 20 years. The first delivered G36s reached this milestone in 2016. Their replacement is anticipated to start in 2019.
"Konzept Handwaffen der Bundeswehr"
A document published in 2015 states the conceptual framework for new assault rifles ("zukünftiges System Sturmgewehr") to replace the German Armed Forces' G36 assault rifle. The document presents a framework for the acquisition of new firearms. It also outlines the specific requirements, in terms of weapons and accessories, for the lowest category of units up to the Special Operations Forces (SOF): SpezKr Kommando Spezialkräfte (KSK) and SpezKr Kommando Spezialkräfte Marine (KSM).
A New Assault Rifle for Germany's SOF
The German SOF have already recently asked for an assault rifle system tailored to their special needs. They must always be able to work across a large part of the operating spectrum. Therefore, their firearms must be capable of functioning under almost all climatic conditions and in all imaginable combat situations. The "leichte Sturmgewehr Spezialkräfte" is the primary tool for the SOF soldier and it must be precise, reliable, light and modular—allowing signature dampening and the use of different sights. This is independent of the "System Sturmgewehr Bundeswehr," which shall replace the G36 in 2019. At the beginning of January 2017, the Federal Office of Bundeswehr Equipment, Information Technology and In-Service Support issued a tender for a total of 1,750 rifles. The new rifles are expected to replace the G36 rifles currently in use with the SOF. The deadline for submitting offers was February 9, with deliveries to start on September 10 and be completed by June 28, 2019. That means it should be a commercial off-the-shelf (COTS) acquisition.
The Listed Technical Requirements:
1. Chambered in 5.56x45mm NATO
2. Gas-operated, capable of single and automatic fire
3. Feature ambidextrous controls for right- and left-handed users
4. Signature dampening
5. To be equipped with a STANAG 4694 NATO Accessory Rail (NAR) on the top of the receiver, with other NARs located on the handguard
6. Weapon length without a suppressor max. 900mm
7. For use in areas with climatic categories A1-3, B1-3, C0-2 and M1-3 according to STANAG 4370 without restriction of functionality
8. Barrel life of at least 10,000 rounds and receiver life of 30,000 rounds or more
9. Maximum weight of 3.8 kg (without magazine and optics)
10. Accessories include a laser designator and illuminator, flashlight and carrying equipment
Interpretation of the 10 Stated Decision Criteria:
(1) The "Konzept Handwaffen der Bundeswehr" outlines the basic idea of one standard weapon with various applications, with a table (Grundidee "Baukastensystem" Handwaffe) listing the following requirements for the SOF: barrel long/short, and barrel changes for 5.56x45mm and 7.62x35mm caliber ammunition. But now, as stated in the requirements, the barrel change for 7.62x35mm caliber ammunition (.300 BLK) is unnecessary.
(2) Gas-operated and fully automatic means continuous and/or burst. Almost all assault rifles today are gas-operated. The requirements do not specify whether the weapon should employ a short- or long-stroke system or a direct gas impingement system.
(3) Regarding easy operation for both right- and left-handed users, almost all assault rifle manufacturers today present the popular AR-15 architecture with some modifications and ambidextrous controls.
(4) Signature dampening is the effective reduction of a sound, flash and dust signature with a sound suppressor, and is an important requirement for SOF operators. On average, suppressors reduce noise by 20–35 decibels. A suppressor can only eliminate most noise when coupled with subsonic ammunition.
(5) The NATO Standardization Agreement STANAG 4694 outlines the standards for mounting auxiliary equipment; this includes telescopic sights, tactical lights, laser aiming modules, night vision devices, reflex sights, foregrips, bipods and bayonets. STANAG 2324 describes a standard mounting platform consisting of tactical bracket rails with multiple transverse slots for accessories. The MIL-STD-1913 rail is also known as a NATO Picatinny rail. In order to balance the center of gravity of the weapon when it is filled with accessories and ready to fire, it is important that the upper receiver has a full-length and flat top rail, with space for various optics. The handguard should also feature side and bottom Picatinny rail positions with a modular locking accessory mounting system. The rails should be light, but strong enough to mount a grenade launcher or vertical combat grip. These rails allow the operator to add only those accessories required for the mission, thus reducing the weight burden and increasing the weapon's maneuverability.
(6) The maximum length of 900mm for the weapon without a suppressor indicates that a carbine is required, such as the M4 or the HK416 A5 with a barrel length of 14.5″ (368.3mm).
(7) Operation in climatic categories A1-3, B1-3, C0-2 and M1-3 according to STANAG 4370 means that the weapon must tolerate hot-dry, hot-humid, cold and maritime environments without restrictions in functionality.
(8) The specified receiver and barrel lives of at least 30,000 and 10,000 rounds, respectively, demand a solid weapon. Cold hammer-forged barrels have proved to be the longest-lasting rifle barrels. The most accurate and durable have a high-quality outer finish, such as a MIL-SPEC heavy phosphate coating, and a chrome-lined or stainless steel barrel.
(9) The maximum weight of 3.8 kg (without the magazine and optics) is a realistic demand. The venerable Colt's M16 Carbine with an adjustable buttstock has an empty weight of only 2,676 grams (5.9 pounds), and weighs 3,130 grams (6.9 pounds) when loaded with 30 rounds. The Colt C8A2 with a 14.5″ barrel has an unloaded weight of 2,810 grams (7.53 pounds). By comparison, the G36K's empty weight is 3,370 grams, which is increased by approximately 620 grams by the addition of a 30-round magazine.
(10) Today's accessories include reflex sights, laser light modules and even clip-on night vision device/thermal weapon sights, as well as vertical combat grips. As these accessories increase the weapon's overall weight, very light receiver groups and rails are advantageous and allow an assault rifle system to be modified according to special requirements.
One can deduce that these 10 decision criteria are not designed with a particular rifle in mind, such as the HK416F, which is the French choice. The AR-15 architecture is not listed as a technical requirement, and other technical solutions may also be appropriate. There are several COTS rifles on the market that fulfill the stated criteria. In summary, the SOF can get a "Sturmgewehr, Spezialkräfte, leicht" tailored to their needs and not necessarily the standard assault rifle for the Bundeswehr.
Unrestricted: Need Not Be "Made in Germany"
The 1,750 rifles to be bought include five models for bid comparison (delivered before a contract is signed), 40 for qualification tests and compatibility checks with optical sights and 1,705 serially produced weapons. Companies worldwide can take part and offer their weapon model, as long as they are ISO 9000 certified and have sales of more than US$1 million. The estimated value of the contract is €11 million (US$11.6 million).
As usual, the bidders are not made publicly known. Rheinmetall and Steyr Mannlicher's RS556 and Heckler & Koch's HK433 are obvious bidders. Other candidates that fulfill the technical requirements and will probably take part in the competition include the following:
– The HK416 A5 in 5.56x45mm caliber. The HK416 is the standard assault rifle for the Norwegian Armed Forces, combat proven and has been chosen as the new standard assault rifle for the French Armed Forces (HK416F);
– The FN Herstal SCAR-L in 5.56x45mm caliber;
– The SIG MCX SBR, available in 5.56x45mm and .300 BLK caliber, which is built for optimum performance with the .300 BLK cartridge and can accommodate a sound suppressor for both supersonic and subsonic loads. The user can easily switch between .300 BLK and 5.56mm with changeable barrels. The Netherlands Maritime Special Operations Force (NL-MARSOF), the Netherlands Marine Corps' elite unit, was the first military unit to be publicly revealed as having purchased the .300 BLK-chambered rifle;
– The Tavor X95 bullpup, available in 5.56x45mm and 7.62x35mm (.300 BLK). With a 5.56mm caliber 16.5″ barrel, the X95 has a total length of only 670mm, making it a short CQB assault rifle with a long barrel; and
– The M6-G 5.56x45mm rifle from LWRC International, LLC, which was chosen by the Swedish SOF.
– Colt Canada is another company confirming that they have applied to participate in the German SOF tender.
Rheinmetall and Steyr Mannlicher
Rheinmetall has teamed with Steyr Mannlicher and offers the RS556 as a candidate for the German "System Sturmgewehr Bundeswehr." The new RS556 assault rifle features an adjustable short-stroke gas piston system and rotating bolt, based on the tried-and-tested Steyr Mannlicher Universal Army Rifle (AUG). Several standard barrel lengths are available (14.5″, 16″, 18″ and 20″), and the hammer-forged barrel can be easily and rapidly exchanged without tools.
With a 406mm (16″) barrel and a loaded 30-round magazine, the RS556 weighs around 4,200 grams. In the future, it will be possible to change the barrel to, for example, a .300 Whisper or .300 BLK caliber version. A special breech system with an emergency operation feature ensures that the weapon always functions reliably, even under extreme operating conditions, such as severely hot and cold environments. The RS556 has an AR-15-style architecture and is highly ergonomic and easy to handle, and can be readily adapted to individual equipment profiles. The stock can be adjusted to seven different lengths. With a fully extended stock and a 16″ barrel, the weapon is 960mm (37.8″) in length. The RS556 has fixed accessory rails and optional NARs according to MIL-STD-1913, STANAG 2324 and STANAG 4694 to fit various optics, night sight devices, and laser light modules. A 40mm grenade launcher can also be mounted. The RS556 is compatible with the Bundeswehr's modular "Future Soldier–Expanded System" (IdZ-ES).
Heckler & Koch
The German firearms manufacturer Heckler & Koch has unveiled a new modular rifle, the HK433, chambered in 5.56x45mm, as a replacement for the G36 rifle. This is the fourth rifle family to be offered by Heckler & Koch, following the G36, HK416 and HK417 rifles.
The HK433 is a development based on the combat-proven G36 and HK416 assault rifles. Whilst the 5.56mm HK433 assault rifle is the backbone of a new weapon family, firearms may also be offered in other calibers, such as 7.62x51mm (HK231), 7.62x39mm (HK123) and .300 BLK. The HK433 is a gas-operated weapon with a short-stroke gas piston system, using a locked rotating bolt head. The gas regulator is a further development, and it can be regulated for use with a sound suppressor without any tools. The HK433's operating mechanism is based on that of the G36, but it is equipped with a safety catch as well as self-lubricating sliding elements. The integrated G36 closure guide of the upper receiver ensures high functional reliability. The monolithic upper receiver is made of strong aluminum and features a long STANAG 4694 NAR. The Slim Line handguard has a Picatinny rail at the six o'clock position and HKey rails at the three and nine o'clock positions (optional MIL-STD-1913). In addition, according to Heckler & Koch, the lower receiver group has a maintenance-free and tamper-proof shot counter, from which weapon data can be transmitted wirelessly. There is also a GLM/GLM A1 and HK269 grenade launcher attachment interface. The charging handle is flat and fully ambidextrous, with integrated forward assist function. The rifle can be cocked in any position. Its safety switch has three positions: safe, single fire, and full auto (700 rounds per minute). Heckler & Koch is offering two variants of the HK433: one with a G36-type magazine release lever and one with an HK416/AR-15 magazine release push-button. In both cases, the bolt hold open/release lever is integrated with the front part of the trigger guard. The HK433 is offered with 11″, 12.5″, 14.5″, 16.5″, 18.9″ and 20″ cold-hammered, 178 mm right-hand twist, six-groove barrels with hard chromium plating, equipped with an adjustable gas port for a sound suppressor. The barrels can be interchanged by the user, and they are equipped with an M15x1 muzzle thread for a blank firing attachment (BFA). The HK433 weighs around 3,500 grams when fitted with a 16.5″ barrel. According to the manufacturer's quality specifications, the rifle is functional over the temperature range defined by NATO: from extremely hot to extremely cold temperatures. The buttstock can be adjusted to five different lengths and can therefore be dynamically adapted to the protective equipment of the shooter. A special feature is the buttstock's height-adjustable cheek rest, the ergonomics of which have been changed compared to the Slim Line buttstock of the HK416 and the IdZ buttstock of the G36. Furthermore, it is possible to fold the buttstock to the right in each set position, without interfering with access to the trigger or obscuring the eject opening. A defensive capability is therefore ensured in emergencies, such as a surprise attack, even when the rifle is in its "transport state." Various camouflage colors and infrared-absorbing coatings are also available, according to the customer's requirements.
5.56x45mm
The U.S. Army is sticking to the M855A1 Enhanced Performance Round (EPR). This round offers better performance than the M855 against all targets likely to be engaged with small arms. This is quite a feat, considering the long-standing solid performance of the M855.
Most armies have invested heavily in 5.56x45mm NATO and there is apparently little interest in large-scale acquisitions of multi-caliber platforms, mostly due to cost. Odd calibers, like the 7.62x35mm (.300 BLK) caliber projectiles, deliver greater muzzle energy and better penetration than comparable 5.56mm ammunition. The .300 BLK has therefore become popular among hunters.
There is now a trend of firearms manufacturers also offering assault rifle platforms in .300 BLK caliber for military and law enforcement. The .300 BLK might seem designed as an answer to the 7.62x39mm, but uses the same casing as legacy 5.56x45mm cartridges and can feed from AR-15/M16 STANAG magazines, and so offers users the option of a 7.62mm hard-hitting slugger. The international SOF community will continue to use 5.56mm NATO standard rounds and 7.62×51 NATO. The requirement for multiple calibers actually stems from small SOF operators. The .300 BLK is suitable for CQB and boarding operators, especially when conducted in the confined deck spaces of the maritime environment. Additionally, the noise from a subsonic .300 Whisper cartridge is mitigated relatively easily by a sound suppressor, making this ammunition especially useful for SOF operators.
Advances in the lethality of small arms continue to be dominated by the development of optimized ammunition, which provides varying degrees of "stopping power." Alternative calibers continue to be considered, including 6.5x38mm Grendel and 6.8mm options.