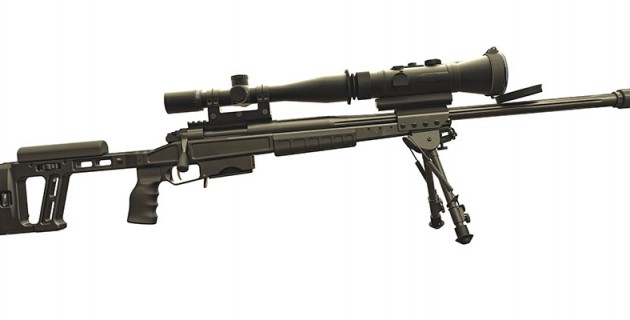 ABOVE: T-5000 with night vision adapter.

Until recently, Russian small arms were famous mostly for their ruggedness, durability and reliability, even under the harshest of conditions. Outstanding accuracy was rarely mentioned in relation to Russian (and before that, Soviet) small arms, but this has changed several years ago.
In 2010, a small group of precision shooting enthusiasts, led by experienced benchrest and precision shooter Alexey Sorokin and backed up by several private investors, bought an abandoned manufacturing building in Moscow. Less than a year later, this building became the home for a unique Russian small arms manufacturer, known as ORSIS.
ORSIS is the first privately-owned Russian small arms manufacturing company that can mass-produce firearms that are compatible, if not superior, to products of the world's most famous brands, such as Sako, Accuracy International, Steyr, Remington and others. The primary goal, set by the founders of the ORSIS factory, was to build custom-grade precision rifles for civilian shooters and law enforcement, using the most modern mass production technologies – most notably CNC machining. Right from the start, great emphasis was put on self-dependence and quality control during all stages of production. Also, being run by the shooters, the company was built to be as much customer-oriented as possible, which is a most welcome change in the Russian gun industry. Within just a few years, ORSIS built itself an enviable reputation within the Russian
shooting community.
ORSIS factory: Bolt and receiver manufacturing area.
At this time ORSIS rifles are in the process of test and evaluation in several Russian elite law enforcement units. ORSIS also did excellent service in replacing worn-out barrels with new precision barrels of its own manufacture on imported sniper rifles, used by Sniper teams of Russian FSO (Federal VIP Protection Service) and several other agencies. Civilian shooters also bought hundreds of ORSIS rifles in great variety of models, from lightweight hunting rifles to African-caliber elephant stoppers, as well as tactical precision rifles and various varmint-style rifles.
With undisputed success in the domestic precision rifle market, ORSIS is now looking for export markets. Despite political tensions between Russia and the West caused by the Ukrainian crisis, ORSIS seems to be unaffected by Western sanctions against Russia, as it is not connected to the Russian government or any of its officials. It already works with several respected partners from the USA and Europe to assemble hunting and sport guns for Russian markets, including American ArmaLite AR-10 and AR-15 semi-auto rifles, Italian Marocci Si12 shotguns and Austrian Glock pistols.
ORSIS factory: CNC stock cutting machine.
ORSIS' main and most successful product is a line of precision rifles, built on the classic bolt action and offered in a wide selection of calibers, stocks and other options. Their precision rifles are available in three major lines. Two lines are magazine-fed; these are ORSIS T-5000 tactical sniper rifles and ORSIS Hunter rifles. Both systems are based on the same receiver with detachable magazine and trigger system with the major difference being in the stock. The T-5000 uses an aluminum alloy chassis with side-folding shoulder stock, while the Hunter models are offered in a variety of traditional stocks, made from wood (laminate or walnut), plastic or carbon. The third line includes Benchrest and F-class rifles for target shooting. These rifles are based on a single-shot action of the same basic design.
ORSIS makes everything in-house, including actions and barrels. They buy premium stainless steel in bars and rods, and make barrels in almost any conceivable caliber (between .22 and .50), profile and length, plain or fluted. Barrels are manufactured to very high tolerances using old and proven cutting techniques, implemented by a CNC machine. Each groove is cut in 60 to 80 passes, and it takes up to two and half hours to completely rifle one barrel. Each rifled barrel blank is lapped and polished, and then inspected using gauges and a borescope. Barrels are chambered and contoured on separate CNC machines, providing highest possible quality through all steps of manufacture.
All ORSIS-made bolt action rifles are based on the same action of more or less traditional design. Tubular receivers are made from stainless steel on CNC electro-erosion machines, stainless steel bolts with dual opposite front lugs are CNC machined and then individually fitted to their receivers.
ORSIS factory: T-5000 rifles awaiting final QC inspection.
Barrels are installed into receivers using simple screw-in interface, which allows for simple replacement of worn-out or damaged barrels using a minimal amount of tools. In fact, many domestic customers prefer to order their ORSIS rifles with a spare barrel or two, which is convenient due to complications of Russian gun regulations.
Barreled actions are then set into appropriate stocks, also made in-house. Hunting rifles are normally set into wooden or carbon stocks; tactical rifles are assembled onto proprietary aluminum alloy chassis-type stocks.
Finalized rifles are then test-fired for accuracy. All ORSIS rifles, with exception of some African big-game calibers, are not allowed to leave the factory unless they can shoot 100 meter 3-round group not larger than 0.5 minute of angle (MOA). Each rifle is shipped with its own proof target, often showing groups as small as 0.3 MOA.
Over recent years, the ORSIS T-5000 rifle proved itself as a dependable tack-driver in hands of elite Russian law enforcement units and target shooters. Russian sniper teams armed with T-5000 rifles have won the Police and Military Sniper World Cup in Hungary in two consecutive years (2012 and 2013), and are looking forward to participating in the same event in 2014.
Author at the range with the T-5000 rifle.
Description of the ORSIS T-5000 Sniper Rifle
The ORSIS T-5000 is a manually operated, rotary bolt action, magazine fed rifle. It uses a stainless steel receiver of round shape, with a single massive recoil lug at the front. The recoil lug is a separate part that is tensioned between the barrel shank and receiver. The stainless steel bolt has dual locking lugs at the front that lock into the receiver body, and a plunger type ejector. The bolt body has spiral grooves to decrease weight. Bolt actions are available in two sizes – Standard, designed for 7.62×51 NATO / .308 Winchester and similar cartridges, and Magnum, designed for .338 Lapua Magnum cartridges and also available in .300 Winchester Magnum.
The trigger unit is fully adjustable with two alternate versions that allow setting trigger pull weight between 1,000 and 1,500 gram or between 500 and 900 gram. Early T-5000 rifles were designed to use widely available box magazines made by Accuracy International of the UK, but these magazines were found to be a bit short for some loads. For this reason, T-5000 rifles were redesigned to use proprietary single stack box magazines of composite design. These magazines have rugged polymer bodies with stainless steel feed lips and inserts, and are long enough to reliably feed all available factory-made ammunition in respective calibers.
Barrels are made from stainless steel and threaded at the muzzle to accept various muzzle brakes and other muzzle devices. The standard ORSIS muzzle brake is highly effective and is said to decrease felt recoil roughly by half. Typical barrel lengths are 66 centimeters for .308 Winchester and .300 Winchester Magnum and 70 centimeters for .338 Lapua Magnum.
T-5000 rifle in .300 Win Mag, complete.
Chassis type stocks are machined from aluminum alloy and feature steel bedding inserts and steel shoulder stock hinge and lock. The shoulder stock folds to the left, and allows the rifle to be operated when folded. Cheek rest and buttplate are adjustable, and optional rear monopod can be installed, if required. By default, T-5000 rifles are supplied without iron sights; scope mounting interface is provided by a Picatinny rail, securely bolted to the top of receiver. Optional forward rails can be bolted to the stock chassis to accept night vision adapters and o
ther accessories.
All rifles are finished with Cerakote finish. Standard color for T-5000 is black, and other colors are available on
special order.
Personal Observations from Range Trip with T-5000 rifles
First of all, I must admit that I am not an experienced target or sniper shooter, and my results are not completely indicative of rifles capabilities. However, my humble results show that these rifles are capable of very good accuracy even with an average operator.
During my range trip I was allowed to shoot two T-5000 rifles: one in .308 Winchester and another in .338 Lapua Magnum. Both rifles were set up with Harris bipods and Dedal NV 5-20x telescope sights. Supplied ammunition included .308 Winchester cartridges by Lapua with 185 grain FMJBT bullets and .338 Lapua Magnum cartridges by Hornady with 250 grain BTHP bullets.
Due to time restrictions, most shooting was done at 100 meters at an outdoor range with a light crosswind. All shooting was done from sitting position, using bipod and my own left hand for rear support.
T-5000 at sniper competition in Russia.
I enjoyed shooting both rifles. Felt recoil was very mild even with the powerful .338 Lapua Magnum; although muzzle blast was quite noticeable especially when trying to make photos from the side. The trigger was the best I ever tried – short and crisp, breaking cleanly at 1000 gram. Bolt operation was smooth and fast. Both rifles were fitted with similar Dedal DH 5-20×56 scopes of Russian manufacture, set into ORSIS-made rings and mounts.
I shot both rifles in strings of 5 rounds, and my best groups were similar for both calibers, measuring 24-25 millimeters across. This translates to slightly less than 1 minute of angle accuracy, and this was my first ever attempt to shoot a real precision rifle (my previous "sniper rifle" experience was limited mostly to a Russian army issue 7.62mm Dragunov SVD semiautomatic rifle). With more experienced shooters firing these rifles, 0.5 MOA or better accuracy is a norm. Over the entire course of fire I encountered zero malfunctions or any other issues.
After about an hour with the T-5000, I also got a little trigger time with .308 Win ORSIS / ArmaLite AR-10 rifle, which also proved to be a real tack diver. Recoil was almost negligible, and using the 5-20x Dedal scope and bipod I first shot 30mm 5-round group and then 40mm 10-round group in a rather rapid tempo – much better than my best results with Dragunov SVD rifles. Unlike the T-5000, ORSIS / ArmaLite rifles are offered only as sporting / hunting weapons, and I found them as much fun to
shoot as T-5000.