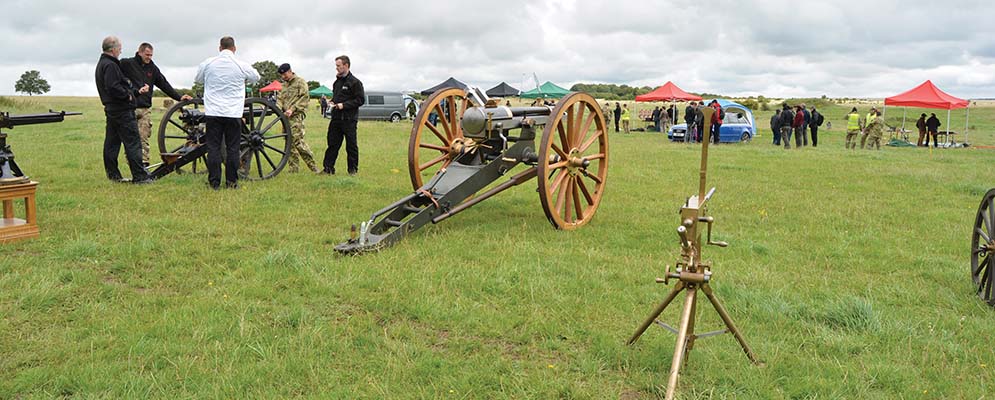 The Close Combat Symposium (CCS) held over July 25-27, 2017, is a follow-on to the former Small Arms & Cannon Symposium that was held annually at the Defence Academy of the United Kingdom.
The three-day Symposium opened for registration at 0900 hours on the first day. On the second day delegates were transported to the nearby COTEC Range at West Lavington for a manufacturers' range day, where delegates had the opportunity to fire a number of different small arms types and view associated supporting equipment. The final day's presentations, again at the Defence Academy, concluded in the late afternoon.
The program format consisted of short presentations on various aspects of mounted and dismounted close combat together with coverage of infantry weapons and ammunition and allowed maximum coverage of a diverse subject matter area to cater to the varied interests of those attending. Over the three days the program offered 26 presentations. The wide-ranging spectrum of the presentations, which included Panel Discussions after each segment, covered the following areas:
DAY ONE:
Session 1
The Future Role of Light Forces
The Vision for the Light Force – Head of Combat, Capability Directorate: UK MoD
The HQ (UK) Army Prospective – Assistant Head, Close Combat – UK MoD
A Corps View–Infantry Colonel Commandant – Lt Gen A Graham OBE
A Personal View of the Future Requirements – Defence Science and Technology Laboratory (Dstl)
Light Forces Tactical Mobility Platform – Pardus Defence & Security Ltd
Tactical Decision Making–Human Defensive Behavior – University of Liverpool
Session 2
Light Force Capability Development
Session Introduction–SO1 HoC, Close Combat Directorate
Modern Trends, Threats & Developments in Global Ordnance – Dan Shea, Phoenix Defence and Editor-in-Chief Small Arms Defence Journal
Optimizing Ground Close-Combat Capability Delivery – Systems Engineering & Assessment (SEA) Ltd and Arke Ltd
Small Arms & Ammunition–Where are We Heading – Editor – Jane's Weapons: Ammunition – yearbook
Developments in Lethality and Survivability – Cranfield Defence & Security
JAVELIN Overview – Raytheon
A Less-Wrong Theory of Small Arms Suppressive Fire – Wapentakes
Workshop Discussion Groups: included – "Survivability," Small Arms & Support Weapons' and Tactical Mobility
Panel Discussion
DAY TWO:
Range Day
Cranfield Ordnance Test & Evaluation Centre (COTEC), West Lavington, located in rural Wiltshire. The range day this year provided delegates with the opportunity to view and fire selected infantry small arms and included a firing demonstration of early machine guns provided by Bapty 2000 Ltd, the leading UK supplier of firearms and accessories to the film and television industry. A BBQ lunch was provided for all attending.
The Range Day was followed that evening by a Formal Dinner held at the Swindon STEAM Museum of the Great Western Railway. Delegates were able to view historic steam locomotives at leisure while informally networking, the dinner being held within the precincts of the museum.
DAY THREE:
Session 3
Situational Awareness
Introduction by the S02 – Infantry Trials & Development Unit (UK)
How Can Mounted & Dismounted Situational Awareness Be Merged to Support a Digital Picture that Will Enhance Combat Effectiveness? – Ultra Electronics
Dismounted Situational Awareness (DSA) Assessments from Army Warfighting Experiment (AWE) 2017 – Commanding Officer ITDU
Soldier Systems Programs, Vision and Perspectives – Rheinmetall (Canada)
A Combat Robust Imaging Lidar System (CRILS) – Defence Vision Systems
Disruptive and Incremental Innovation in Man-Portable Sighting Systems – Raytheon Elcan
Session 4
Alternative Scenarios–Assistance to Civil Powers
Military Support to the Civil Powers for CT and Resilience – DACOS HQ SJC (UK)
OP TEMPERER Case Study – DACOS HQ SJC (UK)
OP SENTINELLE Case Study – French LO to (UK) Army HQ
Non-lethal and Less than Lethal Approaches – United Tactical Systems LLC
Psychology of Armed Confrontations – University of Liverpool
Utility of Light Forces 2030 and Beyond – AH Concepts, Directorate of Strategy, Army HQ
Panel Discussion and Closing Remarks