TANGODOWN®, INC.

ACRO® Mount for GLOCK® MOS® Models
TangoDown®, Inc. is excited to announce the latest addition to its lineup: the TangoDown® ACRO® Mount for GLOCK® MOS® Models (AAM-01). This mount works perfectly to install Aimpoint®'s new ACRO P-1 Reflex sight. The ACRO® mount plate won't dent your wallet while maintaining a solid mounting platform. The AAM-01 is made from ordnance-grade steel with a Melonite finish to remain rust-free. Fits GLOCK® MOS models only. If not familiar with modifying your firearms, seek appropriate assistance from a certified GLOCK® Armorer or Gunsmith.
tangodown.com
TASMANIAN TIGER®/PROFORCE EQUIPMENT, INC. 
TT Medic Assault Pack MKII S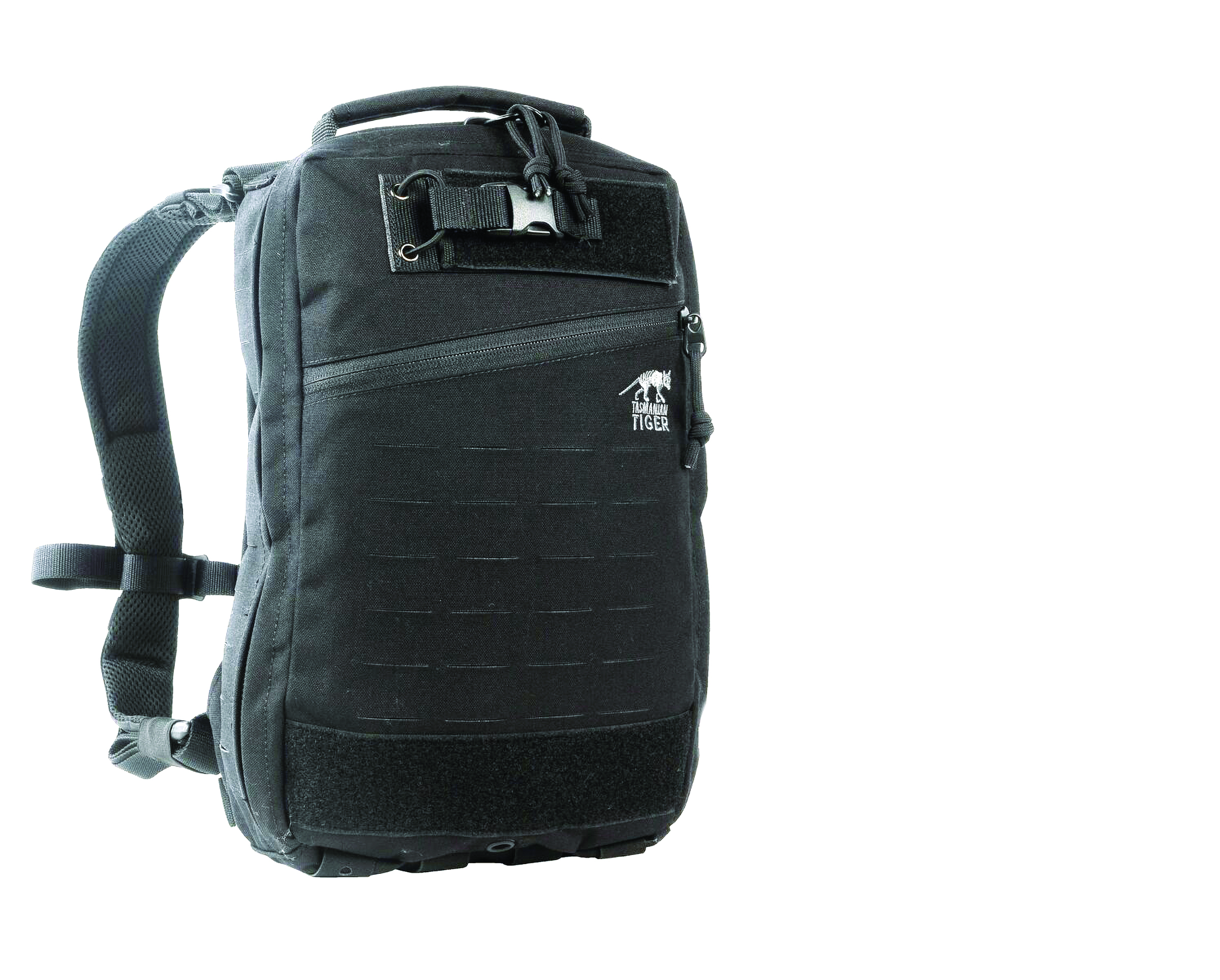 Tasmanian Tiger®, a leading global supplier of premium professional military, tactical and police equipment distributed exclusively to the U.S. by Proforce Equipment, Inc., announces its TT Medic Assault Pack MKII S, which received the Silver score from the National Tactical Officers Association (NTOA) Member Tested and Recommended Program. The TT Medic Assault Pack MKll S bag is a versatile carry bag for basic level tactical medical team members. The bag can be outfitted with multiple tourniquets, trauma bandages and gauze, chest seals, tape, eye shields, etc. The TT Medic Assault Pack MKll S measures six liters in volume, weighs 41 ounces with a dimension of 13x9x4 inches and is made from CORDURA® 700 den material with YKK zippers. It is available in Black, Olive and Coyote.
tasmaniantigerusa.com/proforceequipment.com
FN HERSTAL
FN® RMP Pod
The .50 cal FN® RMP Pod is an airborne fixed-forward firing solution with an ammo capacity of 250 rounds and three 2.75-inch rocket launcher tubes. The FN® RMP is fitted with an FN® M3P machine gun, featuring high rate of fire (1,100 RPM). Variants without rocket launcher tubes are also available.
fnherstal.com
SPARTAN ARMOR SYSTEMS
Concealable Level IIIA certified Wraparound Vest
Spartan Armor Systems announced its new wraparound body armor vests for tactical operators and professionals requiring additional security and safety in a lightweight, concealable carrier. The Concealable Level IIIA Certified Wraparound Vest is designed for discrete operation and protects the wearer from standard handgun rounds. The construction features a moisture-wicking, anti-microbial inner liner for all-day comfort. Featuring a side opening design, the fully adjustable shoulder straps allow the wearer to make adjustments while the carrier is being worn. A low-profile loop provides less bulk and reduces any friction against the wearer's clothing. The Concealable IIIA wraparound vest has a 5×8-inch trauma plate for back face deformation reduction and dual 6×8-inch and 7×9-inch front plate inserts. Under the NIJ Certification Level IIIA specifications, the vest is rated to stop .44 Magnum SJHP and Special Threat Rated to stop .357SIG FMJ. Available in sizes small to XXL.
SpartanArmorSystems.com
SPARTAN ARMOR SYSTEMS
Tactical Level IIIA Wraparound Vest
The Tactical Level IIIA Wraparound Vest features a streamlined design for first responders requiring greater protection and versatility. Made from a 1000 denier material for maximum durability, the Tactical IIIA wraparound vest offers four-point adjustability with a slide closure cummerbund and shoulder straps that allow for adjusting fit while wearing the carrier. The MOLLE front pocket allows the wearer to fully customize his carrier with additional pouches or accessories. The front and back pockets will hold a Spartan Armor Systems 10×12-inch steel core plate or the composite/ceramic plates. The drag handle is heavy-duty and load-bearing. ID attachment platforms measuring 10.5×3 inches are located where they will be highly visible on the front and back of the vest. Under the NIJ Certification Level IIIA specifications, the vest is rated to stop .44 Magnum SJHP and Special Threat Rated to stop .357SIG FMJ. Available in sizes small to XXL.
SpartanArmorSystems.com
DRD Tactical
APTUS® Assault Rifle
The semiautomatic APTUS Assault Rifle features DRD's patented internal recoil system and quick-change barrel weapon systems in .556 and .300BLK. The patented internal recoil system eliminates the standard buffer tube/spring associated with most .556/.300BLK rifles allowing the rifle to be fired with the Magpul stock folded. The rail is 7-inch, 10-inch and 15-inch M-Lok compatible with full-length MIL-STD 1913 Rail at 12 o'clock. The rifle has a left-side non-reciprocating/folding charging handle and can be assembled in less than 60 seconds without the use of any tools.
drdtactical.com
Black Hills
HoneyBadger™.40 S&W Design
The Black Hills Ammunition's HoneyBadger™ ammunition line gets even more ferocious, with a new offering in .40 S&W caliber. The new load features a futuristic looking but very effective 115-grain bullet at an impressive 1325 fps. Normally experienced shooters, while impressed by the high velocity, might be cautious about the lighter weight bullet, fearing over-expansion and under-penetration. That is definitely not the case here. The solid copper, fluted, sharp-edged design efficiently cuts efficiently through barriers and reliably penetrates to 18 inches in 10% ballistic gelatin with no loss of weight. Gelatin testing shows this combination outperforms conventional hollow-point bullets, not only in terms of velocity, penetration and weight retention (100%), but it provides superior temporary cavity diameters of 3 inches to 3.75 inches. The profile and solid copper design assures flawless feeding.
black-hills.com
SKB Cases
3i-1006-SP iSeries Custom Single Pistol Case
SKB's new iSeries 1006 Custom Single Pistol Case is waterproof, MIL-SPEC and features a form-cut, foam interior designed to fit a single pistol and accessories. Adjustable high density foam plugs provide a custom fit for a variety of pistol makes and models (up to 25 different styles tested), and an added accessory slot will accommodate an extra magazine or other gear. Like all SKB iSeries cases, the 3i-1006-SP is made in the U.S. and comes standard with an unconditional lifetime warranty.
skbcases.com
SPYDERCO
Dragonfly 2 Emerson Opener
One of the tradeoffs of compact knives is that they are somewhat more challenging to deploy one-handed. The new Dragonfly 2 Emerson Opener solves that problem by enhancing the popular Dragonfly 2 Lightweight with an Emerson Opener—an integral hook that snags the top of the pocket to automatically open the blade as the knife is drawn. Sporting a distinctive gray FRN handle with non-slip, bi-directional texturing, this high-speed version of the Dragonfly 2 proudly includes all the other defining features of this popular model.
spyderco.com
ALIEN GEAR
Rapid Force Duty Holster
Alien Gear Holsters, the top-selling and most trusted brand for civilian everyday carry, continues to innovate with a thoroughly tested holster, designed specifically for police and military applications. Incorporating valuable feedback from law enforcement, military and Special Operations personnel along with countless hours of research and development, Alien Gear has developed the Rapid Force Duty holster featuring GMR (Gross Motor Response)™ Technology. The holster is easy to draw, hard for the bad guys to defeat and light years ahead of the competition.
aliengearholsters.com