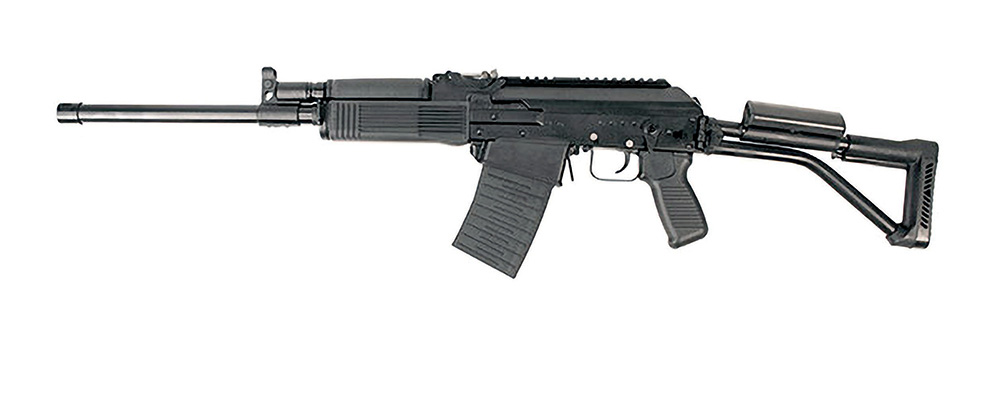 ABOVE: FIME GROUP VEPR 12 Shotgun

FIME GROUP
VEPR 12 Shotgun
The Vepr 12 is a shotgun designed for self-defense, hunting, range shooting and 3-gun competitions. The Vepr 12 Gauge Shotgun is a popular choice amongst competitive shooters. It comes standard with a polymer grip, fixed NATO polymer stock, RPK style windage adjustable rear sight and a factory 5-round magazine. The Vepr 12 Shotgun comes with many of the same features as the Vepr 12-07 with some key differences. It includes an original AK-enhanced ambidextrous safety lever, a side-folding stock and some U.S. factory-made parts such as the handguard, trigger and pistol grip. The Vepr 12 Thumbhole Stock is similar to the Vepr 12 Shotgun with the most significant difference being in the stock itself. It is constructed with a single piece of wood and can be attached to a sling. Over the years this wood piece has defined the look of this particular model, becoming popular amongst collectors and enthusiasts.fimegroup.com
QIOPTIQ Dragon S12 Thermal Weapon Sight
QIOPTIQ
Dragon S12 Thermal Weapon Sight
DRAGON S12 is a new in-line uncooled thermal sight and part of the latest development in thermal imaging technology from Qioptiq, providing Sharpshooters and Snipers with 24-hr surveillance and outstanding target identification and engagement capability.
DRAGONS12 utilizes the latest 640×480 format 12µm, uncooled thermal sensor coupled with a near silent shutter and a low-power electronic architecture delivering class leading sensitivity and uniformity. A high definition (HD) OLED micro-display provides the user with a crisp image, along with the ability to select a number of color modes to enhance target detection, recognition and identification. A ballistic calculation engine is built-in for seamless integration with Laser Range Finder (LRF) devices and improved first-round accuracy at long ranges.
Designed specifically to meet surveillance and target engagement requirements for military and law enforcement customers, DRAGON S12 delivers high performance within a lightweight, compact and rugged military qualified design without the need to remove or re-zero the day sight. qioptiq.com
DOUBLE SHOOT Zeroing and Scoring App
DOUBLE SHOOT
Zeroing and Scoring App
Double Shoot, a pioneer in advanced systems for zeroing high accuracy weapons and scoring systems, presents for the first time a unique and innovative smartphone application for zeroing weapons, scoring and comparison. The versatile app can be used with a variety of assault rifles and machine guns.
Double Shoot's unique app is a response to the manual weapon zeroing process currently being used by armies and security forces around the world. This manual process is slow and requires a great deal of ammunition, making it expensive while not delivering a high level of accuracy. The new app streamlines the zeroing process, making it significantly more efficient by saving 30-50% in training time and ammunition. Optimizing the entire process of shooter training, the app turns every shooting range into a smart shooting range. double-shoot.com
SIG SAUER Caliber X-Change Kit, P320 Compact Rx, 9mm, 15-Round Mag
SIG SAUER
Caliber X-Change Kit, P320 Compact Rx, 9mm, 15-Round Mag
The modular P320 allows you to select any of several centerfire calibers. Just disassemble the pistol and reassemble it with the X-Change Kit's barrel/slide assembly, grip module, and 15-round magazine. Not compatible with manual safety models of the P320. This kit features SIG SAUER's exclusive side-mounted optic, the ROMEO1 pre-zeroed, which ensures faster sight acquisition on target. Note: CALX kit comes with contrast sights. sigsauer.com
ASHBURY PRECISION ORDNANCE SABER M700 .308 Tactical Rifle
ASHBURY PRECISION ORDNANCE
SABER M700 .308 Tactical Rifle
Designed for quality-conscious, aspirational long range precision rifle shooters and law enforcement tactical team use, the SABER M700 Tactical Rifle offers shooters numerous high-end precision, semi-custom rifle features at a very competitive price.
The SABER M700 Tactical Rifle uses an APO Custom Shop accurized Remington Model 700® SPS Tactical AAC-SD barreled action which delivers sub-MOA downrange performance. The SABER M700 Tactical Rifle is fitted with an externally adjustable Rifle Basix trigger set to break at a crisp 3 pounds. The M700 rifle barrels are hammer-forged, with the .308 Win configured as a 20-inch, 1:10 twist barrel and the 6.5 Creedmoor as a 22-inch, 1:8 twist barrel. Both rifle models have 5/8-24 threaded muzzles and are fitted with an AAC Blackout 51T muzzle brake suppressor adapter. ashburyprecisionordnance.net
MantisX Shooting Performance System
MantisX
Shooting Performance System
The MantisX Shooting Performance System helps track the movement of your handgun's barrel during trigger pull. Gain complete control over your training as shots are grouped according to movement pattern similarity. The system allows you to track score of each shot individually, analyze trends and provides a full record of and suggestions for the shooter's improvement. mantisx.com
MantisX Shooting Performance System includes:
MantisX smart sensor.
MantisX app, for use on iOS and Android smartphone/tablet that supports Bluetooth 4.0 (free download)
Micro-USB charging cable
1-year limited warranty
Available accessories: tablets, rail adapters, snap caps, t-shirts, dry fire mag inserts
An unlimited 45-day money back guarantee.
FOXFURY LIGHTING SOLUTIONS RUGO Quick Swap® Power Pack with Strobe
FOXFURY LIGHTING SOLUTIONS
RUGO Quick Swap® Power Pack with Strobe
The Rugo™ QuickSwap® Power Pack with Strobe is a rugged go-anywhere lighting tool that is primarily used for drones but can also be used as a camera or accent light in photography and videography as well as a handheld search light. This new power pack is most useful for drone night operations as it fulfills the FAA FAR 107.29 requirements for dusk, dawn and night flights. This power pack installs in seconds and allows the Rugo™ to be used on the high setting for a longer period of time. Units can be recharged via a USB charger (not included). This power pack meets the FAA FAR 107.29 requirements for UAV nighttime anti-collision lighting as it is visible for 3 statute miles away and strobes at a rate of 90 times per minute. foxfury.com