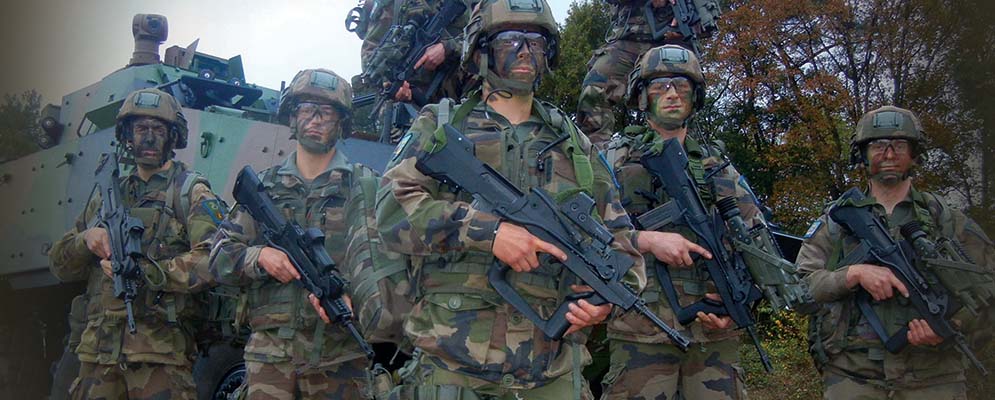 ABOVE: A combat group of 2e Régiment d'Infanterie de Marine (2e RIMa) equipped with FÉLIN. The 2nd Marine Infantry Regiment (2e Régiment d'Infanterie de Marine, 2e RIMa) is among the units in the French Army that have fought in the most battles. The 2nd RIMa is an experienced regiment. Attached to the 9th Marine Infantry Brigade, the 2nd RIMa has been equipped with the new VBCI (armored infantry combat vehicle) since June 2014. The 2nd RIMa's 980 soldiers can carry out their double vocation in overseas territories and foreign operations. The modularity of the FÉLIN allows the soldier to configure it depending on the mission, a principle at the root of success in the coming engagements of the French infantry. Photo courtesy of Philippe Wodka-Gallien, Safran Electronics & Defense


FÉLIN (Fantassin à Équipement et Liaisons Intégrés) is the French name for the Infantryman with Integrated Equipment and Connections, a combat system for the 21st century.

FÉLIN is "Made in France" by Sagem, part of the Safran Group. FÉLIN gives the French soldier the most modern combat-proven infantry system in the world. FÉLIN combines innovative optronic and digital technologies with integrated and modular equipment and protection for dismounted soldiers. FÉLIN enhances efficiency during operations. The technological equipment is based on the experience of mounted and dismounted combat in all types of environments: countryside, desert, jungle, mountain, urban warfare, etc., both day and night.

FÉLIN is adapted to French doctrine and French operational missions. The system has been in service since 2010 and used in three theatres of operation. After Afghanistan in 2012, French regiments equipped with the FÉLIN, have been deployed to new zones in African theatres of operation; first in Mali, then in the Central African Republic. It has been used for a large range of situations: high intensity combat, patrols, convoy escorts, securing zones and protecting civilian populations. In 2015, 17 regiments in the French Army were fully outfitted with the FÉLIN system (18,500 FÉLIN V1 systems), and today all the subdivisions of French infantry are equipped with the FÉLIN: paratroops, mountain troops and motorized troops. FÉLIN's integrated infantry suite system is characterized with a modular architecture that can be adapted according to the type of mission and can be used in all types of theaters. FÉLIN will enhance the skills of soldiers in terms of shooting precision, day and night combat, intelligence and coordination. Special attention was given to protection, from the individual warrior, up to the entire group. FÉLIN offers multiple soldier configurations adapted to operational profiles such as: Section chief (platoon) and group leader (squad), grenadier (French: grenadier is a foot soldier in a mechanized unit), machine gunner and sniper. The system improves operational capabilities, equipping infantrymen with voice and data network communication equipment that is reliable and secure and multi-spectral devices for observation and firing. The system's planning and maneuver monitoring tools give the fighting unit the advantage on the ground.

FÉLIN infantryman's FAMAS G2 assault rifle here—one with an EOTech Holographic Weapon Sight (left, also with an action camera for video recording and streaming) and one with the SWORD T&D Multiweapon thermal and day weapon sight. Photo: Aud Håland
FÉLIN is light, ergonomic and includes:
• A C4I network with a digital MANET type personal radio which has reliable, secure voice and data and integrated GPS
• Terminal for planning, mission monitoring and management of tactical situations with intuitive Man-Machine Interface (MMI)
• Centralized energy management for missions up to 72 hours
• Optronic equipment for mobility, observation and firing
• Helmet-mounted vision system (retractable eyepiece or night vision binoculars adapted to the situation)
• Multi-function, multi-spectral binoculars (JIM)
• Weapon sights (SWORD) with a round-the-corner aiming and firing device, including control handles.

Modular carrying and protection system:
• Flexible and hard ballistics protection
• NBC (Nuclear, Bacteriological and Chemical) protection
• Climatic adaptation.

Each soldier has an MMI eyepiece with a color screen, a personal radio with high performance
and a reliable audio system radio linked to the Infantry Information Network. The soldier is
equipped with an embedded GPS and an osteo-phonic communication headband.

The headband is comprised of two osteo headphones, one osteo microphone and one cable connector for the radio. Sound is transmitted by bone vibrations, making the system completely inconspicuous; listening is not hindered by surrounding noise. Using a low voice in a tactical situation is transmitted over the radio loudly and clearly. The audio headband is powered by the personal radio. It is worn independently of the ballistic helmet. It is controlled by the "push-to-talk" buttons on the radio or on a (Bluetooth wireless link communication) remote button pad control that is mounted on the weapon's fore grip. This system enables soldiers to exchange data and audio simultaneously, including audio conferencing, alerts, images and video. This communication system can be integrated in all combat configurations, including an NBC environment due to its ergonomics and small volume. Group leaders (chef de groupe d'infanterie) have a SitComdé tactical terminal (SIT COMDE—Off-board Soldier Terminal Information System) that is the nerve center of the SIT and SIR (regimental) networks. The SIT COMDE, which features a color touchscreen, lets the group leader manage the tactical situation using multi-format mapping, integrated messaging and friend/foe position display (BFT/RFT–Blue and Red Force Tracking). It integrates data and videos from the sensors: weapon sights and multifunctional binoculars, etc.

JIM LR binoculars—Long-range, multifunction, cooled thermal imaging, day time color, telemetry, GPS and magnetic compass. JIM is available in three versions to meet different operational needs. Photo courtesy of Philippe Wodka-Gallien, Safran Electronics & Defense
Weapons and Weapon Sights

A group's small arms include FAMAS assault rifles in 5.56×45 mm caliber, MINIMI machine gun 5.56×45 mm caliber and FR F2 sniper rifle 7.62x 51 mm caliber.

Typical effective firing ranges:
• FAMAS 5.56 mm: 450 m
• MINIMI 5.56 mm: 300 to 1,000 m
• FR F2 7.62 mm: 800 m.

At present, the FÉLIN infantryman has a modified assault rifle, FAMAS G2, equipped with a Picatinny rail for mounting of sights; for example, a Holographic Weapon Sight or a SWORD T&D Multi-weapon thermal & day weapon sight.* The FAMAS assault rifle is of a bullpup configuration, with the ammunition feed behind the trigger. The receiver housing is made of a special steel alloy, and the rifle housing is made of fiberglass. The rifle uses a lever-delayed blowback action. Fire mode is controlled by a selector within the trigger guard, with three settings: safe (central position), single shot (to the right), and automatic fire (to the left). Automatic fire can be in three-shot bursts or fully automatic; this is determined by another selector, located under the housing and behind the magazine. The FAMAS G2 weighs 3.8 kg (8.38 lb.). It has a large, grip-length trigger-guard to allow easy access to the trigger when wearing gloves and a fore grip with keyboard button controls for the day/night sight and radio.

This way, the infantryman can simultaneously use his radio and keep his weapon pointed towards threats.

The rifle also features a bipod attached to the upper hand-guard. The FAMAS G2 is equipped with a new bayonet particularly adapted to the needs of the modern soldier. The bayonet can be used as a knife for up-close combat or as a cutter for cables and barbed wire. Within the section/group, the sniper has a high-performance scope attached to the 7.62 mm FR-F2 Bolt-action rifle. The rifle barrel is thermally shielded along a considerable part of the barrel by a polymer shroud. It uses a bipod-stock configuration which is built just ahead of the receiver.

JIM LR binoculars—Long-range, multifunction, cooled thermal imaging, day time color, telemetry, GPS and magnetic compass. JIM is available in three versions to meet different operational needs. Photo courtesy of Philippe Wodka-Gallien, Safran Electronics & Defense
Weapon Sights

FÉLIN includes three types of optronics: 1) a Holographic Weapon Sight for the FAMAS assault rifle; 2) a day/night sight SWORD T&D both for the FAMAS assault rifle and the MINIMI machine gun; and 3) the day/night Sniper rifle sight. The SWORD T&D relays the sight image and can be seen on a terminal on the chest or the removable helmet. The SWORD T&D multi-weapon thermal and day weapon sight is simple and ergonomic, optimizing the weapon's accuracy and effectiveness day and night. It ensures that the first shot is on target, thus improving the ammunitions' lethality and efficiency. Integrating the latest technologies, it has:

• Digital day and thermal channels
• Uncooled IR technology (quickly activated, highly reliable and discreet)
• Digital bore sighting
• Choice of reticle for weapons and ammunition
• A remote control handle allows the user to operate the SWORD T&D without letting go of the weapon
• Advanced communications capabilities:
– Remote observation and firing
– Image and video sequence capture.

The section chief (Lieutenant—le chef de section) [American: platoon commander] and his tactical FÉLIN tablet. This digital maneuvering aide allows the multiplication of capabilities of combatants during operations. Photo courtesy of Philippe Wodka-Gallien, Safran Electronics & Defense
Round the Corner or Over the Fence

Observation and firing functions were also optimized for urban combat zones; for example, the ability to aim around corners or over fences. This capability allows for observation and neutralization of an enemy without the soldier exposing himself to enemy fire.

Sniper Rifle Sight

Equipped with a new generation of infrared cameras, with direct view optics and a laser telemeter, the FÉLIN sniper scope allows the sniper to support an infantry group or to deploy a security detail and thus cover a sector with a radius of over a kilometer. One of the attributes of the new aiming sights in the FÉLIN is the ability to detect threats from farther away and shoot with extreme precision.

Photo courtesy of Philippe Wodka, Gallien, Safran Electronics & Defense
Observation, Detection and Identification

For day and night detection, the group leader has the JIM medium range, multifunction infrared binoculars. The section chief is equipped with the JIM LR—Long-range multifunction binoculars have thermal imaging, daytime color, telemetry, GPS and a magnetic compass. They
can even record video and pictures. The French manufacturer has integrated all these functions into one piece of equipment, weighing only three kilograms. With these binoculars, the infantry group can now identify and locate a target with precision for intelligence purpose or artillery guidance. That underlines the section's observation capacities over several kilometers.

SWORD T&D multiweapon thermal and day weapon sight can be mounted on many types of weapons, from assault rifles to multirole recoilless rifles and from machine guns to 20/25 mm cannons.
Clothing and Armor

Basic combat clothing has a full cut allowing free movement. The material (fabric) offers good mechanical properties but still allows good air permeability. The fibers (aramid/viscose FR) are flame- and wash-resistant.

The ballistic jacket accommodates:
– Flexible ballistic protection
– Hard ballistic protection
– Combat vest/load-bearing structure that optimizes weight distribution on the soldier.

Special attention was given to soldier protection. The French FÉLIN combat uniform includes a ballistic combat vest/load-bearing outfit for several functions.

SWORD T&D multiweapon thermal and day weapon sight can be mounted on many types of weapons, from assault rifles to multirole recoilless rifles and from machine guns to 20/25 mm cannons.
It has flexible ballistics plates and can be supplemented with hard ballistics plates. Its structure integrates the electronics, cables and connectors, flexible water bottle, magazines for the weapons and grenades. The equipment has a modular design. The headgear is composed of three components: head protection, optronic equipment and communication. The ballistic shell optimizes protection and load-bearing ergonomics (weight distribution). It can accommodate various items required for the mission (facial protection: anti-laser goggles, protective visor and anti-shrapnel jaw pad). The helmet shape is compatible with all firing positions of the weapons used. In front it has an adapter for mounting of retractable/removable eyepiece and night vision goggles.

The helmet will also be equipped with passive elements for audio protection. The combat uniform with specific camouflaging and low infrared signature has low-fire sensitivity, good mechanical resistance and is even treated with mosquito repellent. It integrates modular and flexible ballistic protective elbow, knee and hand pads against handguns and knives. Optionally, there are modular hard plate pads for extra protection in specific conditions. For NBC environments, infantry soldiers have a permanent uniform integrating micro-cell technology, a mask with filtering respiratory assistance and water supply in contaminated environments. The NBC combat clothing is similar to permanent combat clothing. It is designed to allow combat phases to be carried out with the same efficiency as that achieved with conventional combat clothing. Specific gear for crowd control can be added: arm pads, shin pads and a visor.

September 2011: Lt. Cunningham explains to the author the individual soldier's equipment details. The French units in Afghanistan were using this serial FÉLIN equipment that year. Photo By: Aud Hålan
Mechanized

The FÉLIN system is completed with a vehicle integration kit for the sections' combat vehicles with individual energy sources to recharge batteries, battery chargers that can be off-boarded and a synchronizing and information systems function between the vehicle (Sit) and group leaders (SIT COMDE).

The importance of the infantry group (squad) on the modern battlefield with FÉLIN "Future Infantry Soldier Equipment" can hardly be exaggerated. Thanks to the optronics, in night combat the supremacy of the equipment is total. During the day, shooting can be done beyond the natural vision of the human eye. FÉLIN has transformed the sections' work methods down to the individual soldier. An example of such a development is the 2nd Marine Infantry Regiment (2e Régiment d'Infanterie de Marine, 2e RIMa), which is among the units in the French Army that have fought in the most battles. In September, 2012, RIMa received the new FÉLIN integrated system for the dismounted soldier. System weight: 24 kg for 24 hours of dismounted combat in a typical grenadier configuration.

Photo By: Aud Hålan
Mounted and Boots on Ground

The mounted portion of combat takes place aboard the VBCI armored infantry combat vehicle. Before dismounting, the manoeuver is prepared on the portable command computer.

From this tactical tablet the leader prepares the groups' task. Dismounted, the group leader is connected to the radio network of the infantrymen; the tablet computer integrates digital maps, messaging functions and the ability to see images transmitted by the binoculars and aiming sights. Via GPS, the tablet shows the real-time location of the soldiers and vehicles. The arrival of the new VBCI armored infantry vehicle adds even force to the FÉLIN with its performance in terms of mobility, protection, observation and tactical information sharing. The dismounted combat groups are supported by the VBCI's powerful 25 mm cannon combined by its new day/night sights and cameras.

The NEXTER armored vehicle for infantry combat (Véhicule Blindé de Combat d'Infanterie—VBCI) provides a dynamic manoeuver with its transmission and information systems ensuring a direct link between the armored vehicles and the dismounted combat group. The 2nd RIMa has 29 VBCIs, of which five are configured to be command vehicles. Highly protected, the VBCI is a new-generation armored vehicle that has, like FÉLIN, proven its effectiveness during high intensity combat in Afghanistan and in Mali. Its 25 mm cannon can theoretically fire up to 400 rounds per minute. It can carry 11 soldiers 750 km.

Infantry soldiers from 16ème Batalion de Chasseurs dismount from their "mother ship," the VBCI. FÉLIN system's weight when dismounted is 24 kg for 24 hours of dismounted combat in a typical grenadier configuration. The organic small arms staffing of the section's combat groups (the squads) are for combat, divided into 2 teams. Photo courtesy of Philippe Wodka-Gallien, Safran Electronics & Defense
Remarks

In 2013, according to the 2014 to 2019 defense program law, a total of 18,552 FÉLIN systems were scheduled to be handed over to the French Army. Seventeen French infantry regiments are equipped with it today. The FÉLIN system will provide the soldier with improved close-combat capability in terms of lethality, survivability, mobility and C4I.

Upgrade: Sagem has been awarded by the French Defence Procurement Agency (DGA) a contract that requires the company to update the existing FÉLIN (V1) systems to the FÉLIN V1.3 configuration. The new configuration is designed to optimize the system's observation and combat functions. From 2017 onwards, members of the Army, Air Force and Navy will be equipped with their new service weapon, again in 5.56 mm caliber.

kilometer. The 5.56 mm MINIMI also has a FÉLIN version of the SWORD T&D, a decisive attribute for combat at night or in obscurity, well over 300 m. Photo courtesy of Philippe Wodka-Gallien, Safran Electronics & Defense" width="100%" />