ALIEN GEAR Rapid Force Duty Holster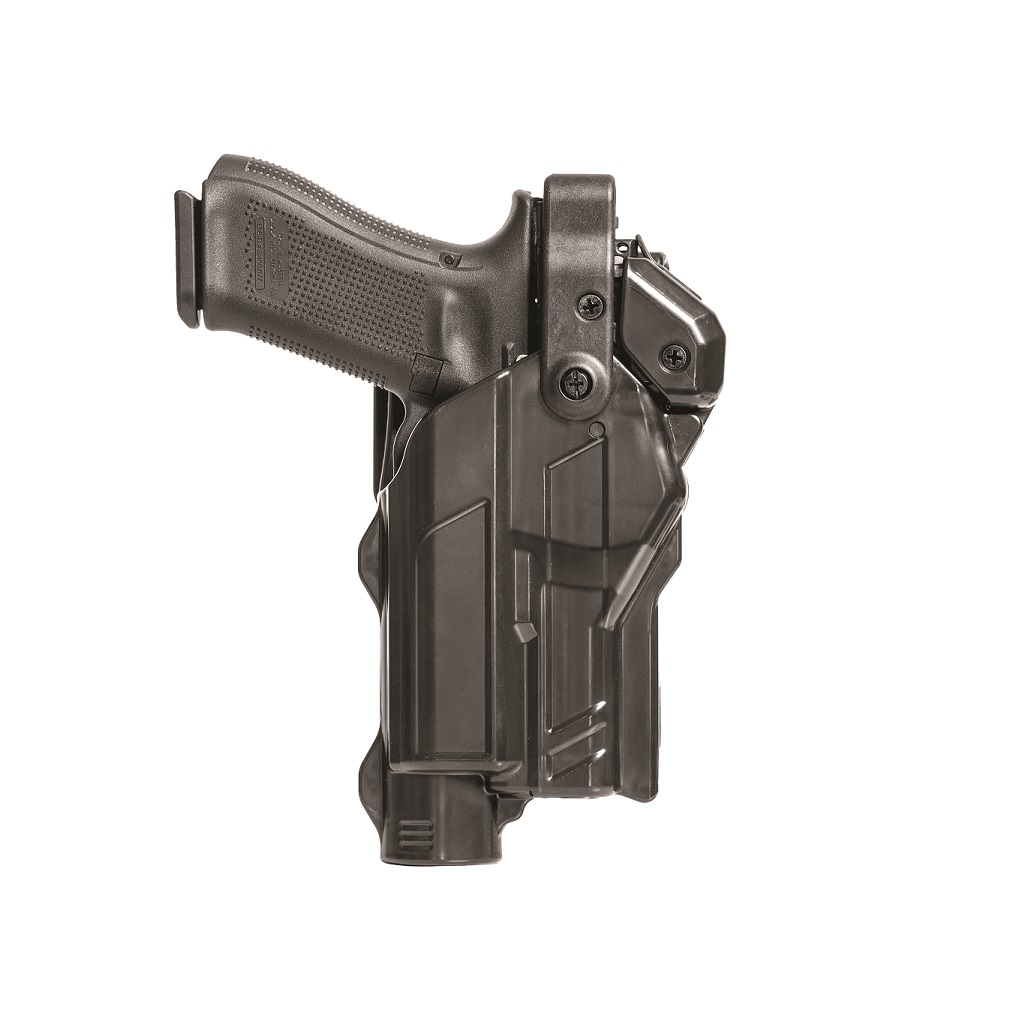 Alien Gear Holsters, the top-selling, award winning and most trusted American-made brand for civilian everyday carry, continues to innovate with a battle-tested holster that has been ruggedly engineered for police and military applications.
Incorporating valuable feedback from law enforcement, military and special operations personnel along with countless hours of research and development, Alien Gear has developed the perfect duty holster that is fast to draw, secure by your side and made of the best materials on the planet.
aliengearholsters.com
DRAKE ASSOCIATES
ATHENA Monolithic Semiautomatic Precision Chassis Rifles
The Drake ATHENA Monolithic Semiautomatic Rifle System Chassis build set is the solution for shooters who like to customize their guns and use their MIL-SPEC A3 specific custom upper receivers for their build-out. The Drake ATHENA Monolithic Semiautomatic Rifle System Chassis ONLY Core comes equipped with:
Drake ATHENA Monolithic Semiautomatic Rifle System Chassis ONLY / receiver that is ready to equip with any MIL-SPEC AR-style (AR-15/M4/MK12) upper receiver on the market
Drake SOPMOD-D™ tool-less mission-configurable forend insert system
Drake enhanced barrel nut for system
30-degree angle magwell for competition-speed magazine change out
Integrated Picatinny rail placement at 6 o'clock for bipod placement (additional Magpul M-LOK™ slot at 6 o'clock position)
Barreled upper is truly free-floated and when mounted in chassis bedding system to provide a stable platform that isolates barreled upper receiver and increases performance
drakeassociates.us
KOPFJÄGER
Leveling Head Accessory
Take your shot with precision using Kopfjäger's operator-designed Leveling Head accessory. This purpose-driven accessory is perfect for LEO, military operators, hunters and long-range precision shooters. The Leveling Head accessory allows you to co-witness a camera or spotting scope with your rifle by simply threading it to a tripod or onto Kopfjäger's Reaper Rig system, helping to reduce recoil movement. The Leveling Head's quick-detach, spherical system helps you to make quick and easy +/- 15° angle adjustments.
kopfjagerindustries.com
PERFORMANCE CUSTOM CABINETS LLC
Thorguarde Weapon Vault
The Thorguarde Weapon Vault is an all-aluminum weapon storage cabinet for your vehicle. It is the ONLY vault that utilizes dual Federal Motor Vehicle Rated rotary latches and steel shoulder pins to create the most secure vault available. Unlike those that use a deadbolt style or cam latch style lock that can be easily pried open, the use of hydraulic rescue tools would be required to pry open a Thorguarde vault. The Thorguarde is also the only vault that offers an electronic keyless keypad that allows users to set up their own 5-digit PIN code and also automatically re-locks itself.
securevehiclesolutions.com
STREAMLIGHT®
TLR-7® Rail-Mounted Weapon Light
Streamlight, Inc. has introduced the TLR-7® A with ergonomic rear switches featuring a low or high position to match users' shooting styles. The exceptionally lightweight and compact new light delivers 500 lumens for a variety of tactical uses. The TLR-7 A features a power LED that delivers 5,000 candela and 500 lumens over a beam distance of 140m. It offers two lighting modes, LED only or LED strobe, each with a run time of 1.5 hours. The light is energized by a single 3 Volt CR2 lithium battery and securely fits to a broad range of weapons. The new TLR-7 A features a one-handed, snap-on and tighten interface that keeps hands away from gun muzzles when attaching or detaching them. The light also includes a Safe Off feature, locking it so it cannot be turned on accidentally.
streamlight.com
TASMANIAN TIGER® USA
MultiCam Black™ Gear
Tasmanian Tiger®, a tactical nylon line of products distributed exclusively for the U.S. market by Proforce Equipment, Inc., proudly announces the addition of MultiCam Black™ packs, bags, pouches and accessories to complement law enforcement officers' existing gear while operating in high-risk scenarios. The design is based on traditional combat camo and the interplay of lighting conditions frequently found in more urban settings. The new MultiCam Black products include several packs. The Tasmanian Tiger's TT Essential Pack L MK II is an adjustable daypack with a MOLLE system on the front and sides for additional pouches and is hydration-system-compatible. The TT Mission Pack MKII is a 37-litre combat-style backpack with a cut MOLLE system, a padded back carrying system, several compartments and pockets, is adjustable for a hydration system, radio and a personalized fit for all-day comfort while carrying. The new MultiCam Black collection includes five accessory pouches. The final new item offered in MultiCam Black is the TT Tote Bag with a detachable key holder and a concealed zip-up pocket on the backside, perfect for last-minute gear.
tasmaniantigerusa.com
FN HERSTAL
deFNder® REMOTE WEAPON STATION
The deFNder® family of Remote Weapon Stations is an example of integrated technologies that meet modern day defense and security challenges. It combines FN Herstal's long-standing expertise in firearms, intelligent modular architecture and the latest integrated electronics, optronics and software innovations.
The combat-proven deFNder® Medium provides unparalleled performance in: self-defense; infantry fire support; combat missions; operations in urban areas; border control; and critical infrastructure protection. It can be integrated onto new and in-service mobile or static platforms, including unmanned ground vehicles (UGVs), and communicates with existing Battle Management Systems (BMS).
fnherstal.com