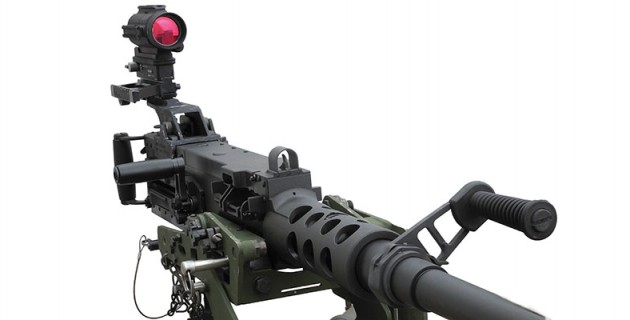 Aimpoint has had a lot of success in the individual weapon categories, with their military and civilian programs. After years of being asked to address issues in larger caliber weapon systems such as 40mm and .50 caliber, Aimpoint developed the MPS3 Reflex sight for .50 caliber machine guns.

The MPS3, shown here mounted to US Ordnance's new M2A2 QCB machine gun, is a very effective, very fast sight for machine guns. A new mount has also been designed to be used with the MPS3 – the Aimpoint MG Mount. The MG Mount contains a user friendly 3-step ballistic compensator for a preset zero at 200, 800 and 1200 meters (220, 875, 1310 yards). The ballistic compensation can quickly be changed without losing eye contact with the target, and can be accomplished even while wearing gloves. The Aimpoint MPS3 is a non-magnifying sight with unlimited eye relief allowing a rapid speed of target acquisition. The MPS3 features manually adjustable reticle brightness for all light conditions. Thanks to its NVD compatibility, the MPS3 can be used 24 hours a day. Aimpoint's revolutionary ACET technology gives the Aimpoint MPS3 an improved LED and an impressive battery lifetime of many thousands of hours of active use.
MPS3 FEATURES:
1X (non-magnifying) parallax free optic.
Compatible with every generation of NVD.
ACET technology combined with a AA battery gives 80,000 hours (over 8 years) of typical usage on one battery.
500,000 hours of use on NVD setting.
Designed to stand up to recoil of heavy weapons.
One Function Principle for simplicity of use in field.
Manually adjustable reticle brightness.
Accessory rails on sight allow for mounting IR or visible lasers.
Multi Purpose Sight for use on land, air and at sea.
7 night vision compatible settings, 9 day settings of which one extra bright.
2 MOA dot size for long distance engagement.
Can be used with any AA size battery.
TECHNOLOGY: ACET Advanced Circuit Efficiency Technology
OPTICAL DATA:
Reflex collimator sight Red dot sight
LED (Light Emitting Diode) Totally eye-safe
Parallax-free No centering required
ELECTRONIC DATA:
Battery- One AA-battery, accepts 1.5-5V
Battery life- 80.000 hours
Battery life, in hours, NVD position** 500.000 hours
Switch- Manual rotary switch
Settings- 7 NVD & 9 DL of which one extra bright
MECHANICAL DATA:
Material – housing Extruded high strength aluminum
Surface finish- Hard anodised, matte
Material, lens covers- Rubber, black, matte
Adjustment- 1 click = 50mm at 100 meters = 2" at 100 yards
Mounting solution- Optional MGMount
ENVIRONMENTAL DATA:
Temperature range- -45°- +71° C, -50° – +160° F
Water resistance- Submersible to 3 ft., 1 m.
Radioactive components used- None
DIMENSIONS:
Width/height- 84 x 81 mm, 3.3 x 3.2"
Aimpoint AB
www.aimpoint.com
Jägershillgatan 15
SE-213 75 Malmö
Sweden
Phone:+46 40 671 50 20
Fax: +46 40 21 92 38
E-mail: info@aimpoint.se
US Ordnance M2A2 .50 Caliber
Machine Gun:
When the MPS3 sight came in from Aimpoint, we at SADJ were considering what would be a good host weapon for the sight. Later in 2015, we'll be doing a full MilSpec test on the US Ordnance M2A2 machine gun, and we thought we would try the MPS3 on this for the New Product spread. We'll be using several machine gun optics designed for heavy use during our MilSpec test, doing shock testing for the manufacturers.
US Ordnance has been an innovative company for many years, and has a strong reputation for quality built machine guns. SADJ has performed several MilSpec tests for them, including the 50,000 round M240 test done last year, and the recent M60E6 50,000 round test done in November 2014. This feature will be in an upcoming issue of SADJ. (If you're a serious manufacturer of military weapons, don't forget SADJ offers this service, designing and implementing MilSpec testing). The search for a reliable Quick Change Barrel version of the venerable "Ma Deuce" has been an ongoing challenge. There are a variety of manufacturers offering their version now, with as much a variety of differences in how they accomplish this. The largest problem is the headspace, of course. US Ordnance's unique solution has been living up to the requirement quite well, and we look forward to our test. We plan to test on a factory M2A2, and rebuild an existing M2HB with US Ordnance's M2A2 upgrade kit for a test as well. A few quick words on the new M2A2 offering- it's new, yet well tested- over 50,000 rounds in one dedicated test gun so far to prove the headspace principle works. They've delivered combat production guns, and are looking for more projects. This seemed a perfect time to test the Aimpoint MPS3 as well as others.
Fixed headspace and timing eliminate safety concerns associated with barrel changing and improper timing
Common barrel thread interchanges with existing M2HB barrels, and non-QCB parts are interchangeable with M2HB machine guns, which eliminate logistics concerns during fielding
Improved barrel handle simplifies hot-barrel changing with better barrel alignment, and the retention system assures the barrel is securely locked and aligned
Can be fitted to all types of armored, light and heavy vehicles; patrol boats; helicopters; and other aircraft
Fires all types of NATO ammunition: Ball, Tracer, AP, API, APIT, AP Hardcore and Multipurpose
Sustained automatic or single-shot firing from the closed bolt for single-shot accuracy
Simple, durable and rugged design for easy maintenance and conversion capacity from left hand to right hand feed
Various mounting applications, for manual or solenoid firing
US Ordnance
www.USord.com
TEL: 775.343.1320
FAX: 775.343.1331
SALES: sales@usord.com
MARKETING:marketing@usord.com
SUPPORT: support@usord.com
TRAINING: training@usord.com
U.S.ORDNANCE,INC.
300 Sydney Drive
McCarran, NV 89434
United States of America