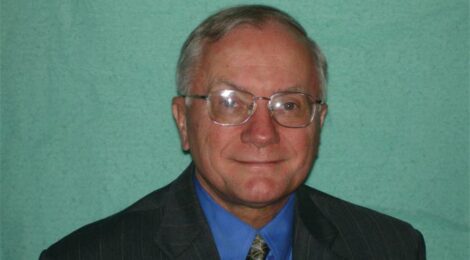 2010 NDIA Chinn Award: Frank Puzycki
Each year at the NDIA Small Arms Annual Meeting, the George M. Chinn Award is presented to honor a government or industry person who, in the opinion of the NDIA Small Arms Systems Division Executive Board, has made significant contributions in the field of military small arms or infantry weapons.  For 2010, Frank P. Puzycki has been selected to receive the Chinn Award.

Frank P. Puzycki has devoted over 40 years of service to the Army in the field of small arms.  His efforts in support of small arms span the entire acquisition lifecycle: Research, Development, Testing, Evaluation, Manufacturing and Fielding.  His contributions span, also, from the bench engineering level, to small team technical leadership, and into the management level as a small arms ammunition branch chief and ultimately as the chief of the 200 person Light Armaments Division, which encompassed all small arms weapons, ammunition and the associated ARDEC Armaments Test Facility.
As a bench level engineer at Frankford Arsenal and ARDEC, Mr. Puzycki co-authored a major study that resulted in standardizing automated and semi-automated packaging processes for Government-Owned Contractor-Operated (GOCO) load plants and type classified the M862 5.56mm plastic training round and companion XM2 training bolt in addition to the cal. .22 M861 tracer cartridge in the early 1980s.
Mr. Puzycki's initial assignment as a manager in the small caliber arena saw the U.S. adoption of the M9 9mm pistol and design/manufacture of the 9mm M882 cartridge under his purview.  His team also produced the first high performance caliber .50 saboted cartridges (M903/M962 SLAP (Saboted Light Armor Penetrator)) in partnership with industry for the USMC that was later adopted by the Army as well.  The inaugural green ammunition program was launched during his tenure, an effort which received the Vice President's Hammer award in 1994.
During Mr. Puzycki's tenure as Light Armaments Division Chief, from 1996 to 2003, he very successfully led this 200-strong group, resulting in innumerable Type Classifications of new weapons, ammunition, mounts, sights, and other ancillary small arms-related equipment and technology transitions to Project and Product Managers for subsequent development.  In total, over 35 items were Type classified and fielded across the Armed Services.  Among these items were the M240 machine gun, the M16A2 rifle, the M107 rifle, the 7.62mm M118 Long Range Sniper Ammunition, the entire suite of 5.56mm and 7.62mm ammunition, several 12 gauge rounds, 40mm ammunition, optics for machine guns and rifles, and machine gun mounts.
Always looking to understand better small caliber performance and to advance small arms technology, Frank was the initiator of the scientific Lethality Study, subsequently sponsored by PEO Ammo.  The general results of the study have been validated and tools for the continuance and expansion of these kinds of studies are now in place.  He also initiated a venture into modeling and simulation, which has blossomed into an ARDEC-wide competency, creating a greater understanding of small arms functioning and contributing to a greater efficiency in their design.
Frank's current assignment, assumed in 2004, is as the Research Program Director of the National Small Arms Center (NSAC).  During his tenure, the NSAC has become fully operational; membership has more than quadrupled (now over 100 member firms); and over $20 million in grants have also been awarded to a host of different companies focused on innovations in recoil mitigation, ballistic energy conversion, lubeless weapon operation, lighter weight case design technologies, new concepts for automatic rifles, thermal management, lighter weight weapons and other technologies.  Frank established an intensive marketing campaign with local and other Service Project and Product Managers, which has resulted in their full involvement in the NSAC and has been a significant source of funding for the grants awarded during the first years of operation.  He spearheaded an outreach effort to local and national universities, which has increased the number of members from that supply sector.  He has established and transferred seamlessly a fully operational and real-time updated website, which has kept the membership fully aware of all the activities of the National Small Arms Center.
Across his career he has also mentored a great number of young engineers and scientists, who have contributed greatly to the small arms genre, supporting a host of PEO's and PM's in the Army and the other Services.
Because of his career long excellence in support of small arms in all of its phases of acquisition, Mr. Frank Puzycki is a most worthy recipient of the 2010 Chinn Award.
2010 NDIA Hathcock Award: Jeff Hoffman
Pennington County, South Dakota Sheriff's Office
Jeff Hoffman began his law enforcement career in 1979 as a police officer with the Rapid City Police Department in Rapid City, South Dakota.  Several years later, Jeff hired on as a reserve deputy with the Pennington County Sheriff's Office, where he is currently still employed as a 30-year veteran.  As a reserve deputy, Jeff trained with the Rapid City Special Response Team in 1989.  Shortly thereafter, the Rapid City team combined with the Pennington County Sheriff's Office to form the Rapid City/Pennington County Combined SRT and Jeff was accepted as a member and employed as a sniper.  Jeff grew up in rural South Dakota and spent his youth hunting, shooting and studying ballistics.  Jeff attributes much of his success to his grandfather who fostered a love of shooting in Jeff at an early age.  As an adult, this would serve him well when he, his wife Kristi and a business partner joined in a business venture loading ammunition in a company known as Black Hills Shooter's Supply.  Jeff and Co. began loading ammunition for police officers locally and their reputation for precision quality ammunition grew rapidly.  As time went on, the business grew, requiring more and more of Jeff's time.  Jeff began a separate entity from Black Hills Shooter's Supply known as Black Hills Ammunition.  Jeff's knowledge of ballistics and his wife's business savvy began to pay off as his fledgling company took wings.  Jeff's operational experience, combined with his ballistic knowledge, provided insight not possessed by many police officers with lesser backgrounds.  Well aware of the problems faced by police snipers in urban environments, Jeff researched and tested various bullets for successfully shooting through intermediate barriers.  After numerous attempts, Jeff settled on the 180 AccuBond bullet by Nosler.  This round is quickly becoming an industry standard for police snipers who must engage hostile suspects through intermediate barriers.  Outgrowing its meager beginnings, Black Hills Ammunition now operates out of a new 60,000 square foot facility.  Not one to rest on his laurels, Jeff recently accepted a position as sniper team leader for the eight-man, RC/PC SRT sniper team and often provides uniforms and gear for the sniper team out of his own funds.  At 50 years of age he is still operational, subject to callout and all PT requirements and is still actively "on the rifle."  Jeff's intimate knowledge of ballistics has also drawn the attention of the U.S. military.  Black Hills Ammunition currently makes match ammunition for the U.S. Marine Corps rifle team, the U.S. Army Marksmanship Unit and all of the 5.56 match ammunition for the United States Special Operations Command.  Jeff Hoffman personally develops every load.  This position has the collateral consequence that Black Hills Ammunition has become a privately owned research and development laboratory for the special ammunition needs of the United States Government.  Much ammunition personally developed by Jeff Hoffman, is at the forefront of the War on Terror and the emerging war on piracy and has been responsible for the demise of many of the Free World's enemies.  Jeff's experience shooting in the high winds and hills of the northern plains has also proved beneficial.  Jeff was not satisfied with the inaccurate (and often confusing) wind formulas developed and passed on in various military sniper manuals for decades that are so often attributed to "voodoo" by those in the community.  So Jeff developed his own.  His formula is simple, accurate and quickly used; which is exactly what a sniper needs in a dynamic combat environment.  Many operators of the United States Naval Special Warfare Command (more commonly known as SEALs), while not widely known, have adopted this wind formula and other sniper related information Jeff gleaned the hard way over a 30-year career as an operational sniper.  Jeff supports military and law enforcement competitions and events worldwide and has given away hundreds of thousands of dollars in ammunition as prizes to help keep the community strong.  He believes in the importance of education when it comes to the sniper community and is an accomplished writer in that regard, authoring numerous articles on police sniping.  He has also given unselfishly to SWAT teams other than his own who are truly in need.  Jeff offers deep discounts to military and law enforcement personnel because he knows firsthand that their missions require the best ammunition they can obtain and that many of them and/or their agencies simply cannot afford it.  Jeff has also supported military snipers whose unit budgets could not afford the sniper gear needed to make their snipers combat effective.  Many people in the shooting community know the name Black Hills Ammunition but many have no idea of the background of the man behind it.  It has been said that the only one who cares about a sniper, is another sniper.
He is very proud to be a part of the sniper community but remains humble and provides his support from behind the scenes, despite his huge list of accomplishments.  It could be said that Jeff Hoffman is a one-man force multiplier.  He possesses all of the traits Gunny Hathcock would have admired and approved of.  The undersigned past recipients of the Hathcock Award nominated Jeff Hoffman of the Pennington County South Dakota Sheriff's Office for the 2010 Carlos Hathcock Award.
Chuck Mawhinney, 
United States Marine Corps
2000 NDIA Carlos Hathcock Awardee
Bart Bartholomew, 
Baltimore County PD
2001 NDIA Carlos Hathcock Awardee
Jim Owens, 
United States Marine Corps
2002 NDIA Carlos Hathcock Awardee
Larry Vickers, 
United States Army
2003 NDIA Carlos Hathcock Awardee
Steve Holland, 
United States Army
2004 NDIA Carlos Hathcock Awardee
Brian K. Sain for AmericanSnipers.org
2007 NDIA Carlos Hathcock Awardee
Buford Boone, 
Federal Bureau of Investigation
2008 NDIA Carlos Hathcock Awardee
R. J. Thomas, 
United States Navy