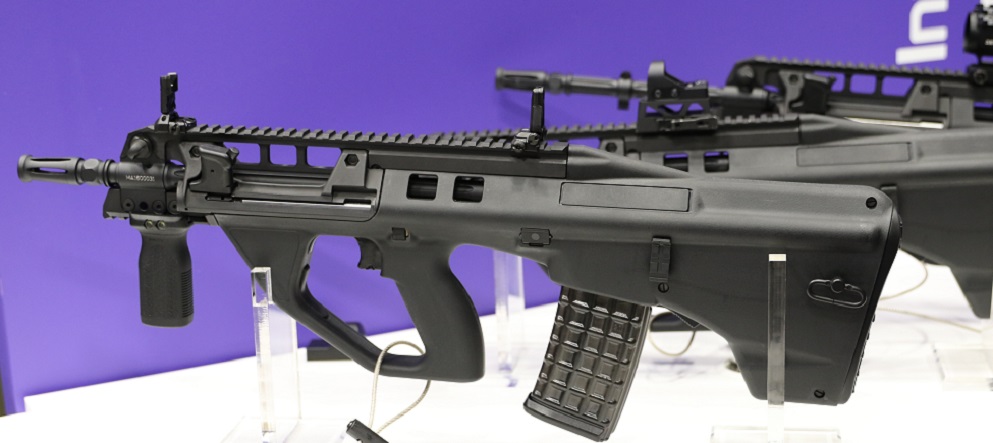 The Australian Defence Force (ADF) had depended upon its F88 5.56mm rifle—a Thales Australian-built variant of the Austeyr or Steyr AUG A1—since 1988. Australian "diggers" relied upon it in operations in Afghanistan and Iraq, but there was a persistent demand for a better weapon. Although some favored the M4, it was instead decided to pursue a fresh new weapon that retained a bullpup configuration, since this was familiar to serving soldiers.

Thales Australia gained useful experience in upgrading service rifles to the F88SA2 model, and it was later contracted in December 2011 to design a new 5.56mm assault rifle for the ADF. This project came under the auspices of Land 125 Phase 3C, and Thales had to meet demanding user requirements. Essentially, it was competing against itself to produce a rifle that met strict specifications and was cost-effective. Among the requirements were weight reduction, the ability to install more accessories and the possession of better balance by moving the center of gravity rearwards.
The Human Factors Team of the then Defense Science and Technology Organisation (DSTO) first trialed the new EF88 with a group of 10 soldiers in December 2012, and this resulted in minor adjustments to the design. The new weapon was to become known as the "EF88," with the E denoting "Enhanced." For the export market, Thales Australia refers to it as the "F90."
After extensive development work and close collaboration with the ADF and other defense agencies, the company concluded a critical AUD 100 million (USD 73.6 million in 2015) deal with the ADF in July 2015, this covering the production of 30,000 EF88 rifles and 2,500 SL40 40mm under-barrel grenade launchers.
At the time of the award, Kevin Wall, Thales Australia's armaments vice president, said, "Our soldiers deserve the best possible equipment, and the F90 delivers on all counts. Enhancing the Austeyr is the most cost-effective way to deliver a capability upgrade, and we've worked closely with defense and Army units to design, test and manufacture this world-class weapon. We're now looking forward to getting it into troops' hands as quickly as possible."
The EF88 is very much a product of psychology, too. Although the F88 was improved throughout its lifecycle, each iteration looked the same, and that meant its reputation and the perception of its flaws lingered. By making the EF88 look distinctly different, there would be no mistaking its new lineage.
The EF88 is manufactured at Thales Australia's facility in Lithgow, New South Wales. Production levels peaked at around 40 rifles per day, and it requires a total of 5.9 hours to build a single rifle. This compares very favorably with the 11 hours once needed to make an F88 rifle. The company reported to Small Arms Defense Journal that, by February 2020, just 4,000 rifles of the original 30,000 on order remained to be delivered.
Ins and Outs of the EF88/F90
Initially, there were teething problems such as breakages relating to the polymer material used on the weapon and ejection port covers coming off. The EF88 had a supposedly improved gas plug but, according to sources spoken to by the author, there is considerable criticism from soldiers about the signature coming off this gas plug.
One expensive problem to rectify, not relating at all to the performance of the EF88, was that the new rifle did not fit existing mounting brackets in ADF vehicles. It cost AUD 5 million alone to modify these brackets.
The first unit to receive the new rifles were members of the 1st Battalion, Royal Australian Regiment (1 RAR) based in Townsville, these were handed over in June 2015. Thales Australia had commenced low-rate initial production in September 2014 to reduce risk and smooth the transition from existing F88 manufacturing. Broader rollout to the Australian Army commenced in 2016, with successive recipients being soldiers of the Townsville-based 3rd Brigade, then the 7th Brigade in Brisbane and finally the 1st Brigade split between Darwin and Adelaide.
Thales says the EF88, which weighs 3.25kg and is therefore around 500g lighter than the F88, is more accurate, reliable and robust than its predecessor. New materials that are half the weight but twice as strong as aluminum have been introduced. Certainly, it is more modular and ergonomic, and it is one of the lightest assault rifles available.
The change in center of gravity towards the rear is a key one, since it improves the speed of engagement for users. This resultantly increases the first-round probability of a hit.
Illustrating its modularity, the EF88 has several Picatinny rails fully integrated to reduce weight. The top rail was extended compared to the F88SA2, so a day sight, in-line sight, thermal imager or even a grenade launcher sight can be attached. The right-hand rail can mount a laser so that it does not snag on the sling. Another rail is under the barrel to which a grenade launcher, grip or bipod can be affixed. One o'clock offset rails can also be fitted.
Initially, it was conceived that only regular infantry units would be equipped with the weapon, but such was the success of the design that it was rolled out to every soldier regardless of their specialty. The EF88 is issued to Australian troops in two versions: a standard bullpup rifle with a 20-inch (508mm) barrel and a carbine with a 16-inch (407mm) barrel.
The Australian Army divides its soldiers into Tier 1 combatants who perform niche tasks (e.g., tank crews), Tier 2 dismounted troops who conduct dismounted close combat, Tier 2 mounted soldiers who crew armored fighting vehicles and Tier 3 combatants who provide general support to combined-arms teams.
The ADF introduced the EF88 according to the above tiers, with the difference being barrel lengths and accessories such as sights and bipods. As already indicated, as part of Project Land 125 Phase 3C a range of accessories were procured. These were all carefully tested to ensure the EF88 represented an integral system, a process in which Thales was thoroughly involved.
The standard sight for all soldier tiers is Elcan's SpecterDR, an enhanced dual-range day sight with 1-4x magnification. One clear positive aspect of this sight is that users can see and hit targets at far greater ranges than before, even at 600m.
Weapons can be fitted with a Grip Pod Systems GPS.02-CL forward grip with bipod or a Harris N325-BRM bipod. The standard image intensifier sight is Qioptiq's KITE IN-LINE, an in-line system for which the ADF specified white phosphorous tubes.
There are four slightly different weapon variants for Tier 2 dismounted troops (i.e., regular infantry): commander, marksman, rifleman and grenadier (the latter has a 40mm under-barrel grenade launcher). Their weapons can be fitted with an InForce WMLx visual illumination device on a Daniel Defense 1 o'clock offset rail. Meanwhile, the standard laser on the right-hand rail is L3 Insight EOTech's AN/PEQ-16.
As one would expect, Tier 2 mounted troops who usually crew vehicles use the shorter-barreled 407mm carbine with a Knight's Armament basic forward grip. Tier 3 soldiers have two rifle variants available: the standard 508mm-barreled rifle and the grenadier type with 40mm grenade launcher. Selected Tier 2 dismounted troops received an Elbit Systems XACT th65 clip-on thermal imager system, these devices being assigned to dedicated marksmen.
The aforementioned Steyr Mannlicher SL40 (or F91) that weighs 1,025g is a fully integrated 40mm grenade launcher attachment. This combines with a Thales F1 quadrant sight that can be used at night and is compatible with night vision goggles. The launcher can be fitted to the rifle in just 15 seconds. The double-action grenade launcher is side opening, which allows more types of rounds to be fired. It can be fitted and removed by individual soldiers without resorting to the services of an armorer.
The EF88's six-fluted 5.56mm barrel is lighter than the F88's, and the mount was fixed to enhance accuracy after the requirement for a quick-change barrel was dropped. As on the M4, the bolt release catch was relocated to permit faster magazine changes and allow the shooter to keep his eyes on target. The folding cocking handle is less likely to break too, and the cocking action is now silent. Furthermore, the hammer pack is more reliable. Also altered was the butt group to reduce the length of pull and therefore more comfortably accommodate body armor being worn by the shooter.
Color, Suppressors and Sovereignty
Earlier on in its development, the EF88 was finished in two colors as was the F88SA2, with a tan-colored upper and khaki green-colored bottom. Why then did the new rifle end up black? According to a 2019 report titled, "Sticking to Our Guns: A Troubled Past Produces a Superb Weapon," written by Chris Masters and published by the Australian Strategic Policy Institute (ASPI), it was Australia's then Chief of Army and a couple of senior generals who unilaterally decided black was the best color for the new weapon.
Their decision took many by surprise, because few elements in the natural environment are black, so this color offers less camouflage in combat. Furthermore, the dark-colored rifle had no harmony with the ADF's new Australian Multicam Camouflage Uniform (AMCU) that was being introduced at much the same time.
Masters in his report related that something seemingly as innocuous as a color change necessitated months of extra work. This was because testing had to be redone to prove that changes in the polymer's color did not affect the hardness of the material throughout its lifecycle.
The reason for adopting black was never explained by the ADF. However, the ASPI report commented: "Black is severe, but also sexy. Special Forces counterterrorism operatives, bedecked in black, carry black weapons … Soldiers, particularly the younger ones, are as much creatures of fashion as anyone, so to give them a weapon with a cool, industrial design and sex appeal was following a useful rationale—even if the result was a victory of style over substance."
The ADF originally forbade soldiers from camouflaging their black rifles, but this order was soon rescinded when soldiers discovered how starkly they stood out in the field, and individuals started implementing their own personal camouflage schemes on their personal weapons.
Combat experience in Afghanistan had taught that the typical hostile engagement occurred at ranges of 30m to 200m. There was thus an effort to instill close-quarters battle skills (the type that Special Forces are highly proficient in) among regular Australian infantrymen to increase their shooting speed and accuracy.
Of course, such a training focus requires offhanded shooting, something not possible with the F88 and not a requirement when the EF88's specifications were drawn up. The Australian Army sought to resolve this issue of ambidextrous shooting—to prevent spent cases hitting the face—with a new case deflector. After being commissioned to come up with a solution, Thales tested a first deflector prototype in 2017. Though that one did not meet requirements, an appropriate deflector eventually became available; this one sending cases forward rather than backwards.
Special Forces also recognize the value of a suppressor to reduce sound and flash and, thus, conceal their position. Therefore a suppressor was chosen for the EF88 too, and an initial total of 1,000 suppressors were acquired from Oceania Defence in New Zealand. These titanium suppressors are made by 3D printing, but fitting a suppressor meant the removal of a barrel lug and the possibility of attaching a bayonet. However, Thales has so far not been able to get the sound pressure level of any suppressor below 140dB owing to the design of the EF88's operating system.
Thales Australia has also developed adaptors for Simunition® training ammunition, plus it has created a stand-alone stock for the SL40 40mm grenade launcher. That means the launcher no longer has to be attached to the weapon to be fired.
One final factor worthy of mention is that the EF88 represents a sovereign design capability and greater self-reliance for Australia. Indigenous production also provides local employment, which is something politicians like to trumpet.
For the export market, Thales Australia is offering the F90MBR (Modular Bullpup Rifle), currently available with three barrel lengths: 360mm, 407mm and 508mm. The F90MBR is mechanically the same as the EF88, but it has a modified stock. It also possesses a NATO-standard magazine and ambidextrous features, including a magazine release catch forward of the pistol grip. The shortest barrel length of 360mm turns the weapon almost into the category of a submachine gun.
As the original manufacturer, Thales Australia is actively exploring export opportunities for the F90. Certainly, the greatest opportunities are in India. Thales had originally announced a tie-up with Indian firm MKU in early 2018, but more recently it transferred allegiance to Bharat Forge to market the F90 to the Indian Army.
Thales had already offered a shorter, customized 13.5-inch barrel for an Indian competition for 94,000 close-quarters battle carbines. Although this tender closed nearly 2 years ago and a different contender was selected, no contract was ever awarded. Thales therefore expects to compete in a potential rerun of this competition. A second phase of the project would see 350,000 rifles made within India. At the time of writing, Thales Australia was about to execute a license transfer with Bharat Forge to meet this local production requirement.
A Thales spokesman told SADJ that his company was hopeful of its first F90 exports either this year or in 2021, with "lots of interest" being expressed internationally from potential clients.
Acknowledgements
The author would like to thank Thales Australia plus various soldiers of the Australian Army for their assistance in preparing this article.